Since the iOS 9 beta is unveiled on the Internet, lots of iOS fans are eager to experience the beta version on their devices, and after the official version is released, it is no doubted that iOS 9 operating system have gained a great welcomed all over the world. iOS fans can't wait to experience all new features in the new system and they also hope Apple will bring the surprising to them just like it said in the WWDC 2015. However, more and more users are looking for solutions to fix the problems or errors that they met during the upgrading or using process of iOS 9, so in this page, we have collected lots of iOS 9 problems on the Internet and picked up the top 5 FAQs here for your reference. Of course, all problems here will be offered an ideal solution, you can follow the solution to solve your own problem on the device.
#1 - Failed to Upgrade to iOS 9, What Wrong?
iOS 9 update is finally out after the WWDC 2015 at september. But lots of Apple fans have found that an update failed error message is here while they're planning to upgrade their iOS 8 to iOS 9. What wrong it is? Actually, the possible reasons for this situation maybe are:
- Too busy of Apple's servers. After the releasing of Apple's iOS 9, it is no doubt that there are thousands yet millions of people are trying to update their operating system at one time, right?
- Some initial bugs in the iOS 9 beta version are not found yet so as to affect the iOS 9 official version downloading process.
According to the problems & reasons above, there are some possible solutions for your reference:
1. Just try to update it again and again;
2. Update iOS 8 to iOS 9 via iTunes. You know that iTunes is the greatest assistant for iPhone, iPad and iPod users. So why don't you try to use it to update your iPhone system? What's more, iTunes also allows users to update the jailbroken iPhone to iOS 9 without restrictions.
#2 - No Enough Space for Updating, What Will You Do?
Even though iOS 9 will only need 1.3GB free space for the upgrading, and it have greatly reduced the occupied space compare to iOS 8, but for the iPhone or iPad users, which only has a space range from 8GB to 16GB, and have no habit of backup files, clean unnecessary files on the device timely, then they may met the limitation problem while they're planning to downloading & installing iOS 9 on the iPhone or iPad devices. Now, you have to free up more space if you wish to updating to iOS 9 successfully, but how about the data existing on your device? Here is some tips for you to free up more space on your iPhone, or iPad.
1. Backup all your important data from iPhone, iPad to external hard drive, or you can use iTunes or iCloud to backup the whole contents of iDevice as you like. If you're choosing to move and save the data on external hard drive, you can use Coolmuster iOS Assistant program.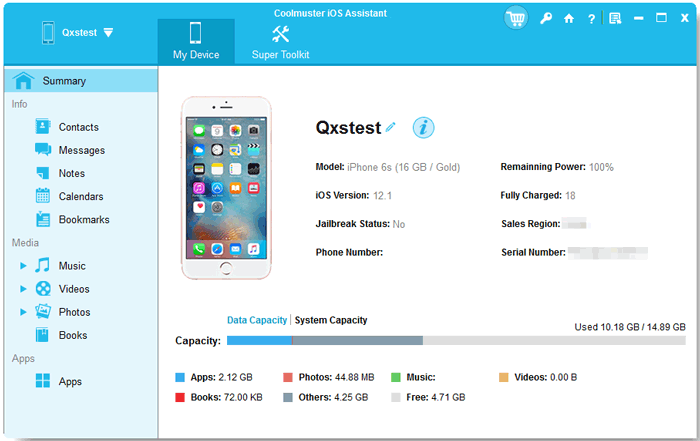 2. Clear all unnecessary data on your device with iOS Cleaner for Mac, including caches, cookies, background processes, searching history, apps, etc. After deleting these data, you'll can't believe that a large amount of free space have been released.
3. ...
For more detailed steps to get enough space on iPhone, iPad or iPod for installing iOS 9, you can click here.
#3 - Decreased Battery Life Since the Update
Too many iOS fans have complained that their battery life was shorten after the update, they said like that:
- Updated to iOS 9 beta, my iPhone 6 runs blazing hot and batter winds down fast enough to watch it.
- Is the iOS 9 beta a battery hoover or is my phone jobbied?
- ...
It is really annoying while you're finding the battery life are decreased, and you have to keep the device in charge all the time. But in fact, you can fix this issue through a few clicks. First of all, you have to check the using situation of your battery life and figure out whether it is being caused by some power-wasting app or not. To reach it, you only need to find "Battery Usage" under the option of "Settings > General > Usage".
Then you can reinstall these high power-wasting apps and observe the battery life. If this is not useful to fix the problem, you can try to restart your iDevice, or go to reset option to reset all settings on your device. Click here to learn more info about iOS 9 battery issue.
#4 - Frequent Disconnections of WiFi Network
If you have ever tried to update to iOS 8, then you may have experienced the instability of iPhone WiFi. Of course, iOS 8.3 have helped fix some problems, but not all are gone. In this update of iOS 9, there are still lots of iPhone users complained that their iPhone WiFi network, and this issue also are not happened on the iPad. So if you have met the problem, you can go to the settings to reset network settings to erase your network settings and start afresh. Here, you also need to perform the forget this network option on your device. Generally speaking, this method could be available to solve the WiFi disconnection problem, but if you still struggle with WiFi problem, what you only can do is to wait for the next update.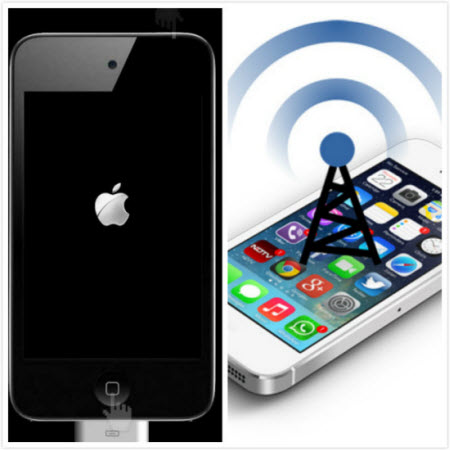 #5 - Lost Data after Updating to iOS 9
Data losing problem happens frequently while you're performing a system updating process on your iDevice. So you're always recommended to backup your iDevice data with iTunes or iCloud before starting it. However, sometimes you may only back up few parts of iPhone data, and lost other data that you're not save, then what will you do? Actually, there are two ways for you to restore the lost data on iPhone, iPad or iPod touch.
1. You can choose to restore the whole backup file from the iTunes or iCloud on your device; If you think it is troublesome & time-consuming to restore the whole contents, you can retrieve specific files from iTunes backup file with Coolmuster Data Recovery for iPhone, iPad or iPod.
2. If you're tried to recover data like contacts list or text message, then you can take the Coolmuster iPhone SMS+Contacts Recovery software into consideration. It allows you to conduct a deeply scanning on your device and recover the lost data from iPhone directly.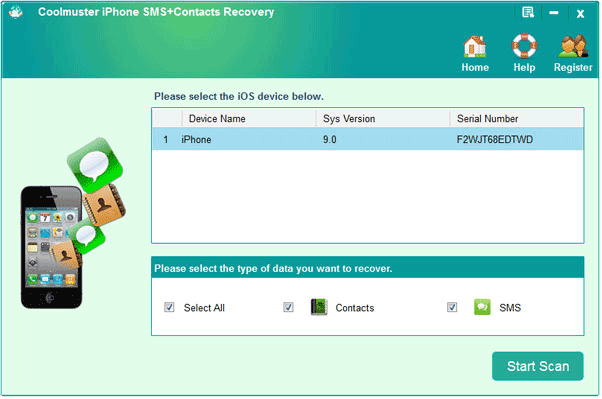 3. For other data on your iDevice, you can use an all-in-one tool Coolmuster iPhone Data Recovery to regain any lost data on iPhone, iPad or iPod as you like.
Related Articles:
Tutorial on How to Recover Lost Photos from iPhone