In a move meant to counter the rising accusations of sacrificing functionality for design through focusing only on releasing thinner, lighter and sleek devices, Apple made a big announcement in the Apple's Worldwide Developer's conference that is likely to result in a major transformation on Apple products as we know them. Apart from only highlighting the newly introduced features in the iOS 9 firmware, Apple also brought to light an amazing battery saving feature that is likely to extend your gadget's battery life.
The first version of the iOS 9 firmware that was released to developers and testers had been criticized for a number of reasons, including the general instability and installation issues experienced a reduction in battery life among others which have been long solved by now. The important conference, which promised sophisticated upcoming devices and software products, sparked a lot of interest among diehard Apple fans. This article is going to educate you on some of the iOS 9 features that can while providing a clear insight on whether iOS 9 will actually deliver the same.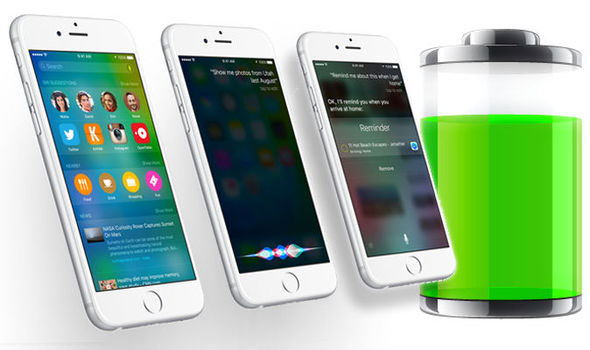 Why Do People Care More about Battery?
Most individuals are mainly concerned about the type, durability and performance of phone batteries more than anything when they are shopping for new devices. This trend has been highly necessitated by the fact that smart phones are increasingly contributing to battery drainage. Below are just some of the common reasons as to why you should consider purchasing a gadget with a good quality battery rather than sophisticated features.
- People with good device batteries don't have to constantly worry about faster battery drainage issues when playing games, surfing the Internet, listening to music or watching videos as compared to those with poor quality batteries.
- Having a nice battery enables you to avoid additional unnecessary expenses like having to purchase backup devices like power banks or having to constantly replace your faulty battery with new ones always. This may also save your electricity bills through reducing the number of times, you have to put your phone to charge.
- The advent of new technology has led to the development of fresh applications and processor intensive tasks that have changed how people interact with their devices. Features like fast processors, increased storage space, high definition displays among others, require a suitable battery for enhanced performance.
- Mobile apps have become a necessity for smart phone users, but most of the apps consume lots of energy, hence a low-quality battery will be a huge hindrance.
By the way, if you have other problems during using the iOS 9, you can go to here to find solutions.
How Will the iOS 9 Firmware Improve Battery Life?
The Apple developers announced during their major conference this year that the new iOS 9 firmware has the ability to improve the device battery life by up to 3 hours. They went ahead to categorically state that it is guaranteed that you can extend your device's battery for an hour just by installing the operating system alone.
The "Low Power Mode" which is a new setting introduced in the iOS 9 firmware can be programmed to activate immediately when the battery reaches the 20% power level or can be activated manually. Although Apple may have forgotten to appropriately mention this amazing feature during this year's WWDC, the low power mode is a major development in the history of the company.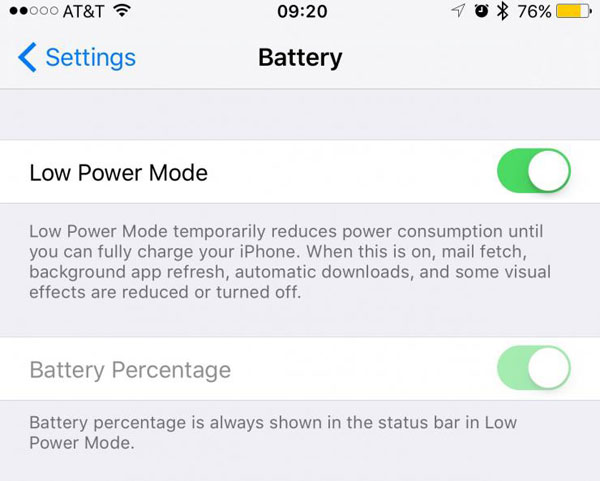 This power saving feature works by limiting the use of non-essential Apple applications and features while letting the core ones work as they normally do. It is important to emphasize that activating this feature is likely to result in reduced performance due to the reduction in the processor clock speed. The innovative power saving mode also reduces the brightness, network speed and motion of the devices, disables background app downloads and turns the email fetching feature to manual mode.
There are also a variety of complimentary power settings and tweaks that one can use to further reduce battery consumption. For instance, one can check the device's settings in order to identify which applications consume the most power, hence letting them decide whether or not to close them to improve power usage. All the apps and key technologies have been optimized to reduce battery consumption wherever possible. The new gadgets also have proximity and ambient light sensors that prevent the phone's screen from turning on when it is facing downwards hence saving more energy in the process.
Will It be Useful?
The most crucial challenge that has constantly faced smartphone products is the increased battery consumption brought about by a variety of application and system tools. Apple has managed to join other energy sensitive manufacturers like Samsung and LG in a bid to offer a permanent solution to this menace. Judging on the advanced low power mode technology's mechanism of operation, I can successfully join others who are willing to agree with me that this advanced feature is going to be a lot more useful to Apple product users.
There is no sense of having a phone that has state-of-the-art technology if you do not have enough juice to run it. By making the iPhones battery more long lasting, the company and its developers are slowly attracting more consumers from their android competitors who had stayed away from the devices due to power drainage issues. The enhanced use of proximity and ambient sensors makes this feature to be not only highly effective but realistic in terms of use.
If the recent statistics are anything to go by, Apple sales are likely to skyrocket and there are going to be a reduction in the overall complaints made about Apple based products thanks to iOS 9.
Conclusion
All the facts provided above will only make sense if you decide to take the theory and embrace it in its practical aspect. Feel free to install the new operating system and test it on your device to find out how accurate the findings are. I believe it is high time to embrace this new technology as there is a lot to gain from it. Numbers will never lie hence if the consumer ratings and positive feedbacks do matter to you, consider joining the new bandwagon and have a fun filled iOS 9 year, won't you?
Related Articles:
How to Fix iPhone Turns to Brick after Upgrading to iOS 9
Best Solutions for Jailbroken iPhone/iPad to Upgrade to iOS 9