Nowadays, with the development of technologies, mobile phones such as iPhone have penetrated into people's daily life. And speaking of iPhone, more and more users are dependent on the in-built calendar app. Also, an increasing number of people are relying on calendar app to manage their daily life in order. And some even prefer downloading professional calendar apps to be the best assistant, so as to keep track of the to-do items and manage their daily schedules in a reasonable way! However, sometimes due to various reasons, your iPhone calendar possibly can't work properly as usual, such as the inability to add new tasks to your iPhone calendar. But don't worry! This passage summarizes the common iPhone calendar problems and the corresponding solutions to these issues!
Situation 1: iPhone Calendar Can't Save Events
Question: "It seems that my iPhone is having some problem with the calendar. I can't add events to the calendar or enter for the dates noted down before. I don't know what's the matter with my iPhone calendar! But each time when I try to enter the specific date to check for some events, the calendar will display it for a few seconds but then suddenly disappear from my eyes. Anyone can't tell me what happened to my iPhone calendar? Any advice for me? Thanks in advance!"
Answer: Well, in this case, the possible reason is that you have set up your iPhone calendar with iCloud or another online calendar service to sync only recent events. So, you just need to change your settings. Detailed steps are as follows:
> Enter Settings tab from your iPhone device.
> Go to Mail, Contacts, Calendars under Settings option.
> Tick on the option of All Events.
Now, you can freely preview the events taken down in your calendar app. Just try it again!
Situation 2: Unable to See Attachments to Calendar
Question: "I liked writing something on a particular day and then added it to my iPhone calendar app under the corresponding date. But yesterday when I want to add some sentimental words to memorize my emotions of the day, only to find that I can't add my attachments to my iPhone calendar. Is something wrong?"
Answer: I have to say that you are behaving like a poet. Don't worry! First of all, you need to ensure that the format of your attachments is supported by iPhone calendar. The supported formats are: pages; keynote, and numbers documents; the documents created using Keynote version 6.2, Pages version 5.2 and Numbers 3.2 need to be compressed before being attached. Microsoft Office documents (Office '97 and newer); Rich Text Format (RTF) documents; PDF files; Images; Text (.txt) files; Comma-separated value (CSV) files; compressed (ZIP) files4. Secondly, make sure that the number and size of attachments is within 20 files and not more than 20 MB. Finally, open your Calendar once again and try refreshing the Calendar app within your iPhone device.
Situation 3: Avoid Calendar Information Lost
Question: "Well, my friend told me she accidentally lost all information from her iPhone calendar, including all the words she wrote to express her emotions at a particular moment. I also liked taking down my sorrows and happiness through words and record it to my Calendar to keep track of my daily life! But, I don't want to lose all these information all of a sudden. Is there any way to avoid sudden calendar information loss? Thanks!"
Answer: The best way to avoid this situation is to make copies of your Calendar from iCloud. Now, go to iCloud.com and log in with your Apple ID. Then open the Calendar and share it publicly. So, if you want to download the calendar information to your iPhone. You can copy the URL of this shared calendar and open it in any of your browsers (please note that instead of "http" in the URL, you have to use "webcal" before pressing the Enter/Return button). This will download and ICS file on to your computer. Then just share the backup calendar files from computer to your iPhone in one click.
Extra Bonus:
The cases mentioned in the above are the most frequently-met problems for iPhone users. And actually, in order to make sure you have a smooth experience of your iPhone calendar and let it be your best assistant tool in your daily life, you are suggested to upgrade your iPhone system to the latest version when it is available, since in general the newest version is much more professional and powerful with more bugs fixed and functions refined. To update to the newest iOS, you just need to:
> Go to Settings > General > Software Update.
> Click on Download and Install. Then follow the directions as prompted to finish.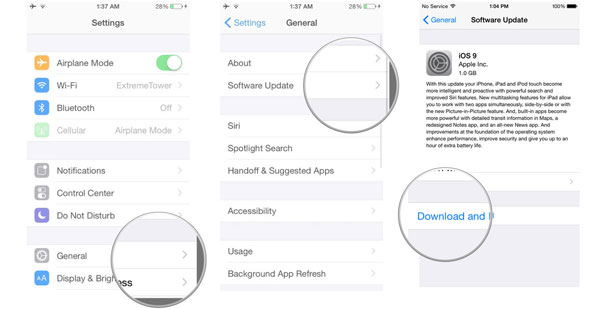 Since your files saved in iPhone including calendar can be lost due to various reasons such as virus infection or mistaken deletion, you really need to backup your iPhone files frequently to prepare for the worst. Here, you can have a try of this Coolmuster iOS Assistant, which is a professional software to transfer your files from your iDevice to a safe place within a few simple clicks! Moreover, this software is fully compatible with all generations of iOS devices, including iPhone, iPad and iPod! Below is the free trial version and you can download the right version to give it a try by yourself!
Related Articles:
How to Unlock and Reset iPhone Password
How to Share Files from Yahoo Mail to Gmail
How to Fix iPhone Clicking on Its Own in 11 Practical Ways?
How to Repair the iPad Keeps Crashing Issue in Minutes? (FIXED)