The operating system of the iPhone, iPad, and iPod does not allow users to access the file system. Many argue that iOS's inability to provide an in-depth view of mobile devices is its biggest drawback. Apple has sold over a billion iPhones and developed iTunes as an in-house solution for file management, but it has limitations. Though you can manage contacts, music, and videos with iTunes, managing individual applications is not its strong suit. This guide will present the top 6 iPhone file explorers that can be used on a PC/Mac to help you browse files conveniently on an iPhone.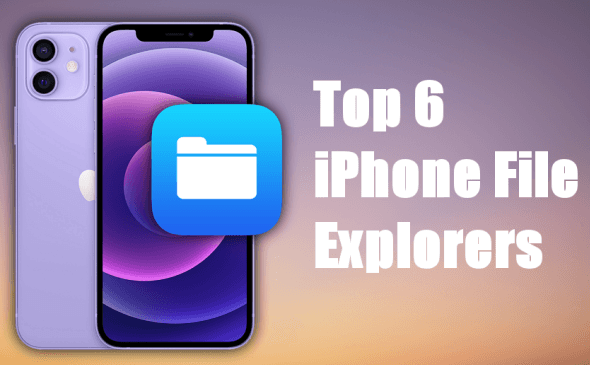 Top 1. Coolmuster iOS Assistant- Best iPhone Explorer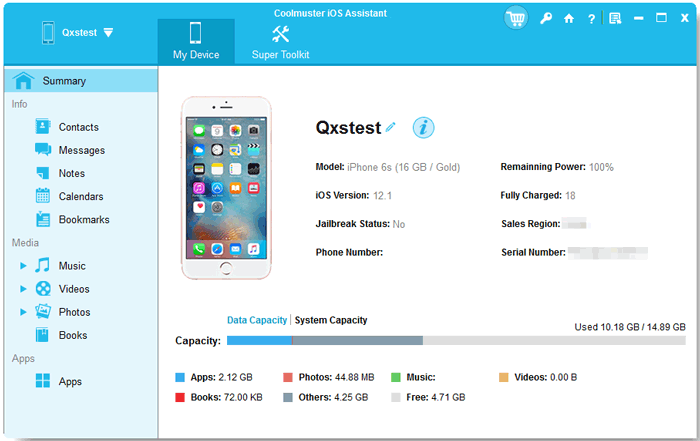 Coolmuster iOS Assistant is software that allows you to easily manage and transfer all types of media between your iOS device and PC or Mac. It proves to be much better than iTunes because of its features, such as backup management. It is the best iPhone explorer due to its excellent and advanced UI and various exceptional features, such as directly downloading web videos to your device.
Transferring files from a PC or Mac to your iOS device is no longer difficult. This software simplifies the process and allows you to download files from the computer to an iOS device easily. You can remove unnecessary apps from your iOS devices with a click. Additionally, you can manage files like calendars, photos, books, music, and playlists directly on your computer.
If you struggle to organize your contacts, photos or even music folders on your Apple device, try Coolmuster iOS Assistant. It's a powerful data manager designed specifically for iPhones, iPads, and iPods. You can export contacts to your computer in various formats, such as VCF, CSV, and XML. You can also edit contact details and easily add or delete contacts or contact groups.
Key Features:
Allow back up and restoring of your iPhone, iPad, or iPod with just one click.
Preview and select the files you want to transfer and manage them on your computer.
Edit, delete or add data on your iOS device on your PC or Mac.
Fully manage iTunes backup data and iOS files on your computer.
Support both Mac and Windows.
Pros:
Clean user interface.
Support multiple files.
Allow you to manage your files efficiently.
Effortlessly install/uninstall apps.
Cons:
The trial version has limited features.
How to use this iPhone file explorer:
01Install the program on your computer. After you have downloaded the correct version of the app, open it to see the interface. After that, use a USB cord to connect your device to the computer.
02When your device is connected, the software should detect it automatically. A pop-up message will then appear on the computer. Click on the "Trust" option on your phone and the "Continue" option to proceed.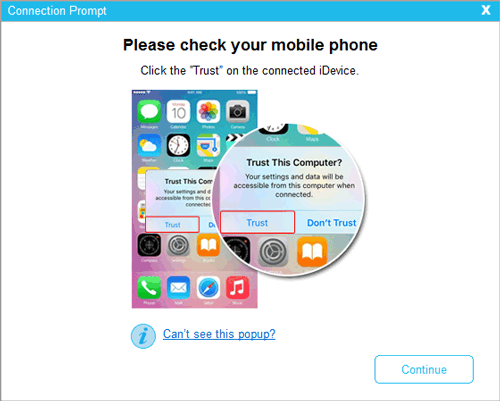 03After the software recognizes your device, you can see all the file folders organized in different categories on the primary interface. Choose the files to export. Open the folder, for example, "Contacts", and review the files. Choose the right output format and hit the "Export" button.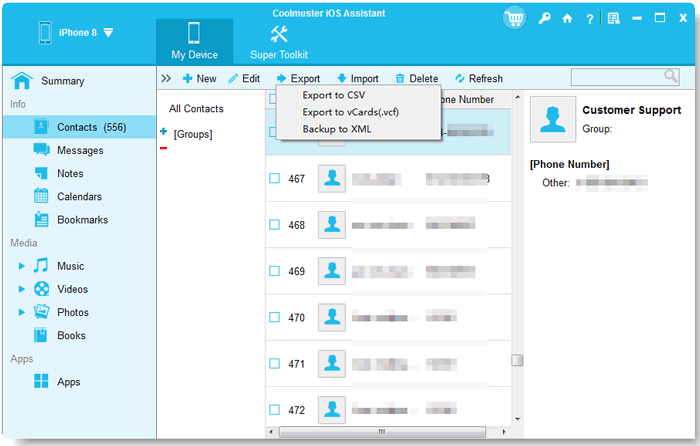 Also read:
How to Print Text Messages from iPhone/Android for Court?
How to Transfer Photos from Laptop to iPhone? 4 Methods to Fix It
Top 2. iExplorer - An Easy-to-Use iPhone File Viewer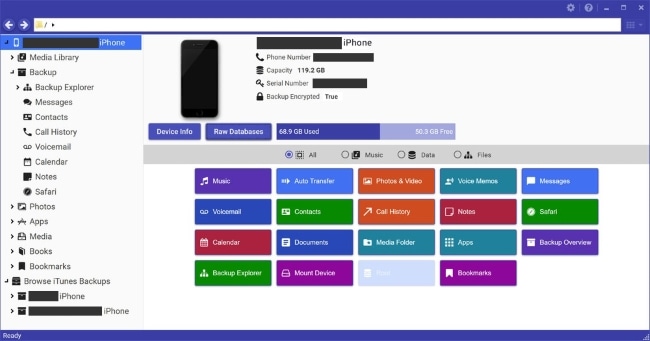 iExplorer is an iPhone file manager for PC that allows easy transfer of music, photos, messages, and more from iDevices to a PC. This iPhone file explorer has intelligent features. It allows you to transfer non-purchased music to iTunes by dragging and dropping.
Additionally, you can quickly rebuild entire playlists on iTunes, view, export and archive your messages and attachments, and extract voice memos, address books, contacts, notes, and other data. You can easily view the contents of your iPhone, iPad, or iPod on your Mac using iExplorer without much hassles.
Features:
Mount the iOS device on the computer as a drive.
Advanced features to manage and transfer music to iTunes.
Access information like call history, calendar, and other files from your iPhone on Windows and Mac.
Move files from iOS devices or iTunes backups to the computer.
Browse the data on your iPhone on iTunes backups.
Pros:
Back up iTunes to your computer.
Easy to use.
Lightweight and efficient.
Export iPhone messages.
Easily transfer pictures, music, messages etc.
Cons:
It freezes sometimes.
It's expensive when compared to other apps with the same features.
You can't make or transfer ringtones to iPhone.
Top 3. Macgo iPhone Explorer - A Free iPhone Explorer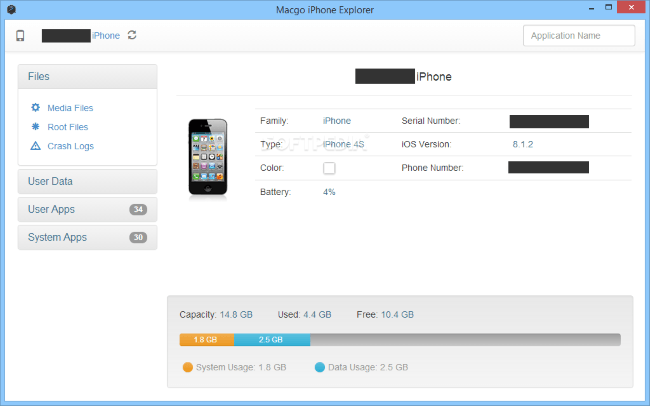 This software allows Mac users to access, manage, and explore the file system of their iOS devices. This iPhone data browser for Mac is not only free but also offers privacy for your data. It excels in managing application files, making it easy to transfer and back up app data between iOS and Mac. You should use this iPhone data explorer to keep them safe on your Mac. This will prevent accidental or careless deletion by you.
Features:
Transfer system data, app data, and pictures from an iPhone to a Mac.
Compatible with Mac OS X 10.8 and newer versions.
Access iPhone's file system easily; no need to jailbreak the device.
Pros:
Simple and free to use.
Back up iOS data to Mac.
A built-in search function.
Cons:
It requires iTunes installed.
It is challenging to manage data.
It fails to work sometimes.
It can't run on Windows 8.1.
Here's more to see:
How to Transfer Data from iPhone to PC without iTunes [9 Methods]
3 Ways to Transfer Text Messages from iPhone to Computer? [Can't Miss]
Top 4. iTools - An Ads-Free iPhone Explorer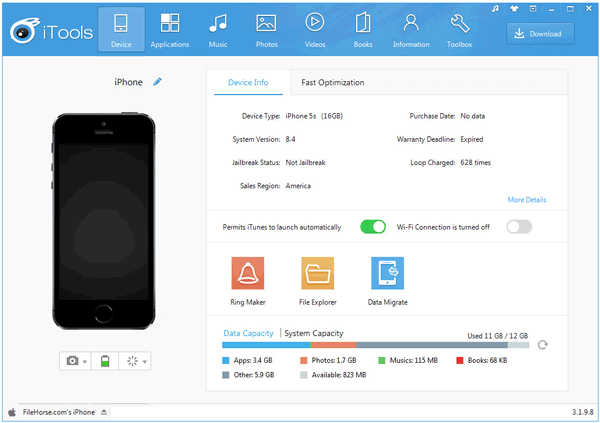 iTools is a tool that lets you manage your iDevices on your Windows or Mac computer. This software allows you to efficiently manage and browse through media, such as music, videos, pictures, and files on your iDevices. It also supports managing your personal information, such as contacts, call history, messages, notes, and Safari bookmarks. If you are looking for an ideal iPhone file explorer for Windows 10, this is the app.
This free iPhone file browser offers several options, such as installing, uninstalling, and backing up your apps. You can also browse your app's file information. Additionally, you can access all your iTunes backup files and the App Store.
Features:
Manage and view iOS data such as photos, contacts, messages etc.
Create ringtones.
Back up as well as restore iPhone data.
An iTunes backup manager.
Pros:
Free and does not contain ads or plugins.
Easily manage your Apple device with its user-friendly interface and simple design.
Cons:
Sometimes, it fails to load iPhone photos and videos from the Camera Roll.
Top 5. iFunBox - Another Free iPhone Explorer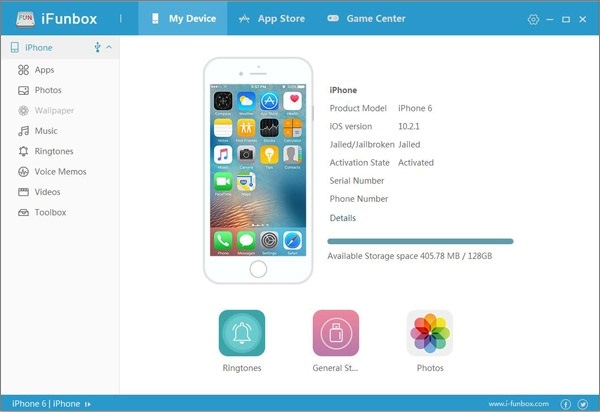 Many iPhone users are familiar with iFunBox, which is well-known as a VLC in the media player world. This iPhone file explorer allows you to access any file system on an iOS device, whether jailbroken or not; it also enables you to effortlessly install and uninstall applications, preview pictures as wallpapers, and access saved games.
Features:
Migrate files from a computer to iDevices without using iTunes.
Access app data, including user accounts and messages, from the App Sandbox.
The App Store & Game Center offers apps and games unavailable on the Apple App Store.
Pros:
Install additional apps that are not in the App Store without jailbreaking your phone.
Drag, drop, or move files without any interruptions.
Cons:
The interface resembles Windows and could not be that user-friendly for file browsing for some users.
Jailbreaking is necessary to set an image as wallpaper on an iPhone.
See also:
How Can I Transfer Files from PC to iPhone without iTunes? [5 Ways]
How to Transfer Music from iPad to Computer? Top 3 Ways You Can't Miss
Top 6. iMobie AnyTrans - A Speedy iPhone File Explorer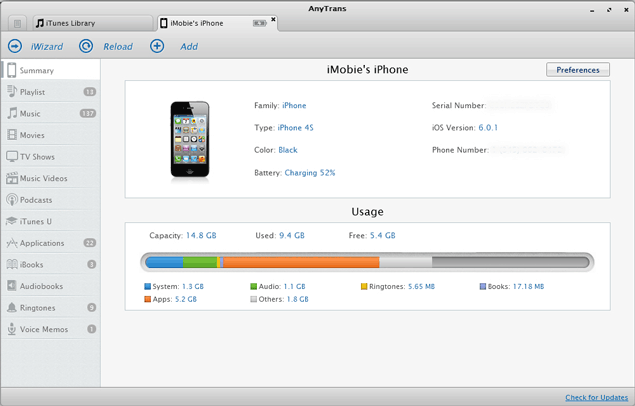 Another best iPhone file explorer, Windows 11 supported, is iMobie. It is both an app manager and file browser for iPhones and iPad that is completely open source. It includes a file manager section that allows you to move data between your PC and iPhone. This tool offers an option to clean up your iPhone, thus boosting the iPhone and creating more storage space. It provides extensive coverage and fast speed for all iPhone models, allowing faster data transfer.
Features:
Rebuild iTunes Library.
Transfer app data easily.
Copy playlists.
Fast speeds.
Freely add your iPod music.
Pros:
Manage all important files and information conveniently from your iPhone and PC.
The process is speedy, and you can load data within seconds while experiencing an instant response.
Cons:
You cannot use AnyTrans for adding or editing the iTunes library.
Your device must be permanently unlocked.
Conclusion
Except for the original file explorer on iPhone, you can also find many third-party iPhone explorer on Windows or Mac to manage iPhone files. iMobie AnyTrans is a great option, but you can't manage your iTunes library. iMazing is an iPhone file explorer that is easy to use, especially for beginners. However, device backups are required, and in some cases, they may be slower than iTunes.
Therefore, we recommend Coomuster iOS Assistant as it is multifunctional and performs well. It is also an excellent music manager that can edit iOS data and iTunes backup files on a computer. The application has a clean and user-friendly interface that will make managing your iPhone data easier.
Related Articles:
How to Transfer Music from iPhone to Computer Effectively? (4 Tips)
How to Transfer Music from iPod to iPod [Must Read]
[3 Ways] How to Transfer iBooks from iPhone to PC
[Fixed] How to Transfer Photo Albums from iPhone to PC with Ease?
How to Transfer Music from iPhone to Mac? (Top 4 Ways)