"I want to be able to mount the iPad as a local drive in Windows so I can dump and sync my work documents into my iPad(about 20GB). I tried WIFI WEBDAV but it's just too slow, and apps like iphonebrowser are limited to their own interface (I can't mount). I searched/googled everywhere and found no clue on this. Any one got idea how this can be done? Many thanks in advance for your help."
Can't Miss: How to Transfer Data to iPhone, iPad and iPod
Well, of course we benifit a lost from Apple's products like iPad, iPhone and iPod. The give us great joy in the entertainment life and also provides convenience in working and communication. However, unlike mobile devices like an Adroid-based tablet or mobile phone, we can't get Windows or Mac computer to assignn a drive letter to the iPad, iPhone or iPod. When we connect an iPhone or iPad to a Mac or PC, you will be required to install third-party program like iTunes and iPhoto on your computer if you want to transfer the videos and photos. That seems very troublesome! Can we make the thing easy if we can mount the iPad, iPhone and iPod in the Windows or Mac computer like a USB drive?
The answer is YES! What you need is the 3-in-1 freeware like Coolmuster Free iPad iPhone iPod Disk Mode, which solves the mounting issue by recognizing the iOS device when you plug it into your computer. Once the USB connection of the iPad, iPhone or iPod is successful, all files and folder contained in your device will be detected and displayed in the program main window. You can choose to copy these files and folder from device to computer and transfer files from computer to device. Even you can create new files/folders, delete useless files/folders and rename existing files/folder. And nicely, the program is free for charge and doesn't require a jailbroken device.
Coolmuster Free iPad iPhone iPod Disk Mode is really a free and easy-to-use app. It works on all existing iOS devices, including iPhone 14/13/12/11/X/8 Plus/8/7/6, iPad Pro/Air/4/mini/2, iPod touch 8/7/6/5/4/3/2. Download the freeware from below button and install it on your computer to have a try. We will set Windows version as an example, if you are using a Mac, you can choose downloading the Mac version and follow the guide as well.
Tips: If you wish to transfer data from iPad/iPhone/iPod to computer, you can follow the tutorial on the article of transferring music from iPhone to PC to reach your goal. Or if you need to copy data between iDevices, an article like how to transfer file from iPhone to iPhone are also available here.
Guide to Get A Drive Letter to Your iPad in Windows PC for Free
Step 1. Connect Device to Computer
After you get the iPad iPhone iPod Disk Mode freeware downloaded and installed on your computer, launch it and connect your iDevice (Following we set iPad as an example) to your computer. Once the connection is enabled, all the files and folder in your iPad will be displayed in the main interface and sorted clearly in different catalogs.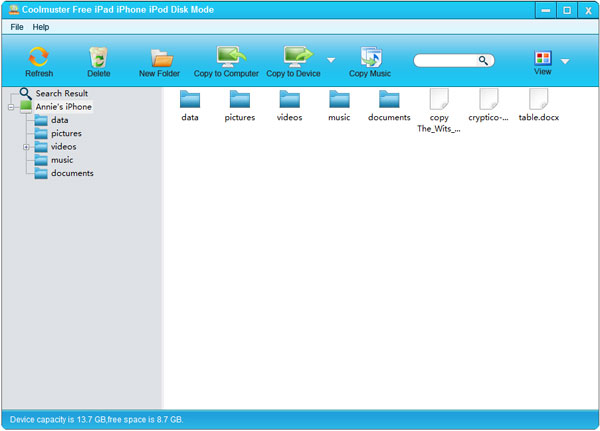 Step 2. Manage Files in iPad/iPhone/iPod Disk Mode
All the contain files and folders are displayed here in the main interface and you can view them via two different view options: List View & Icon View. All the enabled options are shown in the top menu, such as Delete, Create New Folder, Copy to Computer, Copy to Device, Copy Music, etc. That means you can transfer files like videos, music, photos, documents,etc. between computer and iDevice with ease and even you can add/delete/rename files and folder without any restriction.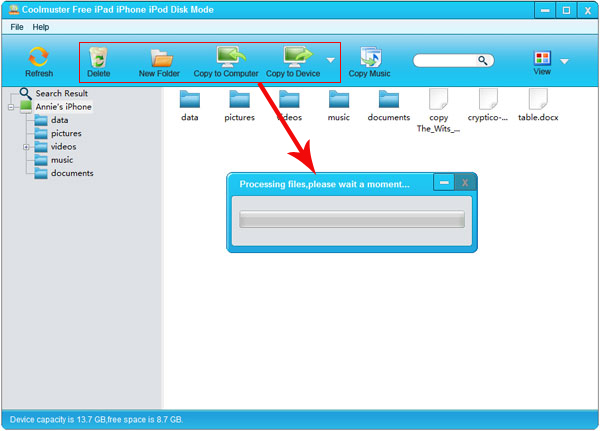 Words in the End
Just do whatever you want on your iPad, iPhone or iPod with the help from Coolmuster Free iPad iPhone iPod Disk Mode. You iDevice is just mounted as local USB disk drive and you can manage the files and folder without downloading iTunes or iPhoto any more. Sounds good? Go ahead to download the freeware to use iPad/iPhone/iPod as a hard disk!
Related Articles: