Google Play Music is a music streaming service and online music locker operated by Google. Users with standard account can upload and listen to up to 50,000 songs from their personal libraries at no cost. - From Wikipedia.
In addition to offering music streaming for Internet-connected devices, Google Play Music users can also be able to store and listen to beautiful music songs offline. This is especially useful since your device won't be turned on through day and night? Right? Now, can't wait to know how to play Google music offline? This passage will tell you how to play Google music offline, targeted at iDevice users and Android users.
Part One: How to Play Google Music Offline on Android Device
For Android users, you can easily transfer music from Google Play to Android device in one click. And if you want to play Google Music offline, just follow the below steps:
> Enter Google Music app from your Android phone. Then you can choose to display music songs according to Albums, Artists or Playlists. By the way, you are free to switch views using the drop-down menu in the top-left corner.
> Go to the Menu tab and then choose the option of Make Available Offline. Generally speaking, you can find this menu from the top-right corner of the Application bar.
> Now, you will see a gray pin in the interface. You can touch it to make it turn green if you want to play Google Music offline. Then you can select any music songs that you want to play offline as you wanted and liked.
> Finally, click on the option of Done to start downloading the items to your device. After that, even if your Android phone is disconnected to internet, you can still enjoy music songs without any limitations.
Part Two: Play Google Music Offline on iPhone/iPad/iPod
As to iDevice users, the steps are quite similar to Android users. First of all, you need to open the installed Google Play Music on your iPhone/iPad/iPod. After that, you are free to decide to display your music songs according to Playlists, Artists, Albums and etc. Taking Albums as example, you will see the below interface. Now, you can choose the songs you want to play offline by clicking the right-arrow sign and switching the option of Offline to ON.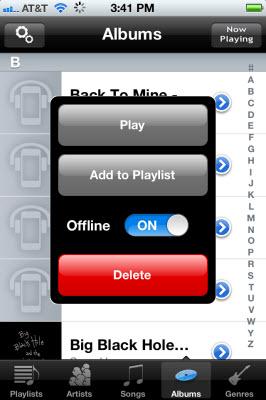 Actually, for iDevice users, you can also read this article to learn how to download music to your device in different ways as you needed and liked. Moreover, here are some useful music apps for Android and iOS devices to enjoy songs without any limitations.
Write in The End:
No matter how you love the beautiful lyrical songs, one thing you can't deny is that all your important files including your favorite songs could be lost due to various reasons. Here, you might be interested in:
Top 5 Causes of Android Data Losses
Must-Know Reasons for iPhone Data Losses
To prevent the potential damages brought by accidental data losses, you are suggested to backup your files frequently. Here, for Android users, you can choose to transfer files from Android to computer (Mac/Windows) or to backup Android files wirelessly. For iPhone users, you can rely on this Coolmuster iOS Assistant software to easily sync files from iPhone/iPad/iPod to computer as a backup in one click!
Related Articles:
Copy Photos/Music/Videos from iPad Air to Mac and PC