Android smart phone is one of the most marvelous handheld devices on the planet. It takes pictures, surfs the net and keeps you in touch with all your friends and acquaintances. But, what happens if your marvelous wonder machine loses all your data? Phone numbers that no one bothers to remember anymore or the pictures you just tool of your child's first steps. It can all be gone in an instant and today we will talk about top 5 causes of Android data loss how you can lost everything.
Cause 1: Upgrade
Many people today are upgrading their Android devices to the latest Android OS version. Unfortunately, in a number of instances all the personal information is erased after the OS update. This means you have to re-enter everything by hand all over again. This can take many hours and often you will not be able to put it all back as most don't keep their contacts and phone lists up to date in hard copy.
Cause 2: Theft
You can lose your Android device through a number of mishaps such as dropping it into a lake, river or pond. It could be stolen or it just may fall out of your pocket at the train station, bus stop and checkout counter at your local supermarket.
Cause 3: Human error
Sorry to say most data is lost by accident when someone deletes it by mistake. You mean to delete one item and you chose the wrong one in error. Now you are missing a vital phone number or a special picture that is very precious to you and your memories. This is probably the most common occurrence that cases Android data loss.
Cause 4: Jailbreak
Some attempt to get more out of their Android and they go to see their local Android teachs. These individuals can unlock features that you might never have been aware of before you visit them. However, one of the side effects is that all your data can vanish as a result.
Cause 5: Replacing the battery
Believe it or not, a simple thing such as replacing your battery can cause your Android phone to lose all of your personal information and you have to start all over again as in some instances it resets the Android back to its original factory settings.
Then, what if you lose important data from your Android phone? Coolmuster studio is capable of recovering your lost data no matter how you lost it. Its star product - Coolmuster Lab.Fone for Android is able to solve the Android data recovery problem as easy as pie. It will assist you to recover not only photos and videos, but also text messages and contacts from Android phone or tablet. It professional functions and user-friendly interface win high praise from users. You can use this Android data recovery tool directly recover lost files from Android device, or you can also restore formatted or deleted data from the SD card on your Android mobile.
Just choose the right version of the Lab.Fone for Android to download for a free try. No matter how your Android data was lost or deleted, this program can scan and recover them for you without any hassle.
One-stop Solution to Recover Android Data No Matter How You Lost It
Step 1. Launch the program and connect Android to computer
Link your Android phone to computer. After downloading and installing Lab.Fone for Android on your computer, you can launch it to get into the home window. Make sure you have enabled USB debugging on your phone, which allows the Android data recovery tool scan it.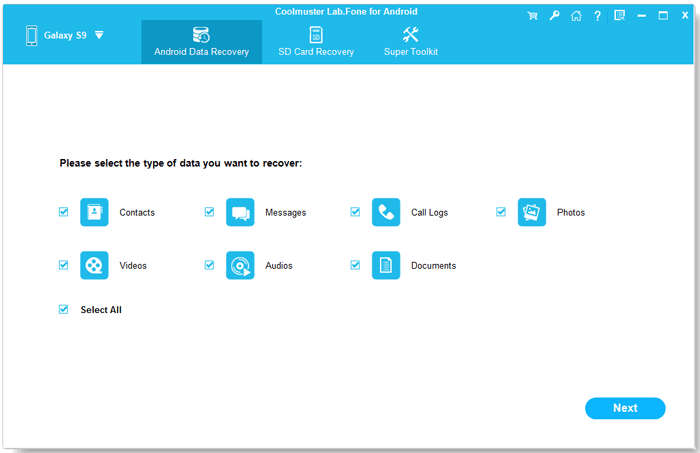 Tips: if you haven't enabled the USB debugging on your Samsung phone, the Android data recovery tool will be failed to detect your phone. Therefore, you have to follow the instructions below to open USB debugging on your phone.
For Android 2.3 or older, Go: "Settings" < Click "Applications" < Click "Development" < Check "USB debugging".
For Android 3.0 to 4.1: Enter "Settings" < Click "Developer options" < Check "USB debugging".
For Android 4.2 or newer: Enter "Settings" < Click "About Phone" < Tap "Build number" for several times until getting a note "You are under developer mode" < Back to "Settings" < Click "Developer options" < Check "USB debugging"
Step 2. Scan your Android device for lost data
After you enabling the USB debugging, you will see the main interface as below. Your Android phone is detected by the program and all the phone data is also scanned out and displayed in categories.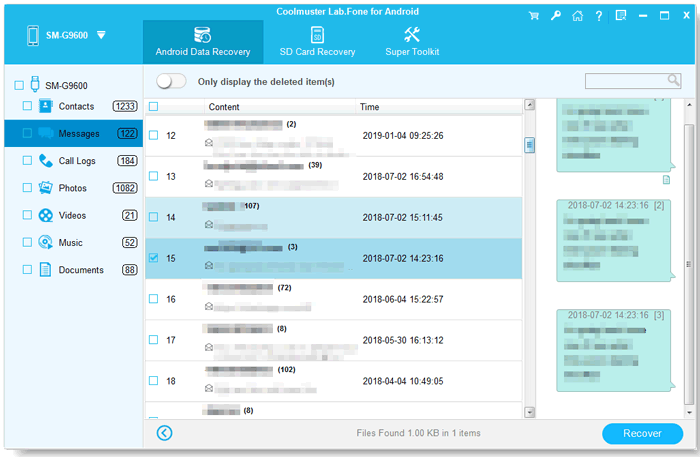 Step 3. Preview and recover selected data from Android
You can preview contacts, SMS, photos, videos and more in details. Choose those you want to recover and click the button of "Recover" to preserve them on your computer.
Related Articles:
Samsung Galaxy Desktop Manager
SMS Recovery for LG Optimus/G2/Viper/Ally
Top 5 Ways to Recover WhatsApp Images Deleted by Sender
Recover Deleted Photos from SD Card on Android Phone [Fixed]