Have you upgraded your iOS operating system from iOS 8 to iOS 9? It is definately that iOS 9 is the coolest operating system for iPhone now. However, with the using of the new system, more and more iPhone users complained that their iPhone, iPad and iPod touch runs more and more slow in recent days, and they hope to find an easiest way to speed up the iOS 9 on slow iPhone, iPad or iPod touch. Thus, we write this article to help you get out of the trouble. If you wish to solve the problem by downgrading the operating system from iOS 9 to the former iOS 8.4, you can click the link to get more detailed info. But to be honest, we don't like to recommend you downgrade the operating system so that you iDevice can runs faster than now, because lots of features of iOS 9 is really worth to try and helpful in the daily life.
How to Speed Up iOS 9 on Slow iPhone, iPad and iPod touch?
1. Close Unused Running Apps/Games or Deleted Unused Apps on iPhone
As an iPhone user, it is no doubt that you have downloaded and installed lots of apps on the device for entertainment or convenient life, right? But you must have never known that these apps is a main factor of resulting in the slowly running speed of your device. On one hand, too much apps on your iDevice will occupy a large amount of internal storage space on your device; on the other hand, the closed running apps always keep running in the phone's background, so that they are still occupy the CPU of the device and slow down your phone's running speed. Thus, that's why we strongly recommend you to delete ununsed apps on iPhone, iPad or iPod touch to free storage space and close unused running apps or games on the device thoroughly.
To reach it, you only need to tap on an app on your iPhone Home screen. Hold it until all apps begin to wiggle. And then click the X on the upper left of each unwanted app to remove it from your iPhone.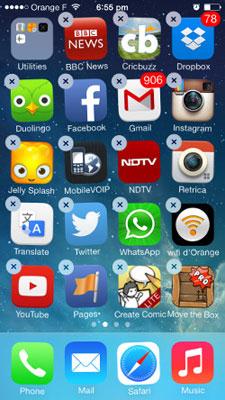 2. Clear iPhone, iPad or iPod Junk Files Regularly
Too much test on the market have proved that junk files like app crash files, temp files, etc. always be generated and saved in your iPhone, iPad or iPod touch's storage space and become more and more lager with the using of your device. And in most situations, you can not even be aware of these junk files being invaded your memory and slow down the speed of your device until one day you get a reminder from the device like "this device is out of storage, please delete some unnecessary files to free more space", then you try to delete files like apps, photos, etc. from your device and find only small space have been released, what will you do?
Actually, you can't find or see these junk files on your iDevice directly except for asking help for a professional iPhone data cleaner program. Thus, in order to wipe or clear your iPhone, iPad or iPod touch, you'd better to find a cleaner program on the Internet, here we could like to strongly recommend the Coolmuster Free iOS Cleaner for Mac program for your reference. With it, you can easily and quickly find all junk files and remove them from your device with one simple click.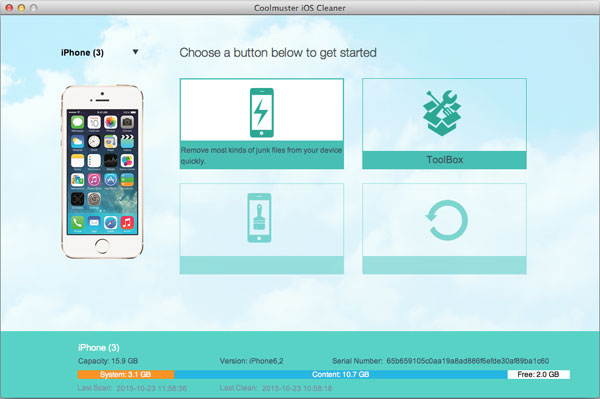 Can't Miss:
How to Clear Junk Files on iPhone 6S Plus/6S/6/6 Plus/5S/5/4S
How to Clean App Caches on iPhone Easily
3. End Multi-task on iDevice
You must have opened lots of apps or services on your device, so in order to speed up the running speed, you'd better to end these task when you don't use them currently. To reach it, you only need to tap the Home button twice in succession and then swipe up on a thumbnail.
4. Turn off Background Apps Refresh and Auto-update Function
Background apps activities always slow down your iDevice's performance in the daily life, so turn off the background apps refresh and auto-update function can greatly improve your iPhone's running speed. Below is the simple instructions to guide you to achieve it.
- How to Turn off Background Apps Refresh
Setting > General > Turn off Background App Refresh
- How to End Apps Auto-update Function
Setting > General > iTunes > App Store > Turn off Updates
5. Restart or Force Restart Your Slow iPhone or iPad, iPod touch
It is really easy to power off your iPhone, iPad or iPod touch, and then turn it on. In this way, all temporary files that generated by iOS device will be removed automatically, and this is very useful to speed up your slow iPhone, iPad or iPod touch in the iOS 9. So if you find your iDevice is running slowly and slowly, just try to restart it at first, and then you can try the top 4 tips to speed up the device quickly.
Related Articles: