Like Android users who may prefer rooting their Android phones if they want to own the full control over their mobile phones, iPhone users also tend to jailbreaking their iPhone device, so as to freely using new wallpapers for their iPhone device which suit their tastes, download calendar apps for their iPhone, change icons as they wanted which is totally impossible in non-jailbroken iPhone devices. But jailbreaking is not a secure action which is totally free from any potential danger, and therefore you need to follow the professional guide to jailbreak your iPhone. Today, this passage will tell you how to jailbreak your iPhone running in iOS 9 or in iOS 8.
But no matter your iPhone is running iOS 9 or iOS 8, before jailbreaking your iOS, you have to make sure that the following matter have been done, or otherwise you may suffer great losses from jailbreaking your iOS.
Must-Do 1: Backup your iPhone files. You can transfer them from your iPhone to computer or to iTunes as you wanted, so as to save them on the computer as a backup in case of sudden data losses during the jailbreaking process.
Must-Do 2: Fully charge your iPhone. You have to get your iPhone fully charged before starting jailbreaking your iPhone, or it is possible that your iPhone will turn into a cold brick due to power failure.
After getting these things carefully done, you can begin to follow the below steps to jailbreak your iPhone!
Part One: How to Jailbreak iPhone Running iOS 9
If your iPhone is running iOS 9.0.1 or 9.0.2, you can follow this part to jailbreak your iPhone with the help of a professional team named Pangu. The following instructions are also suitable for iPad! Both Windows and Mac versions are available for different users. Remember to choose the right version! And the following takes Windows Version as example!
Step 1. Download the latest Pangu iOS 9 jailbreak and then open it on your computer. Then connect your iPhone to the computer. Before that, remember to open the Airplane Mode on your iPhone. Then this software will automatically detect your iPhone, finally just hit the option of Start to continue.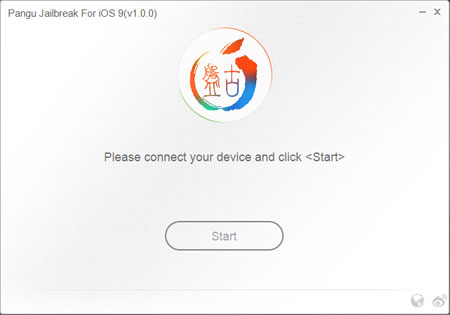 Step 2. On the pop-up window, choose the option of Already Backup to continue the process. Now, the jailbreak process will start and your iPhone will reboot. Later, enable Airplane Mode again as prompted to continue the process.
Step 3. After that, this tool will ask to launch Pangu application on your Home screen. Then it will require access to your Photos Library and then click on Accept to continue.
Step 4. Choose OK when you see the interface saying Pangu Would Like to Access Your Photos. Then your iPhone will begin to reboot. After that, disable Airplane Mode and launch Cydia app to load. (Tips: Cydia app will be automatically installed in your iPhone together with Pangu.)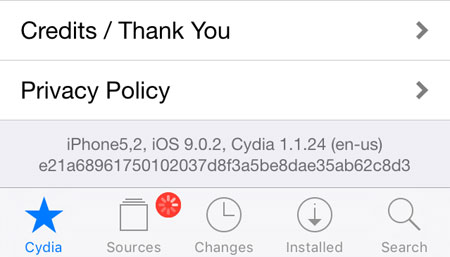 Part Two: How to Jailbreak iPhone Running iOS 8
This part is mainly for iOS devices in iOS 8/8.1, which includes iPhone 4S/5/5S/5C/6/6 Plus, iPod Touch, iPad Mini/2/3/Air/Air 3.
Step 1. Download Pangu iOS 8 Jailbreak from the website: https://en.pangu.io/, then run it on your computer. Make sure that you have downloaded the right version on your Windows/Mac computer.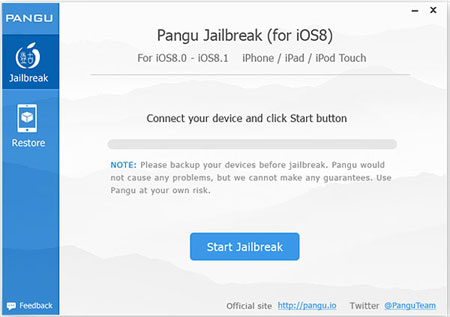 Step 2. Connect your iPhone to the computer via the USB cord, then this Pangu will automatically recognize your device. After that, click on the option of Start Jailbreak icon on the main interface to begin the process.
Step 3. Then click on Already Did on the following interface and then just wait for the process to continue. You have to know that this process will take some time to be finished. Just be patient!
Once the jailbreak process is completed, you need to restart your iPhone and then open the Cydia application to load the files as mentioned in the above part.
Bonus: In terms of backing up iPhone files to computer, you can rely on this Coolmuster iOS Assistant to share files from iPhone to computer in an easy and fast way. Moreover, this software is able to transfer any files from iPhone/iPad/iPod to computer as you liked!
Related Articles:
What if I Forget My iPhone Password?