You don't get it. When you first got your iPhone, it operated faster than all previous smartphones you ever had combined. Its performance was as smooth as silk. What's more, it could operate multiple apps all at the same time and wasn't leggy or unresponsive at all. But now your iPhone has become slow to respond and keeps on telling you that you no longer have enough storage space to download the latest update to Gmail or not even enough to download a song from iTunes. This is because your phone has created so many junk files as you navigate the web, frequent certain web pages, use certain apps more often and upgrade the operating system without cleaning it first.
And even though there are many smartphone cleaners available on the market, downloading those apps can add more data to your phone and take up just as much storage space. It may not even be worth overloading your iPhone with an app that can't clear up enough space to make up for the amount it takes up on your smartphone. Luckily, Coolmuster iOS Cleaner is a program that can remove junk files from your smartphone without ever having to download another app to help doing the cleaning process. This program is available for you to free download on your Windows and Mac computers, and can remove all junk files like caches and temp files from iPad, iPhone and iPod.
Once you connected your iPhone with the computer, Coolmuster iOS Cleaner will scan your iPhone deeply and quickly to find the target junk files. It not only gives you the capability to remove junk files, it also allows to you choose which files you want to save from deletion on your iPhone before you clean it. It works on all iPhone models like iPhone 14/13/12/11/X/8 Plus/8/7/7 Plus/6S Plus/6S/6 Plus/6/5S/5C/5, as well as iPad and iPod.
Just click the button below to free download the demo version of the iPhone data erasing software. Choose the right version according to your computer system.
Step-by-step Guide to Clean/Remove Junk Files from iPhone Easily
Step 1: Launch iOS Cleaner and connect your iPhone
Connect your iPhone to your computer. After you have downloaded the software, click on the icon that pops up on your desktop. When it opens, you will see a window of the program shows like the following picture. It will detect the connected iPhone and show it on its window.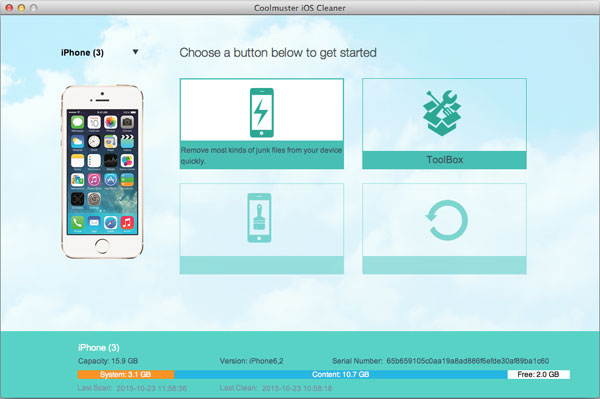 Step 2. Scan your iPhone for desired files
When you are ready, hit the "Start Scan" button and iOS Cleaner will scan your iPhone for all junk files. After the scan, it will then list all the files it is able to delete and still allows you to preview these files to see if you want to keep them or not.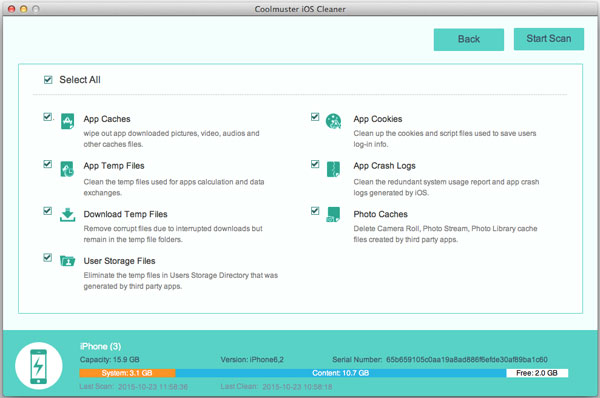 Step 3. Start to clear junk files on iPhone
Finally, when ready, click "Erase" button and wait for the confirmation screen telling you how much data was erased as well as how much space you created.
Extra Bonus: More Tips & Tricks on Removing iPhone Junk Files
Aside from relying on a professional software as mentioned in the above to remove unwanted junk files from iPhone, there are also small tricks you can do to facilitate the cleaning process. Listed in the below are just several items you can also do without any difficulty:
1. Removing iPhone Junk Files by Closing Opened Apps
The more apps are opened, the slower your iPhone performance will be. Since apps will still run in the background if not closed manually, you need do it by yourself so as to clear all the related temporary files as well from the memory. And to close all the opened apps:
- Open your iPhone and double press the Home button.
- Now thumbnails of all the opened apps are displayed, drag each to close the corresponding one.
- Press the Home button again to go back to the normal view, Then use your iPhone normally with better performance.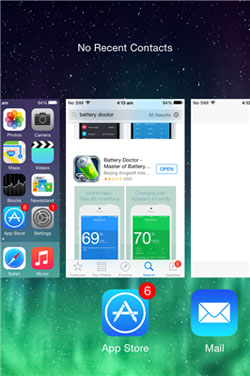 2. Removing iPhone Junk Files from Settings
Within iPhone Settings, you can easily clean up search history and website data which are generated when you surf on the internet and browse webs. By clearing search history, and cache files, you are able to free up more space on iPhone. Below is the simple guide:
- Go to the Home screen, and tap the Settings icon.
- Locate and tap the Safari app from the Settings window.
- Go to the Privacy & Security section from Safari window and tap Clear History and Website Data.
- Tap Clear History and Data option on the promo dialogue.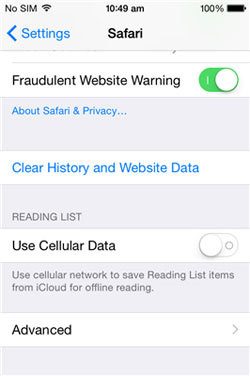 3. Removing iPhone Junk Files from Safari
For those who only Safari to surf the web on the iPhone, you can also clear the junk files, i.e. history and website data within the web browser itself. Below guide tells you how to do it:
- Tap the Safari icon from the Home screen.
- Choose Bookmark icon from the bottom of the opened Safari's interface.
- Now tap History from the displayed list.
- Click on Clear option at the bottom.
- Finally, clean up files as wanted by choosing the right option.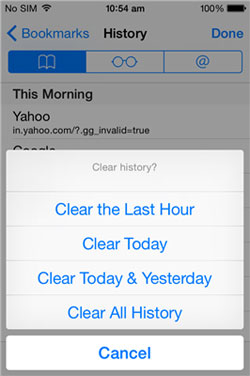 Note: We kindly suggest you remove junk files from iPhone from time to time by using this Coolmuster iOS Cleaner in order to make sure your iPhone can run fast and smoothly.
Conclusion
To clean and remove junk files from your iPhone easily using Coolmuster iOS Cleaner, follow the step-by-step guide provided above. It is easy to delete junk files from your iOS device.
Related Articles:
Recover Contacts and Text Messages from iPhone SIM Card
How to Recover Deleted WhatsApp Chat History on iPhone
Back Up Contacts on iPhone with Ease [Solved in 5 Ways]