For iPad users, with Google Calendar, you can know if you have any event coming up or a meeting that you have to attend. You won't be forgetting the important stuff, ever. Synchronizing Google Calendar with iPad can require quite some understanding about your iPad. The below methods tell you how to add Google calendar to iPad within simple steps.
Related: Top 10 Calendar for iPhone/iPad You Would Love
How Do You Sync Google Calendar with iPad Pro/Air/4/mini?
Method 1:
Here is a list of the things that you need to do.
Step 1 - Go to Settings. Choose Calendar. Go to Accounts and then Add Accounts.
Step 2 - Add your Gmail account and then tap on the account you need to sync your calendar from.
Step 3 - You will see a Calendar option. Toggle the sidebar to the right to enable the calendar sync option.
Step 4 - You can even choose which calendars you want to sync. For this, go to the sync settings in Google calendar.
Step 5 - Now, you will see a list of all the calendar options that you have. Just check all the ones you need synced and save. You're done!
Do remember that you need to repeat the steps for every calendar that you add, each time.
See Also:
* Sync Outlook Calendar with iPhone
* Transfer Yahoo Calendar to iPhone
Method 2:
Using your device Exchange account to add Google calendar to iPad.
Step 1 - Go to the Settings tab. You can access it from the Apps screen. Search through the apps to find the "Settings" icon.
Step 2 - After you click the Settings option you will see the "Account" option. Choose the Account option and select "Add an Account".
Step 3 - Enter your Gmail mail details including username and password.
Step 4 - Select the Exchange account option that appears after clicking the next button and then enter the DOMAIN\username, password and your gmail.com server address.
Step 5 - Make sure that the details are correct. Your mobile will start syncing with all your Gmail contacts. In case syncing does not occur, check your mobile connection or restart your mobile.
Step 6 - Use your Gmail account with your device!
Method 2 will allow you to sync your mail and contact as well. Your primary calendar will be synced too.
Extra Bonus: How Can Coolmuster Help?
If you are looking for an all-round option to help you with all your mobile storage and transfer needs, Coolmuster iOS Assistant software is the solution. It will help you do everything from backing up all your files to transferring everything from apps, contacts to pictures from one phone to another. So if you have bought the new iPhone 7 and want to transfer all the data from your previous phones to it, you can do it in just a few clicks.
You can view all files you want to transfer, and even transfer in batches. It's fast and it's easy. But that is not the only reason we love this software. You can fully rely on it to transfer your Google Calendars from one phone to another in a simple few steps too. Here is how you can do it.
Step 1 - Connect your device to your PC computer through a USB cable.
Step 2 - Then open the installed software on the computer.
Step 3 - Just choose the phone you want to export the details to, that can include anything from Calendars to apps and games, and wait for the syncing to complete.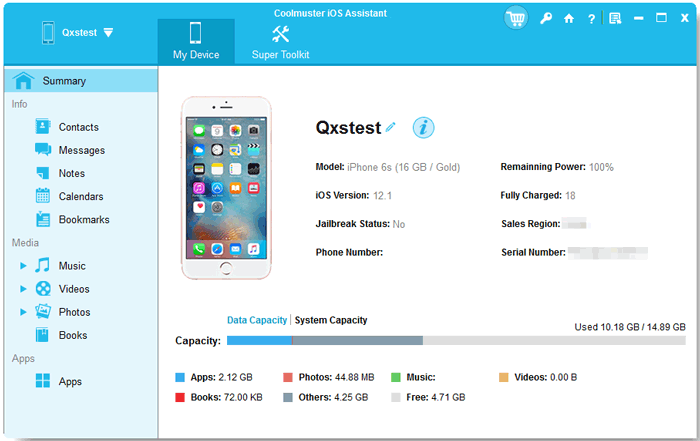 Sum Up
And you are done! You will have all your information synced. Your Google calendar will be synced and you can work without having to miss out on any important stuff, with the friendly Google reminders. By the way, the above tutorial only takes Windows version example, and if you are a Mac user, just download the right Mac version and follow the same steps!
Related Articles:
How to Import Photos from iPhone/iPad to Windows 10/11? 6 Easiest Methods for You!
How to Transfer Videos from Mac to iPhone with 5 Methods
How to Transfer Videos from iPhone to Android Effectively [Solved]
5 Ways on How to Transfer Photos from Computer to iPhone
[Fixed] How to Transfer Photo Albums from iPhone to PC with Ease?
4 Ways to Transfer Photos/Videos from Samsung to PC Efficiently