Tips on How to Free up Storage on iCloud
When you need to make a phone backup of your iPhone, iPad or iPod, quite a few people may consider using iCloud to back up their devices. Before that, you should know that Apple just offers 5 GB of free space for iCloud, though you can upgrade your iCloud account for a yearly fee to include a larger 15 GB, 25 GB, or 55 GB data storage plan. Actually, for the majortity of iOS users, 5 GB of free storage space is quite enough as long as you free up storage on iCloud regularly. Now, this passage will tell you how to free iCloud storage on iPhone/iPad and on computer.
Also Read: How to Sync iOS Device with iCloud
How to Free up iCloud Storage on iPhone/iPad
Generally speaking, iCloud stores iPhone/iPad data as two types: document & data and backups. Storage is the data that's sent from your app to iCloud for sync, while Backup is periodically saved-up data that goes into the iCloud backup space. So to free up iCloud storage on iPhone/iPad, you can start the cleaning process from these two aspects.
> Go to Settings > iCloud > Storage & Backup.
> Then enter the Manage Storage section to see more.
> Now, you can have a clear picture of the storage usage of Backups and Data.
> To clear space from iCloud Document & Data, enter the files to preview more. Then click on Delete All to delete these files from iCloud to get more free space.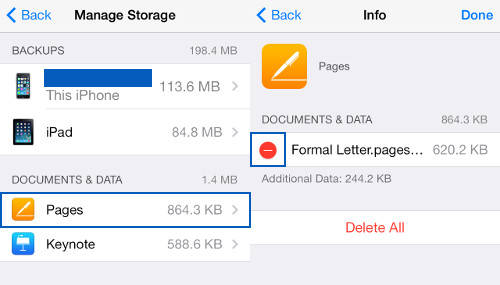 > To clear space from iCloud Backups, enter the files to preview mores. Then switch off the apps that you don't want to sync with iCloud.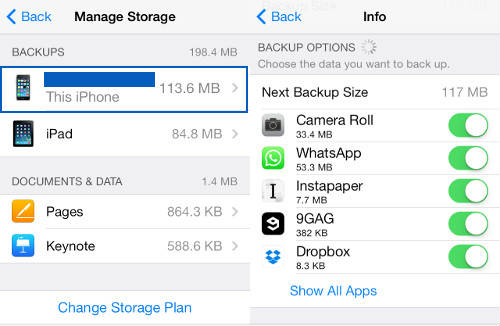 Related: How to Download iCloud Backup to Computer
How to Free up iCloud Storage on Computer
(Note: Since iCloud has limitations in terms of storage capacity, you can also get other professional iCloud alternative to backup your iOS device to the computer.)
Speaking of freeing up iCloud storage on computer, that is - deleteing iCloud backups from computer. Here, different pathes for Mac and Windows computer users are shown in the below!
For Mac users:
Go to Apple menu > System Preference > iCloud > Manage. Then select Backup on the left and choose the iOS device backup to delete.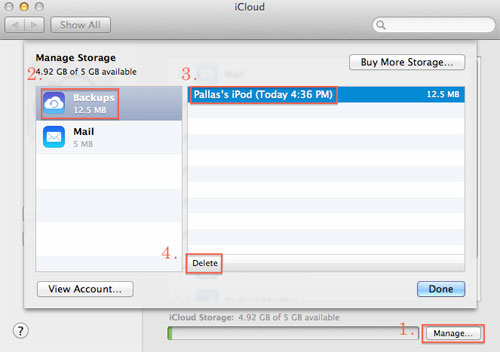 For Windows users:
Open iCloud Control Panel > Manage. After that, tap Backups on the left and select the iOS device backup for deleting. Finally, click on Delete option to begin.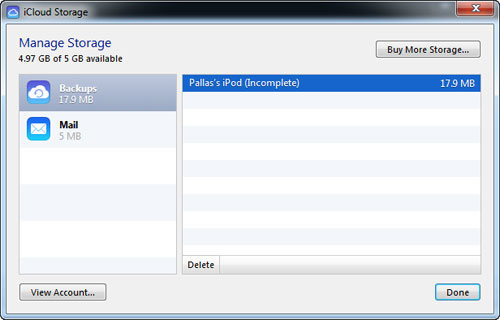 Extra Bonus: How to Free up iPhone/iPad Storage Space
So, no matter you want to free up iCloud storage on iPhone/iPad or on computer, just follow the right guide and get free iCloud storage as needed and desired!
Related Articles:
Simple Guide on How to Fully Clean up A iPod Touch