Allowing users to store hundreds of music and media files in one place and listen to it whenever he wishes to, the iPod is one of the most popular music devices since a long time now. Yet, the iPod only has a limited amount of storage space. Ever wondered what you would do when you would run out of the storage space? You are unable to copy and transfer music files from your iPod to your computer easily, and that is a problem. But this passage tells you how to transfer media files (photos/videos/music) from iPod to external hard drive within simple clicks.
There might be other reasons as well when one needs to copy all his iPod media files to an external hard drive for safekeeping:
1. Virus – If your iPod gets attacked by a virus or the latter enters it through a media file, then all your stored data can vanish or get corrupted within seconds, leaving you with nothing. Saving all files in an external hard drive will prevent your data from getting deleted or lost and you can always restore the music back in the iPod once the virus is eliminated.
2. Change in device – If you are planning to upgrade your iPod to a new one, we advise you to first copy all the media files in it to an external hard drive so that you can easily copy it to the new iPod once you have changed it.
Related Article: Possible Reasons of Data Loss from Your iPhone/iPod/iPad
Tips to Get Media Files Transferred from iPod to External Hard Drive
Backing up files in an external hard drive can be of great advantage as this ensures that your media and music files are always safe no matter what and can be transferred to any device of your choice when need be. Moreover, you can keep adding music files to the external hard drive and delete the old ones in the iPod freeing up space for the new ones.
Now, you can connect the external hard drive and your iPod to the computer using USB cables. Once the computer recognizes them both, transfer files from iPod to the external hard drive via drag and drop. Though this method works most of the time, it can also fail at times and all your music might not get transferred to the drive. However, all these methods take up time and this is where Coolmuster can help.
Extra Bonus:
How to Sync iPhone Albums to Computer
How to Share Music from iDevice to iTunes
Best Way to Transfer Media Files from iPod to External Hard Drive
Amongst several other ways, the Coolmuster iOS Assistant is an ideal way to backup all your data from your Apple device to your computer so that you never have to lose out on any kind of data ever again. It will be of great use especially when you lose important files or accidentally delete them and are unable to retrieve the same when needed.
Step 1 – Connect your external hard drive and iPod to the computer. The iPod will get detected by the transfer program and be displayed on the computer's screen.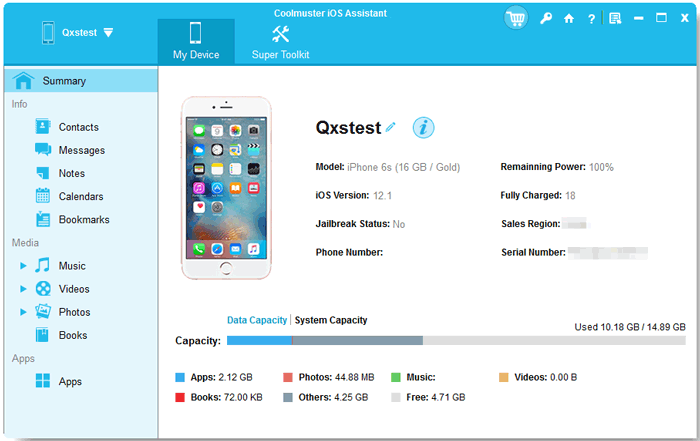 Step 2 – Preview all the media files on the iPod in details. Select the files you wish to take a backup on the external hard drive.
Step 3 – After selecting, press "Export" and trace to the external hard drive. Click "OK" and the transfer will start.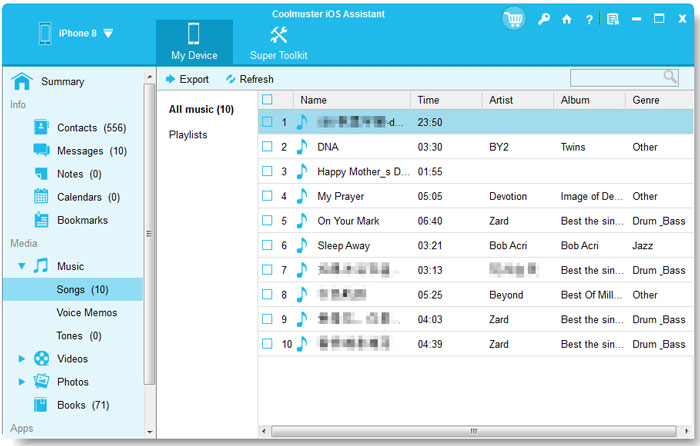 The Bottom Line
iOS Assistant enables users to transfer various types of data between their iOS devices and computer, including contacts, messages, photos, videos, music, notes, bookmarks, and more. This can be helpful when you want to back up your data, migrate to a new device, or simply keep your important information synced.Want to give it a try? Just go ahead!
Related Articles:
How to Export iTunes Library between Computers
How to Transfer Music from iPod to Computer without iTunes? (Easy Method)
10 Best iPod Transfer Software to Transfer Files from iPod to PC without Difficulties
How to Transfer Music from iPad to iPod? (Simple & Reliable)
How to Transfer Music from Computer to iPod? (Fast Transfer)
How to Transfer Photos from iPad to External Hard Drive with or without Computer?