Have you been in a situation where after so many years of building an iTunes library, you find no single song available? It's really a pity. Maybe you've reformatted your old PC, or it has run into problems, and now you've switched to a new one. We know that it's very simple to sync songs from iTunes to iOS devices, but is it possible to transfer music from iOS devices to iTunes?
Most people who own iOS devices like to create iTunes libraries on their computers, but sometimes they lose the libraries for unknown reasons. If you want to know how to transfer music from your iPhone to iTunes after you've realized you no longer have them in your iTunes libraries, this article is for you. So, continue scrolling as we take you through the best ways to achieve that.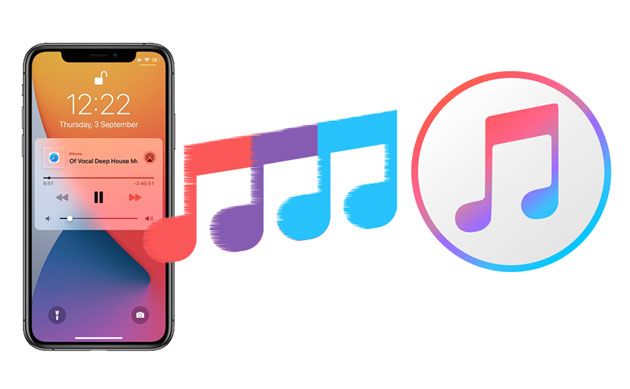 Part 1: Why Transfer Music from iPhone to iTunes?
As your iPhone stores songs every time, it may eventually have many files in the memory. Even though music files can't consume much space like videos, they'll still take up a little storage space on an iPhone. So, by moving the songs to iTunes, you'll be clearing up the storage space.
You may also transfer songs from your iPhone to iTunes since your PC can operate as a high-tech stereo. If you have many songs on your computer, you won't have to worry about your tunes running out.
Learn more: Your iTunes gets stuck on preparing iPhone for restoring? Then you can fix it with these tricks.
Part 2: How to Transfer Music from iPhone to iTunes in 3 Ways
It doesn't matter what your sole reason for transferring music files from an iPhone to iTunes is. Apply the below tips to get that done easily.
2.1 How to Move Music from iPhone to iTunes for Free
It's possible to transfer songs from an iPhone to a PC for free if you have iTunes. However, you can only share the purchased tunes on the iPhone, meaning that only the downloaded tunes on an iPhone won't be transferred to the computer. This will limit you if you want to move all your music to the computer.
So, this method will only be effective if you have purchased songs from iTunes earlier. Before proceeding with the transfer, ensure you use the latest iTunes version.
Here is how to put music from iPhone to iTunes entirely for free:
Step 1: Install the latest iTunes version on the computer and launch it. Then navigate to Account and Authorization.
Step 2: Select Authorize Computer to grant access permissions to the computer and enter the Apple ID. Then log into the Apple ID and enter the correct passcode. Now tap on the icon for Authorize to finish the authorization procedure.
Step 3: Use a USB cord to connect the iPhone to the computer and choose File > Devices, then select Transfer Purchased from [your device] to complete the procedure.
Step 4: After completing the process, tap Recently Added from the left iTunes panel and check the songs you've imported.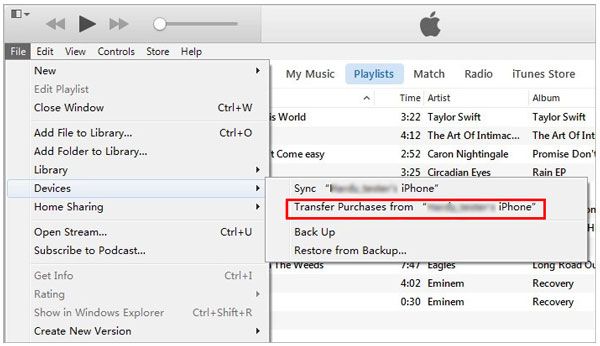 Further reading: If you want to transfer EPUB files to your iPad, you cannot miss these convenient methods.
2.2 How to Copy Music from iPhone to iTunes on Windows PC Using File Sharing
iTunes has a file-sharing feature that can help you transfer any file you want from an iOS device to a Windows computer. Not only that, but you can still send files from computer to iPhone provided you use the applications that support file sharing to send data.
Here is how to import music from an iPhone to your iTunes in Windows using the file transfer feature:
Step 1: Use a working USB cable to connect an iPhone to Windows PC, and let iTunes launch automatically, and tap the Device icon in your iTunes. Proceed to select File Sharing.
Step 2: You'll then see all apps that support file sharing; choose the app with the music file you want to transfer.
Step 3: Choose the items to transfer to iTunes and tap Save to. Afterward, select the location where you can save these items and confirm the process by tapping on the Save to button again.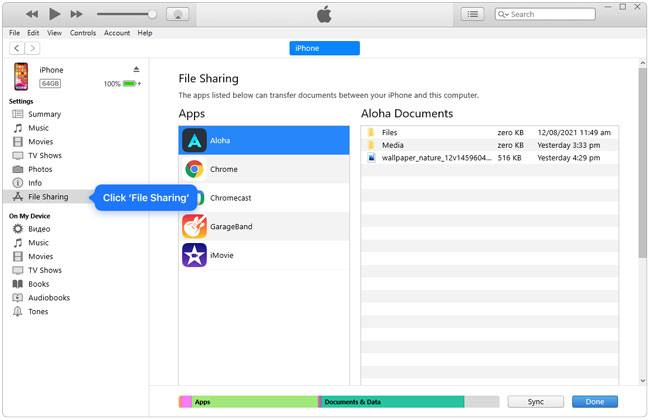 You might need:
7 Ways to Mirror iPhone to iPad Easily [Latest Tutorial]
Smoothly Transfer Photos/Videos from iPhone to Dell PC Windows 11/10/8/7?
2.3 How to Transfer Songs from iPhone to iTunes via iPhone Data Transfer [Highly Recommended]
Transferring songs from your iPhone to iTunes is easy, but the only challenge is the files to be imported. Not all music files can be shared from iPhone directly to the computer via iTunes, only the purchased music files. What about your other downloaded song? To import all of your songs from your iPhone to iTunes, get this iPhone to iTunes Transfer software.
Whether you want to create a backup, sync your iPhone to iTunes or transfer data from an iOS device to iTunes in 1 click, this is the tool to get the job done. It is compatible with almost all types of iOS devices, and no data loss will be experienced while transferring files. Indeed a great tool for iOS users looking for powerful software to share their songs to iTunes. Besides, it's easier, and the process will complete in no time.
Highlights of this software:
* Seamlessly import songs from an iPhone to iTunes library, including those non-purchased music files.
* Transfer movies, audiobooks, TV shows, and more between an iOS device and iTunes.
* Copy your iPhone contacts, SMS, notes, calendars, books, social apps' data, and more from your iPhone to your computer.
* No quality loss during the transmission.
* Will not alter your songs' formats.
* Windows and Mac versions are available.
Download this software below.
How to transfer music files from an iPhone to iTunes using this iPhone data transfer software:
Step 1: Download the program on your computer, and install and launch it.
Step 2: Connect your iPhone to the computer with a USB cable, and tap the Trust option on the iPhone.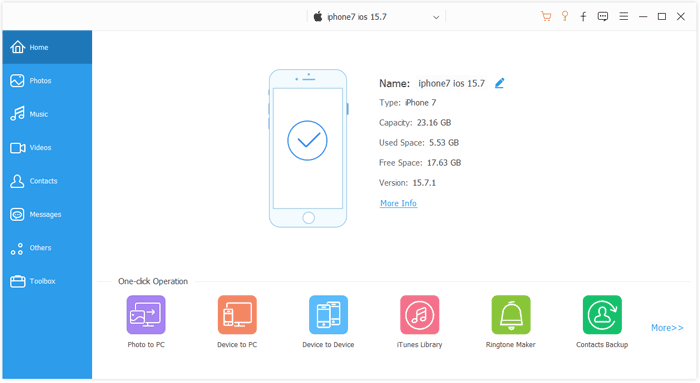 Step 3: Tap on the Music option from the left part of the screen to show all songs available on your iPhone device.
Step 4: Tick the songs you wish to transfer to your iTunes and tap the Export > Export to iTunes Library option to send your files to iTunes. Wait for some time for your files to be exported.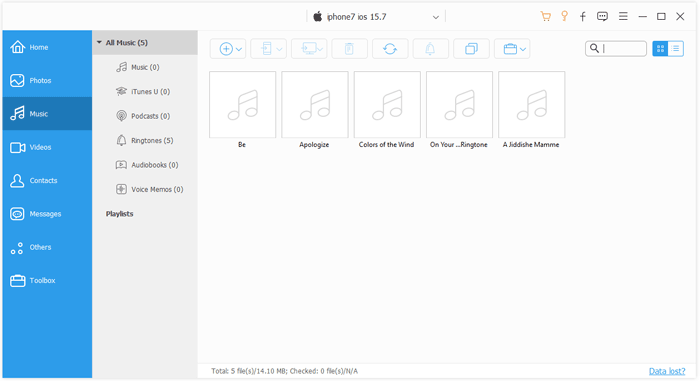 Conclusion
Transferring music from an iPhone to your iTunes can be tough and, at the same time, time-consuming. However, after going through this guide, you'll now be able to move your music files freely without any obstacles. To transfer all of your music files in simple steps, use the iPhone Data Transfer software. It's a piece of efficient software that can do the right job for you in a few clicks.
Related Articles:
iTunes Backup to Android Transfer: How to Restore iPhone Backup to Android Phone?
[Solved] How to Unlock Disabled iPad without iTunes | Latest Guide
[3 Ways] How to Transfer iBooks from iPhone to PC
How to Transfer Notes from iPhone to iPhone [5 Easy Ways]
How to Transfer Contacts from iPhone to iPhone? [Full Solutions]
How to Transfer Data from iPhone to OPPO Find X3/X2/Reno4 Seamlessly? (4 Tested Methods)