WeChat has become one of the popular communication tools that people rely on, however, it also causes many troubles for people due to privacy issue. Privacy leak might not only bring troubles to people's life but also cause the lost of money. So it is very important to set up privacy permissions on WeChat to make WeChat more secure while using. Here this post will show you how to apply privacy settings on WeChat on iPhone.
Part 1. How to Apply WeChat Privacy Settings on iPhone
Part 2. How to Securely Protect WeChat Privacy on iPhone
Part 1. How to Apply WeChat Privacy Settings on iPhone?
Since WeChat might contains a lot of personal information, including the contacts, chat history, photos, videos and trends in Moments, many people pay much attention to the WeChat security but know little about how to increase security when using WeChat. Actually, WeChat app has a feature called "Privacy" on iPhone, which contains different privacy settings to help you increase WeChat privacy security. Let's see the details as following.
To access the WeChat Privacy settings on iPhone, please open your WeChat on iPhone and go to "Me" > "Settings" > "Privacy", and you will find out there are several options about WeChat authorization. You can enable or disable them according to your will.
1. Friend Confirmation: When you enable this feature, your permission is required when someone wants to add you as a friend and you can accept or refuse the request. If you disable it, people can freely add you as a friend without your permission.
2. Find Me by Phone No.: If you turn on this feature, people can search and find out you with your phone number. This may be regarded as the convenience in some way to make strangers to find out you. If you don't want to, just turn off it.
3. Find Mobile Contacts: This feature will automatically help you find out your mobile contacts who have not be your WeChat friends in the form of recommendation and make it easier to help you add him/her as a WeChat friend.
4. Find Me by WeChat ID: If you disable this function, people cannot find you via your WeChat ID. Just switch it on or off according to your will.
5. Blocked List: Tap "Blocked List" option, you can add any WeChat friends of yours to blocked list to block them from your WeChat, or remove the blocked WeChat friends from the blocked list.
6. Don't Share My Moments: You can create a list to add people that you don't want to share your moments with them here.
7. Hide User's Moments: If you don't want to see someone's moments, you can also hide his/her moments from yourself with this function, too.
8. Public Moments: With this feature, you can set up how many days or moments that people can see your WeChat moments, for example, you can set up that people can see your moments within 3 days, half a year and etc. If you are worried about your privacy, you'd better to disable it.
See Also: Easy Ways to Delete WeChat Documents and Data on iPhone
Part 2. How to Securely Protect WeChat Privacy on iPhone
Besides the WeChat privacy settings on iPhone, there are much more you can do to protect your privacy on WeChat. To set up privacy feature on WeChat is suitable for users who are using WeChat on iPhone, while if you are planning to send your iPhone to repair shop, give it to someone else for some time or simply sell it online, you'd better completely delete all WeChat history from your iPhone to avoid privacy leakage.
To reach this goal, there are two ways for your reference:
1. Common Way: Clear WeChat Chat History on iPhone (Recoverable)
To do so, please open WeChat on iPhone and go to "Settings" > "General" > "Storage" > "Clear Chat History" to remove chat history from iPhone WeChat.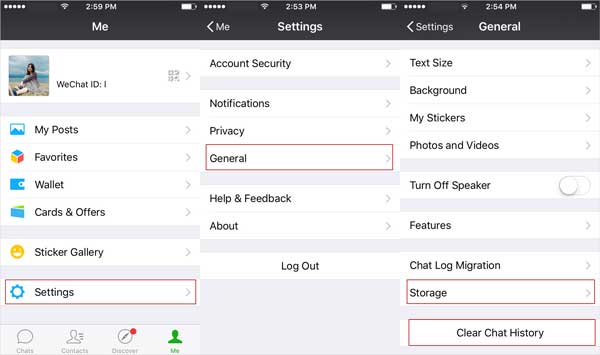 See Also: How to Restore WeChat Media Files on iPhone
2. Advanced Way: Permanently Delete WeChat Data from iPhone
The professional WeChat Data Cleaner - Coolmuster iOS Cleaner will help you completely erase the WeChat chat history, WeChat photos, WeChat videos, WeChat documents and other WeChat cache file and junk files from iPhone iPhone 14/13/12/11/X/8 Plus/8/7 Plus/7/6s Plus/6s/6 Plus/6/5S/SE and iPad/iPod with one click.
- Download, install and launch the WeChat Data Cleaner on your computer and link your iPhone to PC with a USB cable;
- Choose "Select All" option and click "Start Scan" button to scan your iPhone junk files;
- Check the box before "Select All" and hit "Clean" button to clear all junk files from your iPhone, including the WeChat data.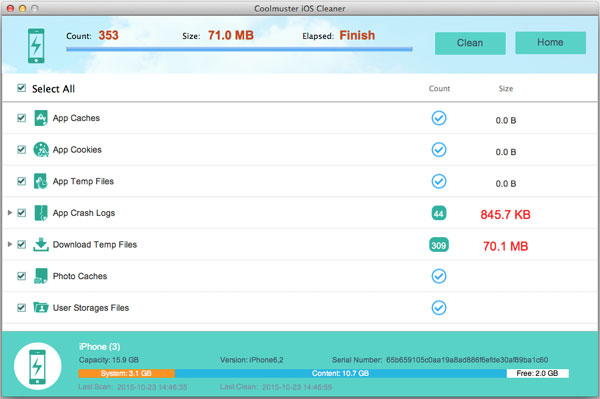 Related Articles:
How to Manage WeChat Storage on iPhone
Full Guide to Save WeChat Videos on iPhone