Many of us avoid storing videos on our iPhones because they are large is size and take up space. But at times it becomes necessary to import videos from a computer collection. When you are traveling it is nice to have a movie playing on your iPhone to pass the time. A video you have seen on the internet might have appealed to you.
Now you want to copy them from your computer to iPhone to share with friends. Keeping the reasons aside, let's get practical and learn how to transfer videos from PC to iPhone.
Easy Way to Transfer Videos from PC to iPhone without iTunes
iOS Video Manager can help make the entire process a lot easier and fun for you. You would be able to transfer all your data as you need and can even recover data if needed. It doesn't matter whether it is contacts, apps, messages or games, transfer can be made real easy.
One click – that is what it takes to intelligently export any type of data from your iPhone to a Pc. You can transfer videos along with music, photos, eBooks, playlists seamless between iPhone and iPad and even iPods. It can be best for creating backups of your important content to save you from worries of data loss.
Data on your iPhone is easy to manage using the program's in-built search facility. It lets you find whatever you are looking for in seconds. The content can be sorted in thumbnail or list view modes for greater convenience. It is a safe solution that lets you transfer and control your iPhone data.
You Might Be Interested in:
How to Share iPod Music with Other Devices
Three Ways to Easily Download Music Songs to iPhone
How to do it:
1st Step - After you have downloaded the software, install it on your computer (PC or Mac). Connect the iPhone with the computer with the USB cord.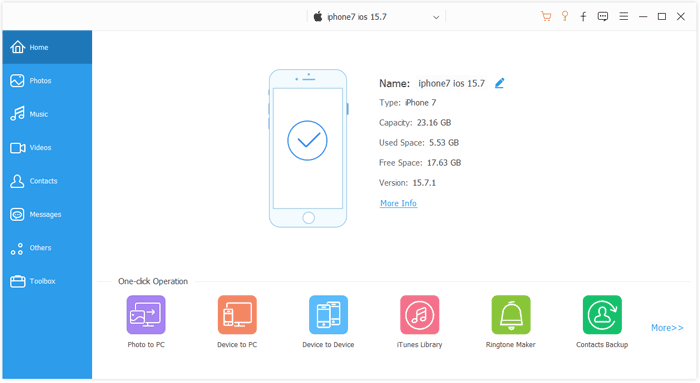 2nd Step - From the left side menu click on "Media". Quickly the content loads up under different categories.
3rd Step - Now on top of the interface there is an "Add" button. Click on it to select the videos you want to import and press Open. The videos will be transferred shortly depending on the size of the upload.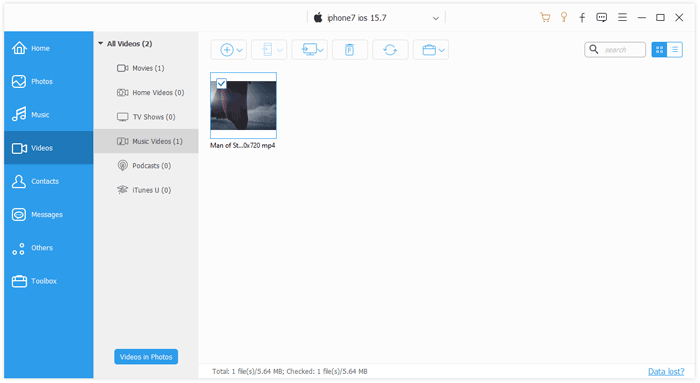 Sum Up
In addition to importing files from the computer, this iOS Video Manager allows you to transfer any files from your device to the computer and save them as backup in case of sudden data losses due to various reasons. So below is the free trial versions of this software! You can download the right one and give it a try by yourself!
Related Articles:
What's the Best Alternative to iExplorer?
One Click to Block iPhone Calls and Messages
How to Fix iPhone Not Syncing with iTunes? (8 Fixes)
iPhone Software Update Failed: How to Update to iOS 16 Smoothly?
Troubleshoot iPad Stuck in Recovery Mode with Five Effective Ways
13 Ways to Fix and Avoid iPhone Stuck on Spinning Wheel Issue