iPhone devices and Mac have the iMessage app, allowing users to sync iPhone messages to Mac. Apple users understand how nice it is to enjoy the syncing functionalities between the Apple devices. Apple's ecosystem makes all this possible; you can see and reply to messages from your computer. Still, there are complaints that iPhones and Macs fail to sync. Are you also wondering how to sync messages from iPhone to Mac computers? Well, we got you. Read on to learn how you can achieve that.

Part 1. What Is iMessage?
iMessage is an Apple service that was released with the iOS 5 devices. It lets Apple users send SMS and MMS to other Apple devices through cellular data or WiFi networks, thus bypassing the standard MMS and SMS messages.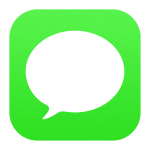 To use the iMessage app, you must link the device to your Apple ID account. When you sign into the same account, you can send and receive messages on any Apple device linked to the same Apple ID account. To know the message you have received on your iDevice, you can check its color. If the message came in blue, it is an iMessage; if it is in green, it is a normal text message. However, priority is given to the iMessages.
See also:
[Top Answers] How to View iMessages on iTunes?
How to Fix iMessage Not Syncing on Mac via Easy and Useful Methods
Part 2. Is It Possible to Sync Messages from iPhone to Mac?
Yes. With proper settings, you can get iPhone text messages on Mac in real time. The common technique to get iPhone text on a Mac is using the Continuity feature, available in iOS 8 and above. This functionality lets you send or receive the MMS and SMS from an iPhone on a Mac.
Another way you can get iPhone texts on a Mac is to use the iMessage application, which is available on iPhones and lets you send or receive messages from your Mac. Also, you can use the iMessage application to send MMS and SMS texts from an iPhone to a Mac.
Lastly, there are third-party apps to help you get iPhone Messages on your Mac. Different applications are now available and can help you sync messages from an iPhone to a Mac computer.
Part 3. How to Sync Messages from iPhone to MacBook
Now let's show you how to get iPhone messages on Mac in simple ways. But before you start the syncing process, ensure your Mac and iPhone are signed into the same Apple account.
3.1 How to Sync iMessages from iPhone to Mac via a Professional Software
Syncing messages from an iPhone to a Mac is now easier than ever, thanks to professional software like Coolmuster iOS Assistant for Mac. The software lets you selectively sync messages from an iPhone to a Mac computer. Additionally, you can sync messages, notes, videos, photos, contacts, and more.
Importantly, you can transfer files from iPhone to Mac for backup. You don't need to use WiFi to complete this syncing process. You can effortlessly do that by connecting the device to the Mac computer where you installed the software and let it do the task.
You can conveniently save your messages in HTML, CSV, and text files to the computer through the iOS Assistant. In that case, you won't fear losing any of your messages or other data available on your iPhone device.
Top Highlights of iOS Assistant:
Sync messages between iPhone and Mac, and Windows computers.
Back up/restore all files on iOS in 1 click.
Transfer your files after previewing.
Freely add, edit, and delete files you've saved on iOS devices on your Mac computer.
Here's how to get iPhone messages on MacBook:
01Start by downloading the software on your Mac computer, then launch it. From there, use a lightning cable to connect the iPhone to Mac.
02Ensure the Mac computer has the latest iTunes version installed to help the program detect the phone. Click on the Trust option on your iPhone, then click Continue after that. When the iPhone connects with Mac successfully, you will see all files displayed in categories on the screen on the left panel.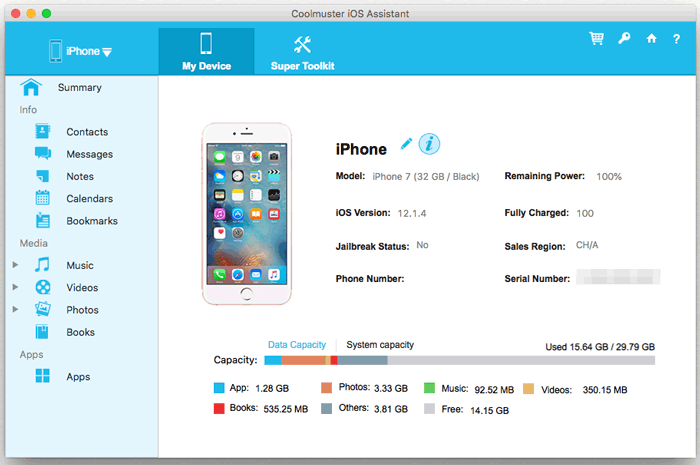 03Select the Messages option to check all texts in the right section. It will show all content on messages and the time. Choose the iMessages you wish to sync and hit the Export tab above. You'll have to choose the format you wish, either CSV, text, or html files. Once done, you'll have to transfer the messages automatically.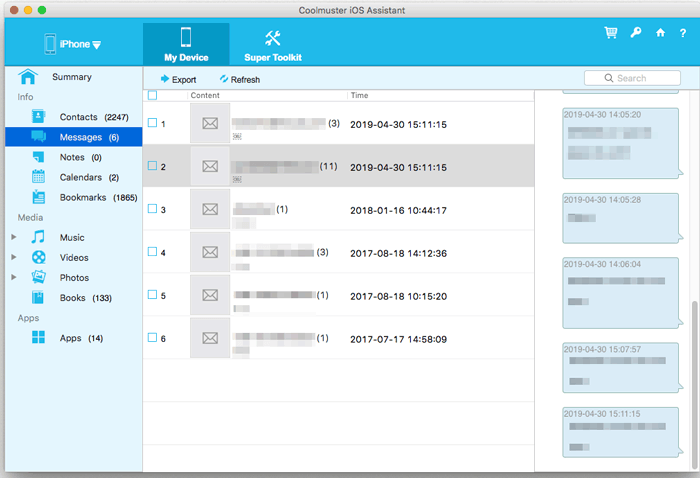 3.2 How to Sync iMessages from iPhone to MacBook via iMessage App
Another way how to link messages from iPhone to Mac is through using the iMessage application. Apple has made its system such that you can access all your messages on any device you want. As such, it made iMessage texts available on your iPhone and your Mac so that you can easily sync your messages.
However, you must have activated the automatic syncing while setting up the devices. To ensure the iMessages sync between an iPhone and your Mac, check out these steps:
Step 1. On iPhone, head to Settings then to Messages and click on Send & Receive.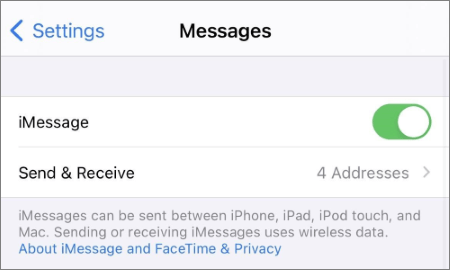 Step 2. Open Messages application on a Mac and tap the Messages menu. Then tap the Preferences and iMessage tab.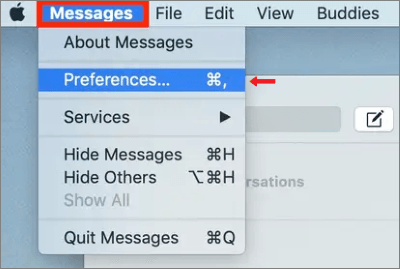 Step 3. Check your Apple ID to ensure it is the same as your iPhone's. If it is not the same, hit Sign Out, then log in again using the correct Apple ID.
Step 4. Tick all boxes showing You can be reached by messages at. Ensure your number and email are selected to receive incoming messages on both devices.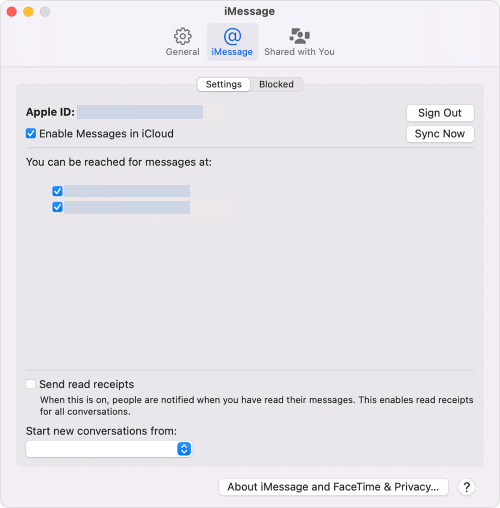 Step 5. Now match the Start new conversastions from option from the drop-down menu on Mac to the same settings as your iPhone. This will ensure any message you send will always be linked to the same contacts or email on both gadgets and stay in one message thread.
3.3 How to Sync iMessages from iPhone to MacBook via iCloud
Another practical way of syncing your old messages from an iPhone to a Mac is using iCloud. Syncing messages via iCloud differs greatly from using the iMessage app.
To use iCloud, you should have already set up iCloud on your iPhone and Mac. This way, you can enable iCloud sync for the messages, and all the old texts will be synced between these devices.
Step 1. Head to your iPhone's Settings page and tap iCloud.
Step 2. Switch on the slider next to the Messages option.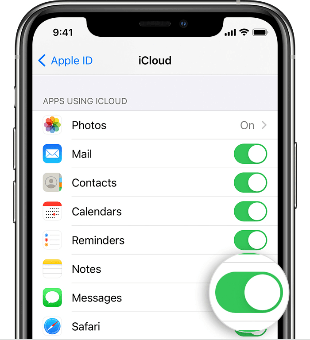 Step 3. Now connect your iPhone to your Mac with a USB cord. On Mac, launch the Messages application. When you open the app, navigate to Preferences and Accounts.
Step 4. Choose the iCloud account from the accounts showing on the list. Ensure the Enable Messages option in iCloud is selected.
Step 5. Hit the Sync Now icon to begin syncing the messages.
More relevant articles:
[2023] How to Recover Snapchat Messages on iPhone in Four Hassle-free Ways?
How to View Text Messages on iCloud from Your iPhone and Computer? (Complete Guide)
Part 4. FAQs on Syncing Messages from iPhone to Mac
Q1. How long will it take to sync messages from iPhone to Mac?
It depends on the messages you have on your iPhone. If you have multiple messages, then it will take more time compared to when you have a few. Immediately you're done setting up messages on iPhone and Mac, all your messages will begin syncing immediately.
Q2. How can I switch off iMessage on my Mac?
If you wish to halt syncing of your messages and switch off the messages on Mac, you should open Messages application on Mac, click on Messages from the menu, and choose Settings. From there, you can head to the iMessages button, uncheck the Enable Messages in iCloud option, and log out of the Apple ID account.
Conclusion
This guide has explained different ways to get iPhone messages on a Mac computer. Hopefully, you can effortlessly link the messages on your iPhone with your Mac. It is easy with the correct steps.
We recommend using Coolmuster iOS Assistant, the best iOS data manager, to sync iOS devices with computers. It syncs messages between iPhone and Mac easily.
Related Articles:
[3 Ways] How to Transfer iBooks from iPhone to PC
[Fixed] How to Transfer Photo Albums from iPhone 14 to PC with Ease?
How to Transfer Music from iPhone to Mac? (Top 4 Ways)
How to Transfer Music from iPad to Computer? Top 3 Ways You Can't Miss
[Simple Guide] How to Install Apps on iPhone without iTunes?