Summary: What is Viber? How to backup and restore Viber on iPhone? After reading this passage, you will get all answers as you need and desire.
Part 1. What's Viber? Know Something about it!
Part 2. How to Back up Viber on iPhone?
Part 3. How to Restore Viber on iPhone?
Part 1. What is Viber?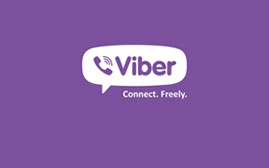 Viber, the brainchild of the Viber Media, founded by Israeli military's Chief Information Officer Talmon Marco, was initially launched for iPhone users on December 2, 2010 to give direct competition to currently raging multimedia app, Skype. It is a VoIP( Voice over IP) comprehensive application that allows free global voice and video calls to its 855 million smartphone users along with allowing them to share free instant messages attached with multimedia.
Only later was it launched May 8, 2012 for BlackBerry and Windows Phone users. Upon reaching 90 million mark users on July 24, 2012, the multi platform tool, added group messaging feature and HD Voice engine to both the Android and the iPhone applications. The easily installable and simple to use messaging application is one of the most popular communication apps in various regions of the world and is one of the key players in the market. It uses one's mobile number to identify the number preventing the hassle of providing username and passwords.
Like Skype or Whatsapp, it also allows its users to make free voice and video calls to non-Viber, landline and mobile numbers. It gives its users the most of the features for the messaging sessions like location addition, sending audio clips using emoticons as well as stickers. Moreover, it is also available in desktop and laptop versions to enable one to stay connected even while on computer.
Related: Best Messaging Apps for iPhone/iPad
Part 2. How to Backup Viber Data on iPhone?
It is usually recommended to backup your data regularly to avoid important data loss. However, if you have not created a backup of your iPhone 14/13/12/11/X/8/7/7 Plus/6s/6s Plus/SE before you accidentally reset your iPhone, delete your chat history or uninstall the Viber app, it can be very upsetting if the deleted data contains some very important and useful information.
So it is important to have some data recovery mechanisms. In this part a step-by-step guide is provided to help you backup your iPhone data and restore data in case you lose them.
There are two ways to backup your precious data: The first one is provided by the Viber app which creates a backup but it cannot be restored to your iOS device if lost. The second one is provided by a third-party tool - iPhone Viber Backup Extractor, which not only creates a backup file of the entire data of your device but also provides you with an option to restore the backup.
* Create A Backup on Viber App Directly:
Open Viber on your iPhone, go to "Settings" > "Viber Backup" > "Back up now" to create a Viber backup at once. Or turn on the "Auto backup" option to select the backup frequency (Weekly/Monthly/Off).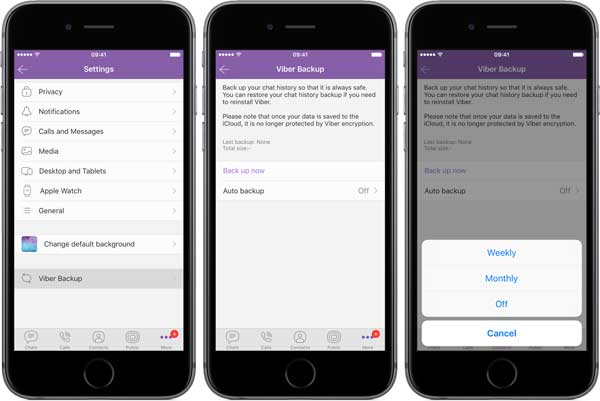 Or you can go to "Settings" > "Calls and Message", then send Viber messages to your email. This method surely helps you to backup the data but doesn't give an option to restore it on the device.
* Create A Viber Backup with A Third-party Tool
iPhone Viber Backup Extractor provides you with the most reliable and efficient way to backup and restore the data. Using this freeware you can backup your data following 3 simple steps you.
Step 1. Choosing Viber Backup and Restore after running iPhone Data Recovering option.
Upon downloading and running the installed software, you need to connect you iPhone to your Mac or windows. After connecting, you need to select "Viber Backup and Restore" option from the main interface.
Step 2. Backing up the Viber Data.
Once enter the Viber Backup and Restore Section, you need to tap on "Backup" option displayed on the interface. It will require few seconds for backing it up.
Step 3. Cross checking the Backup created.
To ensure that the backup has been created you can tap on the "View it" option on the interface and can view the backup(s). You can also delete the unnecessary from the same option.
Also Read:
How to Transfer Kik Data from iPhone to Computer
How to Recover Deleted Messages from iPhone
Part 3. Restore Deleted Viber Data from Backup
* Download the Viber Message Backup from Email
If you have regularly backed up your Viber messages files of Viber messages by email then you can download your latest backup files by simply logging in to your email. The Viber Data are stored in CSV files and cannot be restored to your iOS device.
* Restore the Viber Chat History from iCloud or iTunes Backup
If you had backed up your data using an iCloud or iTunes before you accidently or unintentionally lost you data, you can recover them from those applications.
* Restore Viber Data using iPhone Viber Backup Extractor
The simplest and most trustworthy way to restore lost data after backing it up is using the software as mentioned in the above. To Restore the Viber data using this freeware, you just need to follow 3 simple steps:
Step 1. Run this application on the PC and select "Viber" option.
Step 2. Connect your iPhone to your Mac or computer.
Step 3. After the device gets scanned, select the deleted data that you wish to restore and click Recover button.
The Bottom Line
Yes, backup and restore Viber data on iPhone is that easy. If you want to know more tips about iOS devices, please remember to bookmark this site!
Related Articles:
Best Diskdigger Alternative for iPhone/iPad/iPod
Freewares to Recover Lost Files from Hard Drive
How to Save Instagram Videos to PC/Mac?
Full Guide on How to Access iPhone Files on PC without iTunes
How to Transfer Photos from iPhone to Laptop Easily? (Top 6 Ways)
[Fixed] How to Transfer Photo Albums from iPhone to PC with Ease?