iTunes Backup Restore: Back Up & Restore with/without iTunes
Backing up is always a vital job to keep your data safe, no matter you are going to update your iPhone, switch to a new iDevice, or create a backup. Correspondingly, restoring data is necessary when you need to extract your backup files. Apple gives you 2 official ways to back up and restore iOS data: iTunes and iCloud. Here in this article, you will learn the full guide to backup and restore data with iTunes or without iTunes.
Part 1. How to Backup and Restore iTunes Library Using iTunes
Part 2. 1-Click to Backup and Restore iTunes Library Using iTunes Backup Manager
Part 1. How to Backup and Restore iTunes Library Using iTunes
1. Backup iTunes Library to External Drive via iTunes
Before you start to back up your iOS device, please be noted that:
* Your iTunes library is organized into two iTunes library files and an iTunes Media folder, you need to consolidate your library before backing up;
* All previous purchases, such as music, TV shows, movies, etc. should be redownloaded. Then turn on the automatic downloads for future purchases, since iTunes in the cloud is not a backup service, and having a local copy on computer is the only way to back up the purchased media files;
* To ensure the local copy of your media remains downloaded to your computer, please run iTunes on Windows PC, and go to "Edit" > "Preferences" > deselect "Automatically delete watched movies and TV shows." (Or launch iTunes on Mac and go to "Preferences" > "Advanced" > deselect "Automatically delete watched movies and TV shows.")
Step 1. Consolidate Your iTunes Library
To merge all your media into your iTunes Media folder, please open iTunes, and click "File" > "Library" > "Organize Library".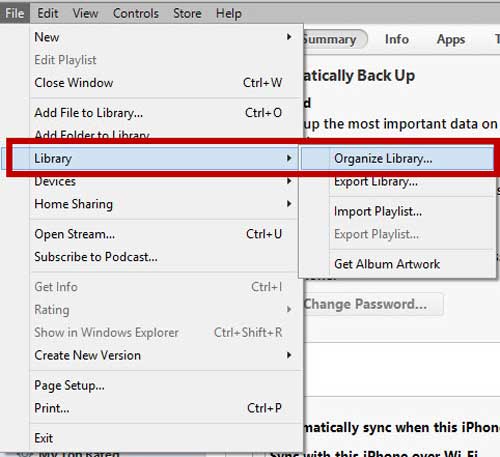 On the new window, please check "Consolidate files" and hit "OK".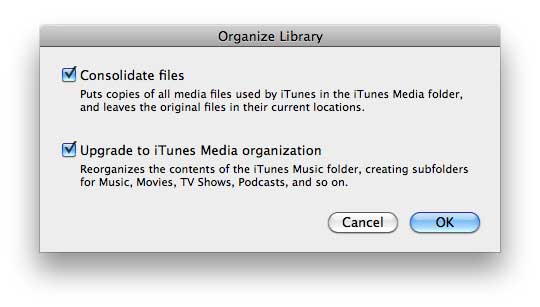 Step 2. Find Your iTunes Media Folder
By default, the iTunes Media folder is located in the iTunes folder, you can try to find it at first:
* On Windows 7, Windows 8, Windows 10 or later: Go to \Users\username\Music\.
* On Windows XP: Go to \Documents and Settings\username\My Documents\My Music\.
* On Mac: Open a Finder window, then hit your username in the left sidebar and search for the Music folder.
If you cannot find it in its default location, please:
> Launch iTunes on Windows PC, click "Edit" > "Preferences" (On Mac, please go to iTunes and choose "Preferences").
> Click "Advanced" option and check the file location of "iTunes Media folder location" on the box.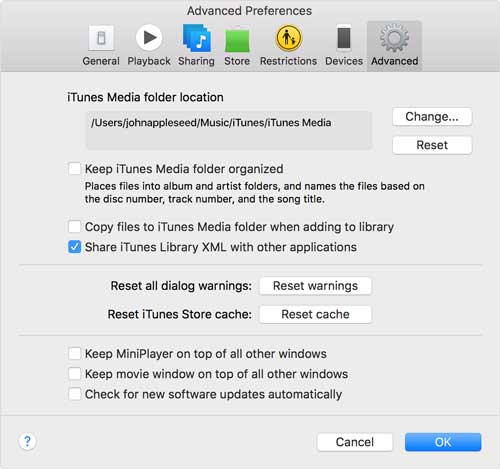 Step 3. Back Up Your iTunes Library and Media Files
After integrating your iTunes media files, you can create a backup of your iTunes library and media files to an external drive or computer.
Please quit iTunes, locate your iTunes folder with Step 2, then drag the iTunes folder from its location to an external drive. Thus your iTunes library and media files will be copied to an external drive immediately.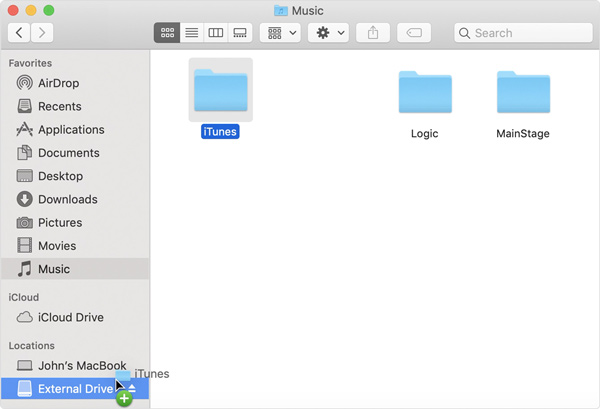 You May Also Like:
How to Transfer Music from iTunes to iPad
How Can I Manage iPhone without iTunes?
2. Restore iTunes Library from Backup via iTunes
As long as you have backed up your iTunes library, you can restore it if needed. Here you can see how to restore your iTunes library or iTunes Media folder from your external drive to your computer.
Step 1. Exit iTunes and locate your external drive. You can find your external drive on the desktop or Finder sidebar on Mac, or in My Computer on Windows PC.
Step 2. Drag the iTunes folder (which you previously backed up) from the external drive to the desired location on the internal drive, and the iTunes's default location is recommended.
Step 3. While opening iTunes, please hold down the Shift key on Windows PC (or Option key on Mac). When a message shows up to ask you to choose iTunes library, please click "Choose Library".

Step 4. Then please select the iTunes folder from the internal drive. Make sure the iTunes folder is the one you dragged in Step 2).
Step 5. Please click "Open" on Windows PC (or click "Choose" on Mac). Now, please select the iTunes Library.itl file inside.
You May Also Like:
How to Update iPhone without iTunes
How to Easily Restore New iPhone from iTunes Backup
Part 2. 1-Click to Backup and Restore iTunes Library Using iTunes Backup Manager
Except for iTunes, the professional third-party iTunes Backup Manager - Coolmuster iOS Assistant or iOS Assistant for Mac can also help you easily back up and restore iTunes library. It requires you no skill to operate it with the simple interface, and enables you to manage iTunes backup files with ease, such as:
* Create multiple iTunes backup files to iTunes or computer without deleting the previous iTunes backup;
* Restore iTunes backup to any iOS device without deleting the existing iOS data;
* Import iTunes backup files from computer to iPhone/iPad/iPod touch after previewing;
* Delete unwanted iTunes backup files on computer without running iTunes.
Also, with the iTunes Backup Manager, you can also easily manage the contacts, messages, call logs, notes, calendars, bookmarks, music, videos, TV shows, photos, books, apps and more on iOS device. The latest iPhone X, iPhone 8 and iPhone 8 Plus are also supported.
Below are the free trial version of the iTunes Backup Manager in Windows and Mac version, please download the right version on your computer and get started.
Back Up and Restore iTunes Library with 1-Click
Here you can use the iTunes Backup Manager to create a new iTunes backup for your iPhone, iPad or iPod touch, please follow the steps as below. Want to know how to sync iPhone to iTunes with/without iTunes?
Step 1. Get your iDevice recognized by the program.
Launch the program and connect your iDevice to computer with a USB cable. Tap "Trust" option on your device as prompted to move on. Failed to connect?
Tip: Make sure the latest iTunes has installed on your computer for successful connection.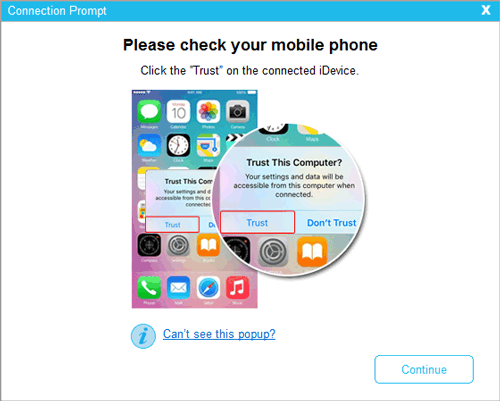 Once your device has been detected successfully, you might see the main interface as below.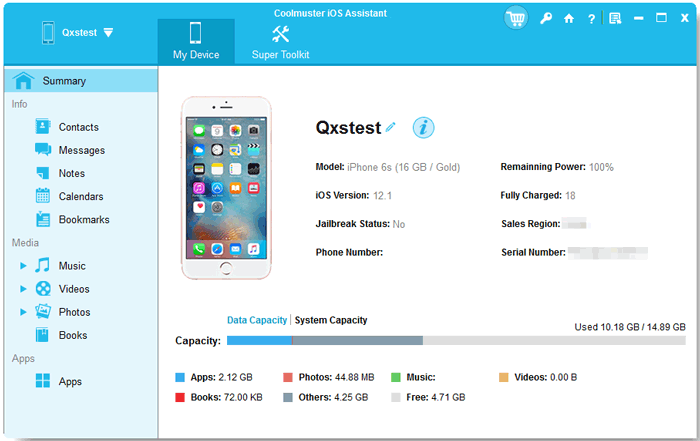 Step 2. Backup and restore iTunes with one click.
Switch to "Super Toolkit" section on the top and hit "iTunes Backup & Restore" option.
> To back up iDevice to iTunes, please click "Backup" > choose your device from the drop-down menu > choose the location to store the backup file (either the default iTunes backup location or customized location on computer) > click "OK".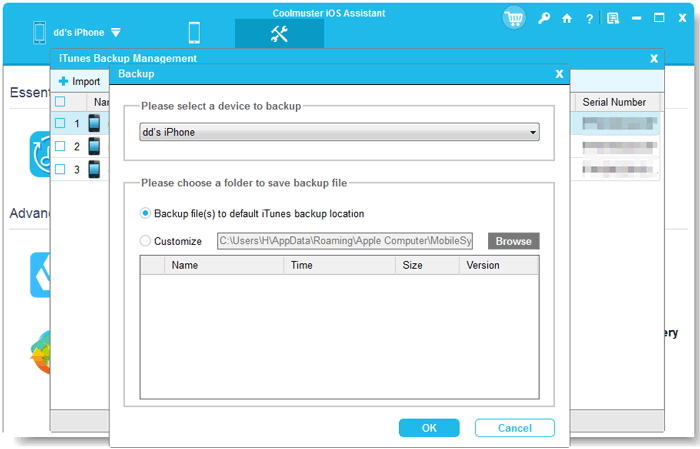 > To restore iTunes backup to iDevice, please click "Restore" > choose your device from the drop-down menu > choose a backup on your computer from the list > click "OK".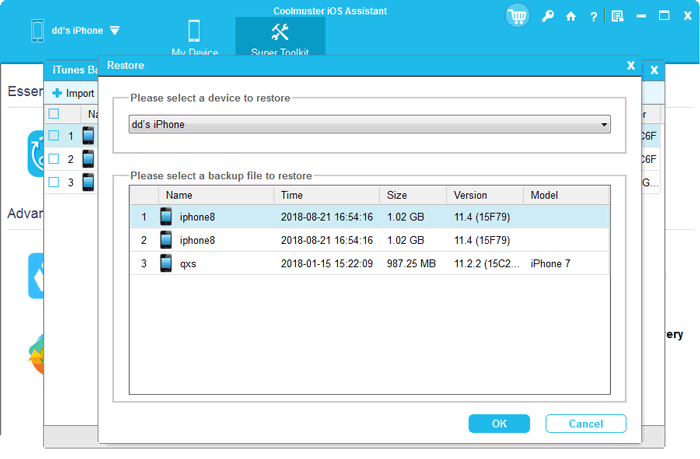 See? It is so easy to backup and restore iTunes with the iTunes Backup Manager. Why not have a try?
Related Articles:
Guide to Access iTunes Backup Files
10 Tips to Make iTunes Run Faster
How to View iMessages on iTunes?
Guide to Fix "iPhone Is Disabled Connect to iTunes" Issue
How to Fix iTunes Won't Sync to iPhone
iPhone Won't Sync with iTunes after Upgrading to iOS 12, How to Fix It?
How to Fix iTunes and iPhone Errors?
Add a comment