Q: My computer won't recognize my iPhone.
"When I plug in my iPhone to computer, the Apple mobile USB driver is not showing up in the device manager. I tried the suggested fix and nothing is showing up.. no iphone, camera..not even an unknown device. I also just downloaded and updated the newest version of iTunes. Any help would be greatly appreciated as I really want to back up my phone before I purchase a newer model." -- From Apple Forum
Many users tend to make full use to Windows PC or Mac computer to manage their iPhone or iPad files, such as transferring videos, adding music, deleting junk files, backing up or restoring iOS data and etc. However, there is a chance that computer doesn't recognize iPhone or iPad. It is quite common that Mac or Windows computer doesn't allow to manage manage their iPhone files for users can't connect their iPhone to computer or Mac. If so, users for Windows or Mac have no need to worry anymore, because you can easily solve this problem with the following tips without installing any program.
Part 1. Tips to Fix Windows Won't Recognize iPhone
Part 2. Tips to Solve Mac Won't Detect iPhone
Part 3. Connect iPhone and Computer with iPhone Data Manager Instead
Part 1. Tips to Fix Windows Won't Recognize iPhone
There are some tips for you in this part to help you successfully connect your iPhone to computer.
Tip 1. Change Another USB Cable
You can try the simplest way to fix computer not recognizing iPhone issue. Just get another iPhone USB cable to link iPhone and computer to see if it works. And please be sure the USB cable is not damaged.
Tip 2. Unplug and Restart Computer to Reload Driver
Firstly, you need to unplug the computer from the power supply socket, because many computer will not shut down properly if you simply turn off computer by pressing the Power button, and all small devices of your computer are connected on the motherboard. However, if you unplug your computer, all microprocessors on your motherboard will reload the drivers. After unplugging your computer, you can restart your computer, thus the problem should be solved.
Tip 3. Update Driver on Your Computer
Updating computer driver should be the most helpful way to solve the problem that Window or Mac won't recognize iPhone. To upgrade your device driver, please visit "Device Manager" on your computer and search for "Unknown device" option. To find out Device Manager, please click "Start" button and enter "devmgmt.msc", or you can also find it in the control panel and click on the "Device Manager".
Then right click on the "Unknown Device" and then click "Properties" option. On the next windows, click "Driver" tab on the top, and click "Update Driver..." option to upgrade computer driver to the latest version. Then you can connect your iPhone to computer again to check if computer detect your iPhone or not.
If it doesn't work, you can try to download and update driver from the manufacturer website of your computer.
Tip 4. Check Settings of USB Root Hub on Computer
You can check the settings of USB root hub on your computer to fix your problem. Please open the "Device Manager" and "Expend USB Serial Bus Controllers", then right click "USB Root Hub" and choose "Properties" option.
Now please click the "Power Management" and deselect the option of "Allow the computer to turn off this device to save power". Then please uncheck this option for all USB root hub options, and click "OK" and restart your computer. After that you can connect your iPhone to computer again.
See Also:
How Can I Authorize or Deauthorize Computer in iTunes?
Part 2. Tips to Solve Mac Won't Detect iPhone
Sometimes Mac won't recognize iPhone when connecting with USB cable, this part will show you some useful tips to resolve Mac not recognize iPhone problem.
Tip 1. Change Another USB Cable
Please make sure the iPhone USB cable is not damaged and is connected to both of iPhone and Mac. But your Mac computer still won't detect your iPhone device, please try another USB cable to connect your devices.
Tip 2. Trust This Computer
When you connect your iPhone with Mac computer and see the popup on your iPhone asking "Trust this computer?", please tap "Trust" option on your device, or this computer cannot detect and access your iPhone.
Tip 3. Update iOS and iTunes Version
When using USB cable to connect iPhone and Mac, please make sure that your iOS and iTunes are running the latest version. To update iTunes version, please tap "iTunes" on the left top of iTunes window on Mac, and click "Check for Updates..." to install the latest version on your Mac. To update iOS on your iPhone, please go to "Settings" > "General" > "Software Update" to download and install the available iOS update on your iPhone.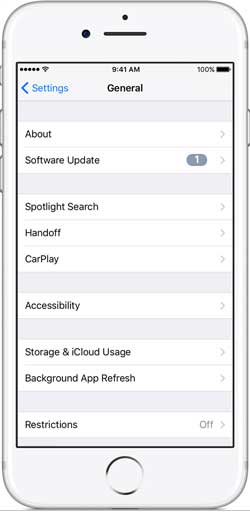 See Also: Tips to Sync iPhone with Multiple Computers
Part 3. Connect iPhone and Computer with iPhone Data Manager Instead
If your computer still cannot recognize your iPhone, you can use the iPhone Data Manager - Coolmuster iOS Assistant for Windows PC to help you connect your iPhone to computer. Since the Coolmuster iOS Assistant program has built-in drivers, which can help you detect your iPhone with your Windows PC or Mac after you install the program. So the computer can easily recognize your iPhone when you connect your iPhone to computer with USB cable.
Importantly, Coolmuster iOS Assistant is a secure and professional iPhone Data Manager, making it easier to import, export, backup, edit and delete files of iPhone systematically on Mac or Windows PC.
Key Features of Coolmuster iOS Assistant:
· Transfer or export data from iPhone/iPad/iPod to computer (Mac or Windows PC) for backup with/without iTunes.
· All types of iOS data are transferable, including contacts, messages, calendars, notes, photos, music, videos, apps, books and etc.
· Add or import data to iOS device, such as contacts, notes, calendars and etc. without any restrictions, even you don't access to Wi-Fi or cellular data.
· Freely preview and backup SMS to computer. Different formats are supported like HTML, Text, CSV, DB.
· Almost all iOS operating system are supported, including iOS 16/15/14/12/11, iOS 10, iOS 9, iOS 8, iOS 7 and etc.
· Almost all generations of iOS device are supported, including, iPhone 14/13/12/11/X/8 Plus/8/7 Plus/7/6s Plus/6s/6 Plus/6/5S/SE, iPad Pro, the new iPad, iPad Air, iPad 2, iPad mini, iPod touch and etc.
Way to Use Coolmuster iOS Assistant:
- Connect iPhone to computer with USB cable and launch the program on Mac or Windows PC;
- Click the file tab on the left panel to preview the related files of your device;
- Select the functions depending on your need, like "Export", "Import", "Uninstall" and etc.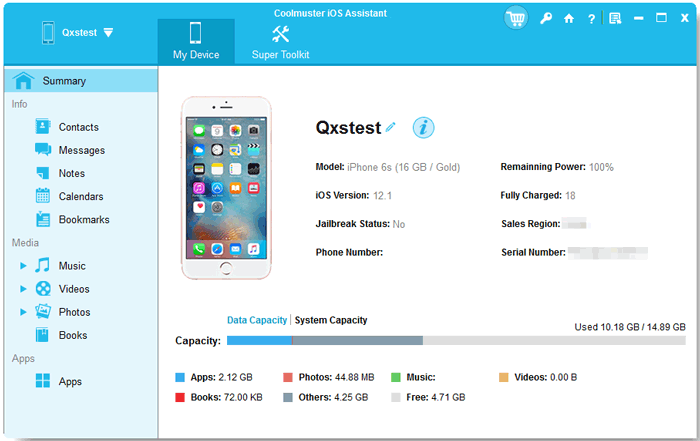 Words in the End
Next time you encounter the problem that your computer doesn't recognize your iPhone on Mac or Windows PC, don't panic anymore. Check out the helpful tips above to fix iPhone not recognized by computer on Windows PC and Mac computers. You are welcome to share this guide with more people in need.
Related Articles:
Transfer iPhone Albums to Computer
How to Transfer Video from iPhone to Computer/PC Easily?
How to Trust or Untrust Computer on iPhone/iPad
How to Fix iPhone Red Screen of Death? (4 Effective Ways)
Full Guide on How to Fix iTunes Error 4005 or iPhone Error 4005