There's no getting around the modern reality that our technology-laden world has us awash in devices and computers that we must deal with on a regular basis. You may have a iPhone that you save all your photos, video and music from a home computer on. But this may be the same phone you have to connect to a work computer if you want to transfer files, apps or any other important office data to your home computer. Then there may be another device you want to transfer files from directly onto your iPhone. There may even be data on an older computer that you used with an older iPhone that you wish to transfer onto your current iOS mobile device. Another obstacle you might be facing when upgrading your iPhone is that Apple doesn't make data transfer or storage software or sell comparable apps that can work with any computer other than a Mac.
If you want to sync up your iPhone with a PC desktop or laptop computer, you will need third party software that can save and organize all your iPhone data onto any computer's hard drive. This is why those who need to sync their iPhones on multiple computers may want to seek out Coolmuster iOS Assistant. This is third-party software that can safely export any data on all iOS devices such as an iPhone or iPad onto any PC or Mac computer for file storage or data transfer. This software can help you transfer photos to your new iPhone as well as music, movies, TV shows, podcasts, audiobooks, ringtones, voice memos and more from any older iPhone, iPad, iPod touch/nano/shuffle to any computer easily.
This app works with all generations of iOS devices such as the latest iPhone 6, iPhone 6 Plus, iPhone 5S, iPhone 5C, iPhone 5, iPhone 4S, iPhone 4, iPhone 3GS, iPad Air, iPad 4, iPad mini, iPad with Retina display, and all iPod series. In order to sync your iPhone with more than one computer, first download this Coolmuster iPhone to Computer Transfer app from the following button onto the computer or computers you wish to transfer from or save mobile data. Then all you need to do is:
Step by Step Guide for Syncing iPhone with Multiple Computers
Step 1. Launch iPhone to computer transfer and connect your iPhone
Launch the program on the computer you wish to transfer/save data to while you have your current iPhone connected to it via USB cable. The app should register all the data on your mobile phone and display it in categories in the program screen. It may also identify other iOS data and display it as well.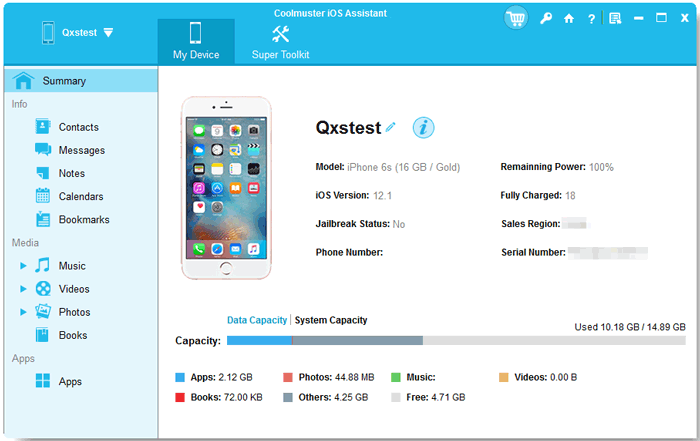 Step 2. Preview and select the files for transferring
Tick the boxes next to all the files you wish to store from your iPhone onto this computer, including photos, music, movies, TV shows, podcasts, audiobooks, ringtones, voice memos and more. This can even include data on this computer from older iPhones that used this computer.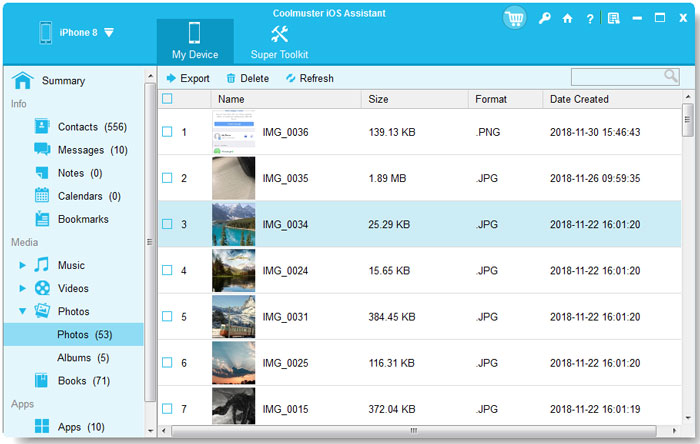 Step 3. Start to sync iPhone with multiple computers
Click on the button marked "Export" to save the selected data from your iPhone onto this computer. Follow the dialog boxes to identify the location on your have drive to save this data and select that location to complete the syncing process.
Repeat these steps with any other computer you wish to save this mobile device's data onto and be sure to label these backups accordingly.
Related Articles:
Copy Photos/Music/Videos from iPad Air to Mac and PC