How could you lose your phone data?
Irrespective of how careful you are with your device, there is always a chance of losing your data. You might accidentally delete some files, or a bug may affect your storage. Then there are instances of your phone accidentally falling on the ground, or worse, in water. An accidental downpour can cause your phone to sufficiently wet to get water damaged.
Problems you may suffer due to data loss:
There is nothing worse than losing your important work documents, playlists you spent weeks putting together and all your contacts and texts. There is always that one movie in your iPhone you never got around to watching. That is why it is always suggested to sync your phone with iTunes regularly, and ensure from time to time that your iCloud backup has been performed. However, there is another way to recover your lost data. It is simpler and will help you to backup all the data you need, in an easy way. Plus, you would be able to transfer all the data you need from your phone, even if you have lost it, without a worry.
These are what Coolmuster iOS Data Rescuer can help:
The Coolmuster iOS Data Rescuer is an extremely efficient program that allows you to recover data from any iOS device with or without iTunes. It is compatible with all versions of windows. Following are its most important features:
1. Restore accidentally deleted music, contacts, photos, videos, messages, and bookmarks etc. to your computer.
2. Save space by previewing data and restoring only the files that you need.
3. View photos and videos in a convenient "Thumbnail View".
4. Get specific details of contacts like name, email, company etc.
5. Your messages are saved in printable formats like TXT or HTML.
Now, let's see how to use this software to recover lost files from water-damaged iPad/iPod with or without iTunes backup.
Part 1. Water-damaged iPad/iPod Data Recovery without iTunes Backup
Part 2. Water-damaged iPad/iPod Data Recovery with iTunes Backup
Part 1. Water-damaged iPad/iPod Data Recovery without iTunes Backup
Step 1. Run the program and using a USB cable, connect your iPad/iPod to your computer. On the interface, select the "Recover from iOS Device" option.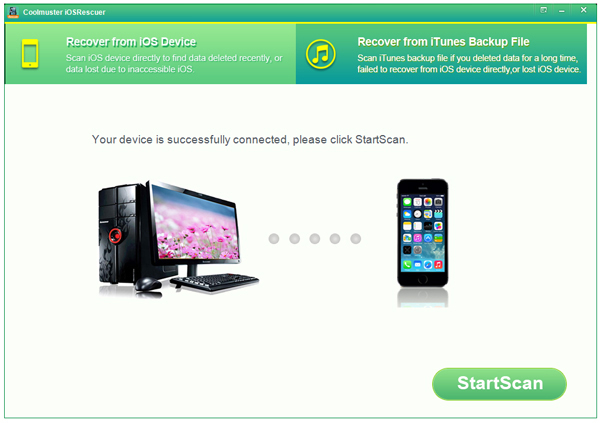 Step 2. On the next screen, click on "Start Scan". From the categories of files you see on the left, click on the one you wish to recover. Preview the files under the category and select the ones you wish to recover.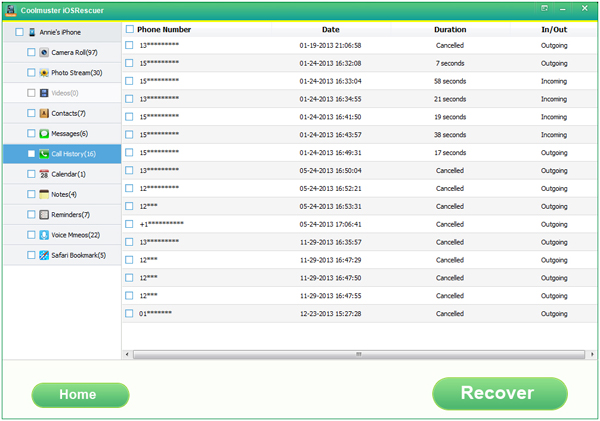 Step 3. Finally, just click on the "Recover" button to begin the file recovery.
And if you are looking for a simple way to backup, you could also use iTunes. Here is how you can go about it.
Part 2. Water-damaged iPad/iPod Data Recovery with iTunes Backup
Step 1. On the program, choose the "Recover from iTunes Backup file" option at the top. Then A list of the devices you've synced with iTunes will appear. Highlight the relevant option.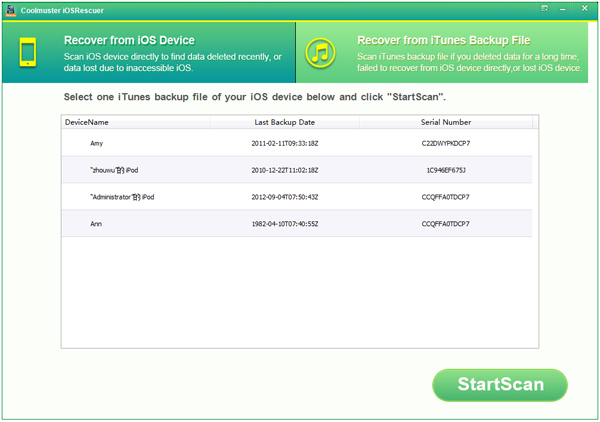 Step 2. Click on "Start Scan". All the included files will then be shown in categories. Select on the category from which you wish to recover files. For instance, click on "Camera".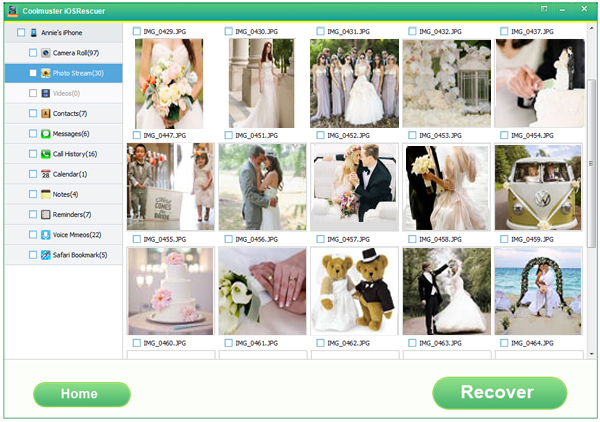 Step 3. Select the ones you want to recover from the files available under the category. Click on "Recover" and all the selected files will be saved on your computer.
Words in the End:
Do not worry if your phone has been water damaged. These simple tips will assure you that water-damaged data recovery from iPad/iPod cannot be easier! While iTunes can work out fine, if you are really looking to get hold of all your data in your phone without having to lose any of it, it is always a good idea to try out Coolmuster. It helps make the process a lot easier.
Related Articles:
How to Recover Formatted Media Files from iPad