Losing your iPad data can feel terrible. Of course, music and apps you can download again, but what about the contacts, notes, photographs, files? It is quite common to lose your data, but if you do it without iPad backup, you need to use tools to get the data back. You might have accidentally deleted some data; or maybe downloaded a suspicious program from the Internet that caused it to happen; or your device simply crashed.
How to Backup to iCloud?
As a rule of thumb, always have iPad backup. You can use cloud services for backup (like iCloud), or physically back it up yourself. Having a backup will save you a lot of trouble. All that you need to do to backup is to enable the iCloud option on your iOS device and the backups would be made to your device automatically. Here are some articles you might want to know:
1. How to Sync iPhone/iPad/iPod with iCloud
2. Reasons Why You Need a Phone Backup
3. Best Backup Assistant for iPhone/iPad/iPod
But right now if you don't have a backup and you have deleted data, what do you do?
How to Recover Lost iPad Files without iCloud Backup?
Remember, by default Apple only makes you use 5 GB of iCloud data. You would have to pay a monthly rent if you want to store more data over the iCloud. This means that the iCloud really isn't a great option when it comes to backup of your files. You have to use a specialized tool to do so. There are a number of such tools in the market, but the one with the most positive reviews is the Coolmuster iOS Rescuer.
What does this software do?
This is a tool that recovers lost or corrupted data from your iOS device even if you don't have backup.
- It is capable of rescuing the data both with iTunes backup and without iTunes backup.
- With it, you can easily recover all your data, ranging from contacts, photos, memos, calendars, safari, notes etc.
- It even allows you to access lost messages and other files from iPhone/iPad/iPod.
- It works not only for iPad but other iDevices as well. It supports all the latest models – the iPhone 14/13/12/11/X/8/7/6/6 Plus, iPad Pro/Air/mini, iPad with Retina display, the new iPad, iPad 2/1 and iPod touch 8/7/6/5/4/3/2.
How to use Coolmuster iOS Rescuer to recover your files?
As mentioned, Coolmuster can recover your files with or without iTunes backup. Here is how to do it both ways:
Method 1: Direct backup from device
Step 1 – Download and run the Coolmutser software. Next, plug in your iPad to your computer. You will see two options in the Coolmuster window – choose "Recover from iOS device".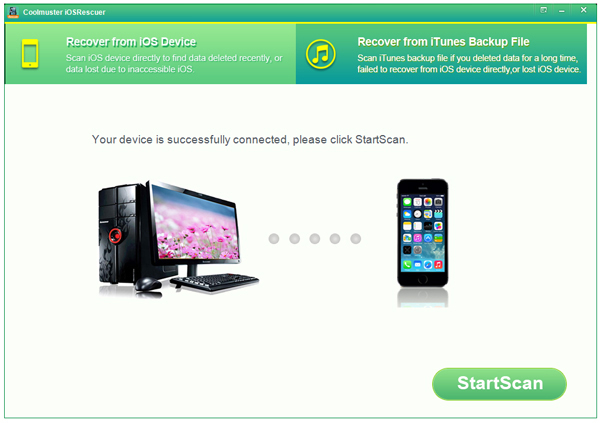 Step 2 – Click on "Start Scan" at the bottom right of the Coolmuster dialog box. After the scan is complete, a list of files will appear, including lost ones.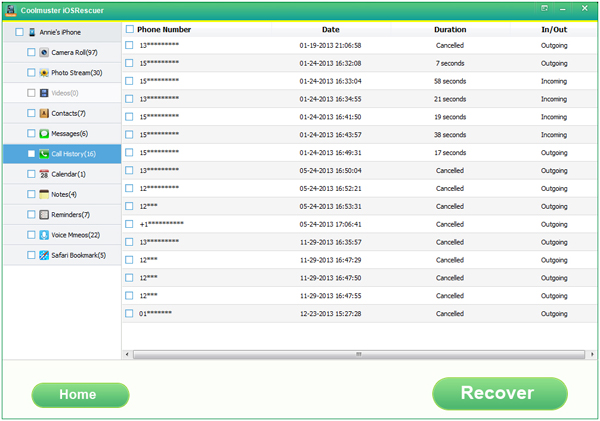 Step 3 – Finally, preview the data within the software and choose what you want to recover. Click on "Recover" after selecting the desired files.
Method 2: Using iTunes backup
Step 1 – Download and run the Coolmuster software. Now from the dialog box choose the option of "Recover from iTunes backup file".
Step 2 – You will be promoted to pick your device out of list that appears. Choose your device, and click on "Start scan" at the bottom right of the window.
Step 3 – All recovered data will now be visible to you. You can go through it and decide what to recover. After you have selected the desired files, click on "Recover".
Summary
These simple tips will help you save all your files that you may have lost easily. You do not need to worry about losing our on your precious data and memories any more. Use Coolmuster and save backups and recover all that you may have potentially lost, in a few easy clicks.
Related Articles:
How to Recover Reminders from Broken iPhone/iPad
Locked Out of iPhone after Update? 6 Effective Fixes You Never Know
Troubleshooting for iPhone Stuck on Preparing Update (Reasons Mentioned)
How to Recover Deleted Files from iPhone without Backup? (Hassle-free)
iPhone Software Update Failed: How to Update to iOS 16 Smoothly?