How to Export iCloud Contacts to CSV
Get to Know the Definition of CSV File
A comma-separated values (CSV) file stores tabular data (numbers and text) in plain text. Each line of the file is a data record. Each record consists of one or more fields, separated by commas. The use of the comma as a field separator is the source of the name for this file format. - From Wikipedia
In general, this file format is widely used by business,scientific applications, consumer and others in the similar fileds. And any data presented in the formats of OpenOffice Calc, Microsoft Excel or other, can all be exported to CSV format, including contacts or messages saved on your device. Speaking of this, this passage will tell you how to export iCloud contacts to CSV format. And if you are looking for this, you are surely in the right place!
To export iCloud contacts as CSV, you can always find a feasible solution. And there are surely more than way to go.
Related: How to Backup iPhone Contacts to iCloud
User Guide: How to Transfer iCloud Contacts to CSV
Method 1. How to Export iCloud Contacts to CSV via iCloud Website (Less Recommended)
- Go to the iCloud website and and enter it with your Apple ID and password.
- Once successfully logged in, click on the option that says "Contacts".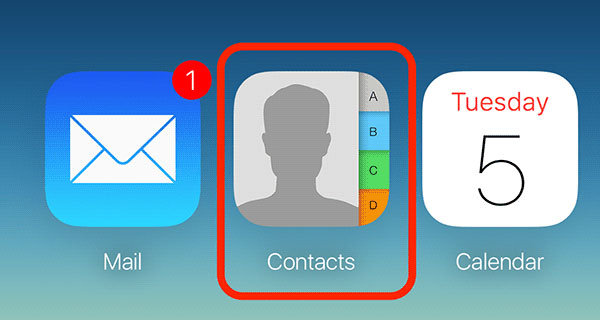 - Then click on the little Settings icon in the bottom-left corner of the website.
- When the Settings menu shows up, click on the option that says "Select All".
- Then choose the option that says "Export vCard…" to continue the process.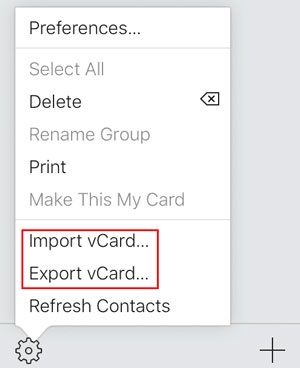 - Now, the vCard files will be downloaded to your computer, which can be located in the Downloads folder.
Then, you can search on the interner for a online converter to convert the vCard files to CSV format. Here, you can have a try of this vCard to CSV Converter page using your browser. But as you can see, that you have to export iCloud contacts to vCard and then to CSV format. A little troublesome, right? So why not have a try of an easier way?
More Articles You Might Want to Know:
Quick Fix: How to Protect iCloud
Method 2. How to Transfer iCloud Conatcts to CSV via 3rd-Party Program (Recommended)
To easily and quickly export iCloud contacts to CSV format, you surely can't miss this professional iOS Data Rescuer software. This all-in-one software allows you to easily access iCloud contacts and transfer iCloud contacts as CSV format. And even your these contacts are lost from your iPhone, you can still access these lost iCloud contacts without any hassle. Moreover, you can even recover these iCloud contacts if needed.
What this software also stands out is that it boasts of a super easy user interface;
- Open the installed software and then get your iPhone, iPad or iPod connected to the computer via the USB cord.
- Choose the Recover from iCloud Backup option to continue the process. Now, enter the Contacts tab to preview more detailed file information. While previewing, select the wanted contacts by ticking them out.
- Then hit the Recover option to recover these contacts. Then select CSV file as the output format. After that, wait for the process to get completed within a little while. You will successfully export iCloud contacts to CSV within a little while.
Related Articles:
How to Export iCloud Contacts to Excel File