Most of us wish we could be able to customize everything in our lives and remove clutter. Luckily, you iPhone allows you to do just that. You can delete or remove icons from your home screen and move them to an area that keeps your home screen from being cluttered. Sometimes, you may have deleted an app from your device, yet the icon is still present of your home screen. You hold the icon you want to delete, yet it still stays on your home screen. This is because although you may have deleted the app, the cache icon information is still on your device. You will need software that can access all the data in your phone easily, display it in a more user friendly manner and allow to identify what data is useless junk and cache data and what is data and content you want to save from deleting permanently.
How to delete icons of the apps you downloaded?
1. Wake your iPhone from sleep mode and unlock it to get ready;
2. Press the icon of any application and hold it for seconds, until all the applications start to shake;
3. At the same time, you can see there will be an "X" at the top left corner on each application and you can press on the "X" to delete the icon of the application.
As you can see, deleting icons of the downloaded apps is extremely simple. But unfortunately, you cannot delete the icons that come with the iPhone, such as stocks, weather and calendar, etc. This is where Coolmuster iOS Cleaner or iOS Cleaner for Mac become very useful. With the individual file selection function Coolmuster iOS Cleaner comes equipped with, it's so easy to permanently remove the files you don't want while keeping the ones you do. This functionality of the software's interface makes managing your data easy and hassle free. And cache and junk file data of icons for apps you have deleted can be targeted and eliminated as well. Coolmuster iOS Cleaner optimizes your phone by removing the junk and cache files that you can't without digging deep into your phone's setting.
The Method of Deleting Icons off iPhone Homepage by Using iPhone Data Eraser
Using Coolmuster iOS Cleaner to delete irrelevant icons is so easy. First, download the software from the links below (This software works on both Mac and PC desktops and laptops). Then, read the following tutorial to see how to use the software to delete all kinds of icons on iPhone 14/13/12/11/X/8/7/6 in 3 steps.
Step 1. Connect iPhone to Computer and Run Software
Plug in your iPhone to the computer via a USB cable. After this, launch the iPhone cleaning software and you will see a two side window with your detected iPhone and how much storage it has left on one side and all the functions this software is capable of on the other.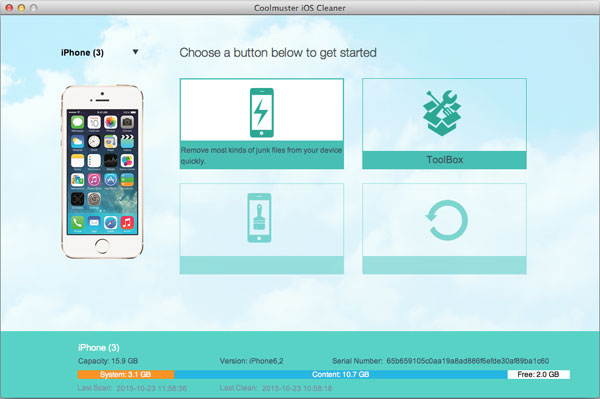 Note: iOS Cleaner supports all iPhone models, including iPhone 14/13/12/11/X/8/7/6, as well as iPad and iPod.
Step 2. Scan your iPhone data for target applications
Select the "Cleanup Express" option from the left hand panel. You will see a message stating how long it has been since your phone was last cleaned. Click on the "Start Scan" button. After the scan is complete, you will see a complete list of all the junk and cache files on your phone. You can even examine each file to see if it is junk or valuable content.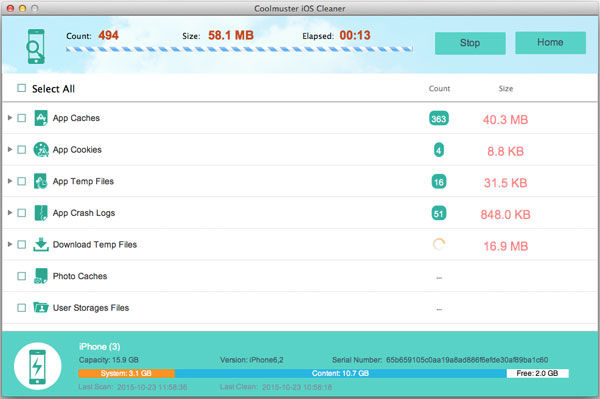 Step 3. Select and begin to delete icons on iPhone
Then you select all the files you want to erase. If you notice a junk file for an app you may have deleted but still have an icon on your home screen for, select it. Finally, click the "Erase Now" button when you are ready to erase your unwanted data.
Conclusion
After the deleting progress, you will then receive a clean-up message when it's done telling you how much space you have made! This makes having Coolmuster iOS Cleaner a must own for any iPhone, iPad or iPod owner.
Related Articles:
How to Delete Camera Roll on iPhone
Recover Lost Files from iPhone 6/6 Plus
Permanently Delete Messages on iPhone [New]