How to Permanently Delete Messages on iPhone [New]
Q: How do you delete messages from iCloud?
I changed the setting on iPhone 6 so my iCloud backup included messages - big mistake. Now I'm almost mixed out on my plan and don't want to upgrade. Is there a way to delete my messages from iCloud?
-- Excerpted from the Apple forum
Another Case: It's reported that a lady felt that his husband usually neglected her. One day, she powered on her husband's iPhone when he fell asleep and searched deleted texts with Spotlight. Shockingly, the texts were all about the man and his sweetheart. That might bring you the question: "How to permanently delete messages on iPhone?"
When there's major privacy in your texts in other situations, you need to permanently delete iMessages. But disabling Spotlight won't help, because someone can re-enable or recover texts with certain tools. Therefore, want to permanently delete text messages? The following is worth reading.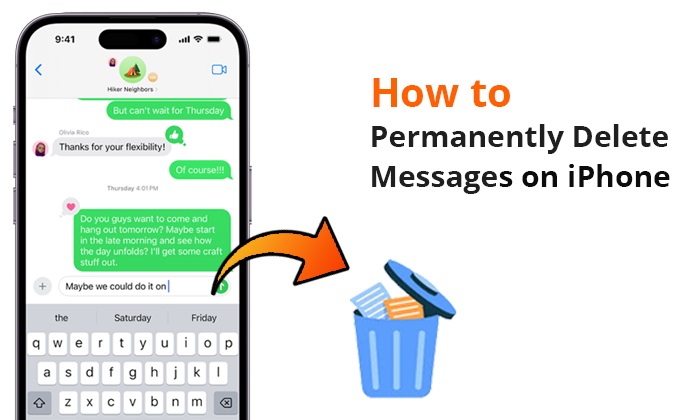 Part 1: How to Permanently Delete iMessages on iPhone with Coolmuster iOS Eraser (Unrecoverable)
Part 2: How Do I Delete Messages on My iPhone (Recoverable)
2.1 How to Delete Saved Messages on iPhone with iTunes
2.2 How to Delete Text Messages on iPhone from iCloud
2.3 How to Delete Text Messages on iPhone Using Factory Restore Settings
Part 1: How to Permanently Delete iMessages on iPhone with Coolmuster iOS Eraser (Unrecoverable)
Some iPhone enthusiasts may say they have used some iPhone built-in functions such as iTunes or iCloud to delete their text messages. Nevertheless, the deleted texts can be recovered. So why? Well, this question sounds tricky, and it will be worked out in the next part.
You may be considering how to permanently delete text messages from iPhone? Certainly, there's a program, which is of great help. However, before that, here's a crucial note - Back up your iPhone data before you know how to erase text messages on iPhone permanently.
Attention: While conducting permanent erasure, the app will delete files on your iPhone in passing. It is highly recommended that you back up and restore iPhone before and after you erase text messages on iPhone.
That's to say, you'd better back up call logs, contacts, calendars, videos, music, photos, and others before the deletion, and restore them after the erasure.
Well, after your backup, do you want to know what the app is and how it can permanently delete text messages on earth? OK, it is Coolmuster iOS Eraser, providing unrecoverable deletion, will meet your needs. The next time you are to transfer or donate iPhone, you definitely don't want someone to bring texts to light again, this program can rescue you.
Now, let's unravel 4 mysteries of this pro app:
* Be at the service of almost all iDevices (iPhone/iPad/iPod).
* Erase all files including various data, settings, and others after it detect and deeply scan your iPhone.
* Empty all the deleted, existing & private data: text messages, call logs, photos, music apps, reminders, bank records accounts & passwords and so forth.
* Offer three progressive modes: Low Level (overwrite for 1 time, fast), Medium Level (overwrite for 1 time, unrecoverable), High Level (overwrite for 2 times, safest).
* Conduct with 3 easy steps and totally read-only, and won't keep, modify, or divulge data from your iPhone.
After you download it, would you like to see how it works?
3 light steps on how to permanently delete text messages on iPhone with Coolmuster iOS Eraser:
* Step 1. Install and open the app. Then connect the iPhone containing the texts to be permanently deleted to PC via a USB cord. At the sight of "Erase" on the windows below, please tap it to go to the next step.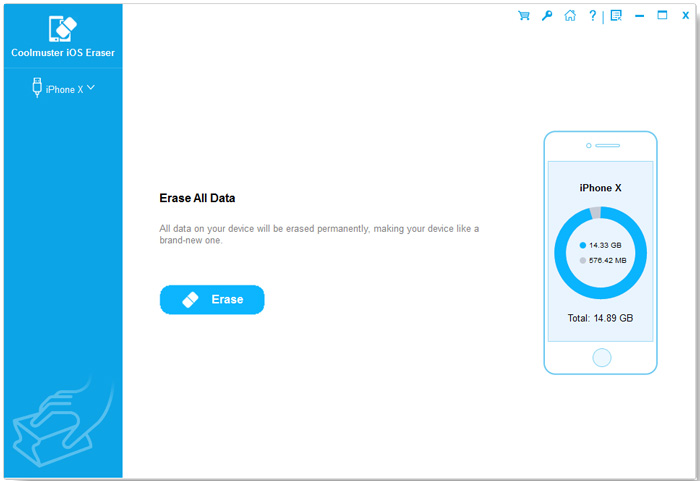 Note: If you haven't unlocked your iPhone or trusted this computer, please touch "Trust" and "Continue" on the app interface as prompted.
* Step 2. Choose the security level for erasing. To deleted messages permanently, kindly advise you to choose "Medium Level" or "High Level". After that, Please click "OK" to continue.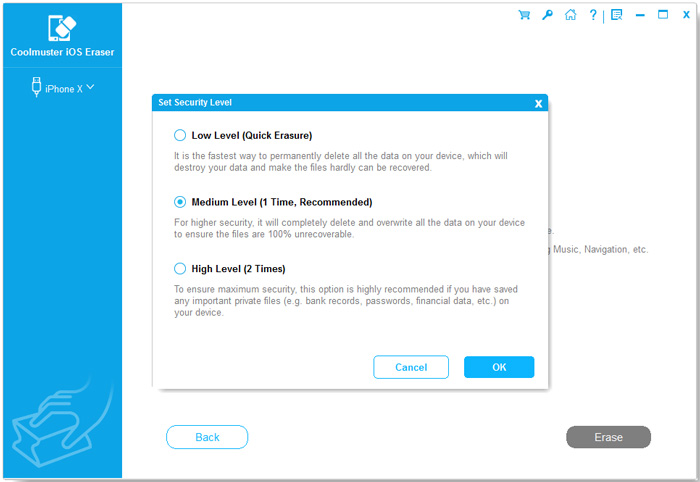 * Step 3. Input "delete" to confirm and tap "Erase" to move on. Then press "OK" as the window cues you whether you are sure to erase your iPhone data completely. After the scan and erasure, your iPhone will reboot. After that, hit "Try Again" to reconnect your device. Then the app will overwrite your iPhone data.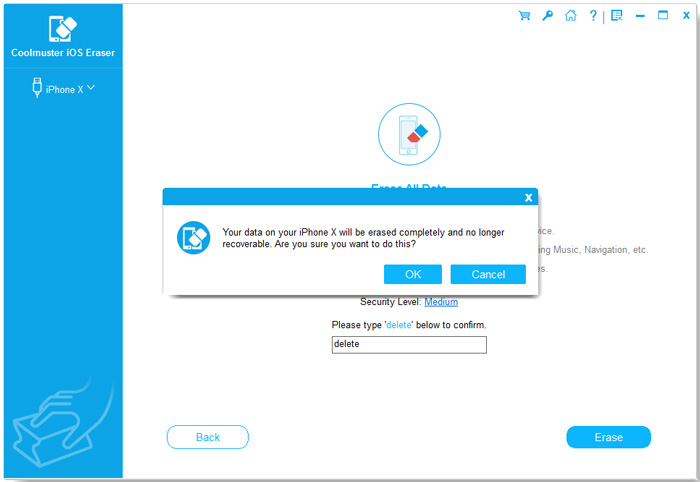 Tips:
What to do if your iPhone fails to restart?
Troubleshooting for iPhone Stuck on Preparing Update (Reasons Mentioned)
Bonus: Search the keywords of texts on spotlight and you will see the deleted messages you are looking for in the first column. Thus, to better protect your privacy, turning off the info switch from Spotlight.
Part 2: How Do I Delete Messages on My iPhone (Recoverable)
Deleted messages can be recovered as we've mentioned in the preface. But why? Here's the trick.
When you delete texts on your iPhone, these deleted messages, in fact, are not destructed, they are only hidden in database files. While there come new messages, the new ones randomly cover the deleted messages, and the deleted ones still exist in the database.
As a result, even though these fragmental files were covered by new messages many times, the deleted texts can still be recovered by professional data recovery tools from debris files. So, how to delete messages on iPhone with Apple related tools or function? There're three recoverable ways on how do I delete messages on my iPhone.
2.1 How to Delete Saved Messages on iPhone with iTunes
After the iPhone being connected to the computer, start iTunes and sync text messages on iPhone to iTunes. Then delete them on your iPhone. iTunes will automatically synchronize after detection.
However, because the texts in the original iPhone have been deleted, iTunes cannot detect the messages. Thus, it won't sync iMessages to your iPhone. Namely, iTunes deleted it on the device by default.
How to delete texts/text messages on iPhone 8/7/6 or other series with iTunes:
1. Open the iTunes and link your iPhone to PC. Then choose your iPhone name from the upper-right corner of the page(If you only have one iPhone, just click the displayed icon to move on).
2. Click "Summary" from upper-left corner and tick "This computer" below "Backups" menu on the middle of the interface.
3. Tap "Back Up Now" to back up your iPhone messages, and then hit "Done" on the lower right corner. After that, you can erase your text messages on your iPhone.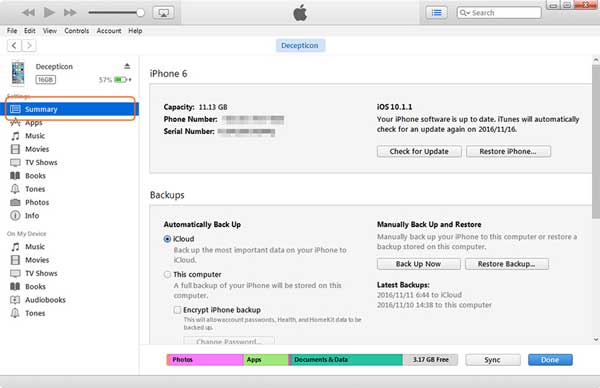 Tips: If you don't want to sync text messages or other data to your iPhone after deleting them with iTunes, be careful to select an empty folder the next time you sync with iTunes.
2.2 How to Delete Text Messages on iPhone from iCloud
Compared with the method to delete text messages from iTunes, it's much easier to delete iMessages from iCloud. Besides, these two means enjoy the same fundamental, which is backing up data first, and then delete texts on your iPhone.
Now, how to backup and delete text messages from icloud?
* Go to "Settings" and scroll down for "iCloud Backup" on the bottom of the screen. Then turn on the button to back up messages and other files on iCould. After that, delete texts from your iPhone with ease.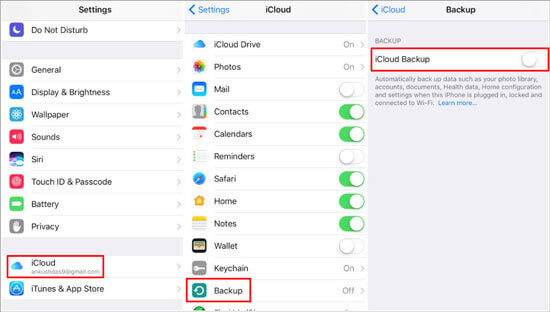 Prize: If your iCloud has a lot of sensitive or private text messages, you can clean up your iCloud backup after deleting your iPhone's text messages.(Settings > General > Storage & iCloud Usage > Manage Storage > Backups > Delete Backup > Turn Off & Delete)
If needed, see how to delete photos from iPhone but not iCloud.
2.3 How to Delete Text Messages on iPhone Using Factory Restore Settings
All your data will be lost when you restore factory settings. So, do remember to back up your data before factory restore settings in case other useful data loss if you don't want to find a new host for your iPhone.
Here's how to delete deleted messages on iPhone using Factory Restore Settings:
* Get into "Settings" > "General" > "Reset". Then select "Erase All Content and Settings" item and fill in your iPhone password to click "Confirm". Next, reboot your iPhone after the erasure process.

Notes: This solution won't work if your iPhone is jailbroken. Furthermore, scientifically speaking, if your iPhone runs slowly, restoring factory settings won't do much good.
Learn more:
How to Delete Playlists on iPhone Quickly in 3 Easy Ways
How to Reset iPhone without iCloud Password? [Can't Miss]
Wrap-up
In the first part, I introduced four methods on how to permanently delete texts on iPhone. Of course, if you want to permanently delete messages leaving zero opportunity to recover. Suggest you use the first method - Coolmuster iOS Eraser. As a professional software for data deletion, it offers three erasure levels, which can safely delete your messages in a short time.
Remind you again that, before the deletion, you need to make a backup for important data whether you want to permanently delete iPhone messages, delete unwanted files or release memory for upgrading your iOS system before you donate or resell your iPhone. This is the very app well worth considering taking away your trouble. Thus, download it to permanently delete text messages now?
Related Articles:
How to Erase iPhone without Passcode in 7 Simple Ways
4 Ways to Permanently Delete Photos from iPhone [Solved]
iPad Data Eraser: How to Wipe iPad Data for Selling?
Easy Way to Delete Facebook Messages on iPhone
How to Delete All Contacts on iPhone at Once? [Simple Ways]
9 Simple Ways to Export Text Messages from iPhone to PDF (Step-by-step)