There is no doubt that iTunes library is the perfect place to enjoy and expand your love of music. With this iTunes library, you can freely listen to any playlists you have collected, shop for new songs available from iTunes Store as you wanted and needed, build a music library filled with endless listening experiences. Aside from music feast, you can also easily catch up on episodes of your favorite TV shows or hit movies you've been meaning to see - anytime, anywhere. But, have you ever met such situation: you have deleted some songs and added new ones to your iTunes library, but your iTunes library didn't get updated when you made these changes. As a result, you have no access to the newly added music songs or movies on your iTunes library. Sounds quite familiar? Well, so how can you refresh your iTunes library so as to timely update your iTunes library?
Useful Ways to Refresh iTunes Library
Solution 1:
> Firstly close your iTunes application and then launch it again. While starting your iTunes library, remember to hold down the option key on your at the same time. Then you need to choose the Library option from several options.
> While in the library folder, you will be expected to browse through to the iTunes folder after which you will be required to select it and this will automatically refresh your library.
Solution 2:
> Enter your iTunes library and choose all the saved files. Then change their rating with all these files selected.
> Then iTunes will automatically sort them by their rating. The deleted files will be shown together, taking in the form of inaccessible files. Now, you can begin to remove these deleted files from iTunes to refresh your iTunes Library. However, changing the ratings probably means all ratings will be destroyed. Therefore, this solution is not suggested unless you really have no other better way out.
Solution 3:
> Follow down the Users/Yourself/Music/iTunes path to locate the iTunes folder. Then locate the iTunes Library.itl file and delete it from your iTunes. Deleting this file means that you have deleted database from your iTunes library and made your iTunes library to create a new database to access the all the songs in your library.
> After creating a brand-new database, your iTunes library will have no alternative but refresh your iTunes library. So the new database will automatically incorporate files saved in your iTunes library. However, this option only allows iTunes library to show the files purchased through iTunes. In order to show all the songs in your iTunes library, you need hide music in cloud to turn off this feature.
Now, you can choose any way mentioned in the above to refresh your iTunes library. To thoroughly and smoothly refresh your iTunes library, you also need to take prompt measures to free up enough space by cleaning up your iDevice at regular times. However, sometimes it is possible that a malfunction may cause data losses in your iDevice. Then in this case, you will need to recover the lost files from your iPad, iPhone or iPod. Then you will need a professional software like Coolmuster iPhone Data Recovery to help recover the deleted files in one click. With this software, it is just a piece of cake to recover lost files from your iDevice without any hassle. This software is fully compatible with all types of files, such as contacts, messages, music songs, videos, movies, reminders, podcasts and etc. No matter what condition your iDevice is under, this software is powerful enough to bring back all the deleted files from your device without any restrictions. For example, it can easily recover the lost files from a broken iPhone without any difficulty or effortlessly recover files from iPhone stuck in recovery mode.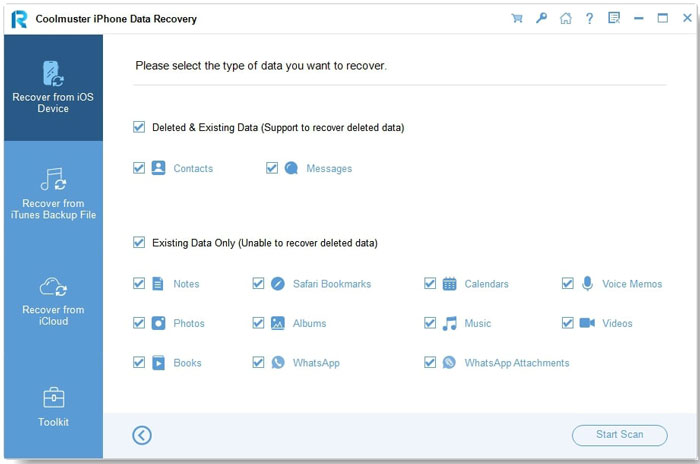 The End
Below is the free trial versions of this software. Remember to choose the right version, or otherwise this software will fail to recover the deleted files from your iPhone/iPad/iPod!

Related Articles:
How to Recover iPhone Files After Upgrading to iOS 9