Simple Way to Recover Files from Locked iPod
The compact-sized iPod is an all-in-one device which allows you to freely enjoy lyrical songs, watch amusing videos or movies, and entertain yourself with so many other activities. And all you need to do is take out your iPod and access the downloaded files whenever you want and wherever you are. However, there are some cases when you may fail to access the saved files on your iPod device, for instance, when you find your iPod device is locked, or when your iPod device is stuck in the recovery mode or when you mistakenly delete these important files on iPod, or when your iPod fails to finish the updating process.
So under such circumstances, how can you easily access these files on your iPod? Today, in this passage, you will learn how to easily restore a locked iPod.
Related: How to Reset Password Restrictions on iPhone/iPad/iPod
Quick Fix: How to Restore Locked iPod
For iPod touch Users
- Press and hold the "Sleep/Wake" button to power off your iPod device.
- Turn it back on by long holding the "Sleep/Wake" button until an Apple appears.
Note: If you are unable to turn off your iPod, try resetting it. (Check here to know more >>>)
For iPod Classic/Nano Users
- Turn the "Hold" switch to "ON," then to "Off."
- Press the "Center" button and the "Menu" button together. Hold them down for about six to eight seconds. Do this until the Apple logo comes on the screen.
- Repeat the Step 2 if you do not see the Apple logo. The Apple log will appear for a few seconds and then your home screen will appear. If this does not fix the problem refer to the Apple support for further instructions.
For iPod Shuffle Users
- Turn the switch to the "Off and wait five to 10 seconds.
- Then move the switch back to the "On". Your iPod will turn back on.
By following the above instructions, you can generally restore a locked iPod and access the files as long as they are saved on your iPod device. But, sometimes you may have lost some files without even knowing that you have already deleted them.
So in this case, is it still possible for you to recover lost files from iPod?
My answer is YES, as long as you have this Coolmuster iOS Data Rescuer software at your hand. With this software, you can easily recover all files from iPod no matter you have an iTunes backup or not. With it, you are free to restore locked iPod within simple clicks. This software has a wide range of compatibility, as is evidenced by its ability to support various files like contacts, messages, photos, videos, movies, Safari bookmarks and many more, as well as its capability of suiting all generations of iPhone, iPad and iPod. So such a powerful software is waiting for you, why are still hesitating if you are exactly looking for a way to restore locked iPod?
Now, you can download the right version of this software and give it a try by yourself!
More Useful Articles:
* How to Fix A Disabled iPhone
* How to Refresh iTunes Library
After downloading the right version of this software to your computer, follow the below steps to recover files from iPod;
- Open the installed software and link iPod to the computer via the USB cord.
- Then you will see two recovery modes are arranged on the main interface for your reference. Now, choose the right mode as needed to continue the process.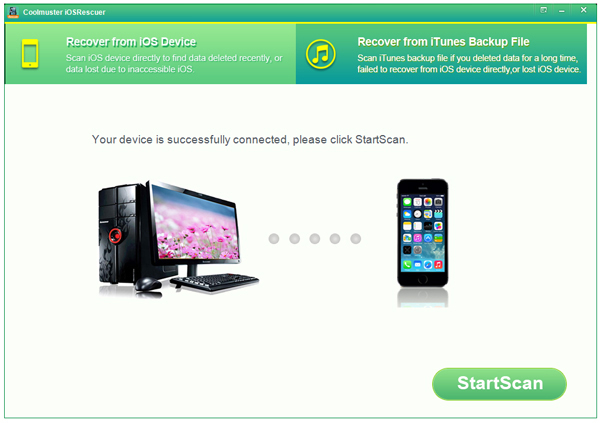 - After that, all the file folders will be detected and displayed as pictured in the below. You can now enter the right file tab to preview more detailed file information. While previewing, select the wanted files by ticking them out and then hit the Recover option to recover files from iPod within simple clicks.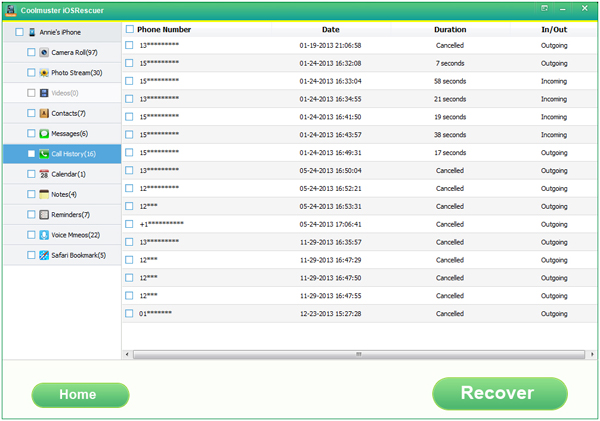 Finally, all you need to do is wait patiently for the process to get completed within a little while!
Related Articles:
iPad Stuck in Recovery Mode, How to Fix it?