If you use iTunes to
sync music to iPhone
, iPod touch, or iPad, you might come across alert messages. For instance, you may get a message telling you that "Your device cannot be synced or iTunes failed to copy music to your iPhone". Besides, the error may possess some of the following messages, error 13014, error 13010, error 69, as well as error 5000.
When it comes to solving these errors, the first step is ensuring that you have updated your iOS devices to the latest software and then have the latest version of iTunes.
Part 1: What Do You Know about iTunes Error 13014?
Part 2: How to Fix iTunes Error 13014 Effectively?
Part 3: Basic Solutions to Fix iTunes Error 13014
Part 1: What Do You Know about iTunes Error 13014?
In most circumstances, error 13014 can happen during program installation, when programs such as iTunes are running, during installation of Windows operating systems, as well as during windows startup and shutdown. Here are some symptoms of this error:
* The occurrence of error 13014 often crashes the active program window
* The PC also crashes frequently due to error 13014
* The windows also perform slowly due to this error and respond slowly to inputs such as keyboard and mouse
* The computer also freezes often due to error 13014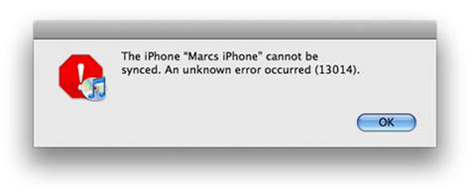 1.1: When does iTunes error 13014 occur?
Error 13014 can occur when one is launching iTunes when running Apple-related software, when syncing iDevices with iTunes, when starting or shutting down windows, or after downloading a song.
1.2: Causes of error 13014
* Incomplete installation of iTunes or corrupt download file.
* Incorrect or wrong deletion of iTunes-related applications and files.
* Malware or virus infection to windows files.
* Corrupt or damaged windows system files and iTunes-related files.
* Damage to the windows registry files due to changes in windows OS or iTunes software.
Don't Miss:
9 iPhone Repair Software to Fix iPhone System Issues
Simple Guide to Recover Lost Data from Dead iOS Devices
Part 2: How to Fix iTunes Error 13014 Effectively?
When it comes to fixing iTunes error 13014 efficiently, iOS System Recovery is the best third-party application to use. The main features of this program are:
* It allows iOS device users to solve problems on their gadgets easily.
* It fixes errors without loss or damage to messages, photos, contacts, and videos.
* It is compatible with numerous iDevices.
You can use it to fix all kinds of system problems on your iPhone, iPad, iPod touch, such as iPhone gets stuck in recovery mode, iPhone stuck in Apple logo, iPhone errors or iTunes errors and more. And it is fully compatible with almost all iOS devices, including iPhone XS, iPhone XR, iPhone XS Max, iPhone X, iPhone 8 Plus, iPhone 8, iPhone 7 and etc. (iOS 12 is supported)
Steps of using iOS System Recovery
1st Step – acquiring the program
* Download the application from the official site and install it on your Windows-based or Mac computer.
* Start the program.
2nd Step – connect your iOS device
* Connect your iOS device to the computer via a working USB cable.
* Your iDevice will be identified automatically by the application.
* Click on "More tools" button.
* On the main interface, you will see "iOS System Recovery" tab.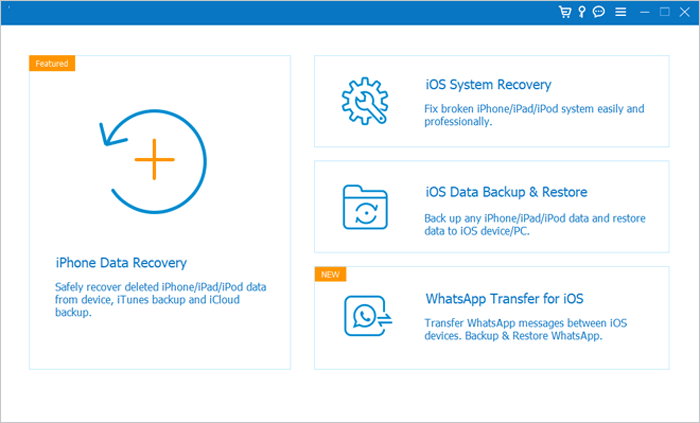 3rd Step – download the updated iOS firmware
* Click on start button to start the process.
* Install the latest iOS firmware version for your iOS device.
* Before continuing, wait for the process to complete successfully.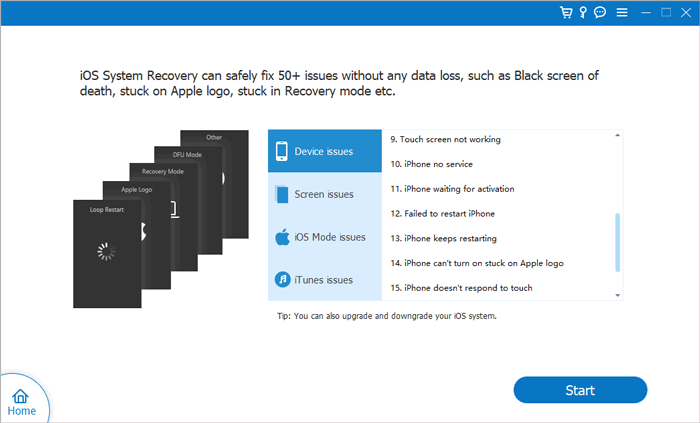 4th Step – Repair your iDevice
* The problem with your iOS device will be fixed.
* Complete the process by restarting your iOS device.
* Your device is entirely fixed.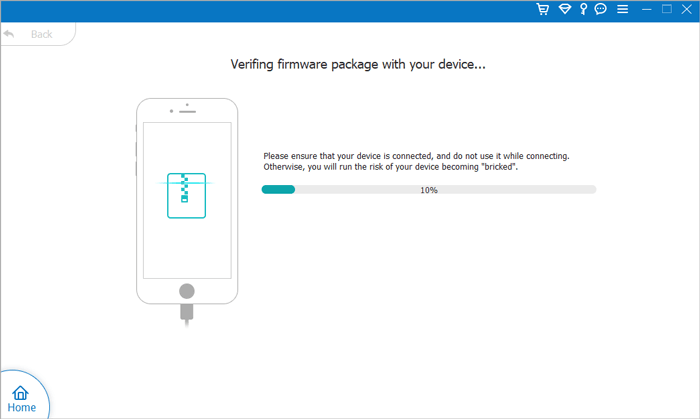 Learn more: Fixes for iPhone Cannot Be Used Because It Requires a Newer Version of iTunes
Part 3: Basic Solutions to Fix iTunes Error 13014
3.1: Update iTunes
Since this error often occurs when attempting to restore or update iOS device through iTunes, it is advisable to try updating iTunes to the latest version. Outdated iTunes software may cause this problem. Therefore, consider updating the iTunes software if you haven't. You can go to "Help" > "Check for Updates" on iTunes to update iTunes directly.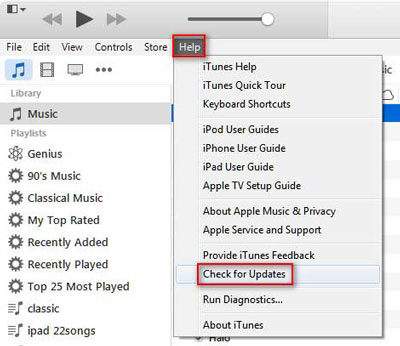 3.2: Software update for your device
Outdated software on your device may also cause error 13014. Here, all that is required of any user is updating operating software for your iDevice.
3.3: Consolidate the media files in your iTunes library
Media files in the iTunes library may be stored in various locations. The files in the iTunes library must be consolidated to ensure that they are stored in one area. By doing so, you will be correcting permissions and streamlining the syncing procedure.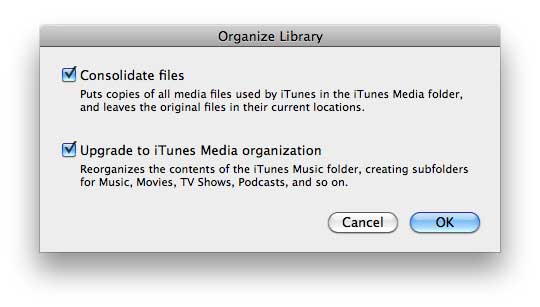 3.4: Check for issues with third-party security software
Various third-party programs such as security software can affect the syncing process between your PC and iOS device. Consider uninstalling or disabling the third-party security apps and then try again. Check more details on how to fix the problem between iTunes and security software.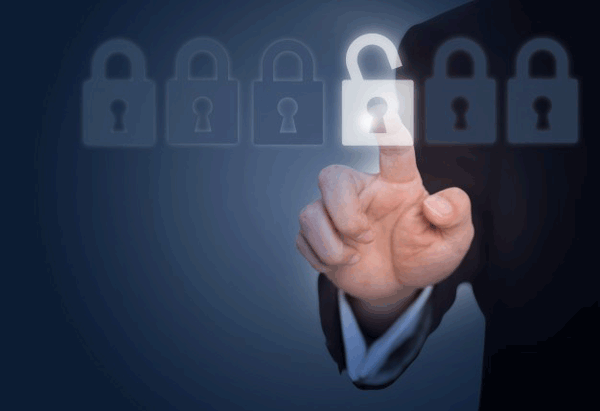 3.5: Make sure the songs that you're trying to sync are available
In some situations, the problem may be with the specific songs you are attempting to sync. To identify the specific songs:
* Check id the error message has the songs causing the problem.
* Consider syncing a couple of songs at a time; add more songs until the problem happens again.
If the problem is with the songs that you purchased from iTunes store, you can consider re-downloading or deleting them. If the issue is with a song that you transferred from another location, consider deleting or importing them again.
3.6: Uninstall and Reinstall the iTunes Program Associated with Error 13014
If you continue getting this error, it is essential to uninstall and reinstall the iTunes software. After reinstalling, check whether the problem is fixed.
3.7: Install All Available Windows Updates
Microsoft Inc. is continually improving and updating Windows system and registry files that could be linked with error 13014. In some cases, fixing the errors outlined above may be as simple as updating Windows to the latest version of Service Pack.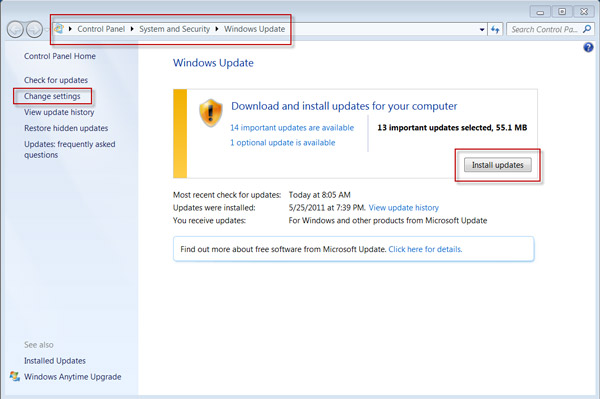 3.8: Perform a Clean Installation of Windows
This is the last method to try since it's time-consuming and requires a couple of skills. The process typically erases everything on your PC, and you should thus perform a backup of your docs before installing OS on your computer again. The method fixes the error 13014 in some cases.
Final Thoughts
Now, if you encounter error 13014 on your iOS device due to the many causes above, you can try solving it via one of the methods discussed above. However, iOS System Recovery is the best program when it comes to fixing that error. It enables all iOS device users to fix errors related to iTunes through simple clicks. Indeed, these errors are a thing of the past after the invention of this software.
Related Articles:
iPhone Won't Sync with iTunes after Upgrading to iOS 12, How to Fix It?
How to Fix iTunes Error 14 or iPhone Error 14?
How to Fix iTunes Backup & Restore Problem?
iTunes Won't Sync with iPhone, How to Fix It?
Photo Stream from iCloud Not Showing on iPhone, How to Fix It?