Full Guide: How to Fix iTunes Error 54?
Summary: If you are in trouble with iTunes error 54, here this article will help you fix it with an advanced way and 8 tips, etc. Thus you can use iTunes normally after that.
Part 1. 8 Tips to Solve iTunes Error 54
Part 2. Advanced Way to Fix iTunes Error 54 Successfully without Data Lost
Part 3. How to Fix iTunes Error 54 on Windows 10
Why iTunes Error 54 Occurs?
Before we get to know why this popular error occurs, it is important to understand what iTunes error 54 is all about. This message may have popped up in your iTunes screen and left you wondering what to do. Several attempts to sort it out may have been futile, leaving you feeling pretty useless.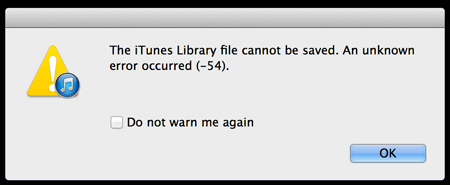 However, we are here to help. An iTunes error 54 occurs when:
* The user tries to synchronize or transfer a locked file (can be from your iPhone or computer).
* The user tries to modify the data without having the application permissions.
* The operating system on your iPhone is not updated or the update was corrupted.
* The iTunes has been installed/ updated in an improper way or the update was already corrupted.
* The iTunes version installed is obsolete, giving room for an error 54 to occur.
* There is damage to your files due to a malware or virus attack.
You Can't Miss:
iPhone & iTunes Errors Fix: How to Fix iTunes and iPhone Errors?
How to Fix "iPhone Is Disabled Connect to iTunes" Issue?
Part 1. 8 Tips to Solve iTunes Error 54
Given some of the reasons why iTunes error 54 occurs, the following tips will help you solve it whenever the message pops up.
Tip 1. Synchronize a Small Number of Files at Once
When there is too much content needed to be synchronized at once via iTunes, this error may occur. This is because it is a huge load for both the computer and iTunes to bear it all at the same time. The best thing to do in this case is to cancel the process and synchronize a minimal amount of data at once.
Tip 2. Get Rid of PDF Files from the Process
It is important to know that PDF files cannot be supported on an iOS device if you're synchronizing PDF files from the computer to iBooks on your device. This could be our iPhone, iPad or iPod. An eBook file format with the extension of .equb is the only current book file that can be supported by iDevices. Therefore, make sure you convert PDF files to EBOOK files to avoid the iTunes synchronization error 54.
Tip 3. Beware of Third-Party Security Software
Third-party software is known to prevent applications from making commands on a computer. This ends up messing with the synchronization process, thus causing the iTunes error 54. When you notice this, or you think that this might be what is causing the error, change the setup of your security software.
Tip 4. Run iTunes as an Administrator
The only way you can attempt some features or gain access to programs is when the computer is running as an administrator. If you notice that the situation is otherwise, try open and run iTunes as an Administrator.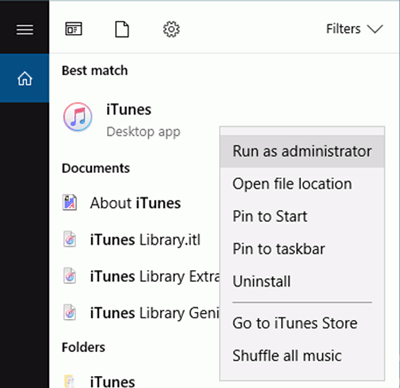 Tip 5. Remove Read-Only Mode on iTunes Folder
In most cases, the data trying to be synchronized with iTunes is uploaded and stored in the iTunes folder. If it is on "Read-only" mode, the synchronization process may fail. If you speculate that this is the problem, find the iTunes folder in your computer and uncheck the "Read-Only" option.
Tip 6. Update the iTunes/iOS Device to the Latest Version
The reason why updates exist is to bring new features and fix any bugs. If you realize that you are operating on an obsolete version, updating iTunes to the latest version or updating iPhone, iPad or iPod to the latest iOS might just fix the error. Please remember to backup iPhone before upgrade in case of data lost.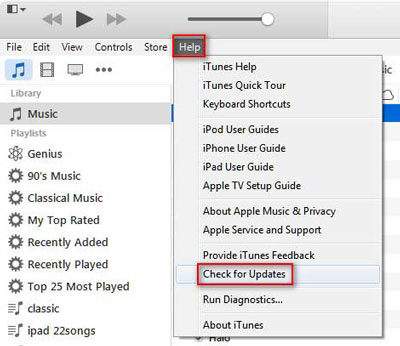 Tip 7. Give Authorization to your Computer
Data synchronization is both private and personal, and it is therefore important that your iPhone and computer receive authorization from iTunes.
> For iOS devices, the authorization happens when you tap "Trust" to trust this computer.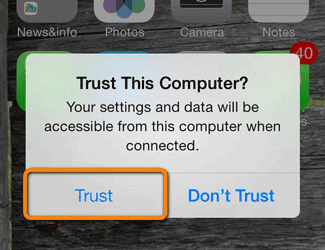 > For a computer, follow the following steps:
Step 1: Connect iDevice to iTunes, and then click on "Continue" when asked whether to allow the computer to access information on (device name).
Step 2: "Click Account" from the top sidebar.
Step 3: Select "Authorizations", then choose "Authorize This Computer".
Step 4: Enter Apple ID and Password again, and then click "Authorize".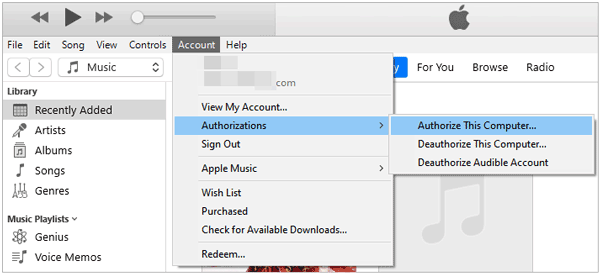 Tip 8. Use an iTunes Alternative – iOS Transfer
With this, you can avoid all the hustle and bustle that involves checking what exactly may be causing the error. With the Coolmuster iOS Assistant, you can backup data from iPhone, iPad, iPod to your computer, import files from your computer to your iOS devices, restore the backup to your iDevices and have full control over the data saved on your computer. This software has put all these features together to make it easy to manage your iOS device.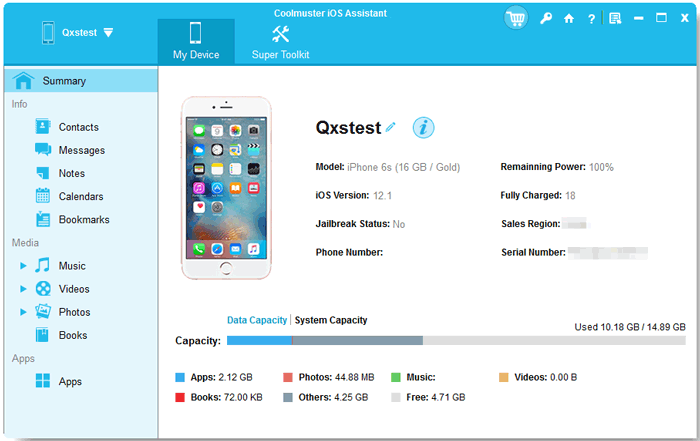 You May be Interested in:
How to Transfer Data to iPhone X/8/XR/Xs/Xs Max?
Part 2. Advanced Way to Fix iTunes Error 54 Successfully without Data Lost
The best and most advanced way of doing this is by using third-party programs such as the iOS System Recovery program. It enables you to easily fix system problems on iPhone, iPad and iPod touch without any technicalities involved, such as iPhone stuck in black/blue/red/white screen, iPhone stuck in Apple logo, iPhone gets stuck in recovery mode and etc. In addition, it fixes the problem by ensuring no data like contacts, photos or videos are lost or damaged.
Here, we shall take you through a step by step process of using the iOS System Recovery program.
Step 1: Download and Install
Download and install the iOS System Recovery program of your choice, and launch the program.
Step 2: Connect iOS Device
Connect your iOS device to the computer using an original cable. Here, the program will recognize your phone automatically. Now, choose "More tools" > "iOS System Recovery" option among the ones you see on the main screen to start the fix.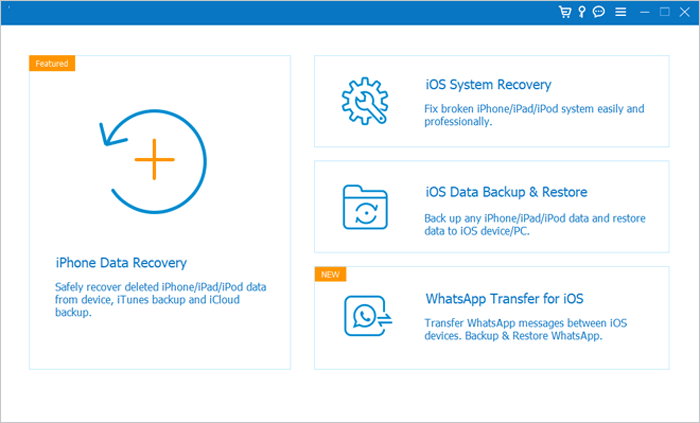 Step 3: Download iOS Firmware
Thereafter, click "Start" to continue. Download and install the latest firmware package of your iOS device by clicking on download and then wait until the process is complete.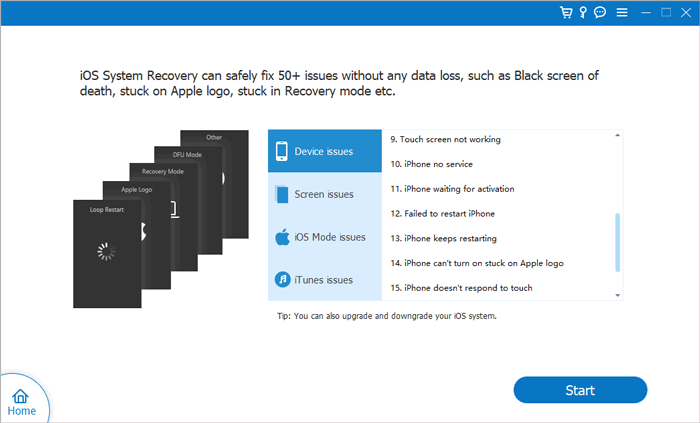 Step 4: Repair and Done
The iOS System Recovery program will then fix the iOS device. The process will be complete once the device restarts. The device will then start operating normally and all the issues will be fixed.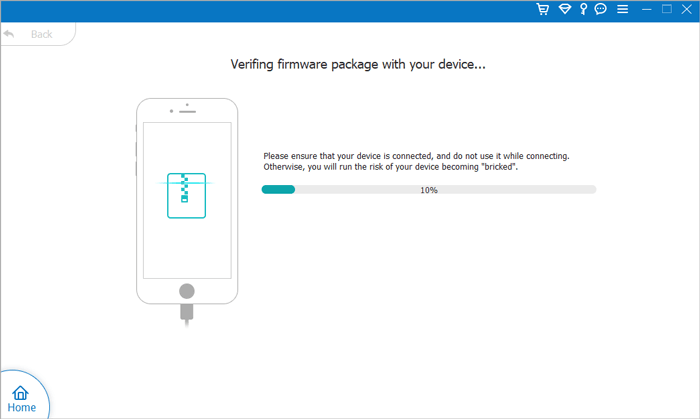 In just a few touches, you have efficiently and successfully fixed the iTunes error 54. From then on, the synchronization process will run smoothly.
You May Also Like:
How to Fix iTunes Errors 3194 or iPhone Error 3194
Solutions to Fix iTunes Error 9 or iPhone Error 9
Part 3. How to Fix iTunes Error 54 on Windows 10
When you experience this problem on your Windows 10, it could be possible that the problem was caused by permissions in Windows 10. This makes it very easy to solve because all you need is to change the permission. This enables the operating system to recognize iTunes and allow the processes to take place.
The following steps can serve as a guide.
Step 1: Launch Windows File Explorer
You can do this by clicking on the Windows/home button, then find "File Explorer".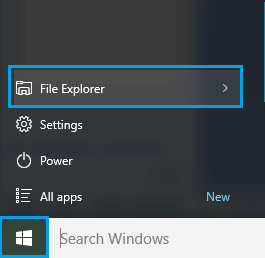 Step 2: Open and Click
Open Music Folder, search for iTunes Folder and click "Properties".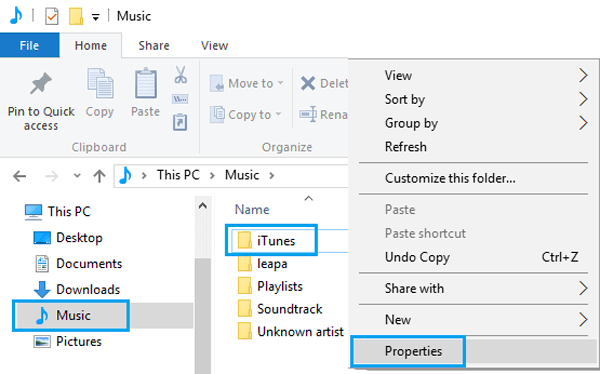 Step 3: Uncheck and Click
Uncheck the "Read Only" box, and then click "OK" to save the changes.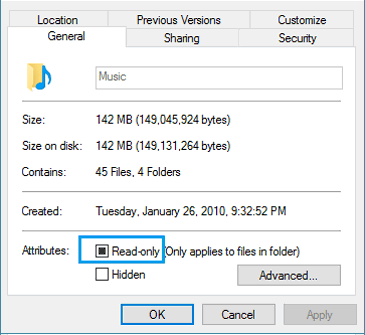 Step 4: Choose and Click
Choose "Apply Changes to this folder, subfolders and files", then click "OK".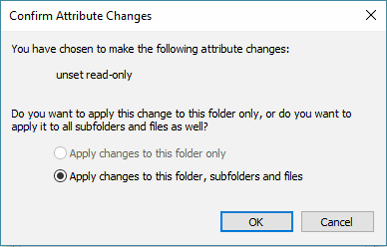 After following these steps, the iTunes Error 54 on Windows 10 will be resolved. However, in the occasion that this does not work, you can choose to give full control to the iTunes folder by:
(1) Right-click "iTunes Folder" and click "Properties".
(2) Go to "Security" Tab and click on "Edit" > "Full Control" then click "Apply".
For this, you may need to have an Administrator access to your Windows 10. Also, you may need to run a full scan on your computer for potential malware or virus attacks that could lead to an iTunes Error 54, and ultimately damage both hardware and software.
Related Articles:
Useful iTunes Backup Tips You Can't Miss
iTunes Can't Recognize Your iPhone - How to Fix it?
iPhone Error 4013 or iTunes Error 4013? 9 Solutions to Fix It
How to Fix iTunes Error 9 while Updating or Restoring iPhone
iPhone Error 56? 3 Methods to Fix It!
Simple Guide to Recover Lost Data from Dead iOS Devices
Add a comment