How to Easily Undelete Email on iPhone
Email is an essential form of communication in the modern digital era and smartphones are indispensable. The simple swipe feature of iPhone helps you to quickly view or delete the emails you want. This can be annoying when you accidentally delete your emails. You can set your email settings to delete or archive emails. Archived emails moved from inbox to All mail folder while deleted emails are moved to Trash. It is now possible to retrieve messages you have deleted accidentally on your iPhone.
Related: Possible Reasons for Data Losses on iPhone
Quick Fix: How to Recover Deleted Email from iPhone
Deleting your emails is easy. The question is, how do you recover the deleted mails? Here are some of the ways you can go about it. Depending on the time passed after deleting your email, you can recover your email using different ways. If you have accidentally deleted an email just a moment ago, all you need to do is shake your iPhone 7 Plus/7/6S Plus/6S/6 Plus/6/5S/5C/5/4S/3GS. The last deleted email will be restored in the inbox. It works only for the last one email and if you have deleted a bunch, this trick won't work.
Step 1. Go to iPhone Setting > Mail >Gmail Account. And make sure that Archive Messages are turned on.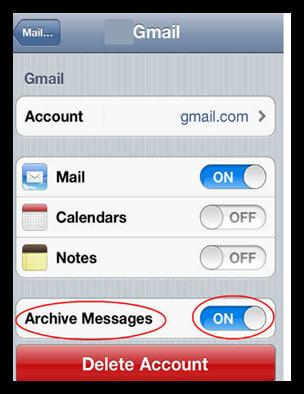 Step 2. After that go to iPhone email apps > Mailboxes > Accounts.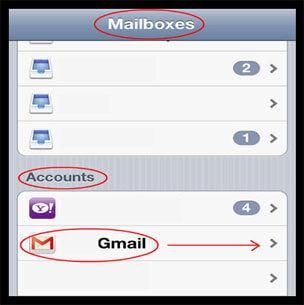 Step 3. Select the email account for which you want to undelete email. Then Select All Mails.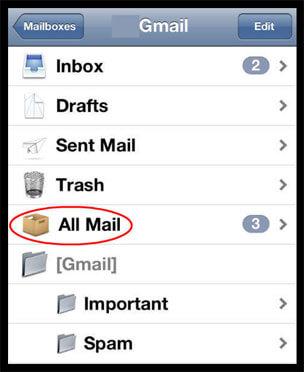 Step 4. Now you can see the deleted emails there and you can restore archived emails to where they were originally found.
If you have setup Archive Messages as On, then deleted emails can be found in the All Mail folder. If you haven't enabled Archive Messages, then deleted emails will go to Trash. You have to open Mailboxes and choose Trash folder to view deleted emails. You have to browse the trash folder and select emails you want to move to the inbox or another folder. Depending on your email service provider, emails in the trash are deleted permanently after 30 days. So, it can be impossible to find an email that you have deleted a couple of months ago.
Bonus: Top-notch Mail Apps for iPhone
Easier Way out:
If you are prone to accidentally deleting important data from your iPhone, you need a data recovery tool such as iOS Data Rescuer. With this tool, you don't have to worry about data loss even though you have deleted it long back. Even though you delete data from your iPhone folders, the data is never lost permanently. It is still stored in memory in a scrambled format before it is overwritten. The tool works by scanning your iPhone memory to identify and put together scrambled deleted data which helps you recover deleted email from iPhone in one click.
Read More:
* How to Restore iPhone without Losing Data
* How to Recover Data from Jailbroken iOS 9
This professional tool works by scanning your iPhone memory to identify and put together scrambled deleted data which helps you with data recovery.
Step 1: Connect iPhone to your PC.
Step 2: Launch the installed software on the computer.
Step 3: Select the right erasing mode and hit the Start Scan option to go on.
Step 4: From the list of available deleted data, choose the data you want to recover. You can preview the data by clicking on the thumbnails.
Step 5: Choose data you want to recover and click on Recover button.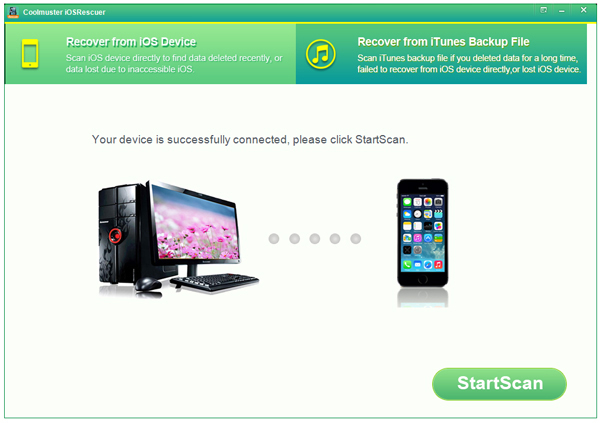 This tool makes it as easy as pie to undelete email on iPhone. It could be protecting all your memories or your apps on your earlier phone or just ensuring that you do not lose out on any data if your phone gets lost. It also makes it possible to recover data using iTunes option. Instead of recovering from the device, you can choose Recover from iTunes backup option. However, if you have taken a backup after deleting important data, you won't be able to recover lost data because the backup won't have it either.
Related Articles:
How to Recover Lost Files from Locked iPad