At first sight, you may think it is ridiculous to get another mail app for your device, since Android phones and iPhones come with pre-installed mail apps for accessing our emails. Actually, Apps from both companies do the basic job of reading and sending emails using an easy and simple interface. But they lack advanced options and features which can be found on third party mail apps. You may want to sort your emails by attachment or seek smart folder organizing, neither Apple or Android will be able to help you. Some users also avoid mail app on Android as it uses too much personal data. Here we give you top 5 mail apps for Android and iPhone users.
1. Boxer
This is your choice if you're looking to send mails using the full capabilities of your device.
Major features:
· Works on the inbox zero concept using touch gestures
· Dashboard for managing important items
· Options of push notifications and to do lists
· Compatible with Gmail and iCloud
Download link for Android Users >>>
2. CloudMagic
Everybody uses cloud, so why shouldn't you be telling others you use cloud when trying to mail others as well? Here is a look at what this app offers.
Major features:
· Uses cloud to push emails
· Interactive notifications and password protection for emails
· Custom HTML signatures with images and logos
· Supports attachments from Google Drive, Dropbox, iCloud Drive
· Syncs email accounts and settings on multiple devices
Download link for Android users >>>
Download link for iPhone users >>>
3. Microsoft Outlook
This is one of the more conventional choices. However, it is still popular among many users, who have been in the Outlook ecosystem for long.
Major features:
· Compatible with Yahoo Mail, Office 365, Outlook.com, iCloud, Gmail and Hotmail and MSN
· Smart inbox which updates the important emails on top
· Open and edit Word and Excel documents before attaching and sending them
Download link for Android users >>>
Download link for iPhone users >>>
4. MyMail
This one's pretty standard but does offer a number of features you would like.
Major features:
· Supports IMAP and POP3-enabled mailbox
· Tap to perform basic functions like reply, delete dismiss
· Option to filter notification based on email addresses, domains and social networks
Download link for Android users >>>
Download link for iPhone users >>>
5. Email TypeApp
If you're trying to manage more than one email account, this one should be your choice.
Major features:
· Supports unlimited accounts and clients
· Different notifications mode for efficient control
· Schedule emails to be sent later and set reminders
· Touch ID and passcode protected
Download link for Android users >>>
Download link for iPhone users >>>
How to Manage Your Apps Efficiently
We need app managing software for Android and iPhone to organize the data and also recover lost files. The friendliness of a computer is missing in an app. To get full control you require a tool which can manage your phone data efficiently.
For Android phones : Coolmuster Android Assistant
One click is all you need when you want to backup your important emails, contacts, messages or media files with this powerful software. The backups can be used to restore a phone again with one click. You can also manage your messages and contacts from one place and use group texting to save time. Apps can be downloaded straight on computers and exported to storage cards. Videos, images and music files are easy to import from computer to your Android phone with this program.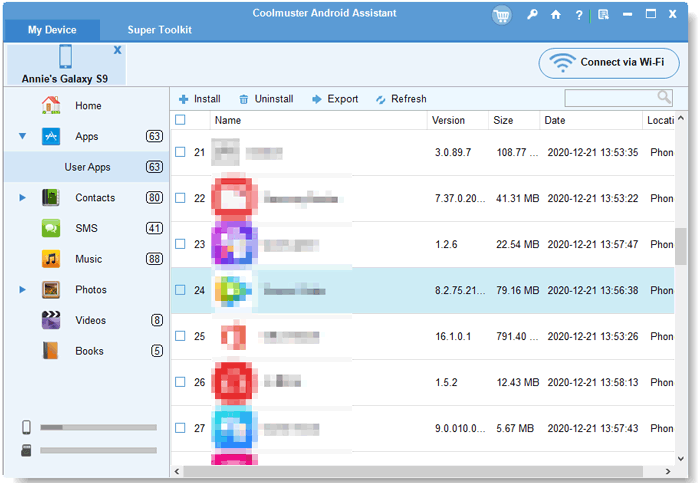 For iPhone: Coolmuster iOS Assistant
The limited space on iPhones can be a problem when it comes to storage. With this software, file types like videos, photos, contacts, sms, Safari bookmarks, audiobooks etc can be exported and saved on your desktop. Thus you eliminate the worry of losing your important data. The files are presented in thumbnail and list mode for convenience. It also features a comprehensive search option through menu and search box.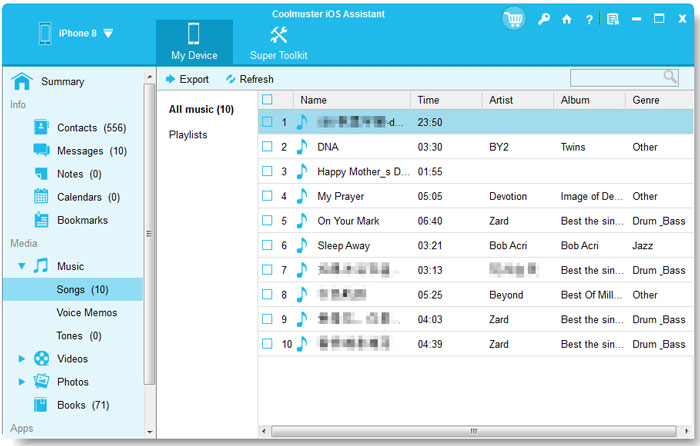 Related Articles:
How to Manage Android Contacts on PC
How to Recover Deleted Files from Android Phone Internal Memory
9 Ways to Fix the Bookmarks on iPhone Disappeared Issue