Certainly you can pick up a PDF editor for edit PDF files directly. But it is confused for users to select a good PDF editing program and computer novices also feel that most of the PDF editors are complicated to handle. To make things easier and faster, you can choose to convert PDF to Word document for further editing. The workaround below will show you how easy it is to edit PDF in Word.
How to edit PDF files in Word?
However, you cannot change PDF to Word directly. You have to ask help from third-party software like Coolmuster PDF to Word Converter that provides you with the simplest and most professional way to convert PDF to Word documents, with original layouts and formatting 100% preserved. Only 3 steps, you can finish the conversion successfully. Read on to learn the details
Workaround: Edit PDF in Word by Converting PDF to Word
Before we start the conversion, please download the free trial version of the program to get ready. We will set the guide on Windows version as example. Windows 8, Windows 7, Windows XP, etc. are all supported. Mac users can also follow the same steps here.
Step 1: Upload PDF Files
Launch the PDF to Word Converter, click "Add Files" to browse and import the PDF files to the program. 200+ PDF files can be uploaded each time thanks to its batch conversion mode.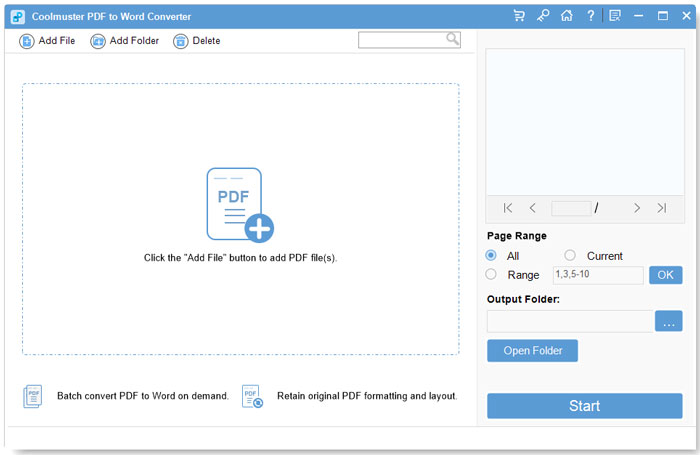 Step 2: Set Outputs
The software is specially designed for converting PDF to Word so that you do not need to set the output format. Just select an output folder where you want to save the converted Word documents. You can also set PDF page range and page numbers to perform partial conversion if needed.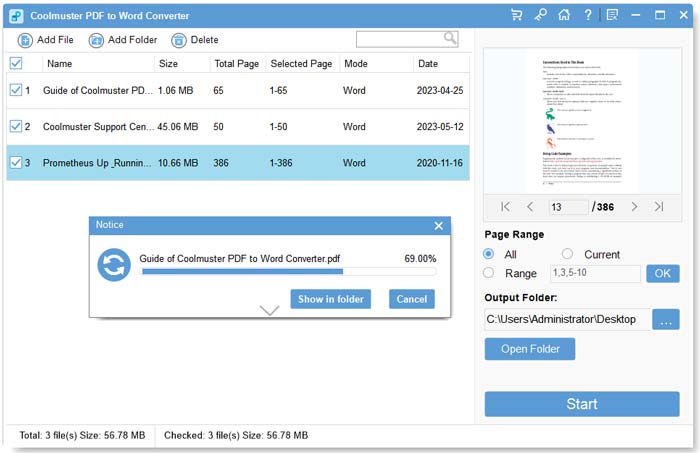 Step 3: Start to Edit PDF in Word
Click the "Start" button to begin the conversion. After a few while when the conversion is done, you can go to the output folder and find the Word documents. Open them with Microsoft Word and then you can edit PDF files in Word documents with ease.
Try Coolmuster PDF to Word Converter to edit PDF in Word: