PDF has become an incredible document format because it's now possible to edit, search, and fill before you share it digitally. Thanks to the OCR technology. This review guide will discuss both online and offline PDF to Word OCR tools to apply to convert PDF to Word with OCR. You will also learn the basics of OCR tools, pros, cons, and steps to use the software. Let's have a look.
Part 1. The Overview of OCR Tools
OCR is an acronym for Optical Character Recognition, sometimes known as text recognition. It refers to the electronic alteration of scanned, typed, handwritten, or printed images into machine-encoded text. In simpler terms, OCR technology helps convert pictures of text, like scanned or photographed documents, into actual editable text.
For example, you can scan a receipt and save it on your computer as a PDF image, which means you cannot search or edit the file. An OCR software allows you to turn this image into a text document, which you can edit, count words, and search.
OCR technology has existed for over a century. However, its prevalence has increased significantly in the modern day as it has seeped into people's daily lives and work. Here are the benefits of using OCR technology:
1. It saves time
Scanning papers into images now and then requires manual input, which is time-consuming. An OCR software helps alter the existing files without needing constant scanning.
2. It makes data readable
OCR helps individuals and businesses convert images into text data that other business software can read. Streamlining and automating daily operations makes it easy to perform analytics and enhance productivity.
You May Like:
How to Combine Scanned Documents into One PDF? [Online & Offline]
Convert PDF to Doc: Unlocking Editable Document Potential
Part 2. Best PDF to Word with OCR Offline
As the world becomes more dependent on OCR tools, companies have developed software that allows desktop apps to simplify PDF to Word conversion with OCR. Let us look at the offline OCR tools for converting PDF to Word in this part.
1. PDFelement: Top PDF to Word OCR Software
PDFelement is an effective, affordable, and simple method of editing, and converting PDFs across mobile, desktop, and web. With this tool, you can edit PDF files without struggle. You can also convert files to and from PDFs in high quality. With advanced OCR features, it's possible to recognize text in single or multiple PDF files. Get to enjoy this tool whether you are using Windows or MacOS computer.
Key Features:
Recognize texts in batch PDF files.
Support over twenty languages.
Analyze texts in images for easy searching and editing.
Perform OCR to extract key information from scanned PDFs.
Make your PDF editable with high standards.
How to Convert PDF to Word with OCR with PDFelement:
01Launch PDFelement and click Open PDF to upload the file. You can also drag and drop the scanned PDF file.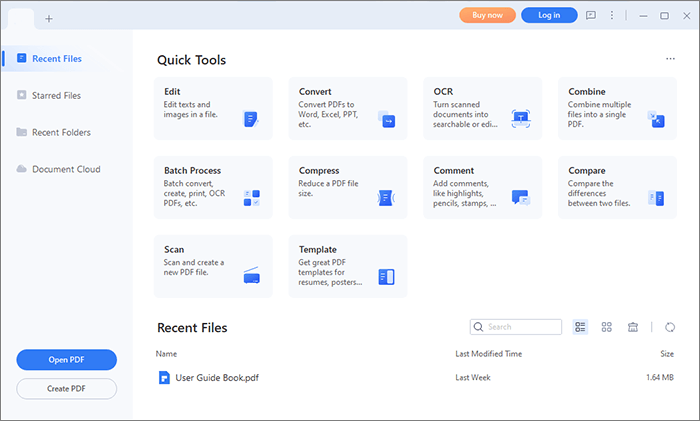 02Click on the Perform OCR prompt to start the process. Alternatively, go to Tools on the top menu, then click on the OCR option.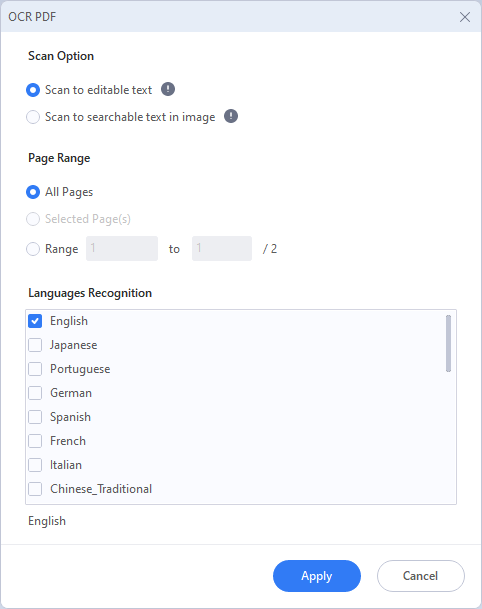 03Click on the Edit tab to start editing your scanned file.
Note: Note that before you can edit or search the PDF file, it's wise to choose to customize your OCR settings, like page range, resolution, and the language you want to recognize. Also, you have the option to select whether you want an editable or searchable PDF and, at the same time, specify your file's storage folder.
Pros:
* It maximizes your security through digital signatures and passwords.
* It supports OCR on multiple files.
* It allows for multiple capabilities, i.e., printing, compressing, sharing, converting, commenting, editing, etc.
* The program's interface makes the software fast and enjoyable to use.
Cons:
* Expect watermarks on free trial versions.
Further Reading:
How to Insert a PDF into a Google Doc: Quick and Easy Steps
From Text to Interaction: How to Make a Fillable PDF in Word
2. Adobe Acrobat
If you look forward to easy PDF to Word editing with OCR, you need this software. Adobe Acrobat lets you install a desktop app for your document conversion service. This includes converting PDF files into various formats.
The software supports OCR, which allows you to edit, search, and copy texts on a PDF file. Whether the files contain scanned images, hidden text, or vector art, Adobe Acrobat will help.
How to Convert PDF to Word OCR with Adobe Acrobat:
Step 1. Sign in, then open your scanned PDF file in Adobe Acrobat.
Step 2. Select Edit PDF for the automatic application of OCR on your document.
Step 3. Click on the texts to edit and continue typing.
Step 4. Go to File, then Save As to save your new document. You should always name the editable document first before you save it.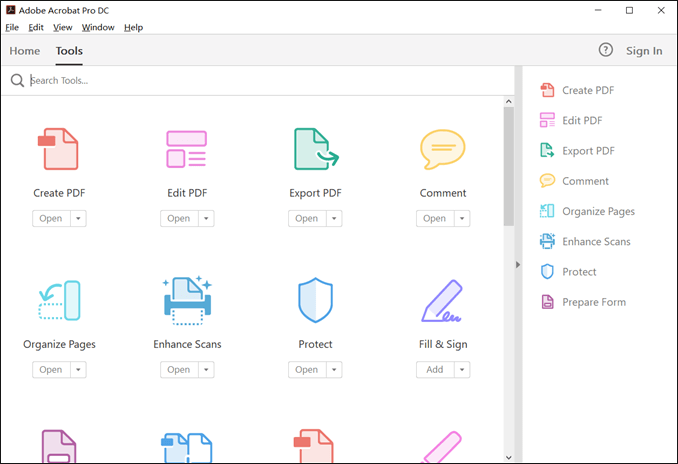 Pros:
* It supports multiple languages.
* It guarantees safety.
* Its OCR is quite reliable.
* It is a comprehensive service.
* You can work on your PDF remotely.
Cons:
* It is not completely free.
3. Foxit PhantomPDF
Foxit PhantomPDF is a reliable, fast, and secure PDF software with numerous conversion and editing tools. It features advanced features to safely convert PDF to Word with OCR. You can select, search, and edit your image-oriented or scanned PDF file with OCR.
How to Convert PDF to OCR Word with Foxit PhantomPDF:
Step 1. Open your Foxit PhantomPDF app, then click Convert, Recognize Text, and Current File.
Step 2. Choose the specifics like page range and language. Also, you can choose Editable Text or Searchable Text. The editing option allows for text modification with the Edit Text option. You can also add and remove images on a scanned PDF. Searchable Text allows for searching and selecting.
Step 3. Hit OK to run the process of recognizing the text.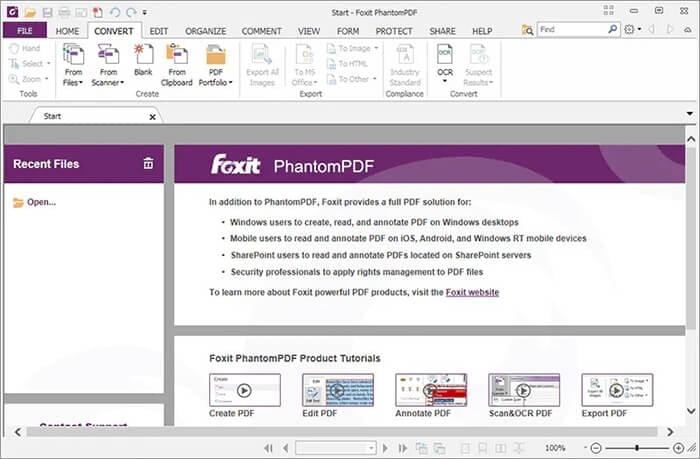 Pros:
* It allows you to correct the OCR flaws.
* The interface makes it simple to use.
* It has enhanced safety and security features.
* It offers extensive features to users.
Cons:
* You don't get a full package with free trials.
Part 3. Best PDF to Word with OCR Online
Do you need an excellent online OCR for PDF to Word? You can convert PDF documents to Word with OCR using your favorite browser online. Most of these tools are readily available and accessible. Let us look at some of the best online OCR PDF to Word tools and how you can use them.
1. PDF2Go
PDF2Go is a simple online tool that promotes fast and efficient PDF to Word conversions. It features a premium OCR addition. Once you run your scanned pages on PDF2Go, the OCR algorithm quickly notices the text sections, making converting the pages to Word easy. This software supports different languages.
How to Convert PDF to Word with OCR Using PDF2Go:
Step 1. Click on Choose File to upload your document.
Step 2. Choose Convert with OCR and specify the OCR Method as Text recognition. Next, select the languages your file contains.
Step 3. Confirm that your files will convert to Word, then click on Start. Download your editable PDF in seconds.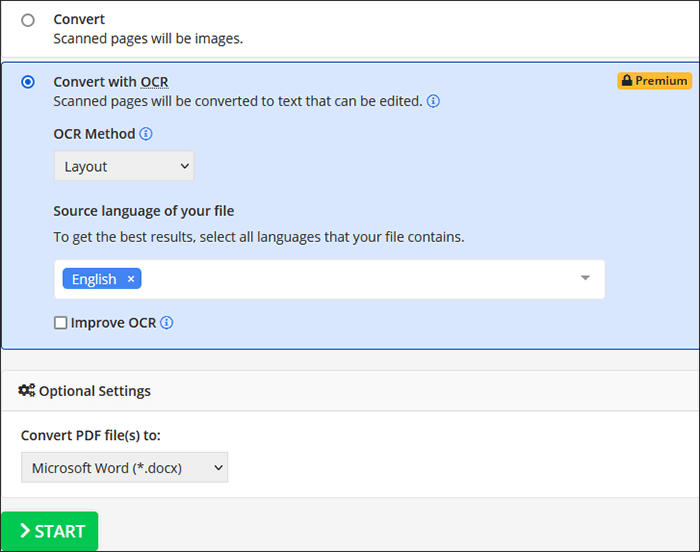 Pros:
* It has easy-to-follow steps.
* It recognizes texts in one or multiple images scanned in one file.
* It keeps your layout.
* It can recognize lists and tables.
* It has a well-rated OCR feature.
Cons:
* The OCR attracts a premium subscription.
Learn More:
Top PDF to Word Converter Free Offline: Converting PDF to Word Made Easy
How to Embed a PDF into Word Effortlessly? [Tips and Tricks]
2. NewOCR
NewOCR is a free OCR PDF to Word converter you will find when using most internet browsers. It converts a scanned PDF file you have saved on your computer into an editable document. You will complete the process without registering or downloading software on your phone or PC.
How to Convert PDF to Word with OCR Using NewOCR:
Step 1. Click Choose File to upload your scanned file from your device. Next, Click on Preview.
Step 2. Your file opens in the software. From the Recognition language(s), select one or multiple languages.
Step 3. Next, click on OCR to commence the process.
Step 4. Click on Download, then select Microsoft Word. Your file will download as Word.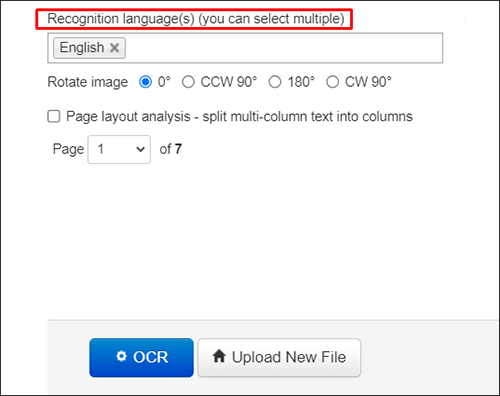 Pros:
* It showcases a powerful OCR engine.
* It assures data privacy and protection.
* It recognizes multiple languages.
* It has no file limits to upload.
Cons:
* Old-fashioned interface.
3. Smallpdf
In addition to PDF to Word conversion, Smallpdf provides a variety of PDF services. While the standard conversion of editable PDFs is complimentary, accessing the OCR module requires a Pro subscription. This module becomes visible once you upload your PDF file. Despite this, the tool remains user-friendly, boasting a remarkably precise OCR engine functioning across numerous languages. It can even handle handwritten text, although the accuracy may not match that achieved when converting printed content from a scanned PDF into a Word file.
How to Convert PDF to Word with OCR Using Smallpdf:
Step 1. Navigate to the Smallpdf online tool for PDF to Word conversion.
Step 2. Upload your PDF file using drag-and-drop functionality.
Step 3. Choose the desired option and note that OCR is available exclusively with the Pro version.
Step 4. Wait for the conversion to finish. After that, download your editable Word file.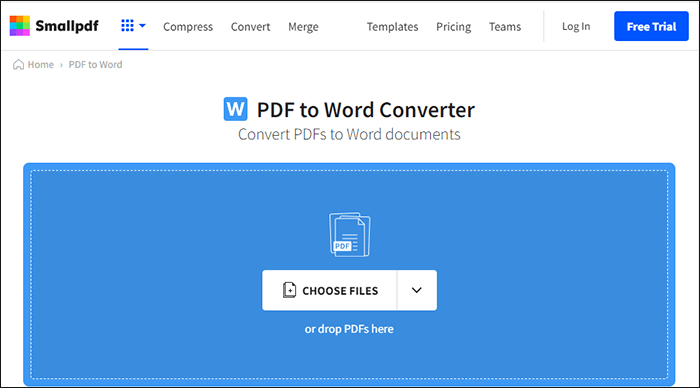 Pros:
* Impressive conversion quality.
* User-friendly and streamlined interface.
Cons:
* Absence of free PDF to Word OCR.
* Restrictions on other PDF services, allowing only two tasks per day with the free plan.
4. OCR2Edit
OCR2Edit is a simple online tool that promotes fast and efficient document conversions. It features practical OCR functionalities. Once you run your document on OCR2Edit, the OCR algorithm quickly notices the editable sections, making it easy to edit and convert to Word. This software supports different languages.
How to Convert PDF to Word with OCR Using OCR2Edit:
Step 1. Click on Choose File to upload your document.
Step 2. Choose to convert to MS Word. Also, specify the OCR method and the text's language.
Step 3. Click on Start, then download your editable PDF in seconds.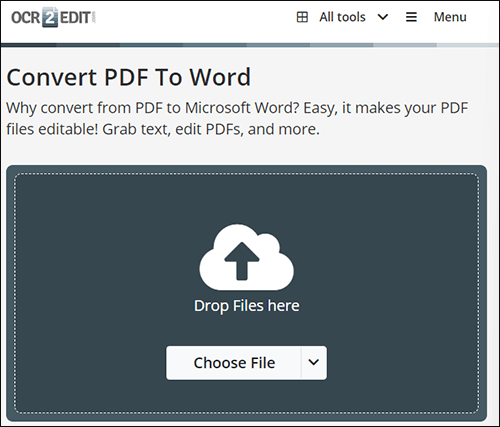 Pros:
* It offers a specialized online tool for converting PDFs to Word with OCR.
* Integrated OCR capability allows accurate text extraction from scanned documents and images.
* No need for software installation; the process is entirely web-based.
Cons:
* Certain features might be restricted in the free version, including daily conversion limits or file size constraints.
* Reliable internet connectivity is necessary, and unstable connections could impact the conversion process.
* OCR accuracy may vary based on factors like text complexity and image quality.
Also Read:
Mastering the Art: How to Copy PDF to Word Like a Pro [5 Ways]
The Quest for the Best PDF to Word Converter: Expert Reviews
The Bottom Line
There's no shortage of software to help you edit your PDF files embracing the Optical Character Recognition (OCR) technology. We have outlined the seven most popular tools for converting PDF files to Word using OCR to help you decide what suits you best. But the truth is, some software won't satisfy your expectations. If you are not ready for guesswork, we recommend the PDFelement. It's the best and most loved PDF to Word converter with OCR.
Related Articles:
How to Insert Multiple Page PDF into Word with Ease [4 Methods]
[Office Solutions] How to Send Password Protected PDF in 6 Different Ways
How to Export PDF to Word Easily? Your Ultimate How-To Guide
Effortlessly Convert Word to PDF on iPhone: A User-Friendly Guide
[Easy Guide] Convert Word to PDF via Adobe Acrobat & Alternatives