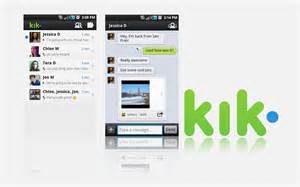 People all over the world love and enjoy messaging their loved ones using fun applications like Kik. However, this is generally accompanied by security concerns as nobody likes the idea of having someone else snooping around and reading their messages. It is suggested that you should frequently delete your Kik data to keep yourself and your data well protected and it also creates more space on your iPhone and allows the app to be at its best performance.
1. How to Delete Kik Data on iPhone
2. Guide to Delete Entire Kik Chat History on iPhone
3. How to Permanently delete Kik Data on iPhone
1. How to Delete Kik Data on iPhone
Here is a look at how you can delete the conversation on Kik easily. The steps are very simple, as you can see yourself.
Step 1: All you have to do is open Kik on your iPhone and it will show you all the conversations that you've been having with your friends and family.
Step 2: Once you find the conversation that you want to delete, swipe it to the right.
Step 3: This will now show you a Delete option. Once you choose Delete, that particular conversation will be deleted.
Related: How to Restore Lost Kik Messages
2. Guide to Delete Entire Kik Chat History on iPhone
While the above section tells you how to delete a specific conversation, it is also possible for you to delete the entire chat history on Kik. Read on to know more:
Step 1: First of all, you will have to open Kik on your iPhone and then then select the "Settings" button.
Step 2: Once you select that, you will be taken to the 'Settings' page. Now you have to look for 'Your Account' and choose that.
Step 3: Right at the bottom of the screen, you will now find an option called "Reset Kik". Click on that option.
Step 4: Now, a pop-up window will open up asking you to confirm. Once you select "Yes" all your conversations on the Kik application will be deleted and you will also be required to log in again.
Related: How to Recover Lost Kik Chat History on iPhone
3. How to Permanently delete Kik Data on iPhone
While we have told you how to delete conversations and messages on Kik, often, you will find that just deleting them on the app is not enough and you security will still feel threatened. In such situations where your privacy in data protection is an absolute must, iOS managers like the Coolmuster iOS Eraser software will not only help you securely and permanently delete all your Kik data, but it is also an easier and friendlier way to do it.
Features of iOS Kik Data Eraser:
1. It allows you to delete all your Kik data permanently that you don't want others to lay a hand on.
2. Even though you may delete the conversations through the Kik application on your iPhone, unfortunately, these data can still be recovered. So, it allows you to permanently delete the Kik data, so that even professional software can't recover your valuable data.
3. What we really like about this software is that you can choose to erase data with three different security levels - low, medium and high - to get the protection that you want. The first level will quickly delete your data.
The medium option will leave no trace of the data that is erased and will overwrite the erased and existing data using random data. If you choose the security level: high, then this will take up more time, but this is the most secured way of deleting your Kik messages as the it will re-write over the data three times, making it completely inaccessible. So you permanently delete your Kik messages without worrying about anyone laying their hands on it.
Steps to erase Kik data on iPhone:
Please backup your iPhone with or without iTunes before the process in case you need it in the future.
- Launch the iOS Kik Data Eraser program on computer after downloading and installing.
- Connect iPhone to computer with a USB cable and select "Erase All Data" mode.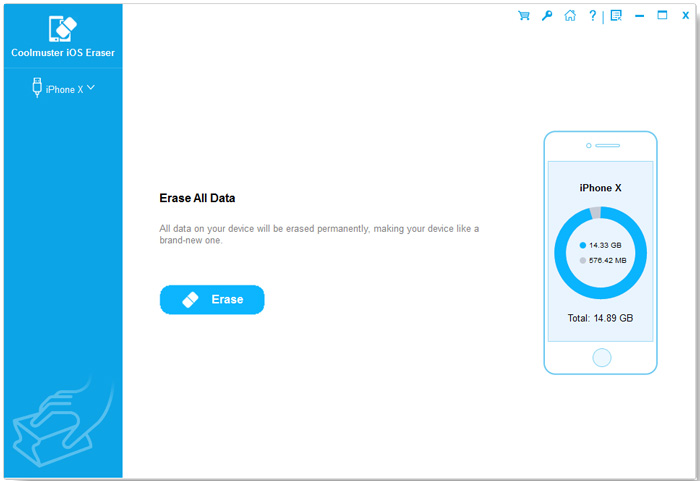 - Hit "Erase Now" button to delete all data on your iPhone, including the Kik data on your device.
Conclusion
Coolmuster iOS Eraser offers several features that make it an excellent choice for permanently deleting your Kik data. Firstly, it allows you to permanently delete all your Kik data, ensuring that it cannot be recovered by any professional software. Additionally, the software provides three different security levels—low, medium, and high—giving you the flexibility to choose the level of protection you desire.
Related Articles:
How to Fully Delete Podcasts on iPad
Delete Whatsapp Messages on iPhone
4 Ways on How to Delete Music from iPhone But Not iTunes
Transfer ePub Files to iPad from PC or iPhone with/without iTunes