Why need to delete Viber data on iPhone?
Though there are many different reasons to delete data on any iPhone, some or more critical and necessary than others. Specifically, when software applications like Viber are used on a regular basis by users who appreciate the functionality that it provides. However, there are times when the use of this application can cause great problems that will need to be addressed. Some of which can escalate into issues of concern that may result in unnecessary downtime on the iPhone well as other issues that people prefer to avoid. So, for those of you who may want to know why some people have a need to delete Viber data, here are two of the most common.
• Storage Space Shrinks. Even though Viber messages may be a relatively good deal for those who like this application, there are some major drawbacks to using this kind of messaging system. One of the most problematic involves the amount of storage space that it takes up when messages are accumulating over time. Like other applications, Viber messages uses a lot of valuable storage space that can be used for other essential things. Therefore, to prevent this from being or becoming a major problem, this kind of Viber data should be deleted.
• Privacy Protection. Another key reason for deleting Viber messages from an iphone involves protecting the user's privacy. Because of the way that the Viber platform works, there are security risks that will need to be monitored at all times. This is because these messages are stored in archives that can easily be read by unauthorized people if they have a chance to view another user's data.
Related: What if There is Not Enough Space for Downloads?
User Guide: How to Delete Viber Data on iPhone
When a user wants to delete this data, they may have to surf the net for the best procedures to do it. If the user does not want to pay for this feature in any application, they will need to search very closely for a free option. To delete Viber data on iPhone, you can actually make it within your device. Just follow the below steps:
Step 1: Look for Viber icon on your iPhone and open it.
Step 2: Long press on the message that you want to delete.
Step 3: A dialogue box will pop up. Choose "delete" on that pop up.
Step 4: From there, you can choose to delete the message just for yourself, or for "everyone", meaning that other people will no longer be able to see the message, either.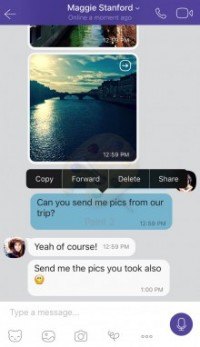 Note that "Delete for everyone" only applies to messages that you have sent, not messages that other people have sent to you - those will still be visible on the other person's device.
Extra Bonus: Permanently Delete Viber Data on iPhone
But in some cases, you may need to permanently remove iPhone Viber data so as to ensure your privacy or for other reasons. No doubt, there are many different types of multi-purpose software applications on the market today, it is important for everyone to know that some are much more beneficial than others.
Here, this Viber Data Eraser software - Coolmuster iOS Eraser, is exactly the one you should rely on. With it, you can delete all of iOS data including Viber data in 1 click easy step. The user will also have the capability to use different levels to ensure recovery meets that specific needs. For instance, if the user does not want the old data recovered at all, it provides them with the capability to overwrite data by 3 times. And as long as your device is running iOS operating system, this can be your lifelong data eraser for your device. Want to know more? Just download the right version and give it a try by yourself!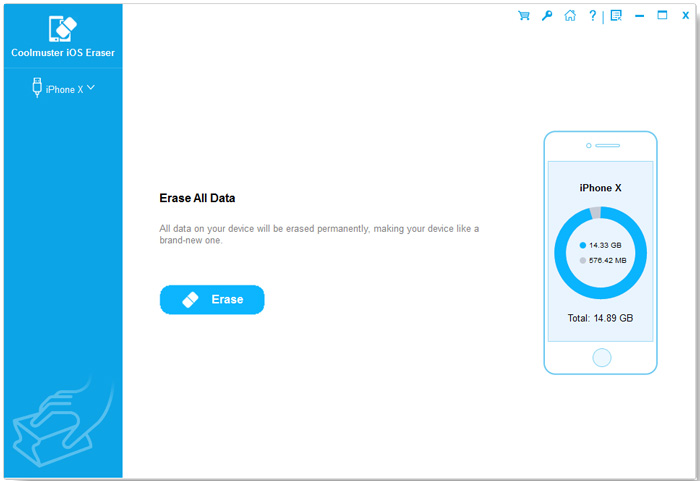 Conclusion
To delete Viber data on an iPhone, users can follow simple steps within the Viber app itself. Long-pressing on a message and selecting "delete" allows users to remove individual messages either for themselves or for everyone. However, for those who require permanent deletion of Viber data, the Coolmuster iOS Eraser software provides a comprehensive solution. This powerful tool enables users to erase all iOS data, including Viber messages, with just one click. It offers multiple data erasing levels, ensuring that deleted data cannot be recovered.
Related Articles:
How to Easily Delete Games on iPod
How to Fully Delete Songs from iPod
Transfer Photos from Android to iPhone
Completed Guide on How to Transfer Contacts from iPhone to iPhone