How to make Android look like iOS is a common question today. Some people take special care in setting up the overall looks of their phone. This is especially true when these users have an Android phone in their possession since everyone has the option of changing up the home screen and other areas of their interface. Because developers all over the globe are designing apps that have a lot of cool features, Androids can re-configured in so many different ways including taking on the look and appearance of an iPhone. Having said that, if you are interested in making your Android phone look like you are carrying an iPhone, here are some great options for you.
People Also Want to Know:
How to Copy Photos from Android to iPad
Data Transfer from Android to iPhone 8
Download These 5 Best Apps to Make Your Android Look like iOS/iPhone
Hola or iLauncher
If you want your Android phone to take on the look of an apple phone, you may want to try downloading and installing hola or ilauncher on your devices. With developers of these apps have focused their efforts on immolating ioS home screen's design. Simply put, instead of the Android home screen looking like the normal Android home screen, these apps are meant to simulate the unique look an apple device. While some of the features and settings will not be a perfect match, you will give about 93 percent of their special design. So, the designers of these apps have done a great job in helping those who want to enjoy the apple experience.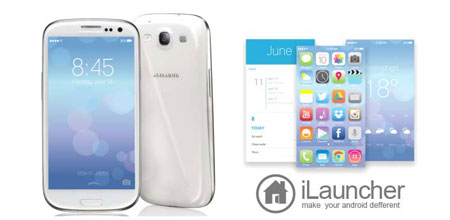 You May Like: How to Backup iPhone to iPad?
Nova Launcher
Another great tip that you may want to follow is to consider downloading the Nova Launcher app as an option. Similar to the Hola and iLauncher, there are a lot of great features included in this alternative as well. However, the makers of this app have taken things a lot further by duplicating the look with an exact match of the icons of iOS. For example, if you want to have the apple experience in the quick settings design on your home screen, this may be the app that you have been looking for. In fact, there is quite a bit that you can appreciate about the Nova launcher. Mainly, because this is also packed with customizable third party features that can help you to get as close to the old Apple that you had before you switched to your new Android.
It is also important to note that this app can be downloaded from Google Play Store for free. Or, you may think about purchasing another paid version that is also available for 4.99. This app is called the Nova Launcher prime and it is packed with a lot of extra features that helps in making gesture short cuts.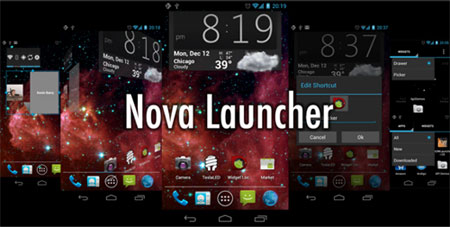 Adrasta
Adrasta is a (Free) app that can be described as icons that have been designed with an rounded square icon pack. These apps are said to be pretty good and have a bright palette and clean line appearance. You can also have access to a masking tool that allows each user to utilized unthemed icons. These icons are idea for many different reasons and purposes because they are sitting on a rounded rectangle for customization. The developers of this app has added these features to give the users a diversity of alternate icons that can be played with whenever the user has a desire or chance to.
Beluk
Beluk can be described as a super-rounded square icon set. This pack of icons can be used by the Android user to fit right perfectly into ridiculously some of the most colorful pop-off-the-screen themes. In addition to the themes that the developers have included, the user can also use a more refined, muted set of wallpapers. It is important to note that this app is not free but can be purchased for as little as .99.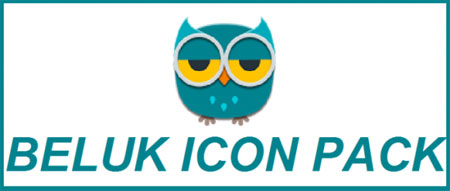 Alos
Alos can be described as an app that can also be used for a wide variety of different reasons and purposes. Before installing this app, you should make sure that you are aware of what this app offers compared to other similar apps on the market today. This is because this app is made for those that believe in using an app look that is on a flatter, simpler look for the squares that is being used. The makers of this app have also focused their efforts on creating a palette and design. One in which that can easily be incorporated well with a variety of material layouts. Specifically, those that can function well with icons that pop against a plethora of wallpapers. It is important to note that this app is not free but can be purchased for as little as .99.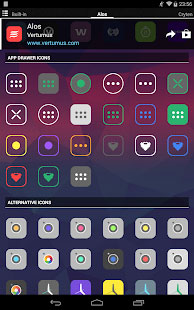 All of these have been designed with several different concepts in mind for Android users that enjoy the apple/iOS experience on their phones. So, all each user will need to do is review each and then pick and choose the app that will fit their needs and purposes best.
Additional Tips: How to Transfer Files between Android and iOS Devices?
After using either of the 5 apps on the above to make your Android device look like an iOS gadget, you may also want to know how to transfer data from Android to iPhone. Have a look at the Phone to Phone Transfer. By using this program, you can realize the data transfer from iPhone to Android, or from Android to iPhone by simply connecting the two devices to a computer and copying the data across. It is able to transfer photos, videos, music, contacts, text messages and more between Android, iOS and Windows devices.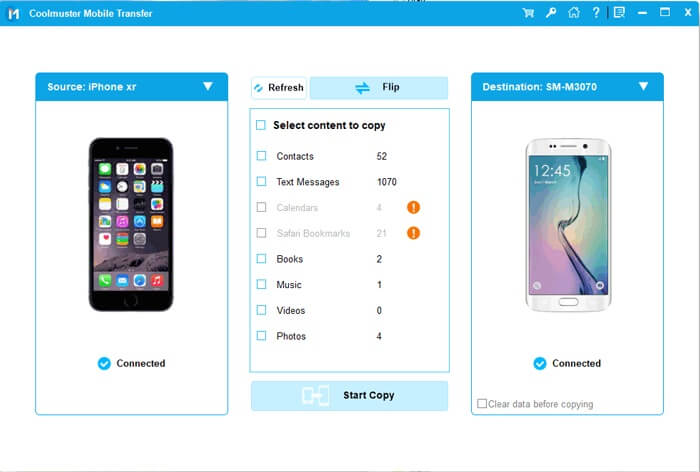 Conclusion
If you're interested in giving your Android phone the appearance of an iPhone, there are several great options available to you. Apps like Hola, iLauncher, Nova Launcher, Adrasta, Beluk, and Alos can help you achieve the iOS look on your Android device. It's worth noting that while some of these apps are free to download, others may require a purchase. Prices for the paid versions can vary, but they generally offer additional features and customization options.
Related Articles:
3 Simple Ways on How to Transfer Photos from SD Card to Computer
How to Fake GPS with No Root on Android? [8 Trustworthy Apps]
Change iPhone/iPad Location without Jailbreak in 4 Cost-effective Ways