We know that both BlackBerry and iPhone devices have the ability to take photos and save the images in the internal and external memory card. They both have their own file managing tools to transfer and manage the phone data, namely the BlackBerry has BlackBerry Desktop Manager and iPhone works with iTunes. Photos can be transferred from BlackBerry phone to iPhone with some tricks. Plug your BlackBerry phone into your computer via USB cable and export photos from the phone to computer. After that, eject the BlackBerry phone and connect iPhone to computer. Then, import these photos to iPhone via iTunes. However, don't you think it is complex? Is it possible to switch photos between the two phones with one click?
Sure! BlackBerry to iPhone Transfer is fully capable of transferring everything between BlackBerry device and iPhone with simple 1 mouse click. Not only photos and pictures, videos, music, contacts, SMS, apps and more can be transferred by using this reliable and efficient program. It supports not only BlackBerry and iPhone, but also Android and Symbian Nokia phones. Just link your BlackBerry and iPhone devices to the computer via USB connection at the same time, the transfer program will do the rest for you.
Want to enjoy a smooth transferring process without any risk and hinder? BlackBerry to iPhone Transfer is your best choice. You can choose to download Windows or Mac version according to your computer system. Read the following user guide to go through the whole photos transfer between iPhone and BlackBerry in 3 steps.
Copy Multiple Photos between BlackBerry and iPhone within 1 Click
Step 1. Backup BlackBerry on computer
First of all, install BlackBerry Desktop Software and launch it on your computer. Connect your BlackBerry phone to the same computer's USB ports via a USB cable and click "Backup Now" option to backup your BlackBerry device on your computer.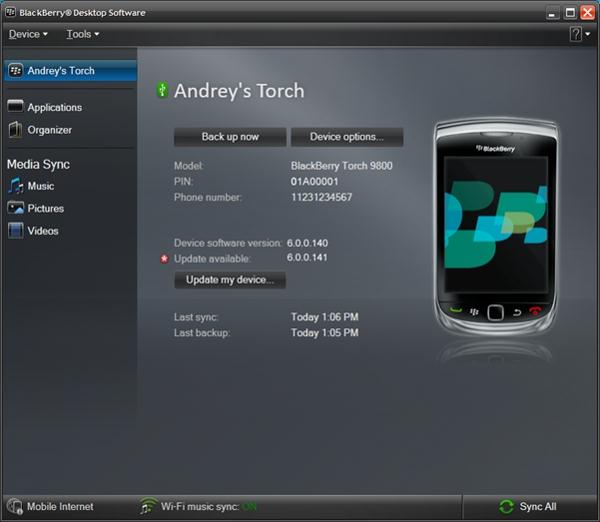 Step 2. Launch BlackBerry to iPhone Transfer
Install and open the Transfer software on your computer. Then connect your iPhone to the computer by using USB cables. Click Restore from Backups mode and go to the next step directly.
Step 2: Confirm the positions of your BlackBerry and iPhone
Once the connected iPhone is recognized by the program, it will show up in the right side of the window. And what in the left side is the backup file for your BlackBerry device.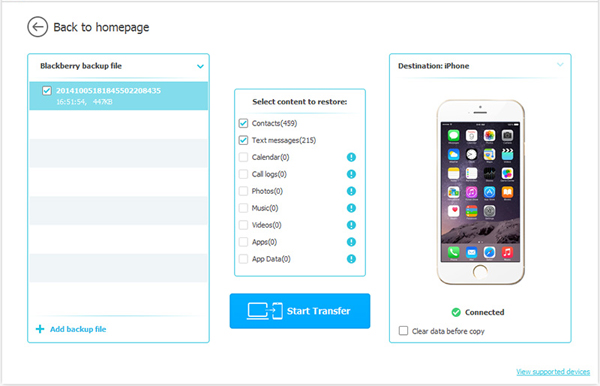 Step 3. Start to Copy pictures between BlackBerry and iPhone
All the transferable contents are listed in the middle of the window, including contacts, text messages, photos, music, videos, etc. Just select "Photos" and click "Start Transfer" to begin the transfer.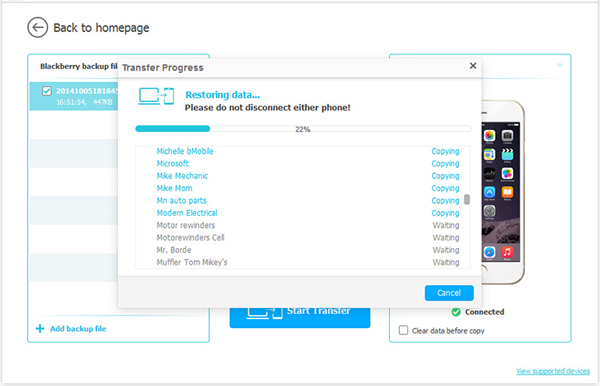 The End
Make sure not to disconnect the phone from the computer. After a few while when the transfer completed, the selected photos will be exported to your destination phone successfully in original format without any quality loss.
Related Articles:
Best Backup Software for iOS Devices