Streaming or watching your favorite shows on smaller screens can be boring. You won't be able to view videos clearly what's being presented if you are in a meeting. In short, you need a bigger screen for the best experience. That is where LonelyScreen comes in. LonelyScreen will let you mirror your iPhone or iPad to your computer and Mac, and cast media files from iOS devices to larger screens with an added advantage of a recording feature.
In this LonelyScreen review, you will know its benefits alongside any potential drawbacks and all the necessary information about the software to help you make an informed decision on whether it is the right choice for you.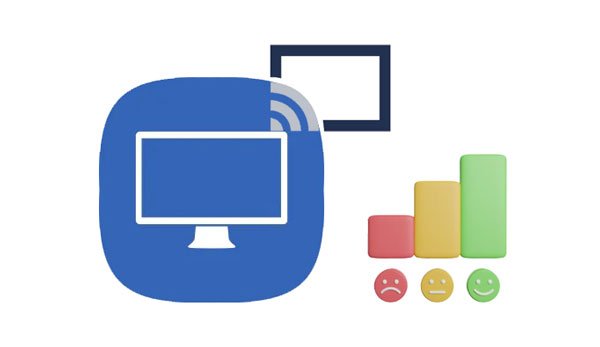 Part 1: Overview of LonelyScreen
1.1 What's LonelyScreen?
This is a popular tool that lets you mirror the screen of an iPhone or iPad on a Mac or Windows PC without having to rely on any other tool or a plug-in. You just have to open it on a computer, and it will communicate with your iOS device through AirPlay. In short, it functions like an AirPlay receiver on your computer and allows you to play music, games, and videos. And if that isn't enough, LonelyScreen even allows live streaming.
Besides, it supports both macOS and Windows computers. After launching it, it will turn your PC into an AirPlayer receiver and mirror Apple devices.
Unfortunately, recent reports have surfaced about the LonelyScreen app being suspicious. If your computer stores confidential information, it might be wise to avoid this particular application. The great news is that other mirroring apps are just as efficient in displaying your phone's screen on a computer monitor as the LonelyScreen app does and even more.
Before that, we must know what this software has for us. So, read along to learn everything there is about this app.
1.2 Key Features of LonelyScreen
LonelyScreen is known to mirror and control iOS devices. Additionally, you no longer need plugins or programs to cast your iPad screen onto a Mac computer; the process is wireless.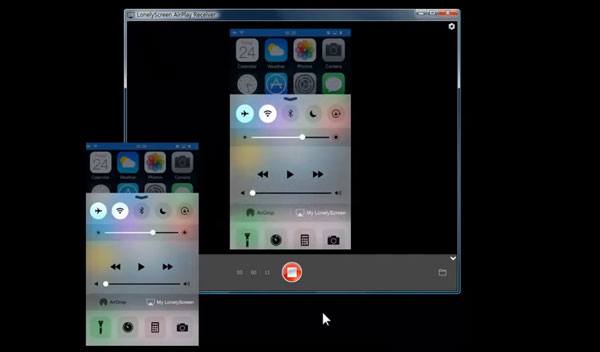 LonelyScreen provides several features for its users, such as:
* Mirror your iOS device to a Mac and Windows computer easily.
* You can easily air-cast your gameplay.
* Allow you to share screens on a bigger screen.
* Record your screen when casting the phone.
* Support music and movie screen mirroring.
* Allow you to take screenshots and save them to the computer.
Learn more: Is it easy to mirror an iPhone to Mac? Read this article, and you will know the approaches.
1.3 Plan and pricing for LonelyScreen
LonelyScreen offers various packages to fit all users' needs and budgets. Explore the pricing options below to choose the most suitable plan for you.
LonelyScreen offers two premium packages to choose from:
* Personal Use: Costs $14.95 per year.
* Business Use: Costs $29.95 per year.
For those running a company, the business plan is absolutely the best plan to choose. For personal use only, however, the personal package should suffice.
Part 2: Pros & Cons of LonelyScreen
To know deeply about Lonelyscreen, you need to understand its advantages and disadvantages.
Pros:
* Allow you to view your iOS device's screen directly on your computer.
* Support watching movies, enjoying games and presenting your ideas on a large screen.
* Let you control your device using a keyboard and a mouse.
* Enable you to share data across all applications on an iPhone with ease.
* Allow you to record your phone's screen anytime.
* Connect your iOS device to a computer via Wi-Fi.
Cons:
* Despite the practicality of LonelyScreen for mirroring, its numerous flaws render it less sought-after among individuals.
* Support iOS only but not Android.
* It's not very secure as it may have malicious content embedded within it.
* The free version has a limited period and features that are insufficient for users' needs.
* The user interface can be tricky to use.
Maybe you need: Fix the iPad Touch Screen Not Working Problem in 12 Pro Ways(All iPad Series Supported)
Part 3: How to Use LonelyScreen
LonelyScreen supports Mac and Windows computers. With this app, you can mirror your iPhone or iPad to the computer. Here are steps to cast your phone to Windows PC:
Step 1: Install LonelyScreen for Windows, and then tap on the "Settings" button and register LonelyScreen.
Step 2. Ensure both PC and iPhone devices are connected to the same Wi-Fi network, and open the iPhone's "Control Center" > "Screen Mirroring". Click on "LonelyScreen".
Step 3: Wait for some seconds. Your iPhone's screen will be cast onto a computer successfully.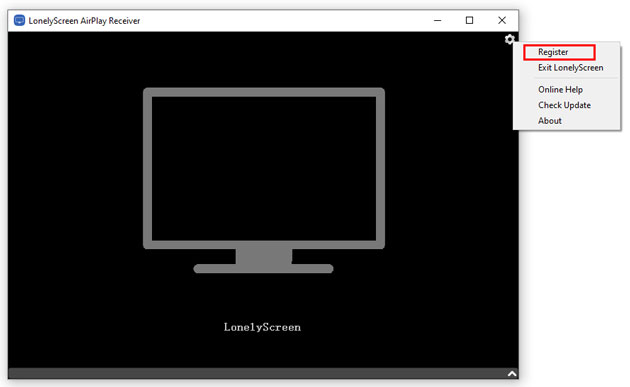 Part 4: Powerful LonelyScreen Alternative
Screen Mirror is an exceptional screen mirroring application that allows you to cast and control your iPhone/Android device on Windows PC. Its user interface has been designed for maximum convenience, making its usage as easy as pie.
Moreover, it supports most iOS and Android devices, giving it wider compatibility coverage. So, if you're looking for the best alternative to LonelyScreen, which is safe, easier to use, and with advanced features, look no further than Screen Mirror.
Here are the top features of this screen mirror tool:
* Allows screen sharing of Android and iOS devices onto your computer without lags.
* Help you control iPhone apps from a PC with ease, like deleting useless apps, playing games, etc.
* Supports gameplay recording and live streaming on social apps.
* Easily control an Android phone on a computer as well.
* Transfer files from the computer to the Android device.
Download this alternative to LonelyScreen.

Free Download for PC
Follow the guide to mirror an iPhone to a computer without LonelyScreen:
01Launch the Screen Mirror program on the computer and ensure the computer and iPhone are connected to the same network. Now choose "iOS Mirror".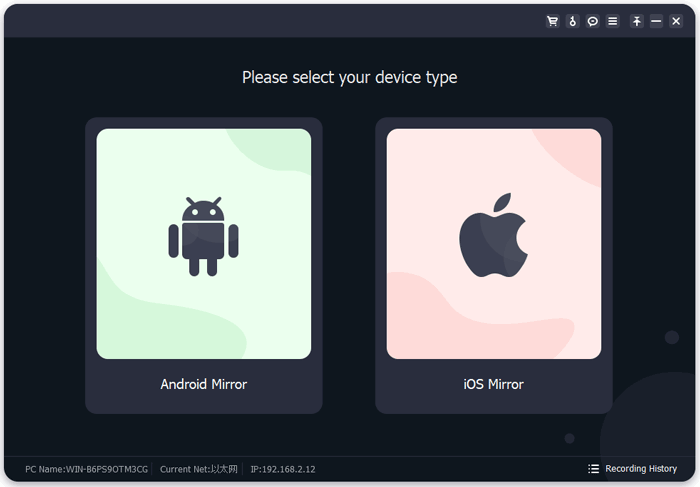 02Head to "Control Center" and "Screen Mirroring". Choose "Phone Mirror" and begin screencasting.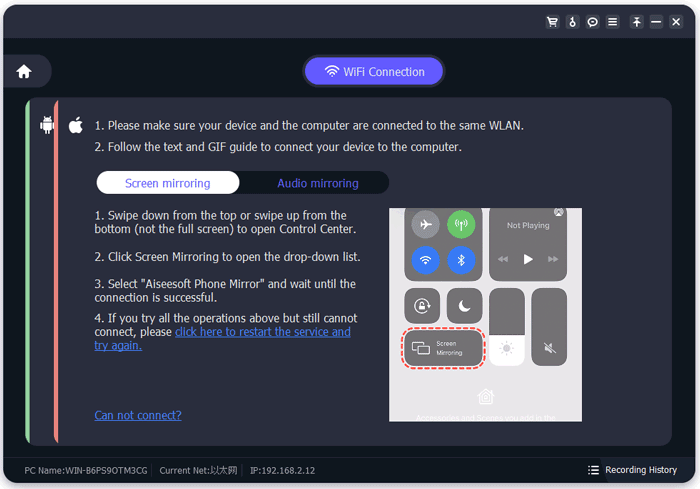 03Your iPhone is now mirrored to your PC successfully. You can control the devices freely.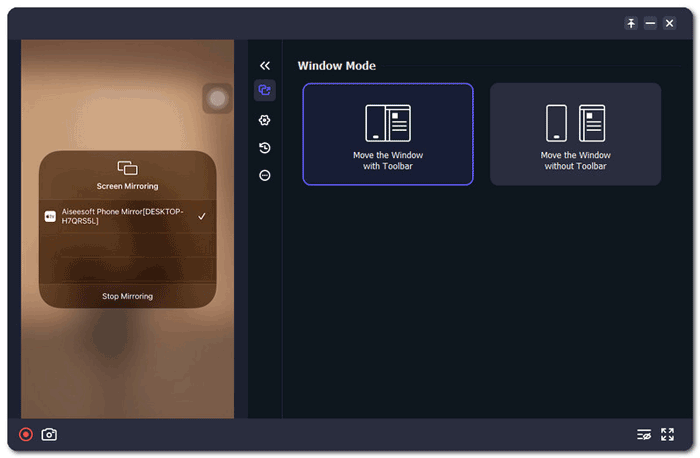 Maybe you like: 7 Ways to Mirror iPhone to iPad Easily [Latest Tutorial]
Bonus: FAQs on the LonelyScreen App
Q1. Why is my AirPlay icon missing?
You can fix this bug with these tricks:
* Ensure the iPhone or iPad is updated to the new system.
* Check if the iOS device supports AirPlay. Typically, AirPlay is supported by iPhone 4S and above, iPad 2, mini and above, and iPod Touch 5 and above.
* Restart the iOS device.
* Ensure Wi-Fi is enabled on your iOS device.
Q2. Is LonelyScreen free?
LonelyScreen allows you to try out its free trial version with limited features. However, if your needs demand advanced features, premium packages are available, and you can choose the perfect subscription based on your requirements.
Q3. Is LonelyScreen safe?
LonelyScreen is found to be unsafe to use, but it depends on where it's downloaded. If the app is downloaded from the Apple Store, it implies that it has gone through all of the necessary security checks and was approved, and can be downloaded from there safely.
If you download the app from another Store, it's not safe. It may have malware that can harm your data and iOS device. Even if an app appears trustworthy, there's still the potential for malicious viruses, malware, and other online threats. That is why it is paramount to download the apps only from official App Stores such as Apple's App Store.
Furthermore, before installing this application, check if any critical and confidential data is stored on your device. If so, then it is advisable not to use this app. However, if data stored on your device isn't very important, you can give LonelyScreen a try.
Q4. Does LonelyScreen have no audio feature?
LonelyScreen support the audio feature. If you find that there is no sound when casting an iPhone to a computer, check if there is a stereo system on your computer, and do not mute the sound.
Conclusion
Hopefully, you now understand all details about the LonelyScreen app and the best alternative app in case things don't work out for you. Screen Mirror is the best alternative app to screencast any iOS or Android device to a computer. The app has advanced features that will give you an easier time while mirroring your phone to a large screen.
Related Articles:
Screen Mirroring for Huawei Mobile Devices: Fast Cast Huawei Screen
8 Best Apps to Remote Control Android from PC
5 Apps to Turn iOS Device into AirPlay Receiver (Updated)
Top 12 AirDroid Alternatives You Should Know
7 Powerful Moborobo Alternatives: Transfer and Manage Files for Android Devices