Transferring files from your Android to your computer or vice versa is much easier with the applications like AirDroid. AirDroid enables you to connect your Android to PC wirelessly and manage or remote control your mobile devices through the desktop. Using it, you can transfer files across different devices, mirror your phone to PC, receive or send SMS, create a backup from phone to computer, etc. Despite that AirDroid has many useful features, there are problems when using this app: connectivity issues, lag performance, slow transfer, etc. Therefore, you may want to try an AirDroid alternative to handle data management or transfer.
Here, we conclude the best 12 apps similar to AirDroid to fulfill your data sharing or managing needs. You can read on to learn the features, pros, and cons of each app, and pick out the alternative to AirDroid you want.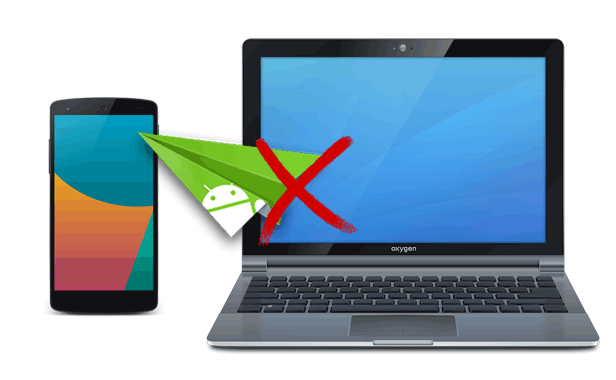 1. Coolmuster Android Assistant
2. AirMore
3. KDE Connect
4. MyPhoneExplorer
5. Pushbullet
6. Snapdrop
7. Xender
8. SHAREit
9. ShareMe
10. Join
11. Your Phone Companion
12. Samsung Smart Switch
1. Coolmuster Android Assistant
Coolmuster Android Assistant (Windows/Mac) is the best AirDroid alternative you should try. It allows you to connect your Android phone to PC/Mac with USB or Wi-Fi. As a powerful Android data management software, you can use it to perform multiple tasks on PC: one-click back up and restore Android phone, transfer files from Android to PC and vice versa, install/uninstall apps, edit/delete/import/export contacts, copy/forward/send SMS directly on PC, and more.
It has been widely recommended by many well-known download websites, such as softlay.com. It supports all the commonly used file types, including contacts, SMS, music, photos, videos, books, apps. And it is compatible with almost all the Android phones running Android 4.0 above (Android 11 included).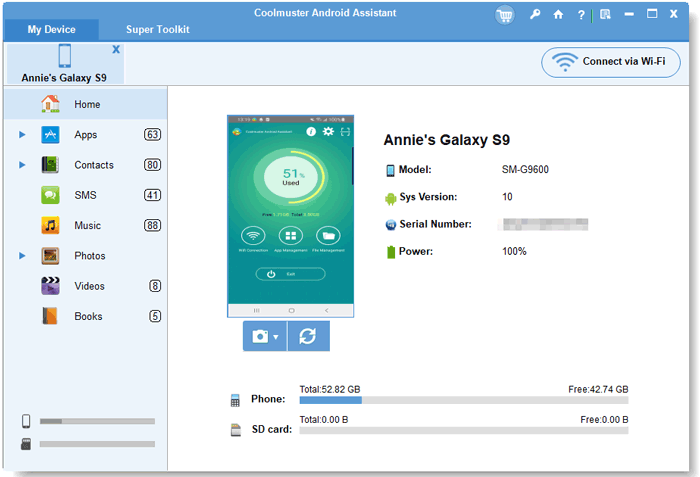 Pros:
The transfer speed is quick.
No data loss during transfer.
Easy connection.
Simple UI.
Cons:
Download Coolmuster Android Assistant now:
2. AirMore
AirMore is an app like AirDroid, which enables you to manage your mobile phone on the web. Using it, you can transfer media files like music, videos, photos, documents between Android and PC, view videos with the built-in player, install and uninstall apps on Android from PC. It also enables you to send, forward text messages on the computer. Besides, it has the reflector function, which displays the Android's screen on your computer. You can use AirMore on the browser Chrome, Firefox, and Safari.
Pros:
Works on iOS and Android devices.
File sharing is easy.
Able to mirror your phone's screen to PC.
Cons:
The connection is not stable.
Not suitable for mass transfer.
No Windows client.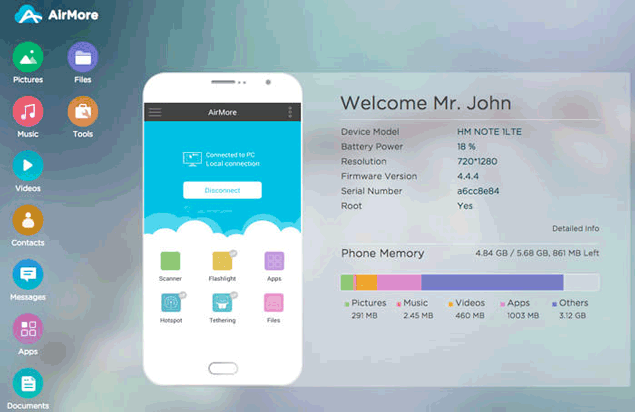 Download AirMore from the Google Play Store >>
3. KDE Connect
If you want an AirDroid alternative to connect your phone to your computer, KDE Connect could be a good option. It is an open-source file transfer app that allows you to share files and links between all your devices. With this app, you can receive phone notifications like incoming calls, SMS messages on your computer. KDE Connect also has many other useful abilities, such as accessing phone storage using SFTP, controlling your music and videos remotely, ringing your phone remotely to find its location, and using your phone screen as your PC's touchpad, etc.
Pros:
Free to use.
Open source.
Works various platforms.
Cons:
The installation process is a bit complex.
The Windows version crashes from time to time.
It eats up battery quickly.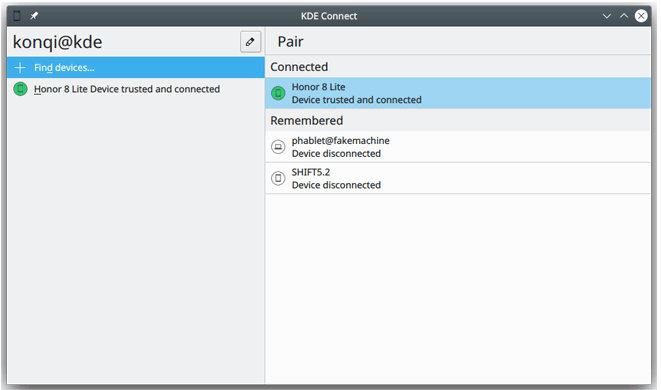 You can download it from here >>
Also read: 12 Simple Ways to Fast Connect Android to Mac
4. MyPhoneExplorer
MyPhoneExplorer is another alternative to AirDroid that allows you to manage Android phone from desktop PC. Using it, you can sync contacts, calendar, and notes with Microsoft Outlook, Thunderbird, SeaMonkey, etc. It is integrated with many features in terms of file management. You can download SMS to PC, back up, delete, and send text messages from computer. It is also able to manage the installed apps: launch, install, uninstall or download them to desktop. You can even handle calls from your computer: dial numbers, accept, reject and end calls.
Pros:
The transfer speed is fast.
Access almost everything on your phone.
Easy to use.
Cons:
Outdated interface.
It doesn't work well with the latest Android phones.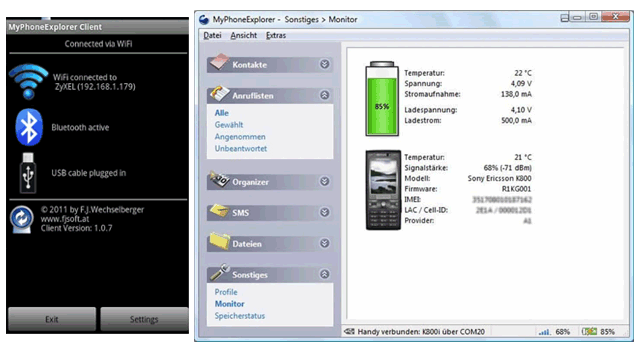 Get it from the Google Play Store >>
5. Pushbullet
Pushbullet is one of the best AirDroid alternatives that allows you to connect your devices and make them feel like one. With it, you can send and receive text messages on your computer, which is much faster than typing on a phone. You can see your phone's notifications like phone calls, texts, Kik, WhatsApp messages on your computer. It also enables you to instantly share links between your devices. You can also move pictures or other files between mobiles and laptop easily. As for its compatibility, it works well on Android, iOS, Chrome, Firefox, Safari, Windows, and macOS.
Pros:
Simple to operate.
Quick to sync files.
Cons:
Sometimes it may lose connection.
The technical support is difficult to reach.
The price is high.
Get it from the Google Play Store for your Android.
6. Snapdrop
Snapdrop is a free and open-source web-based app inspired by Apple's AirDrop. It is also one of the best apps similar to AirDroid you can try. You can use Snapdrop to share files between multiple devices via the web browser under the same local network. TTo use this handy app, all you need to do is open the Snapdrop website on the two devices connected to the same network. There's no need to sign up or download an app. Once you open the web page on your devices, you can then tap your device's name and select the files to share between your devices.
Pros:
No need to download software.
Works on any device that has a browser.
The transfer speed is fast.
Cons:
Only media files are supported.
Doesn't have the option to manage Android files from PC.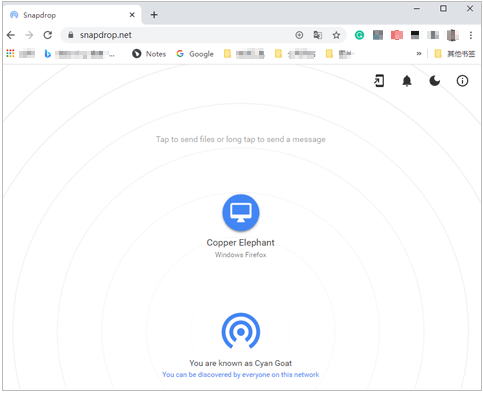 Here's Snapdrop's website >>
7. Xender
Another AirDroid replacement you can use is Xender. It supports many platforms, including Android, iOS, Tizen, Windows, PC/Mac. You can connect your Android to PC without a USB cable and transfer various files without restrictions. The transfer speed is much faster than Bluetooth. As a great sharing app that meets all your transfer needs, it is widely compatible with all types of files, including app, music, photos, videos, pdf, word, excel, zip, etc. Moreover, it allows you to view, move or delete the received files with ease.
Pros:
It is fast in sharing and receiving.
Cons:
The new version is bloated and difficult to send files.
There's no way to remove the annoying ads.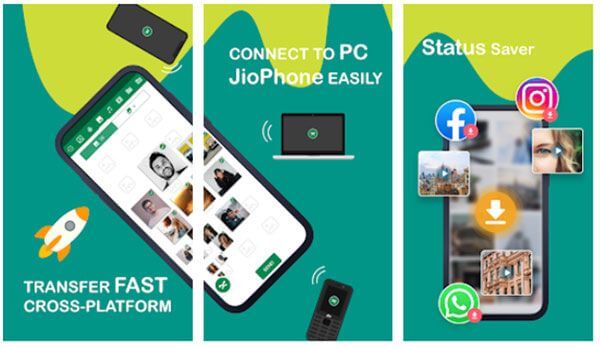 You can download it from the Google Play Store >>
8. SHAREit
SHAREit is an excellent file transfer app that can replace AirDroid to do the file sharing task. It allows you to transfer movies, videos, music, installed apps, wallpapers, GIFs between devices without losing quality. It has a built-in video player that enables you to play almost all video formats. Apart from file sharing, SHAREit has a section that allows you to view popular videos, hot TV shows & movies.
Pros:
Cons:
The transfer speed is slow.
The ads are very disturbing.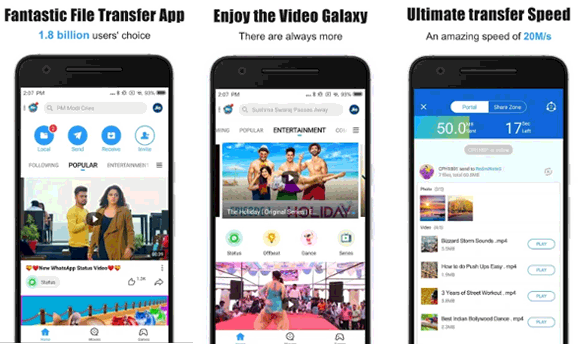 Download it from the Google Play Store >>
9. ShareMe
ShareMe is a data transfer app developed by Xiaomi company. It is safe and clean. It supports all Android devices including Xiaomi, Samsung, OPPO, LG and more. You can use it to quickly send photos, videos, music, apps, and files between devices. It supports file transfer between mobile phones and offers an option to connect your device to computer and move files. You can share large files without limitation with the help of ShareMe.
Pros:
Free to use.
The UI is simple and clean without ads.
Cons:
The setup process of Android to PC is a bit complex.
It disconnects from time to time.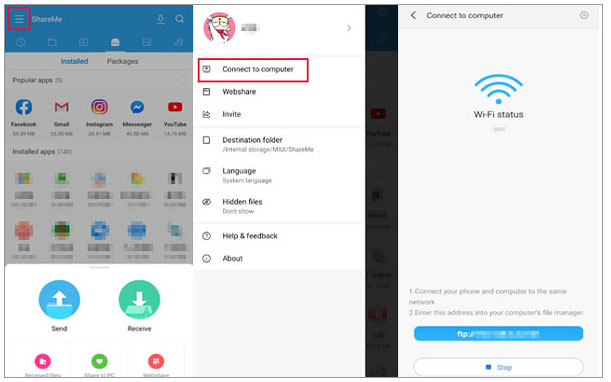 Download ShareMe from the Google Play Store >>
Tip: You can find the instructions of using ShareMe in our guide on How to Transfer Files from Xiaomi to PC with or without USB.
10. Join
Join is an AirDroid alternative that enables you to receive notifications like WhatsApp message from Android on computer and reply to the message directly. On top of that, this app enables you to manually or automatically share your clipboard between your devices, send files between devices and open the file after receiving, take screenshot of your Android on other devices, etc. This app is not completely free to use. It offers 30 days of free trial. After that, you need to purchase this app to continue using it.
Pros:
It is flexible with lots of different functions.
Cons:
The settings are complicated.
SMS via web doesn't work well.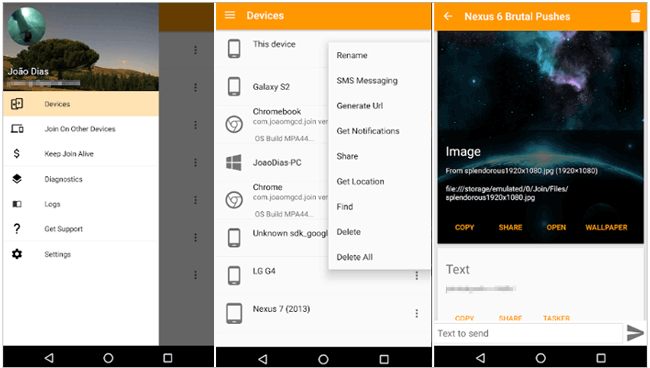 You can get it from here >>
11. Your Phone Companion
If you are using an Android and a Windows computer, the app Your Phone Companion can be an alternative to AirDroid to access files from your phone through the computer. With its help, you can reply to your SMS, access mobile apps, receive mobile phone's notifications on your computer. You can also drag and drop files like images and videos between your phone and PC via Your Phone Companion.
Pros:
It enables you to copy and paste files between Android and Windows.
Cons:
It is difficult to get your Android connected to PC.
User unfriendly.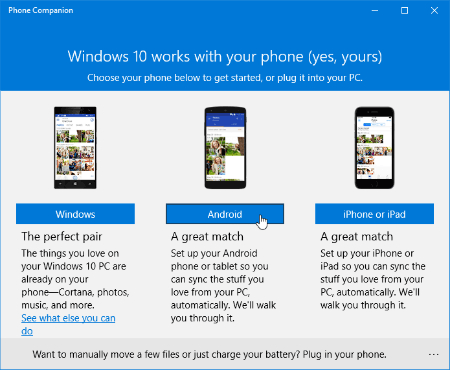 Download it from the Google Play Store >>
12. Samsung Smart Switch
Samsung Smart Switch is a data transfer app made by Samsung. This app can be your go-to software if you want to transfer files from another phone to a new Samsung. It also has the desktop version. If you are a Samsung phone user, you can use Samsung Smart Switch instead of AirDroid to conduct Samsung file transfer to PC/Mac. You can use it to back up files like contacts, messages, call logs, photos, music, apps, etc. from Samsung to computer in one go. It also allows you to restore to backup to your Samsung device whenever you want.
Pros:
Clean and simple interface.
Cons:
Lack of the function to send or reply to SMS.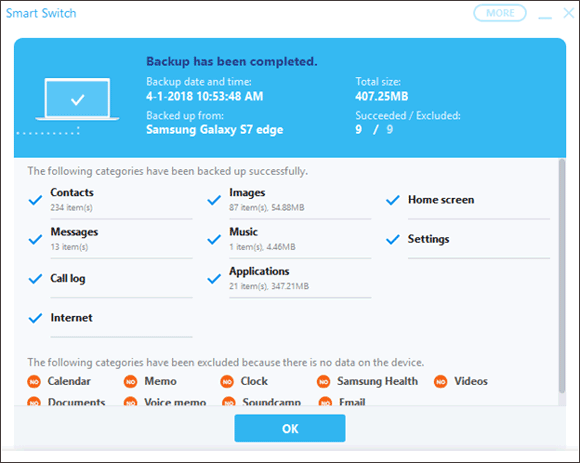 You can download it from here >>
Wrapping Up
Above are the apps like AirDroid that you can consider using. Among these software, Coolmuster Android Assistant is highly recommended. It is a secure and stable tool that makes the file transfer between your Android and PC/Mac a breeze. It packs with multiple features for managing Android files from a PC desktop. You can easily view and manage all the common file types on computer using Coolmuster Android Assistant. Download this tool as your AirDroid alternative. If there are any problems during use, feel free to leave a comment below. We will reply to you soon.
Related Articles:
Top 6 iTunes Alternatives for Android
Android File Transfer (Windows/Mac) - Transfer Android Files to/from Computer
Top 10 Android to Android Data Transfer Apps
Top 11 Android Manager for PC: Manage Your Android Smartphone on PC
Top 10 Android PC Suite Review for Windows and Mac
Mi PC Suite Overview & 4 Mi PC Suite Alternatives to Manage Mi Phone