Android is no doubt a highly used operating system in most mobile phones. It comes with many features as well as options for customization. And among its many features is screen mirroring. This feature helps users share or mirror their screen gadgets effortlessly, for instance, from Android to PC and vice versa.
To share or mirror your Android screen to another device, you must have a screen mirroring app. This is a wonderful app that assists you in casting from an Android gadget to a PC. This post brings you the best screen mirroring app for Android to PC. So, without further ado, let's start.
Part 1: What is Screen Mirroring?
Part 2: What's the Best Screen Mirroring App for Android to PC?
Part 1: What is Screen Mirroring?
This is a technique that helps view all of the content in your smartphone on a bigger screen such as a PC, tablet, or TV. You don't have to offer complete access to the devices since you only mirror the screen. With screen mirroring, you will be able to watch your favorite videos and movies on bigger screens and also play games, take video conference calls, code, and do more things.
Today, smartphones can do many things; however, their small screen makes them not be loved. A great solution will be to opt for screen mirroring. There's no need for you to set up the projector to see anything on the bigger screen. But rather, you may use the screen mirroring app to achieve your purpose. Many people love the screen mirroring application for movie nights and watching pictures in the gallery on a large screen.
Most professional people use these applications while explaining office presentations on bigger screens. Watching movies, gaming, and each task feels amazing if you see them on bigger screens. So, you should stop using the traditional approach of setting a projector to see anything on the screen and try using screen mirroring technology.
Tips: Are you ready to root your Android phone? Yes? But have you backed up your Android data? If not, please back up your Android phone before rooting for data protection.
Part 2: What's the Best Screen Mirroring App for Android to PC?
Screen mirroring is a wonderful way of seeing all of your phone's content on a bigger screen. Not many people know this, but it is entirely possible to screen mirror your android devices to either a PC or a computer.
To share the screen of your android device to the PC remotely, you are required to use the screen mirroring applications. Many apps are known for great screen mirroring, and below are some of the best apps:
1. Screen Mirror
If you are looking for a wonderful screen mirroring app, then Screen Mirror winds up your search. This is a worthy tool that can help you view any of your data on bigger screens. The best thing with this app is that you easily mirror the Android screen to PC with a few clicks.
With a bigger screen, you will experience a good time while gaming. The high definition of the screen will offer you a great visual experience if you're playing an adventure game or anything that has action. Apart from gaming, you can do your work easier since you can simplify with screening sharing.
Furthermore, you may save the screenshots to the clipboard effortlessly between your computer and Android device. If your screen mirrors your android device, you may be able to watch any of your favorite movies and videos with your whole family on the bigger screen instead of watching it alone on a smaller screen.
Download this mirroring program without hassle.

Step 1: Launch the Screen Mirror to Your PC
The first thing to do is download and install this mirroring software on the PC. After that, launch the program. Then tap Android Mirror to mirror your phone to your laptop.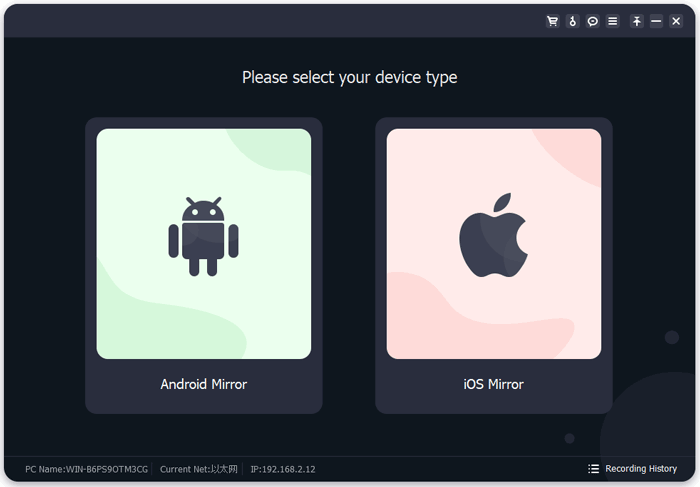 Step 2: Enable the USB debugging on Android
To make a USB connction, you can tap USB Connection, and connect your Android phone to the PC via a data cable. Ensure the USB debugging is enabled. To do that, navigate to Setting > About phone > Software information. Here, you will find the Developer option, and click on the Build number 7 times. This will enable USB debugging when you connect your phone.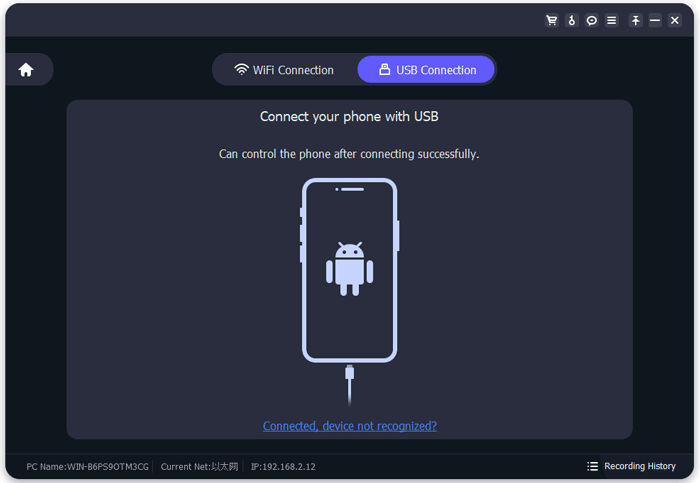 Step 3: Cast Your Android Phone to PC
Install the mirroring app on your phone, and the connection will be successful. After that, you may now start controlling your android device from the PC without issues. You can now enjoy mobile games and other things effortlessly.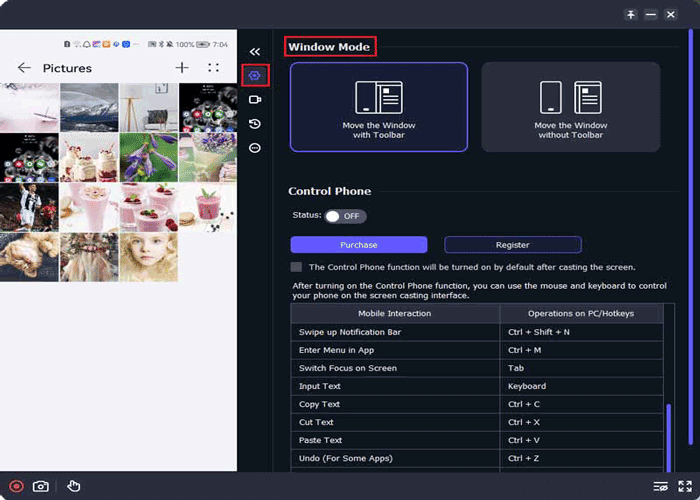 It is as easy as that. Simple right? You can now enjoy your precious time watching your favorite movies and other videos!
Pros
It is easy to set up.
Easy to control your device.
Play mobile games faster.
Convenient to operate it.
Have a good connection.
Cons
See more:
Want to move apps to an SD card on a Huawei phone? You can follow this guide to complete it fast.
Seeking a powerful MP4 video recorder? You have got it. This article has listed 10 wonderful recorders with their features, pros, and cons.
2. ApowerMirror
This is also another high-quality streaming application for screen mirroring. It uses mainstream mirroring technology to enhance the visual quality of the videos and anything you are watching. You may mirror the android device to the PC via a USB or Wi-Fi.
Besides, you may also cast the screen to your TV without encountering lag issues. Therefore, you get an ultimate screen mirroring experience with the same option you share with the audio. With the ApowerMirror, you can simultaneously mirror a maximum of 4 devices to the PC. You may easily use a mouse to move on the screen and a keyboard for typing. With this app, there is no need to install emulators to play games on the PC.
You won't take a long time to adapt to it due to the availability of pre-reset virtual keys and customization options. You may use the app for home entertainment, presentations, gaming sessions, intelligent education, live streaming, and many more. Its cross-platform characteristic makes it stand out among other apps. No matter the device you're using, you may mirror the screen on the PC with much ease.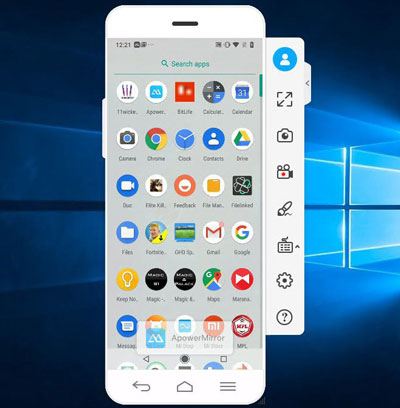 Pros
Quick to set up.
Handily manage apps.
Cons
3. Google Home
Google Home is an app that works best in broadcasting your device content to other devices. The app also has interesting apps like Chromecast and Netflix, making it with multiple functionalities. You can make connections to your pc or TVs through a wireless connection.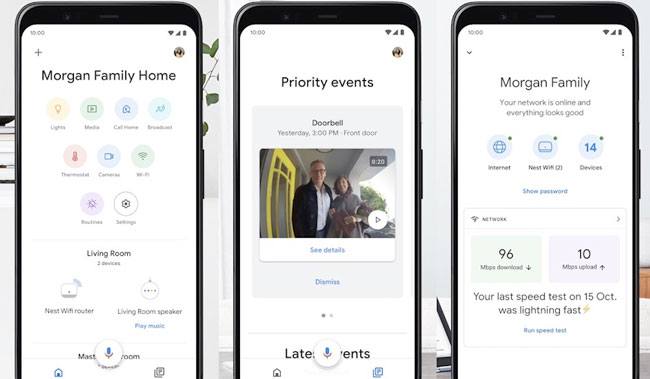 Pros
Support multiple devices simultaneously.
Easy connection or setup.
It is a genuine app from Google.
Support multiple devices.
Cons
Only works with Android 5.0 or later.
Check if you want: These five methods are to help you back up an iPhone with or without a computer. Click it, and you can read the guide.
4. Microsoft Remote Desktop
This is another great screen mirroring application that will help you screen your gadget to a computer. Microsoft Remote Desktop can serve as a screen-casting application to access the remote desktop. Get started with the app on the smartphone to connect to a PC. Configure it, and you are ready to go.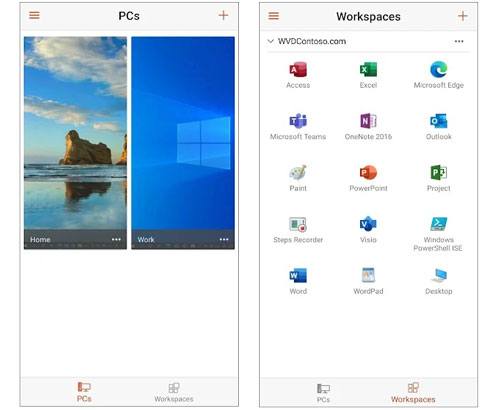 Pros
You access the virtual apps.
You can safely connect with Microsoft Remote Desktop.
Video and audio streaming.
Many touch gestures.
Cons
5. Chrome Remote Desktop
Chrome Remote Desktop is one of the screen mirroring applications from Google, and it promises and delivers more too. The app is available for many more things apart from just screen mirroring from the smartphone. It'll allow you to remotely access the smartphone that can be used for screen mirroring.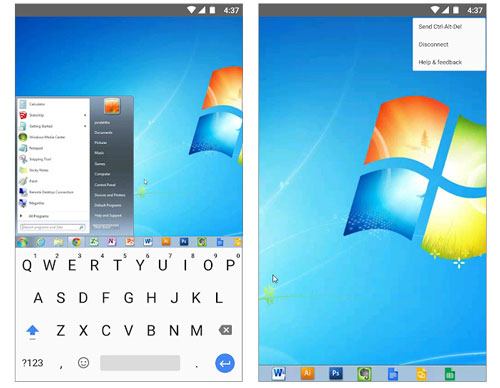 Pros
You don't need any extra software for the PC to work.
Securely connect your mobile device to the computer.
Cons
6. AirDroid
If you've been using an android for some time now, then you may know about this wonderful app known as the AirDroid app. An AirDroid app is a file transfer application with a screen mirroring feature. This feature is available only on the desktop client, and it mirrors the messages and call notifications; on the pro version, the users can remotely open the camera, switch on or off the built-in features, and do many more things.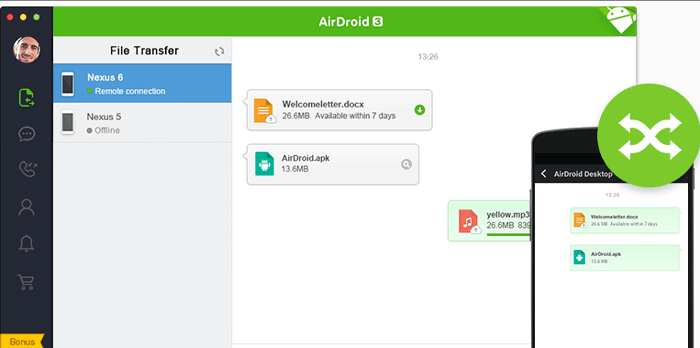 Pros
You can easily turn on and off built-in features.
Operate remotely easily.
Cons
There are many ads when using it.
Learn more: Planning to transfer photos from a flash drive to an iPhone? That's a piece of cake.
7. Teamviewer QuickSupport
Teamviewer is also one of the best screen mirroring apps for Android to PC. The best thing about this tool is that it functions on non-rooted and rooted devices. The Teamviewer QuickSupport app can mirror, push and pull Wi-Fi settings on devices and transfer files. Thus, Teamviewer Quick Support is among the best screen mirroring apps.
Pros
Operates on both rooted and non-rooted devices.
Easier to transfer files.
Cons
8. Vysor
Are you looking for an easier method to mirror an Android screen to a PC? Then Vysor is your app for that task. This app is very easy to use, and when you mirror your android screen with it just once, you may play games, take screenshots, use apps, and record screens, just to name a few.
To use this app effectively, download Vysor mirroring client first on your PC and Vysor application on your Android. After you are done, connect an android to your PC using a USB cable and enable the USB debugging prompt. The software on the PC will detect your device shortly and then cast the phone's screen to your PC.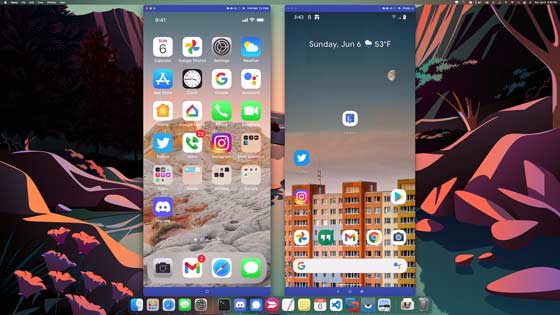 Pros
The interface is modern and simple.
You can manage apps easily.
Cons
Fix it fast: What can you do if Xperia Transfer Mobile is not working? If you want to solve this issue on your own without trouble, you can browse this article first.
9. Screen Stream Mirroring
This is also another amazing screen mirroring app for your android gadget. Everything is likely to fall in place if you have this tool. You may easily share the screen live like the dual-screen. The good thing with Screen Stream Mirroring is that it heavily relies on Wi-Fi instead of USB to cast the screen.
Besides that, mirroring via the screen stream brings additional features such as broadcasting everything directly to Facebook, Youtube, Twitch, and Ustream.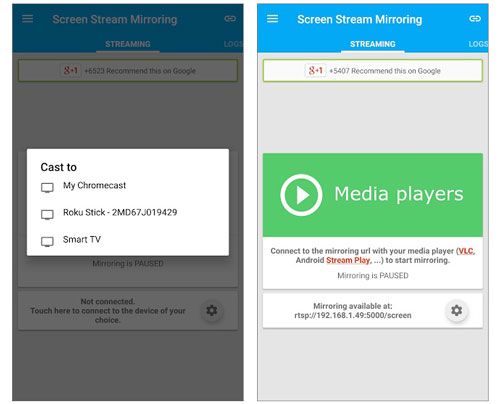 Pros
Easy to use.
Relies on Wi-Fi instead of USB.
Cons
Not support the USB connection.
10. Mobile to PC Screen Mirroring/Sharing
Even though this screen mirroring app isn't known, it's still an ideal screen-sharing application that you may use the Android. Unlike some apps, the Mobile to PC Screen Mirroring does not need installation on the app on your desktop.
You just need to connect all of your devices to your same network then open your mobile app as you note your IP Address. After that, open the browser on PC, then type your IP address. You'll be able to see the mobile screen on your P C web browser.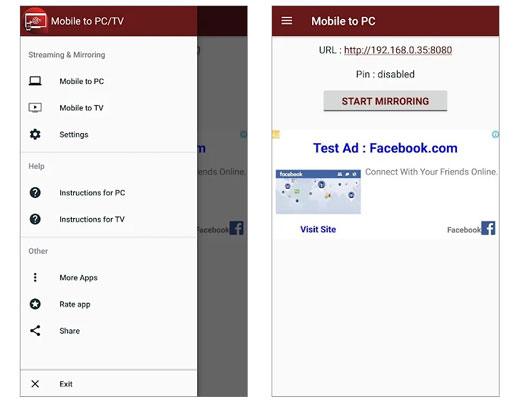 Pros
It does not need the installation of the app.
Cons
You might need: Failed to transfer your contacts to your new iPhone? Please check the reasons in advance.
11. Mobizen Mirroring
It is one of the best screen mirroring apps for Android to PC; however, it is mainly used for game streaming. If you have this app, you can control your phone using your computer or laptop. With the app, you can enjoy services like pictures and videos on wide views.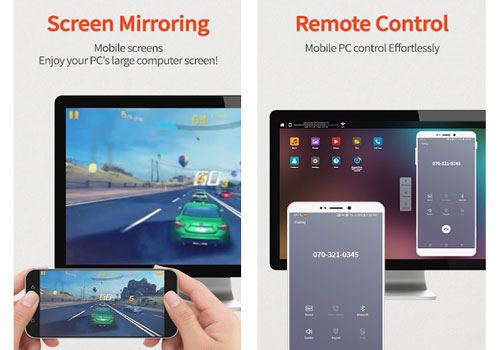 Pros
Quality recording features.
Simple user interface.
Cons
The registration process is not clear.
12. Miracast Display Finder
Miracast display finder is another mirroring app to cast your phone screen to other devices like laptops, computers, smart TV and many others. You can display the entire phone content and functionality to systems such as windows, Mac Os, Smart TVs, and many others.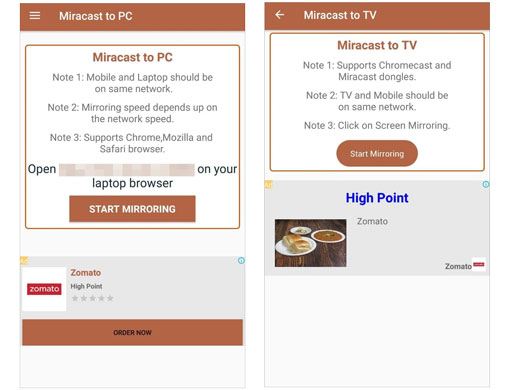 Pros
It is a free app.
Support high-quality streaming.
Mirror all content to other devices.
Cons
Only works with the Android version of 4.2 or higher.
Bonus: It is easy to restore your photos from Xiaomi Cloud if you know the correct steps.
13. Screen Mirroring, Cast To TV - Castto
A screencast is another best screen mirroring app for Android to PC. Here, you will share your phone screen with multiple devices simultaneously. To make the connection, you will have to choose mobile data, mobile hotspot, or Wi-Fi to connect to the other device.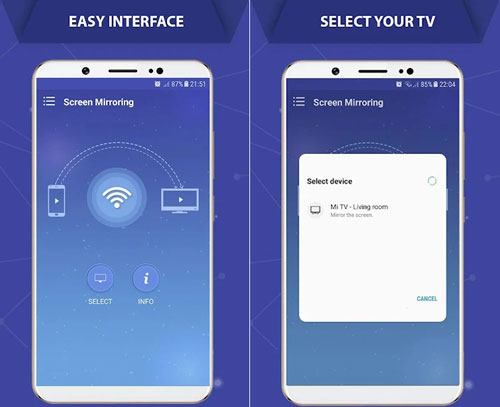 Pros
Quickly set it up.
Visual quality is excellent.
Quality sound
Cons
Destructive due to the ads.
Audio Sync is poor.
14. MirrorGo
MirrorGo is among the best Screen Mirroring App for Android to PC. It is one of the apps that can give you a favorite experience for a bigger screen view. You can mirror your mobile screen and control the phone from the other device wirelessly.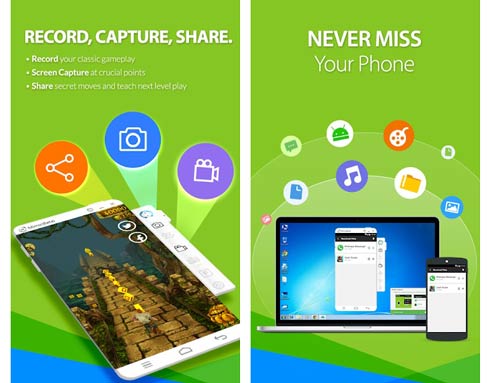 Pros
Compatible with many devices.
Support different ways of connection.
Cons
Wrapping Up
The above are the best apps to mirror your Android mobile screen to Windows PC. Two things that you need to consider while choosing these apps are the ease of connectivity and their user interface. With one of the best mirroring based on your preference, you can enjoy the functionalities of mirroring flawless so consider picking the right one. By the way, the Screen Mirror software is stable and safe to cast your Android screen to the PC, so you can try it without worry.
Related Articles:
How to Transfer Contacts from iPad to Android (Effective)
How to Back Up & Restore Samsung Galaxy S10/S10 Plus/S10e/S10 Lite
How to Move Data from Android to iPhone after Setup in 8 Proven Methods?
Troubleshooting for 'My Text Messages Disappeared on My Android Phone' (Reliable & Easy)
11 Best HEIC to JPG Converters on Windows and Mac
Android Recycle Bin - Where and How to Find Deleted Items on Android Phone?