How to recover WhatsApp images deleted by sender? WhatsApp is one of the most widely used messaging apps. It enables Android and iPhone users to instantly share all files, from pictures to documents and videos. But sometimes you may send a message mistakenly. Fortunately, thanks to its "delete for everyone" feature, everything has become less worrisome since you can quickly delete them.
When the sender deletes an image on WhatsApp, you will curiously want to know what they had sent. How can I recover deleted WhatsApp photos from sender? Although recovering deleted WhatsApp images is tricky, it's not impossible. This digitally savvy world means almost everything is possible, thanks to technology. We are here to show you what you've been looking for. Read on to know how to recover WhatsApp images deleted by the sender.
Part 1. How to Recover Deleted WhatsApp Images by Sender on Android
If you are using an Android phone and want to restore deleted WhatsApp images, we've got some options to help you get them back. Explore these effective methods provided in this section.
Way 1. How to Recover Deleted Photos from WhatsApp by Sender Using Android WhatsApp Recovery
Android WhatsApp Recovery is a professional data recovery tool that allows you to recover deleted WhatsApp images and other data from Android phones in a snap. Apart from WhatsApp data, you can also recover other deleted files on Android, such as documents, pictures, music, and more.
This amazing software can effortlessly retrieve any of your deleted files. All you have to do is plug in the device, launch the program, and let its intelligent algorithms work their magic, restoring whatever was thought lost for good.
This is indeed a one-stop solution to recover deleted WhatsApp images and other data on Android phones without any complications. Also, it offers data backup and recovery options so you can conveniently back up your data.
Key Features:
Restore deleted WhatsApp files, photos, videos, and music from Android smartphones easily.
Recover lost contacts, SMS messages, call logs & documents from an Android phone or SD card quickly.
Securely backup your existing data on Android to a computer to keep it safe.
Support Mac OS X 10.7 or higher and Windows 11/10/8/7 computers.
Here's how to recover WhatsApp images deleted by sender with the help of Android WhatsApp Recovery:
01Download and install this powerful recovery software onto your computer. Next, plug the phone into your computer using a USB cable. The software will detect the device automatically.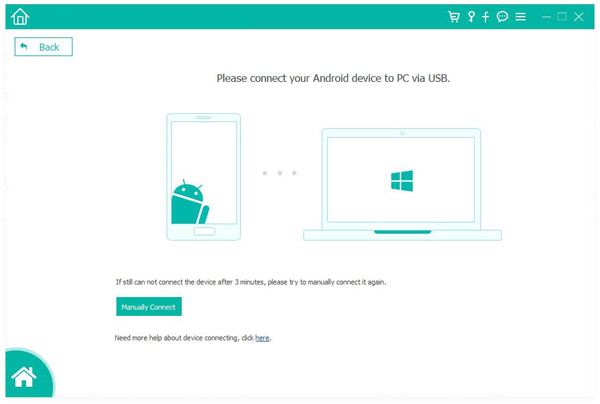 02 After completing the necessary procedures on your phone, click OK and move on to the next step.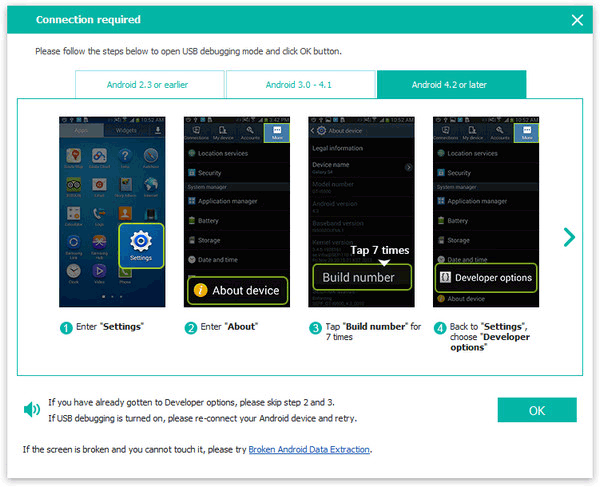 03Choose WhatsApp Attachments and hit Next to scan the files.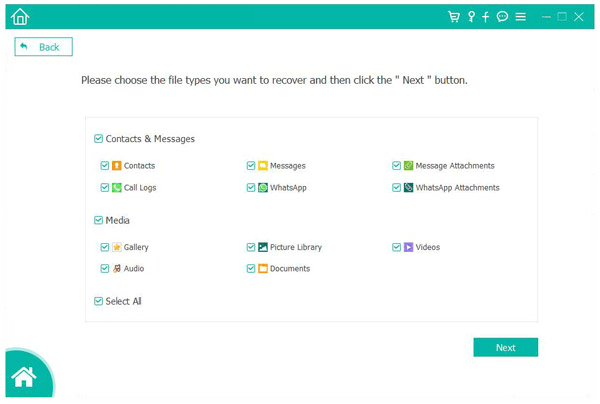 04Choose the data you'd like to retrieve, then press Recover to finish the process.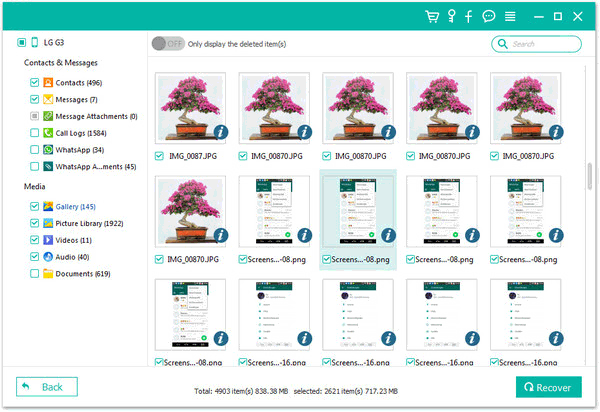 Further Reading:
How to Retrieve Deleted Text Messages on Android (5 Methods Introduced)
3 Proven Ways to Restore Deleted Contacts on Android Phone & SIM Card
Way 2. How to Recover WhatsApp Images Deleted by Sender Using Local Backup
If you have a backup file on Android device, this method is the perfect solution for recovering deleted WhatsApp images. However, without a backup file in place, it may not be possible to restore lost photos using this process. Here's how to recover deleted photos from WhatsApp by sender:
Step 1. Open your WhatsApp on the phone and head to Chat Backup. You will see all details of the latest backup file.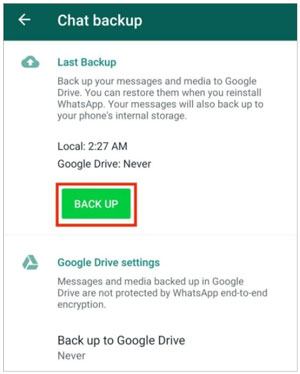 Step 2. Launch the File Manager application on Android and navigate to SD Card, and look for WhatsApp, then Databases. If necessary, you may also check the phone's internal memory for any data stored there.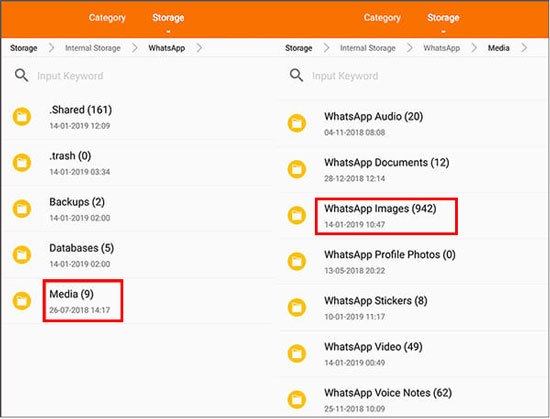 Step 3. Copy the contents and paste them into a new folder on your PC. Then, install WhatsApp onto your device and create a backup.
Step 4. On Android phone, uninstall WhatsApp and head to the Storage folder. Then open the WhatsApp folder, go into Database, and delete all its content. Copy the data saved on the PC from earlier and paste it into the Database folder.
Step 5. Now install WhatsApp on the new Android and configure it. Once you've completed the setup, select Restore to get your files.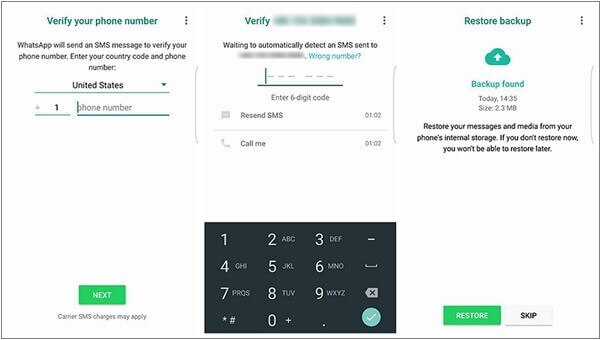 This method is quite complex because it needs you to copy and paste files from one device to another. Therefore, it's best to use an easier approach to get back the deleted WhatsApp files on Android.
Also Read: 6 Easy Ways on How to Backup WhatsApp Messages from Android to PC
Part 2. How to Recover WhatsApp Images Deleted by Sender on iPhone
Recovering deleted WhatsApp photos from the sender on iPhone is quite different than on Android. But the process is fairly simple. Check the methods to achieve that below.
Way 1. How to Recover WhatsApp Images Deleted by Sender Using iPhone WhatsApp Recovery
The best way to recover WhatsApp pictures deleted by the sender on iPhone is to use iPhone WhatsApp Recovery. This software is the most reliable and powerful for restoring all data types deleted on your iPhone without even a backup.
As long as the iPhone can turn on, you can recover lost WhatsApp files from your iPhone. The tool supports recovering WhatsApp files, photos, contacts, text messages, notes, call history and more from your iOS device. Its wide compatibility with iOS devices makes it a good app for all iOS users.
iPhone WhatsApp Recovery helps you recover lost data quickly and with top-notch accuracy. It can restore over 20 types of files from iOS devices, iTunes backups and iCloud backups in a few clicks. With such convenience and its unbeatable success rate, this should be your go-to choice when recovering important data.
Key Features:
Recover deleted WhatsApp files from iPhone.
Support recovery of iMessages, Contacts, Photos, call history, notes, WhatsApp/Line/Viber/Kik data from an iPhone.
Compatible with iOS devices and the newest models.
Here are the steps on WhatsApp delete photo recovery using iPhone WhatsApp Recovery:
01Download and install the program on the computer. Run it and connect the iPhone.
02Select Recover from iOS Device, then tap Start Scan. After scanning, all its files will be shown in categorized lists.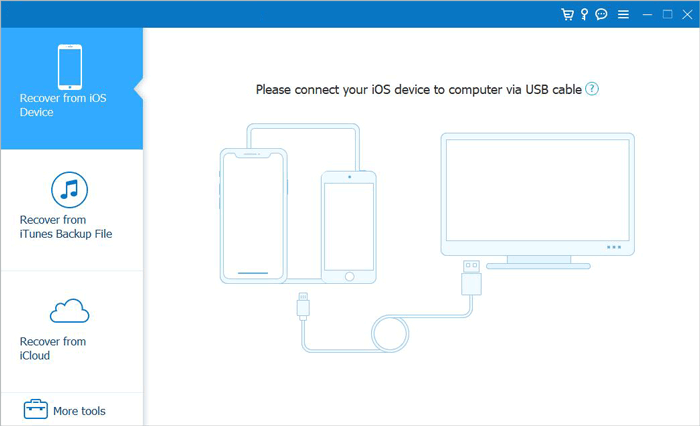 03Select WhatsApp Attachments in the left panel and preview. Select the images you want, then click Recover to export and store them securely on your computer.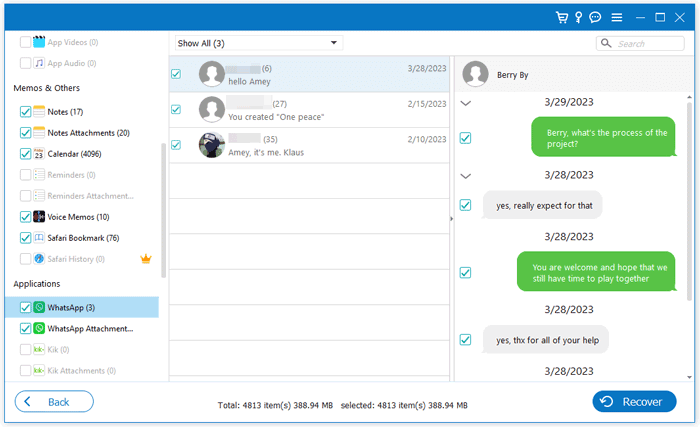 Way 2. How to Recover Deleted Photos from WhatsApp by Sender Using Coolmuster iPhone Data Recovery
You can also use Coolmuster iPhone Data Recovery to recover deleted photos from WhatsApp by sender. If you backed up your files in iTunes, this recovery would let you restore data from iTunes backups. The tool scans iTunes backup and lists the backup file in time, name, version, size and more.
It has an easy-to-use interface that makes it simple to navigate around and find the data you need. It also provides a preview feature that allows you to check the quality of the recovered data before exporting it.
Key Features:
Recover deleted WhatsApp files, photos, and contacts from iTunes, iCloud, and iPhone.
Support the latest iOS 16.
No data loss during the recovery process.
How to restore WhatsApp files using iTunes backup:
01Launch the program and select Recover from iTunes Backup File.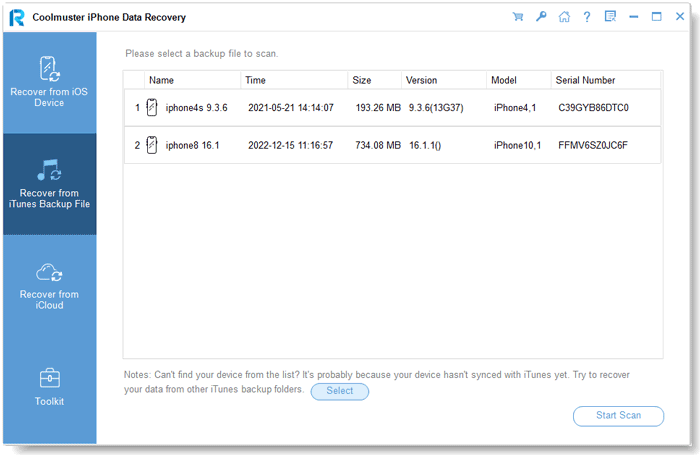 02The software will scan the location for iTunes backup on the computer. Choose the iTunes backup file to be recovered.
03Choose WhatsApp Attachments on the right section and tap Recover to Computer.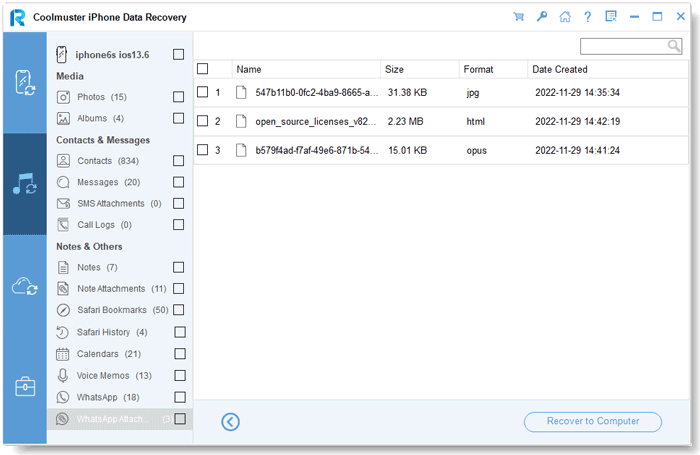 Learn More:
How to Permanently Delete WhatsApp Voice Messages on iPhone
How to Recover Deleted Call History on iPhone Without Computer? [Top Ways]
Way 3. How to Recover WhatsApp Images Deleted by Sender Using iCloud
iCloud is also possible. WhatsApp has a convenient feature that keeps all of your chats, including photos and other media. It will restore them once you uninstall and reinstall the app. This is possible because of Apple's iCloud backup system. Unfortunately, this process does not allow you to preview images before restoring them. It restores everything, including photos, so you must check for the existing data backup from your account.
Step 1. Tap on WhatsApp Settings and go to Chats.
Step 2. Uninstall WhatsApp, then visit the Apple Store to reinstall it.
Step 3. Enter your account information and click Restore when prompted by WhatsApp to recover all chats.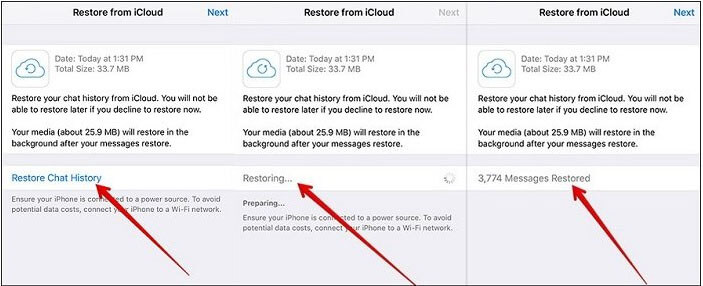 You May Like: How to Recover Deleted Notes on iPhone without iCloud Backup?
Conclusion
Now you know the tricks to retrieve those cherished WhatsApp images sent by your pals but got deleted. iPhone WhatsApp Recovery is the best app to recover deleted WhatsApp images on iPhone while Android WhatsApp Recovery is an ideal tool for Android without requiring a backup. Besides, if you backed up your data to iTunes, Coolmuster iPhone Data Recovery is the tool to choose. Moreover, ensure you back up important chats, too, so that if something goes wrong later, you have somewhere to get them.
Related Articles:
How to Retrieve WhatsApp Messages from Lost Phone without Backup?
How to See WhatsApp Deleted Messages by the Sender in Minutes
4 Ways to Export WhatsApp Chat to PDF (Android & iOS)
How to Restore WhatsApp Backup from Google Drive to iPhone? [Step-by-step Guide]
How to Recover Audio Files from WhatsApp on Android in 3 Ways?