It's not uncommon for you to set intricate passwords to safeguard your Galaxy A12. Yet, despite your best intentions, you could sometimes find yourself in a perplexing situation – locked out of the phones because of multiple wrong password attempts. Well, here comes a question - how to unlock a Samsung A21 phone with a forgotten password efficiently? That's simple. We shall provide you with a comprehensive understanding of the available options to help you regain access to your phone with minimum effort.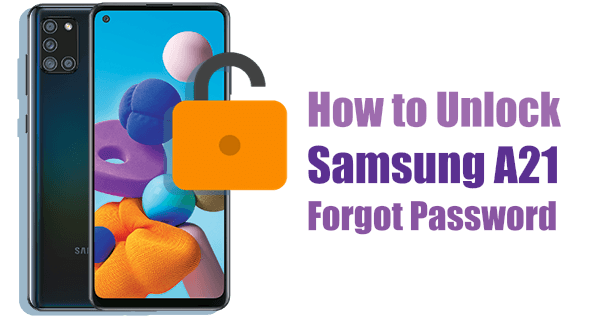 Part 1. How to Unlock Samsung A21 Phone Forgot Password [Data Erased]
1.1 How to Factory Reset Samsung Galaxy A21(s) When Locked
Almost every Samsung device has a key combination to access recovery mode and perform a factory reset when locked. But please note that this process erases all data on your Samsung Galaxy A21. Thus, if possible, back up important data before unlocking.
How to factory reset the Samsung Galaxy A21s without a password directly?
Step 1: Power off Samsung A21
Power down your Samsung Galaxy A21 by simultaneously pressing and holding the Power and Volume Down buttons. Then, choose the Power Off option.
Step 2: Enter the Recovery Mode
After the device turns off, press and hold both the Volume Up and Power buttons simultaneously. Keep holding until the device starts, and you see the Recovery screen appear.
Step 3: Factory reset Samsung Galaxy A21
Use the Volume Up and Volume Down buttons to navigate to the wipe data/factory reset option. Press the Power button to confirm and initiate the hard factory reset on your Samsung Galaxy A21.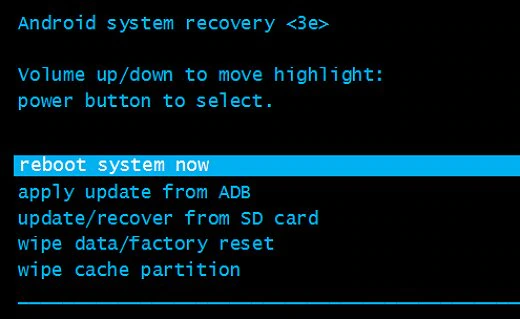 Step 4: Reboot the system and restart your phone
You might receive a confirmation message; in that case, select the factory data reset option again. Once it is complete, choose the reboot system now option and wait for your device to restart.
1.2 How to Unlock Samsung A21 without Password Using Find My Device
Google has introduced a service known as Find My Device for almost all Android devices. To utilize this feature with your Galaxy A21, ensure your Samsung A21 phone is connected to Google Find My Device and for this option to be activated. Additionally, the device must have an active Internet connection.
How to factory reset Samsung A21(s) by unlocking it with Find My Device?
Step 1: Grab a device with internet access and launch a web browser.
Step 2: Go to the Google Find My Device page and sign in using the Google account associated with your locked Samsung A21 phone.
Step 3: Once you've successfully logged in, select the ERASE DEVICE option.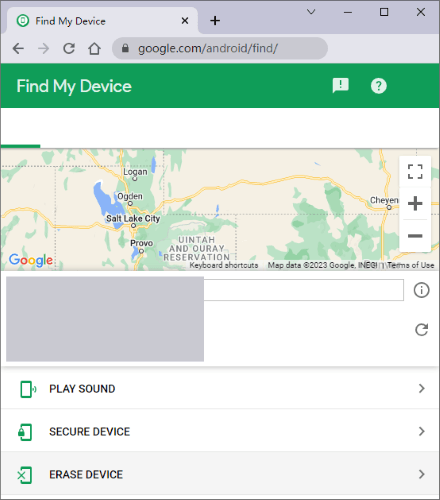 Step 4: On the following screen, click the Erase Device button.
Step 5: You might need to sign in to your Google account once more. When prompted, click the option to confirm.
Also read:
How to Delete Documents and Data on Samsung Completely
How to Wipe Browsing History & Call History from Samsung Galaxy?
1.3 How to Unlock Samsung A21 Phone Forgot Password with Android Multi Tools
Using Android Multi Tools, you can perform various actions on your Samsung Galaxy A21, such as unlocking it, resetting Gmail settings, removing pattern locks, and eliminating PIN codes. To increase the success rate for A21 password bypass, please enable USB debugging on Samsung through the Developer options in the Settings menu before going any further. Next, how can you unlock the Samsung A21 in this way?
Step 1: Power up your computer and launch a web browser.
Step 2: Download Android Multi Tools. Once the installation is complete, open the app.
Step 3: Simultaneously press either the Volume Up and Power buttons or the Volume Down and Power buttons on your mobile.
Step 4: When your Samsung A21 is in the Android boot mode, connect it to this computer using a USB cable.
Step 5: After successfully connecting, go to the Android Multi Tools and choose option 5.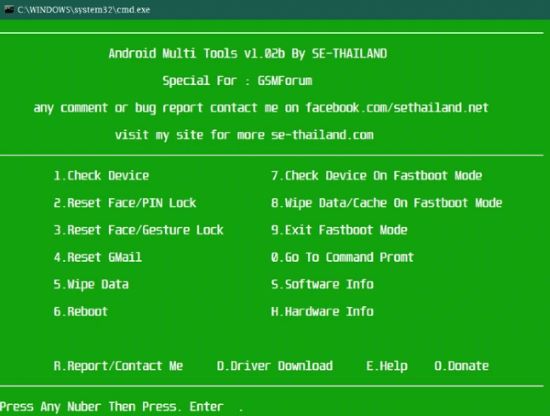 Step 6: Finally, press the Enter key to unlock your Galaxy A21 and the unlocking process will be completed.
Part 2. How to Unlock Samsung A21 Phone Forgot Password [Not Erasing Data]
2.1 How to Bypass the Lock Screen on Samsung A21 via Find My Mobile
Before proceeding, ensure that the following conditions are satisfied:
Your device should be powered on and connected to either Wi-Fi or a mobile network.
Your Samsung account must be registered and associated with your device.
The Find My Mobile and Remote Unlock features must be activated before you forget your password.
Next, comply with the steps below to learn to unlock the Samsung A21 phone forgot password using Find My Mobile:
Step 1: Open a web browser and go to the Find My Mobile website. Click on Sign in.
Step 2: Provide your Samsung account email and click Next.
Step 3: Enter your Samsung account password, then click Sign in. Now, select your device from the list on the left side of the screen. You'll see your device's location on the map.
Step 4: On the right side of the screen, click Unlock.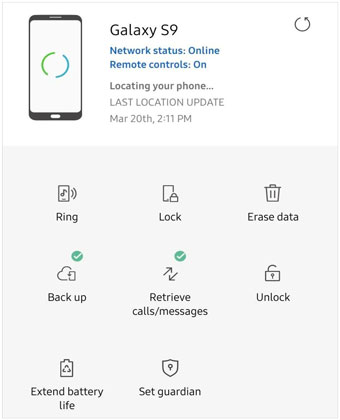 Step 5: When prompted, enter your Samsung account password and click Next. Your phone will be unlocked, and a green checkmark will appear on the Find My Mobile screen.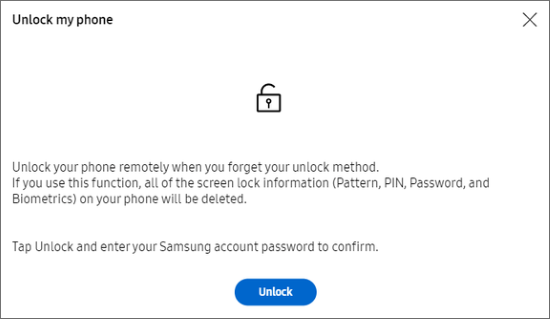 2.2 How to Unlock Galaxy A21 Phone Forgot Password by Answering Security Questions
When you utilize Google to back up your passwords and settings, you have the option to select a security question as a recovery measure in case you forget them. Here, it's essential to emphasize that this method requires that you have already established and can recall the security questions linked to your Google account.
How do you bypass the lock screen on Samsung A21 by answering security questions?
Step 1: After making several unsuccessful attempts, you will see the Forgot pattern option.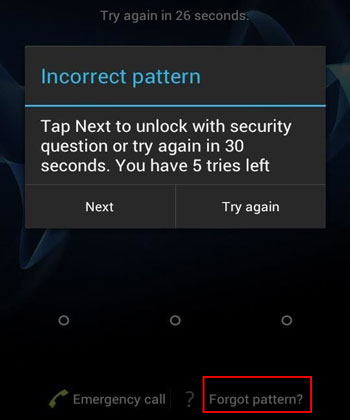 Step 2: Tap on this option, then choose Answer Questions.
Step 3: You will be prompted with your Google security questions, which you previously set up in your account. Provide the correct answers.
Step 4: If you answer the security questions accurately, your Samsung Galaxy A21 will be unlocked.
Step 5: Following a successful unlock, you will be prompted to create a new PIN, Password, or Pattern Lock for your Samsung Galaxy A21.
You might also need:
How to Unlock Samsung Tablet without Losing Data? [6 Proven Ways]
How to Unlock Samsung Phone Pattern in 10 Simple Ways?
2.3 How to Unlock Samsung A21 Phone Forgot Password via Android Unlock [Higher Success Rate]
Are you in search of a reliable solution to unlock your Samsung Galaxy A21 without risking data loss? If that's the case, Android Unlock should be your top choice. With the highest success rate, this program consistently fulfills its commitment to Android users, guaranteeing favorable results. Moreover, it excels in unlocking nearly all types of lock screens effectively.
How can Android Unlock be advantageous for you?
Unlock Samsung A21 phone forgot password in minutes without data loss.
Eliminate various screen lock types, including pattern, PIN, password, fingerprints, and facial recognition.
Unlock Samsung and LG phones without affecting data integrity.
Bypass Android FRP Google account with no requirements.
Work for 2000+ Android devices, including Samsung Galaxy A21/A51/A71, Galaxy S23/S22, Ultra/S22+/S22/S21/S21+/S21, Motorola, HTC, Xiaomi, Sony, LG, Google, etc.
How to unlock Galaxy A21 phone forgot password using Android Unlock?
01Install and launch the software on your computer. Then, go to the Screen Unlock section. Following that, connect your Galaxy A21 to the PC using a USB cable and click Unlock Android Screen to proceed.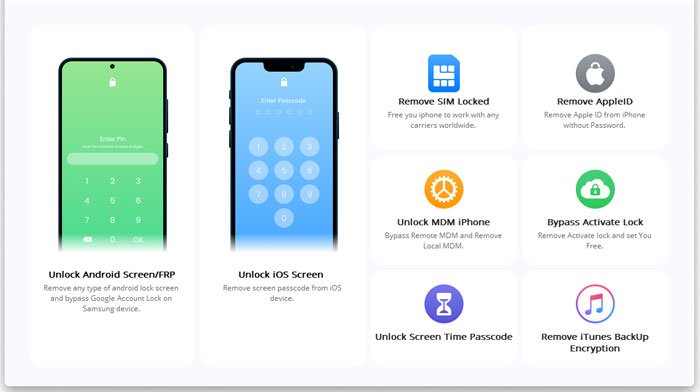 02Now, select the appropriate device information from the provided lists and click on Next.
03Abide by the easy on-screen instructions to enter Download Mode on your Samsung Galaxy A21.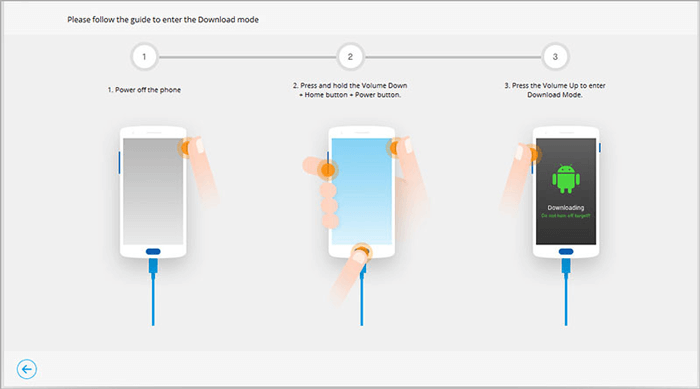 04The software will then automatically download the necessary recovery package for your A12 and proceed to unlock the lock screen without delay.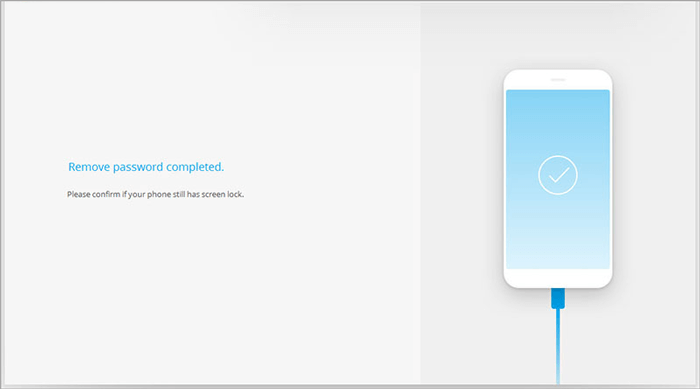 Round Off
Upon going through this post, are you inclined to perform a factory reset on your Samsung A21 without concerns about losing your data? Or would you prefer to explore alternative methods that allow you to regain control of your phone while preserving its content?
If the latter option aligns with your preferences, you have three choices: using the Find My Mobile feature, responding to Google Security Questions, or utilizing Android Unlock. However, for those who may not have configured their Samsung devices properly before it's too late, the 3rd-party software may be the most appealing, not just due to its commendable success rate.
Related Articles:
5 Ways to Unlock Android Phone if You Forgot the Password
Get Unrestricted Access: How to Unlock OnePlus Phone
Everything You Need to Know About Network Unlock Code for Samsung
Best Samsung Unlock Tools to Unlock Your Samsung Phone in 2023
[Fixed] How to Unlock Locked Android Phone without Losing Data
[5 Means] Samsung Galaxy A12 FRP/Google Account Bypass with/Without PC