With new smartphones being released almost every day, maybe you are among those who can't wait to acquire the latest one. So what will you do with the old Samsung smartphone? Will you sell it? Will you give it to somebody else? If yes, then you'd better completely delete everything on it. Thus, you need to learn how to delete everything on a Samsung phone.
There is a lot of personal info on the old smartphone, including contacts, videos, messages, and photos which, if not permanently erased, can be accessed by the wrong people, including hackers. Obviously, you would not want that. Follow the guide closely to know how to erase your Samsung phone.
Part 1: When to Delete Everything on Samsung Phone
There are several circumstances under which you must erase all the data on your Samsung phone.
The main reason is acquiring a new device and giving the old one to somebody else. Disposing of your memory card or selling it to somebody else may force you to erase it. You don't want your personal information to be accessed by someone else, right? Thus, you have no option but to erase all your data before you get rid of your phone.
Another situation is when you experience software errors on your phone. Sometimes your Android smartphone can be invaded by a virus. You may need to delete everything from the phone to get rid of this virus successfully.
Sometimes you need to free up some space on your phone or feel bored with your media files. Then also you need to erase the memory on your Samsung phone.
Part 2: How to Delete Everything on Samsung Phone
Below are the methods you can use to completely erase everything from a Samsung phone.
Method 1. How to Erase Everything on My Samsung Galaxy via Coolmuster Android Eraser
Coolmuster Android Eraser lets you permanently erase all your data from your Samsung smartphone in just one click. This eraser scans all the data on the phone before deleting it. Once this information is deleted, you cannot retrieve it again, because the program will overwrite your data automatically.
The software allows you to delete text messages, contacts, music, videos, bank accounts, browsing records, passwords, etc. It supports most Android tablets and smartphones, including Samsung, HTC, Motorola, LG, Sony, Xiaomi, Honor, OPPO, Vivo, and more. As long as your device runs Android OS 4.0 or upper, it can work for it well.
There are three levels for cleaning; Low mode, Medium mode, and High mode. The High mode writes over the existing files three times, making it impossible for anybody to interpret your deleted data. Thus, it is the safest method to erase everything from Samsung.
Key features of this Android data eraser:
* Thoroughly delete everything from a Samsung phone.
* Support any type of file, for example, password, account info, audio, books, apps, call logs, music, photos, videos, contacts, text messages, etc.
* Three levels are available: Low, Medium, and High.
* Delete not only your existing data but also deleted data.
* Work with various Samsung devices, like Samsung Galaxy S23 Ultra/S23/S22/S21/S20/S10/S9, Samsung Galaxy Tab S8 Ultra/Tab S8/Tab S7/Tab S6, Samsung A/F/M series, etc., and other brands of Android mobile devices.
Download Coolmuster Android Eraser below.

Free Download for PC
How do I erase everything on my Samsung phone with this data eraser:
01Download, install and launch Coolmuster Android Eraser on your computer. Then connect the Samsung smartphone to the same PC through a USB cable and allow USB debugging. Tap OK or ALLOW as prompted.
02Click the Erase icon and tap the Medium icon beside Security Level. Then select a security level on the interface, and type the delete word to confirm your operation.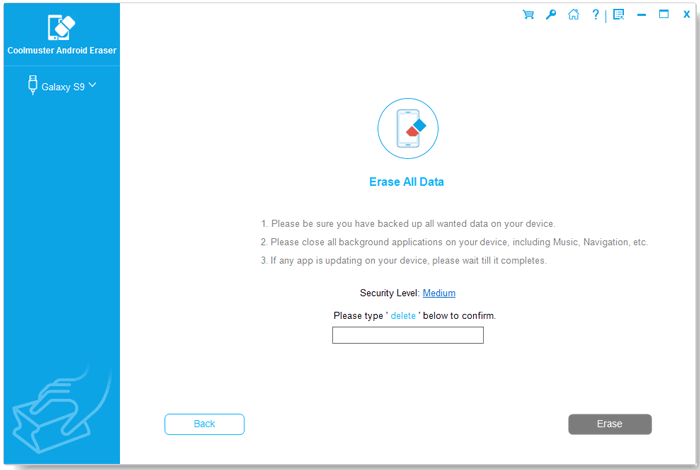 03Tap Yes on the Samsung smartphone to approve data removal. Wait as the software scans and erases your data. The software will wipe all the files on the Samsung device. Once done, perform the factory reset on your Samsung phone. Then there is no possibility of restoring your Samsung data.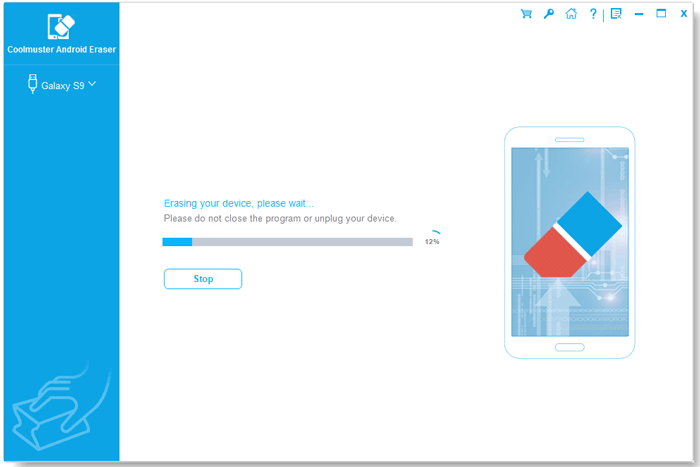 See more:
Efficiently Wipe a SIM Card with Android Safely? (Full Guide)
4 Ways on How to Delete Music from iPhone But Not iTunes
Method 2. How to Remove All Data on Samsung Using Find My Mobile
Find My Mobile is an application offered by Samsung Inc that helps you find your lost phone by switching on the remote control. You can turn to GPS to recover your Samsung device in case it gets lost. In addition, this app can also wipe everything from your Samsung phone.
Below is the procedure for erasing your Samsung phone using Find My Mobile:
Step 1: Go to the Find My Mobile official website from your PC and log in to your Samsung account using your password.
Step 2: You will see a Locate my mobile option if you have more than one handset. Choose the device to erase. Click Erase data from the interface.
Step 3: Click ERASE and log into your account. Then click OK to begin the reset process. Make sure that the device is connected to the internet so that the operation can occur.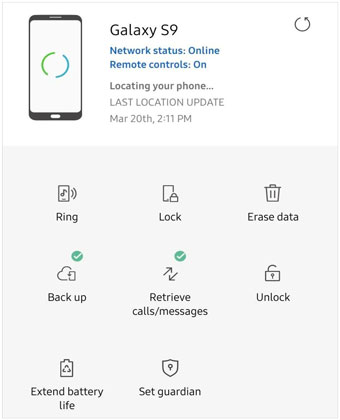 Learn more: If you want more reliable eraser tools for Android, open this guide to browse the list.
Method 3. How to Clear Data from My Samsung Phone via Factory Reset
Factory resetting is a common method of deleting data from mobile phone devices. It is indeed a convenient method because it is fast and doesn't require a computer. However, the main problem is that you cannot permanently delete your data with a factory reset, which means somebody can restore your erased data through a recovery app.
Below is the procedure for clearing data from a Samsung phone through a factory reset:
Step 1: If you want to retain your important files, you can transfer them to another device, like a hard disk or a PC.
Step 2: Once you have backed up your data, open Settings, the app on your Samsung device, tap Backup and reset, and then choose Factory data reset.
Step 3: Click the Reset Device option to delete all the data on the device. This will remove all your data on your Samsung phone. The process will take some time, and your phone will automatically restart when it is completed.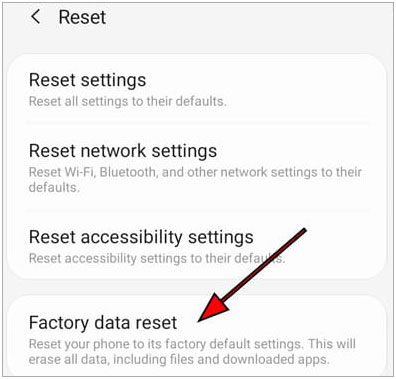 Guess you like: Want to permanently delete your photos from your Samsung Galaxy phone? You can utilize these 3 methods.
Bonus Tip: What to Know Before Deleting Everything on Your Smartphone
1. You should back up your data, including call history, text messages, contacts, photos, etc., which you would like to export to your new device on a PC.
2. Remove your SD card, SIM card, or any other external storage, so you don't erase them.
3. Sign out of your social media accounts like email, Google Drive, etc.
Conclusion
In a nutshell, erasing data on a smartphone won't be an issue anymore. If you go for factory resetting, you ought to overwrite the files manually. Why not choose a more convenient and effective way? Use Coolmuster Android Eraser to completely erase data on your Samsung phone or tablet.
Related Articles:
How to Delete Snapchat Messages for Good in These 7 Situations?
How to Remove Duplicate Songs from an Android Phone Effortlessly?
How to Delete iCloud Account without Password (iOS 16 Supported)
How to Clean Junk Files on Android Easily? 5 Ways You Never Think of
How to Delete Files on Android? Never Miss the Top 3 Ways
How to Connect Samsung Phone to PC Wirelessly or with USB Cable? (5 Options)