"How to unlock my Samsung phone if I forgot the password without losing data? "
It's rare to find a person without a smartphone, especially Samsung. With billions of people now using Samsung, it is undoubtedly one of the most sought-after gadgets. Most people use a lock screen feature to lock their devices to protect data from unauthorized access and keep their information private. But, we may sometimes not remember the lock code we set, which makes it tricky to unlock the device. It can be a real pain if you have no idea how to unlock it without losing your files. But worry not as we've got your back.
Here we'll share amazing ways to solve it. Let's get right into it!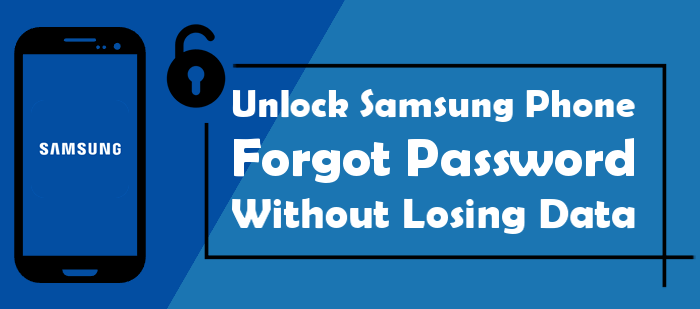 Part 1. Can You Remove Android Pattern Without Losing Data?
Yes. It is possible to remove an Android pattern lock without losing data.
The world we live in today is digitalized, and smartphones play a pivotal role in keeping our data. Even though we rely on technology, we should also consider our privacy. That is why we use different security passcodes on our smartphones to safeguard our data.
Generally, there are lots of ways to remove a lock from Samsung phones. But, we are looking for a way to remove the lock without data loss. Factory resetting a Samsung device will erase the data. Fortunately, there are other methods to unlock forgotten patterns without losing data. The next part introduces these options in detail, so read on.
Read more:
How to Bypass Face Recognition on Android? [Step-by-Step Guide]
How to Fix Android Touch Screen Not Working - Can't Unlock Issue In Minutes? (15 Tips)
Part 2. How to Unlock Forgotten Pattern Without Losing Data
There are plenty of ways to unlock Samsung devices. But these are the safest. Go through them to know how to regain access to your Samsung.
Method 1. Bypass Samsung Screen Lock via Android Unlock on Windows [Quickest]
Why stress yourself when you can use Android Unlock (Windows) to unlock your Samsung device? It's a proven app that can remove the lock screen from Samsung and other Android devices while keeping the files sound. This sets it apart from the rest of the tools.
Everyone can use this software without any difficulties. Whether you forgot your screen password or got a secondhand device and have no idea the password used; you can use this app to get past the screen lock.
Android Unlock supports most Android brands, such as Samsung Galaxy S23/S22/S21/S20/S10, LG, Huawei, Xiaomi, Motorola, and more.
Key Features
Steps on how to unlock Note 20 ultra without losing data:
01Run the program on the computer after installing it. Use USB to link the Samsung to PC. Once done, choose Screen Unlock.
02On the new screen, choose Android. Next, choose Unlock Android Screen/FRP > Unlock Android Screen from the options given to proceed to unlock the Samsung screen lock.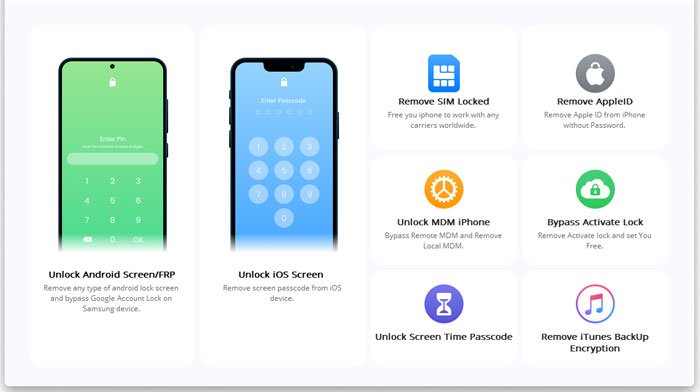 03Choose your device brand, Samsung, and choose Remove without Data Loss and tap Next after choosing the right info about your device.
04Confirm the unlocking process by entering 000000 and hit Confirm after that. Put the Samsung device in Download Mode and start the unlocking procedure.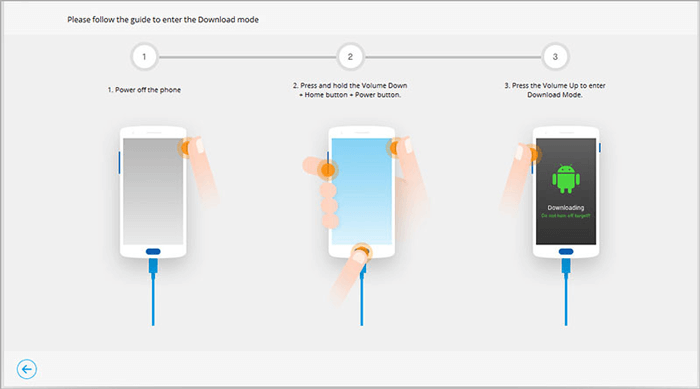 05Wait for the process to complete, and your device will have no screen lock.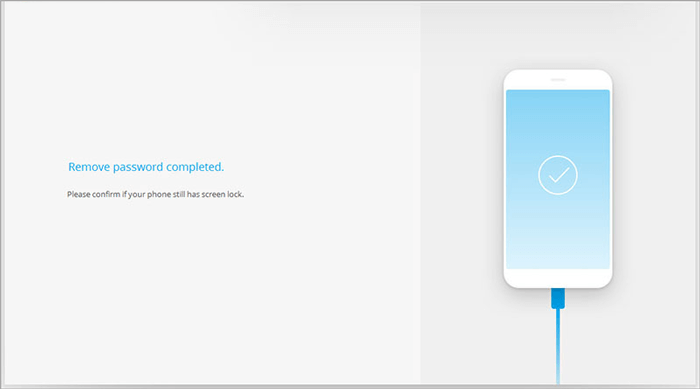 Method 2. Unlock Samsung Phone Using Google Account
Using the Forgot Pattern feature is also one of the easiest ways to remove a Samsung pattern lock without risking your files. You just have to keep entering an incorrect passcode until you see a Forgot Password option. It is one of the simplest ways to get rid of your screen lock.
Here are steps to remove Samsung A12 pattern unlock without data loss:
Step 1: Draw the incorrect pattern a few times till you see the option of Forgot Pattern. Click on it to proceed.
Step 2: Enter Google account information to log into your Account Unlock page. Tap Screen Unlock from the Settings menu and choose the lock you wish to use on the device.
Step 3: Reset a new lock on your phone or decide not to include one. After changing the lock, you'll get back to the home screen.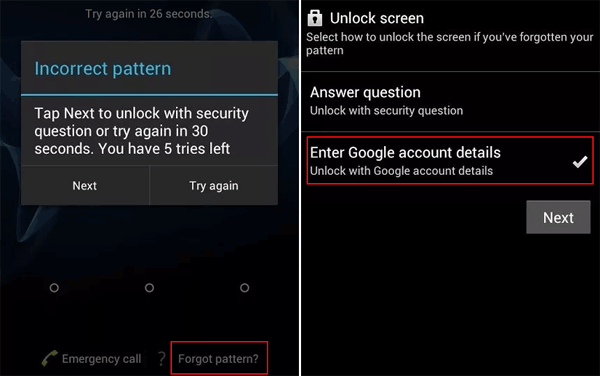 Method 3. Reset Samsung Password Using Find My Mobile Feature
Do you want to reset your Samsung Galaxy S10 password without losing data? A great option is Find My Mobile, an in-built feature available on all Samsung smartphones. It is a handy feature for all Samsung users who have forgotten their screen password and want to bypass it. However, you are required to have logged into your account before it's locked. This way, you can effortlessly reset your passcode.
Here are steps for Samsung Galaxy S10 password reset without losing data:
Step 1: Visit Find My Mobile site on any browser on your computer. Tap the Log in option to access your account.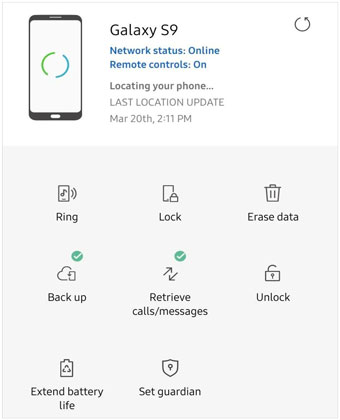 Step 2: After that, proceed to the Unlock option. Follow the instructions to reset your PIN and unlock the device.
Method 4. Remove Samsung Screen Lock with ADB
ADB, also called Android Debug Mode, is a popular tool for removing a Samsung pattern lock without data loss. Even though it's known to work most of the time, it also has downsides.
For example, it will work if USB debugging is enabled on Samsung devices before it gets locked. Also, the computer you're connecting the device to should be trusted. Besides, it will be a complicated process if the encryption is turned on on your phone.
But if all these conditions are met, then go ahead and follow these steps on how to unlock the pattern lock in Samsung without losing data:
Step 1: Download the ADB on the PC, then run it. Download all the required packages on the computer.
Step 2. Link the Samsung to a computer with a USB, then open the command prompt. Enter ADB shell rm /data/system/gesture.key command, then hit Enter on your computer.

Step 3. Reboot the Samsung device; you'll find the lock screen disabled temporarily. You should then be able to set up another lock you can remember before restarting it again.
Method 5. Unlock Samsung Pattern Lock by Booting to Safe Mode
An easier and free way to unlock a Samsung phone is to boot it into safe mode. If you used a third-party application to lock your Samsung, this option can help you remove the lock screen. Besides, you don't need a computer.
Here are steps on how to unlock the Samsung phone pattern lock without factory resetting:
Step 1: Hold Power key on your Samsung and release it when the Power menu shows. Choose Power off.
Step 2: Tap OK when asked to reboot to safe mode. Once you confirm, the Samsung device will get into safe mode.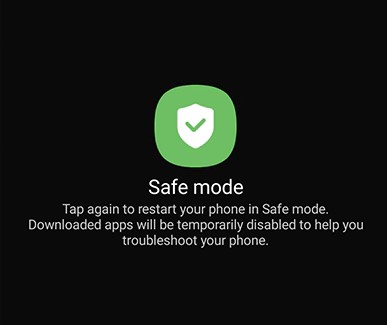 Step 3: Find the third-party application locking your Samsung phone, then uninstall it. Reboot the phone and start using it without the lock screen.
More relevant articles:
How to Unlock LG Phone? Check the 6 Methods Introduced Out!
OPPO A3S Pattern Unlock: How to Unlock OPPO Pattern Lock in 4 Hassle-free Ways
Conclusion
Unlocking a Samsung passcode without losing data isn't a challenge anymore. The methods mentioned above will help you remove a lock screen from any Samsung device safely. However, some approaches come with downsides and may not be quite helpful.
One powerful application that works like a charm in unlocking the Samsung lock screen is Android Unlock (Windows). It removes all kinds of locks without a fuss.
Related Articles:
5 Ways to Unlock Android Phone if You Forgot the Password
How to Unlock Samsung Tablet without Losing Data? [6 Proven Ways]
4 Methods to Remove Apple ID from iPad Without Password (Easy & Quick)
Best Samsung Unlock Tools to Unlock Your Samsung Phone in 2023
[Fixed] How to Unlock Locked Android Phone without Losing Data
Bypass Google Account Samsung? 5 Effective Ways That You Can't Miss