If you purchased a SIM locked to a carrier and want to unlock it to use the device on another carrier, you can easily achieve that with an iPhone unlock chip. Often a device is locked to a network if you get it through the network carrier company. Thanks to technological advancements, it is very easy to unlock a SIM that's locked on a carrier. You may use iPhone unlock chips to unlock any iPhone that's locked on a network. Actually, it's one of the easiest ways to unlock a network locked iPhone.
You can use a SIM unlock chip almost everywhere to unlock an iPhone or any other device. In fact, it's entirely legal. Additionally, there's no issue if you unlock an iPhone using different means. But, remember that when you use a SIM unlock chip, you will be breaking the restrictions on the device's carrier. As such, if your iPhone is still on a contract with the specific carrier, and hasn't finished making payment yet, you will likely run into some problems.
The worst part is that your iPhone might not work anymore after unlocking it with the iPhone unlock chip. Therefore, to avoid problems like that, understand your carrier first and learn some of the conditions set on the device. This guide has all the details regarding the unlock chip, how it works, and whether it's a good way to unlock an iPhone.
Part 1. What Is Chip Unlock?
Chip unlock means unlocking a device that's locked on a network with a small chip so that you can remove the limitations. It can also be termed a SIM unlock chip. Usually this unlock chip must be wrapped around the regular mobile phone SIM. Once you prevent any communication between your phone and the SIM card, its functioning will also change. This lets you use a locked phone on another network of your choice.
This can be essential when your iPhone device is locked to another carrier and wishes to be unlocked without the help of the network provider.
Part 2. How Does iPhone Unlock Chip Work?
This chip operates by deceiving the iPhone into thinking it's not using the SIM card. The iPhone unlocking chip is made to fake the IMEI number of the iPhone and its authentication key, allowing it to operate with a GSM provider.
Once you wrap the carrier unlocking chip around your SIM card, it will change any communication happening between the iPhone and SIM. As such, the microcontroller of that unlocking chip emulates the IMSI number, allowing you to operate on any mobile network apart from the one permitted with the cricket network.
Also read:
How to Unlock Phone Free with IMEI Number [Detailed Guide]
How to Bypass iPhone Passcode Step by Step? (5 Amazing Ways)
Part 3. Where to Get Unlock Chip for iPhone?
Unlock SIM chips are available on eBay, Amazon, etc. Apart from that, you may also find them in stores. However, you should purchase them online and check the sender's feedback before you can purchase the chip to ensure you're getting a good product.

Usually, a Turbo SIM card comes with instructions on how to program it. Unluckily, most iPhone unlocking chips require an iPhone that has already been jailbroken before you can use them. If your iPhone hasn't been jailbroken, you could still use the unlock chip, but you might not use all its features to the maximum.
Part 4. How to Use SIM Unlock Chip for iPhone?
It is easier to use the sim card unlock chip. You must insert the chip into the iPhone and the regular SIM. The chip then tricks the iPhone into believing it is unlocked even when it is not. Here are the steps to unlock SIM lock on iPhone:
Step 1. Start by inserting the Turbo SIM into an iPhone. You should wrap the SIM around the regular SIM and then insert it to the SIM tray. This will enable you to use the iPhone on any carrier you wish including international carriers.

Step 2. After inserting the wrapped SIM into the iPhone, you will have to edit the SIM/ICCID number when the pop up screen shows after rebooting the device. After that, you must locate the SIM/ICCID number field on your phone's screen, then enter the Turbo SIM's ICCID Number.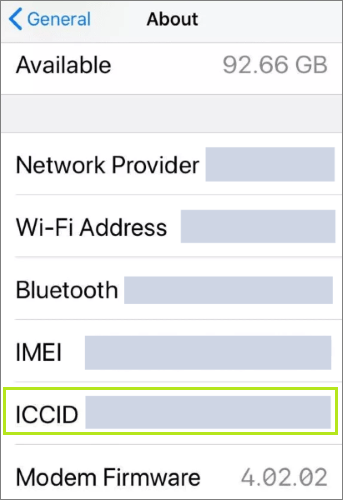 Step 3. After entering the right ICCID number, you should remove Turbo SIM from the iPhone. Once done, you can now use the iPhone on any carrier.
Read more:
[Full Guide] How to Jailbreak Your iPhone to Unlock Carrier
4 Methods to Remove Apple ID from iPad without password (Easy & Quick)
Part 5. What Are the Pros & Cons of Unlock Chip for iPhone?
Every time you use an unofficial method to conduct any task, be sure it will get some benefit but only for a short time. Afterwards, it will encounter some losses. Below are the pros and cons of unlock chip for iPhone:
Pros
Not very expensive.
Work on most iPhone models.
Work with several carriers in different countries.
Make it possible to get into an iPhone.
Cons
Unlock only iPhones & iPads. Not support Android devices.
Can reduce battery life.
When you remove the chip from the iPhone, it will get locked again.
There could be problems with the SIM card slot and the regular SIM.
Might destroy the phone or SIM and needs some tech skills.
Can't remove the activation lock.
Bonus: How to Use a Professional Way to Unlock SIM lock?
Sometimes, you may not find a good SIM card unlock chip to unlock the iPhone locked to the network carrier. In such a case, you may give the iOS Unlock a try. The software unlocks network-locked iOS devices in a few clicks. Besides, no tech skills are needed; you don't even need an expert to help. The software does all the work for you.
iOS Unlock is the best iOS unlocker tool to fix all carrier SIM problems in most scenarios, including iPhone locked to the network. In addition, it unlocks the iPhone for international use.
Top features of iOS Unlock:
Unlock an iPhone that's locked on the network, and you may use it on any carrier.
Support AT&T, T-Mobile, Sprint, and Verizon carriers and can unlock any SIM card locked on them.
Remove screen locks on iOS devices.
Remove MDM locks without data loss.
Unlock Apple ID/Face ID without the passcode.
Easy to use.
SIM locks can bring problems to users. Since we only depend on this element to connect with other people worldwide, locking it could limit many functionalities.
To remove SIM locks hassle free with iOS Unlock, check these steps:
01Download, then install the iOS Unlock on the computer. Run it, and when you get to the Toolbox, choose Screen Unlock. On the next window, choose the Remove SIM locked function so that you can activate the procedure.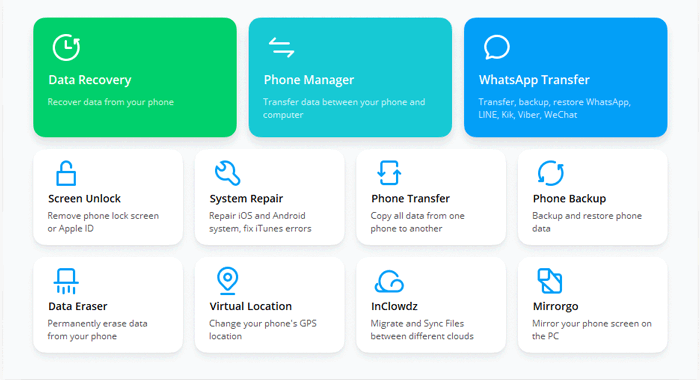 02Connect your iPhone to your computer and hit Start.
03The tool will automatically detect your iPhone and show all the details on the screen. Confirm that all the details are correct and hit Unlock Now. You may need to jailbreak your iPhone when asked.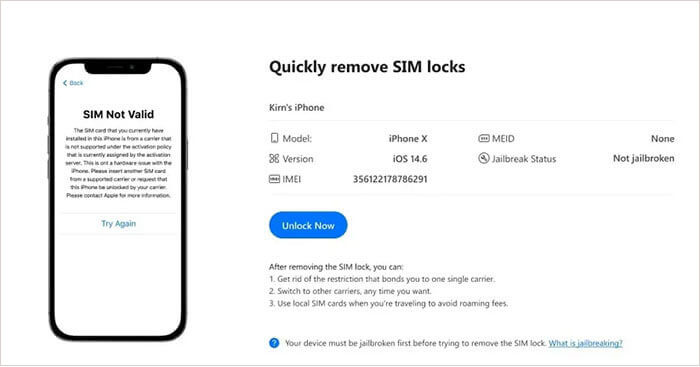 04Now perform some tasks to help remove the unlock on the SIM. Proceed to Settings > WLAN. Find WiFi networks you've connected with, then click Forget This Network. Delete the network for the My Networks lace and disable WiFi. Take your SIM and insert it again into your device, then hit Continue on your PC.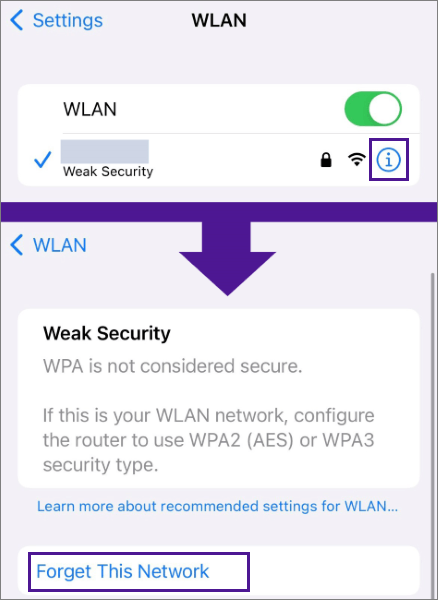 05You will see a prompt window showing the progress of the SIM unlocking procedure. After it completes, you will see a window with a completion message. Hit Done and close the procedure.
In case you're in need:
How to Unlock a Stolen iPhone without Passcode in 3 Ways?
How to Unlock iPhone with Broken Screen
Conclusion
Unlocking an iPhone can be a real hassle, but it is unavoidable at some point. It might become necessary when traveling abroad or just wanting to switch network carriers. In short, the flexibility with unlocked mobile phones is still unmatched.
Even though the unlock chips are straightforward and fast solutions, make sure you're conversant with how they operate so as not to end up with a damaged SIM card or device. The best and safest way to unlock your iPhone SIM is to use iOS Unlock. The software can unlock a SIM card and use your iPhone device on any carrier.
Related Articles:
How to Remove Forgot iPhone Passcode without Restore? (3 Simple Ways)
8 Top-ranking iPhone Unlock Software to Unlock Your iPhone without Passcode
Top 11 iCloud Bypass Tools: Remove Your iCloud Activation Lock
5 Ways to Unlock Android Phone if You Forgot the Password
How to Bypass LG Lock Screen without Reset? [Solved]