Are you locked out of your phone? It's costing Americans $48 million annually to unlock their devices. Fortunately, you can use IMEI number on phone unlock. The IMEI number is incredibly helpful in unlocking the network restrictions on our phones. It is also invaluable for protecting our mobile devices from theft or loss. This article will teach how to unlock phone free with IMEI number.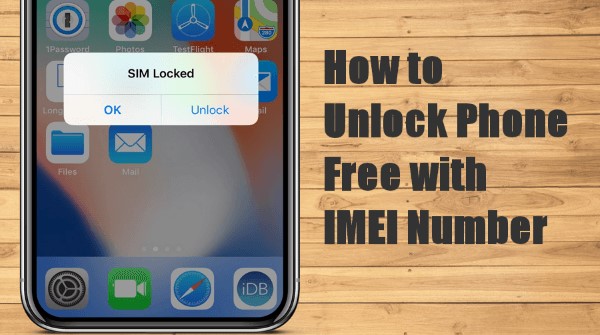 Part 1. What Is IMEI Number & How to Know Your Phone's IMEI Number
IMEI (International Mobile Equipment Identity) number is a unique identifier code assigned to every mobile device. This 15-digit number serves essential purposes like network blacklisting, unlocking, and tracking.
Follow the below instructions to retrieve your phone's IMEI number:
1. Locating Your Android Phone's IMEI Number
If you're an Android phone user looking for a free IMEI sim unlock method, below are the two ways of locating your Android phone's IMEI number before you start:
Way 1. Dial "*#06#" to Find Your Android Phone's IMEI Number
Follow the steps below to locate your Android phone's IMEI number:
Step 1. On the mobile device, open the phone app, dial "*#06#", and hit the "Call" button.
Step 2. A new window will appear displaying your Android device's IMEI number. Record the 15 digits IMEI numbers because you will require the IMEI number in the next part of the article.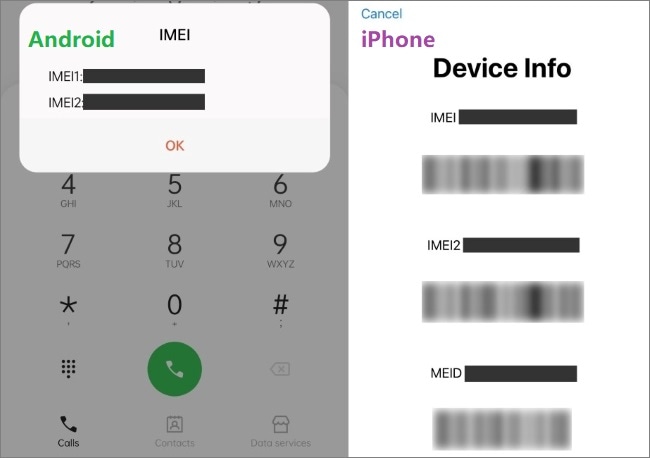 By the ways, this method also works for iPhone.
Way 2. Use Your Android Device's "Settings" Application to Find The IMEI Number
The settings application on your Android device offers an easy way to locate the IMEI number. Follow these steps to find out how:
Step 1. Launch your Android phone's "Settings" application and tap the "About Device" option or similar one. Then click on the "Status" option.
Step 2. Scroll down the screen to locate your phone's IMEI number. Copy the IMEI number for future use.
Read more relevant articles:
[Solved] How to Copy Contacts from Android Phone to SIM? (Simple & Effective)
How to Wipe a SIM Card with Android Safely in 2023? (Full Guide)
2. Locating Your iPhone's IMEI Number
Did you know that IMEI numbers are located on the back panels of iPhone 6, iPhone SE and iPhone 5 models? However, later models do not have their IMEI numbers on the back panels.
Except for dialing "*#06#", you can also follow the below guidelines to find the IMEI numbers:
Locate your iPhone's IMEI number using the "Settings" application by following the steps below:
Step 1. Launch your iPhone's "Settings" application and hit the "General" option.
Step 2. Tap the "About" button, and a new screen will appear. Scroll down the new screen to locate your iPhone's IMEI number and copy it for future use.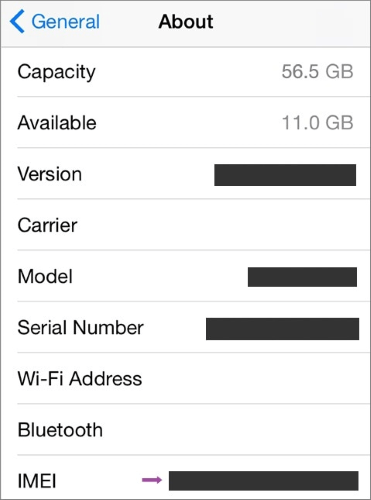 You can also try these methods: Check the back panels, the battery, the SIM tray, or the package box of your phone. If none of these works, you can contact the support team of your device for help.
Also see:
Contacts & SMS Recovery for SIM Card in iPhone
How to Copy Contacts from iPhone to SIM (4 Feasible Ways)
Part 2. Ways of Unlocking Your Phone
Below are some ways of unblocking your phone:
Method 1. How to Unlock Phone with IMEI Number for Free
You can unlock phone through contacting your original carrier and providing them with a few important details about yourself and your phone. Carrier networks place locks on phones to prevent SIM card swapping. However, you need to prepare some information before reaching out to your phone's original carrier:
The name of the listed phone owner - You will need to provide your original phone carrier with the name of the listed phone owner.
Your phone number - You will have to provide your phone number associated with the locked device.
The IMEI number - As mentioned earlier, you shall be required to provide the IMEI number of your locked phone.
The proof of purchase - You must provide proof of purchase for the device. Depending on your carrier, this might include a receipt or an online printout from their website.
The answers to security questions - Keeping track of your carrier account's security questions answers is important, especially if you plan to unlock your phone with an IMEI number.
Once you have prepared the information discussed above, you can be able to unlock the phone using the IMEI number.
Follow the guide below:
Step 1. Reach out to the phone's original carrier through their support number. Provide the information we have discussed in this article to the agent attending to you. Your phone's carrier support team will then begin unlocking your phone once you provide the required information.
Step 2. Wait for the support team to provide you with a code that you shall use to unlock IMEI for free. The waiting period may last about one month, so keep checking for the code and instructions in your email.
Step 3. Follow the instructions provided by the carrier support team and enter the free IMEI unlock code on your mobile device. After you finish the IMEI unlock free procedure, you may replace your SIM card using a different carrier.
Note: You only require to follow the steps discussed above to carry out the free IMEI unlocking procedure. However, using IMEI unlock code free may take a lot of time because you will have to wait for the carrier to send you a free IMEI unlocker code for about 30 days. If you want a faster way to unlock your Phone, use a professional tool (we'll introduce one for you to use in the next method).
Method 2. How to Use a Professional Tool to Unlock Your iPhone
Using IMEI unlock for free to unlock your iPhone may not be the best way to unlock your phone. Why don't you use a professional phone unlocking tool and gain access to your phone again within a few minutes? Many professional phone unlocking tools are available, and iOS Unlock is one of the best iPhone unlocking tools.
iOS Unlock supports various iPhone models. The service unlocks your device within a few minutes and offers higher success rates than free IMEI unlock code providers. It fixes issues related to carrier SIM cards, such as "SIM Locked", "SIM Not Valid", "SIM Not Support", "No Network Serves", and more. In addition, it helps you unlock your iPhone quickly without losing data.
iOS Unlock Key Features:
Use different SIMs without carrier restrictions.
Simple and short unlocking process.
Enable you to bypass iCloud activation locks.
Unlock Touch ID, Face ID, Apple ID, and more.
Unlock various iPhone models, such as iPhone14 Pro/14/13 plus and more.
To use iOS Unlock to unlock your phone, follow the below simple steps:
01Install, and launch iOS Unlock on the PC. Click on the "Screen Unlock" option from the available tools and connect your iPhone to the computer using a lighting cord. Tap on the "Trust" popup on your iPhone to authenticate the connections.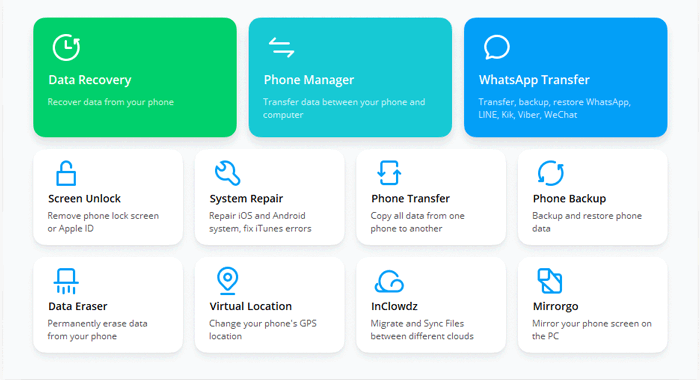 02Click on the "Remove SIM Locked" option on the new screen that appears and hit on the "Start" button to begin the procedure.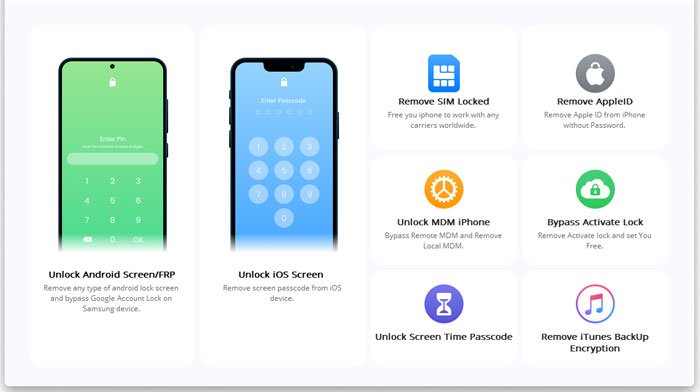 03Confirm that the iPhone's details displayed on the screen are accurate. Correct the information that is not correct and click on the "Unlock Now" button to move on to the next step.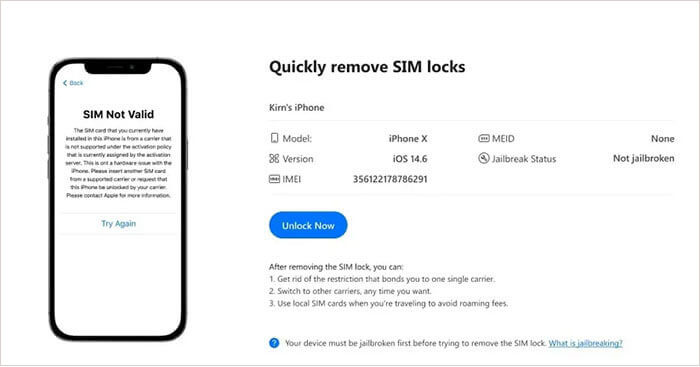 04Some iPhones will require jailbreak at this step. Jailbreak your iDevice and move to the next step. Remove any WiFi connection that your iPhone is connected to and click on the "Forget This Network" button that is located in the "Settings" app under the "WLAN" option. Insert your SIM card and hit the "Continue" button to move to the next step.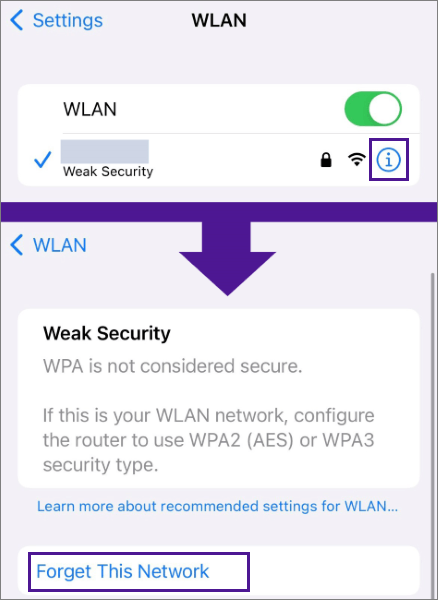 05You can now view the progress of the unlocking. Click on the "Done" button when the unlocking process is completed.
In case you need:
How to Check if iPhone Is Unlocked without SIM Card [Proven Guide]
[Simple Guide] How to Delete Apple ID without Password on iPhone?
Conclusion
IMEI unlocking for free can be time-consuming and unreliable. Instead, you can utilize a professional tool like iOS Unlock to unlock your phone quickly and without losing data. It's secure and offers higher success rates than the free IMEI unlock code providers.
Related Articles:
How to Bypass LG Lock Screen without Reset? [Solved]
Top 11 iCloud Bypass Tools: Remove Your iCloud Activation Lock
How to Unlock a Stolen iPhone without Passcode in 3 Ways?
How to Bypass Android Lock Screen without Google Account in Top 6 Ways? (Proven)
How to Unlock iPhone with Broken Screen
4 Methods to Remove Apple ID from iPad without password (Easy & Quick)