How to jailbreak iPhone to unlock carrier is a highly sought-after question among users. It allows you to switch carriers or SIM cards if your phone has been locked to one network carrier. Apple's tight security measures and stipulations can make it challenging to regain complete control of your device, but jailbreaking the iPhone is often considered the only way out when seeking freedom from its restrictions.
Before you jailbreak your iPhone, you will likely ask yourself a question like, does jailbreaking an iPhone unlock the Carrier? The answer is yes! Unlocking the iPhone's Carrier through a jailbreak grants more freedom than ever. We are delighted to provide some helpful advice on methods of unlocking an iPhone by Jailbreaking. Continue reading for more information!
Part 1. The Meaning of Jailbreaking and Unlocking Carrier
Jailbreaking your iPhone is an innovative way to boost its capabilities by permitting the installation of unofficial apps. This process requires a special tool that inserts specific files into your device, thus enabling firmware modifications and ultimately unlocking amazing new features for you to explore!
Unlocking an iPhone is not the same as jailbreaking. By unlocking your device, you are freeing it from the restrictions imposed by a carrier. Let's say you purchased your phone through AT&T in the US or any other provider across the world; this would mean that you can't use it with any network apart from them initially. However, once unlocked, these boundaries no longer exist, and you can access all carriers worldwide!
You may like:
How to Fix No Sim Card Error on Android Smoothly? 16 Helpful Solutions
iPhone Says No SIM Card Installed, Why and How to Fix?
Part 2. Why Jailbreak iPhone to Unlock Carrier
Why bother unlocking carrier for your device? There are several good reasons:
1. To Break From a Phone Contract
If you're tied to a carrier that doesn't meet your needs, or if the monthly charges are too high for your wallet, then unlocking your iPhone is the ideal solution. With this newfound freedom, you can switch to a better provider and save money.
2. To Use an Affordable Carrier
An unlocked iPhone offers many opportunities to save money on your phone plan. You can select from a multitude of carriers that provide the same network services as your current provider to allow you to keep the same service while paying less!
3. To Utilize a Local Carrier After Relocating
Exploring foreign countries can be cost-effective when you use a local mobile carrier instead of your home provider. Unlocking your iPhone and inserting the locally purchased SIM card is an easy and affordable way to stay connected while on vacation!
4. If You Want to Sell Your iPhone
If you want to make the most from selling your iPhone, unlocking it will be beneficial. This is because an unlocked device can accommodate any network provider, thus boosting its value in the eyes of prospective buyers. (How to erase iPhone data before selling?)
Part 3. Does Jailbreaking an iPhone Unlock the Carrier
Jailbreaking and unlocking are two separate processes. It's crucial to understand that jailbreaking provides the phone owner unrestricted access to the kernel of their device's operating system. Therefore, you must begin by breaking through limitations found on your phones with a process called "jailbreaking." After doing this necessary step, you can proceed to the next phase of unlocking your device's Carrier.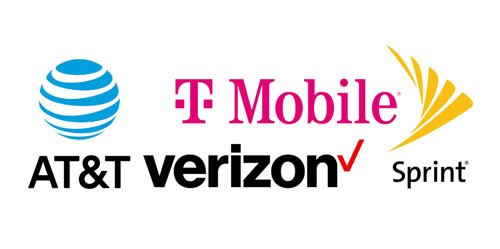 To free yourself from your current network provider, the first step is jailbreaking your iPhone. But what does it take to do so? In this article, you'll learn about the process of jailbreaking an iPhone for Carrier unlocking in detail.
See more:
How to Check if iPhone Is Unlocked without SIM Card [Proven Guide]
[Solved] How to Unlock Disabled iPad without iTunes | Latest Guide
Part 4. The Risks of Using Jailbreak to Unlock Your SIM
1. Does Not Provide a Permanent Solution
One of the drawbacks of jailbreaking a phone is that it isn't permanent. The minute you decide to upgrade your system, any jailbreak features go away. If you've opted for another SIM card, it will fail to work, meaning you'll be back under the thumb of the Carrier whom you were desperate to escape from!
2. Quite Risky
In this era of digital technology, failing to upgrade your iOS devices is equivalent to leaving the front door open in a high-risk area.
3. You Lose Your Device's Warranty
Although jailbreaking might be tolerated in some sense, Apple does not endorse it. If you decide to do so, your phone will no longer qualify for warranty coverage, which could be costly if something goes wrong with an expensive device like the iPhone. Therefore, think twice before jailbreaking and consider what's best for your wallet!
4. Lack of Applications
Numerous superior and important application companies decline the use of their applications on jailbroken phones since they are unusually vulnerable to hacking. This makes you depend upon amateur-made apps, which may put your device in peril.
Part 5. How to Unlock iPhone with Jailbreak
Method 1. Jailbreaking Your SIM Card Via Carrier
Many people are unaware of the simplest and most widely used method of unlocking a SIM card. By law, carriers must remove any carrier locks after 12-14 months. However, you don't need to wait that long as there is now an easy way for anyone to jailbreak their SIM card!
Because this law does not benefit SIM carrier companies, they wait for customers to contact them. Once a customer calls, the company often has attractive packages ready to entice users and keep their non-network SIM cards active. If you plan on reaching your SIM carrier, be sure to have these details readily available:
Your iPhone's IMEI.
Phone Number.
Social Security Number or ID.
The Account Name.
Once you have all the relevant information, call and request your NUC (Network Unlock Code) and follow the instructions. To make sure that it is possible to move your phone number to a different SIM card later on, be sure to ask for a PAC (Porting Authorisation Code). It's highly recommended!
Method 2. How to Jailbreak iPhone to Use Any Carrier Using XSIM or RSIM
This method is becoming increasingly popular amongst iPhone owners as it provides a more straightforward way to unlock phones and keep them running on any network. XSIM and RSIM have detailed instructions online, making the process clear. However, it can still be tricky to figure out precisely what needs to be done. Follow the below simple steps:
Step 1. To use the R-SIM card, remove your existing SIM card from its tray. Subsequently, place the new R-SIM directly beneath the regular SIM before sliding it and its respective tray back into your iPhone.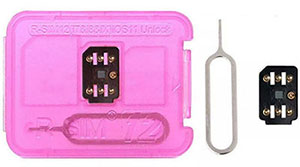 Step 2. Power on the iPhone and press your device's "Home" button.
Step 3. Select the emergency call option and type in either *5005*7672*003 or *5005*7672*0#. Finally, press the green dial button to complete your call.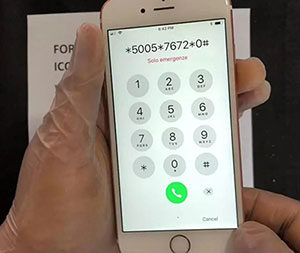 Step 4. Select the "Edit ICCID" option and key in the 20 digits ICCID code provided by the seller.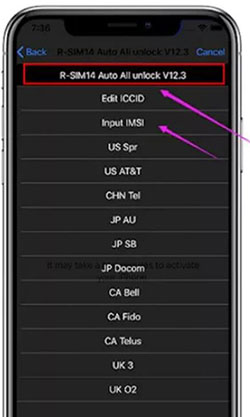 Now you will have Jailbroken your iPhone using this method, and you can use it with the network provider of your choice.
Note: If you receive a notification stating "SIM Not Supported," simply reboot your iPhone, and the message should vanish. Upon seeing a "No Service" alert, navigate to the menu of SIM applications, then tap on Regain SIM signal. After unlocking your phone, ensure you consistently keep the R-SIM card in place. Never factory reset, as this will erase all previous settings! Additionally, do not use two R-SIM cards concurrently.
Method 3. iPhone Carrier Unlock Jailbreak Using IMEI
IMEI unlock is a legal way to jailbreak your SIM card with any carrier worldwide, and it's permanently effective. All you need for the process is your iPhone's IMEI, which can be found in two simple ways: checking it through the settings application or dialing *#06# on the keypad. Unlocking your iPhone through this method will give you complete access without spending thousands of dollars! Follow the below steps to use this method:
Step 1. Find Your Device's IMEI Number. You can get the IMEI number of your device by dialing *#06# using the device's keypad. You can also use the "Settings" application by launching it, tapping on the "General" option, and finally tapping on the "About" button.
Step 2. To unlock your iPhone with AppleiPhoneUnlock, simply go to the official website and select your Carrier and country from the list. After entering your device's IMEI number, click "Unlock for Any SIM" to proceed toward payment.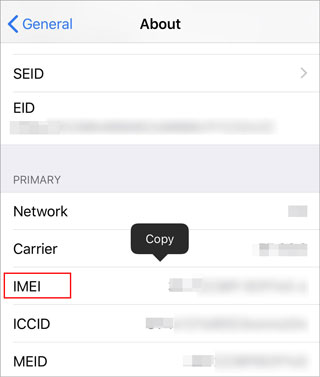 Step 3. AppleiPhoneUnlock will create a request to unlock your device in the Apple activation database. In just 1 to 5 days, you'll receive an email informing you that your iPhone has been unlocked. Once connected to the internet, your mobile phone's full Activation will be sent Over the air. After that, you will be ready to go with your new liberated iPhone!
Part 6. How to Unlock Carrier on iPhone with One Click
Are you looking for a professional, effective, and straightforward way to unlock your iPhone without losing data? iOS Unlock is the answer! This all-in-one unlocking solution is fast, easy, and secure. iOS Unlock promises to unlock any iPhone, from old to new models. It also unlocks all SIM cards from different carriers and countries worldwide. In addition, you don't have to worry about voiding your warranty since the process is reversible without leaving any traces.
The below features make using iOS Unlock the most reliable and convenient method of unlocking a carrier on iPhone:
Removes SIM locks with only a few steps.
It does not require Jailbreak to bypass iCloud activations.
Unlocks Touch ID, Face ID, Apple ID, iTunes Backup Password, and Screen Time Passcode without a password.
No data is lost when bypassing MDM locks or removing MDM profiles.
No carrier restrictions when Unlocking iPhones.
Its simple three steps procedure does not require technical know-how.
Widely compatible with all iOS devices, including iPhone 14/13/12/11/X/8/7/6, iPad Pro/Air/4/mini/2, and iPod touch.
Below are the steps for unlocking your iPhone carrier with iOS Unlock:
01 Download the iOS Unlock Software and install it onto your computer. Launch it and select "Screen Unlock" from the list of options across the homepage.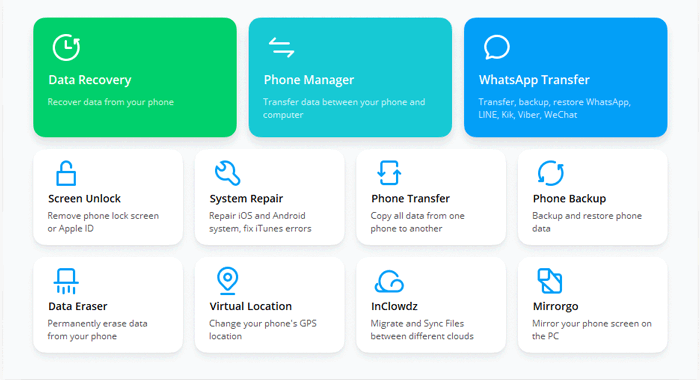 02 On the next page, tap the "Remove SIM Locked" option from the available tools.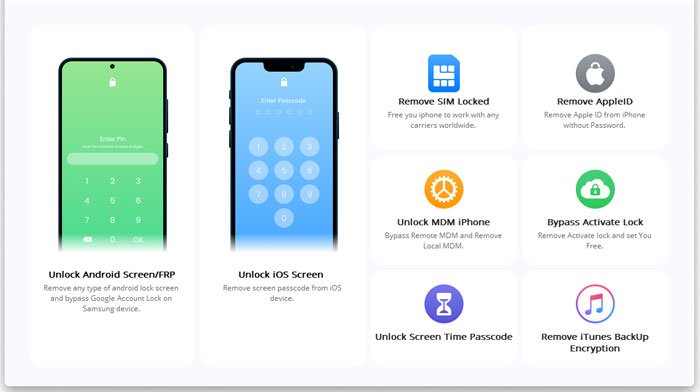 03 Use a Lighting Cable to Connect your iPhone to the computer. Now that your iOS device is ready to be SIM unlocked, press "Start" and let the unlocking process begin,
04 Subsequently, the platform will recognize your iPhone and provide a list of related information. Make sure to authenticate all displayed details before tapping on "Unlock Now."
05 To liberate your iPhone from the restrictions of its current operating system, you must jailbreak it first. This method is suitable for model iPhones 5S to X running iOS versions 12.0 to 14.8.1 and requires no technical skill.
06 To proceed, you'll need to perform a few steps on your iOS device. Begin by removing the SIM card and navigating into "Settings." Select "Forget This Network" for all previous networks connected with this device in the WLAN section. After that's completed, switch off WLAN before inserting the SIM card back inside the phone, then click "Continue" from your computer system to finalize these changes!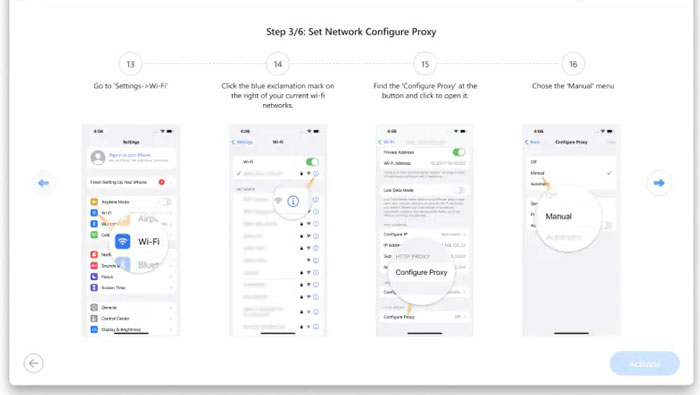 07 The SIM unlocking process will begin while the progress is displayed on the status bar.
08 Unlocking your iOS device is now complete! With just a few taps, all the limits of SIM carriers will be removed. To finish the process, click "Done" to confirm that you've unlocked your device's SIM lock.
Conclusion
Navigating the world with your iPhone is now more convenient than ever, thanks to jailbreaking. Most tools on the market lack the prowess to unlock carrier procedures for recent iOS versions. However, you don't need to step back if you want to unlock your phone through Jailbreak. It's legal! For an easy and reliable way of jailbreaking iPhones to unlock their carriers, we would highly recommend iOS Unlock. All SIM-unlocking issues can be solved by this tool quickly and safely.
Related Articles:
SIM Card Data Recovery: How to Retrieve Data from SIM Card
6 Proven Fixes for "Your Passcode is Required to Enable Face ID"
How to Resolve the Forgot Screen Time Passcode on iPhone/iPad Issue?
How to Unlock Apple ID without Phone Number or Password in 5 Proven Ways?
3 Practical Ways to Retrieve Contacts from SIM Card