Adding a passcode on our phones is a better way to ensure all files are safe and secure from prying eyes. You should set a strong, easier-to-remember but hard-to-guess passcode. Of course, after setting it, you should always remember it.
You may want to remove the passcodes for various reasons; you want to give it to someone or resell it. Even though it is not advisable to remove the passcode from your device, sometimes you have no other option but to go ahead. So, to learn how to remove the passcode from your iPhone, read this article to know the best ways to do that.
Part 1. Why You May Want to Remove Passcode from iPhone?
When using your iPhone, you will want to complete a certain quickly. If you have set a 6-digit code or letters as a passcode on your iPhone, you will take more time to enter the password. Besides, you may enter the wrong password.
These wasted seconds can cost you; you might miss the chance to take a photo or write down important information to use later. But, when you remove the password, you just use the Power key or Side key to open the phone, get to a particular app faster, and note down whatever you have in mind.
On the other hand, leaving your device without a passcode means any person can access your personal information.
Therefore, if the convenience of using your device outweighs the risk of your phone being vulnerable to unauthorized access, consider removing the passcode.
Part 2. How to Turn Off Passcode on iPhone via Settings (If You Remember Passcode)?
Setting a passcode on your iPhone is essential to safeguard your device's information. Nevertheless, repeatedly entering the passcode every time you switch on or wake up the device from Sleep mode might inconvenience you. You can permanently or temporarily disable the passcode through the Settings app on your iPhone. Here's how to turn off various iPhone passcodes:
For iPhone X and later versions:
Step 1. Head to your iPhone's Settings page and scroll down to "Passcode Menu".
Step 2. Find the option for "Face ID and Passcode". When asked to enter the current password, enter it and proceed to choose the "Turn Password Off" option.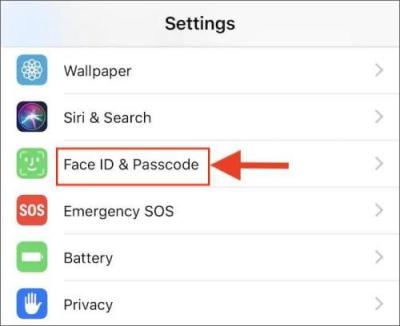 Step 3. You will get a small dialogue box asking for confirmation. Choose the option "Turn Off".
Older iPhones:
Step 1. Head to "Settings", then look for "Passcode Menu". Select "Touch ID and Passcode".
Step 2. Enter your current password and choose the "Turn off Passcode" option.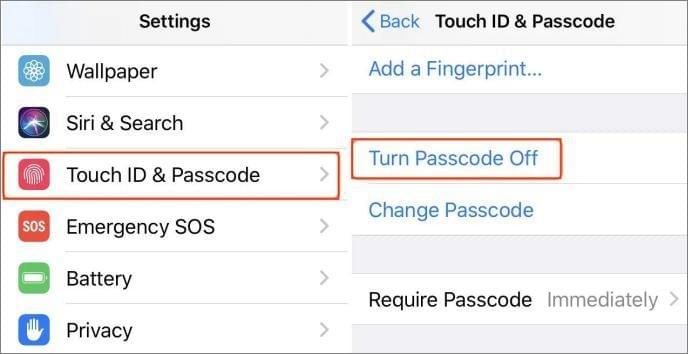 Step 3. Finally, when the dialogue box appears, confirm that you want to turn it off by clicking "Turn Off".
May Like:
How to Remove Forgot iPhone Passcode without Restore? (3 Simple Ways)
How to Unlock iPhone without Passcode?
Part 3. How to Remove iPhone Passcode (If Forgot Passcode) - Two Possible Methods?
Sometimes, we forget the passcode we had set on our devices. If that's your case, we can completely wipe off the passcode from your iPhone.
Note that removing an Apple passcode can be challenging. Apple is serious about protecting its user's information. However, you can remove the passcode from an iPhone with the methods mentioned below:
Method 1. How to Get Passcode Off iPhone Using iOS Unlock?
The first and best method to remove iPhone passcodes is to use iOS Unlock. This reliable and user-friendly iPhone unlock tool supports all types of screen locks. You can remove different types of screen passwords on your iPhone, such as screen locks, Face ID, and Touch ID, Screen Time Passcodes, even if you can't remember the password.
It is compatible with most iOS devices like iPhones, iPads, and iPods. If you need to unlock the screen lock or wipe your entire device, you can try this strong tool. It can remove screen locks in just a few minutes.
Some key features are as follows:
Remove all lock screens on iOS devices.
Bypass iCloud activation locks without jailbreaking device.
Unlock Face ID, Screen Time password, Touch ID, and Apple ID without requiring a passcode.
Remove MDM profile and bypasses MDM lock, with no data loss.
Simple steps in removing lock screens without technical knowledge.
Click the button below to download a free trial of iOS Unlock.
The iOS Unlock tool can unlock iOS devices without a passcode, making the device usable again. The following steps demonstrate how to delete a passcode on iPhone without a password.
01Download and Install iOS Unlock
First, you need to download and install the iOS Unlock software on your computer. After the installation is complete, connect your iPhone to your computer using a USB cable. Launch the iOS Unlock software and select the "Unlock iOS Screen" option.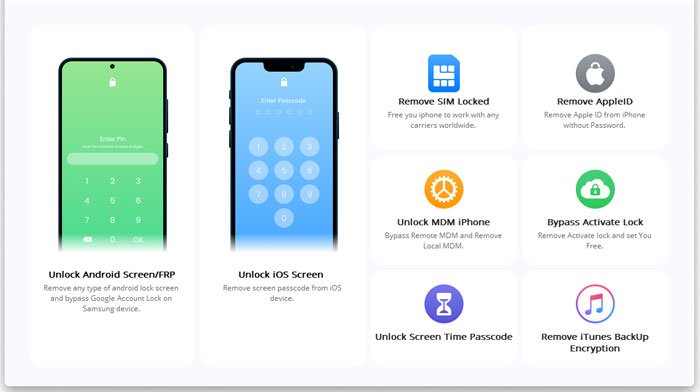 02Download Firmware Package
Next, follow the on-screen instructions to put your iPhone into recovery mode. Once your iPhone is in recovery mode, the iOS Unlock software will detect it and prompt you to download the firmware package for your iPhone model. Choose the system version you require and click on "Start" to initiate the download.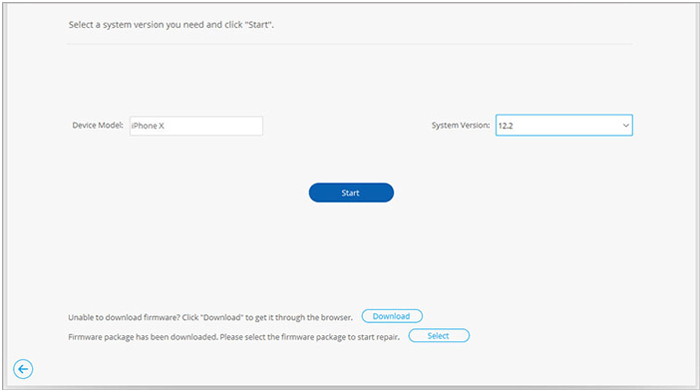 03Remove Passcode from iPhone
Finally, click on "Unlock Now" and wait for the iOS Unlock software to complete the unlocking process. Once your iPhone is unlocked, it will be restarted automatically, and you can set it up as a new device.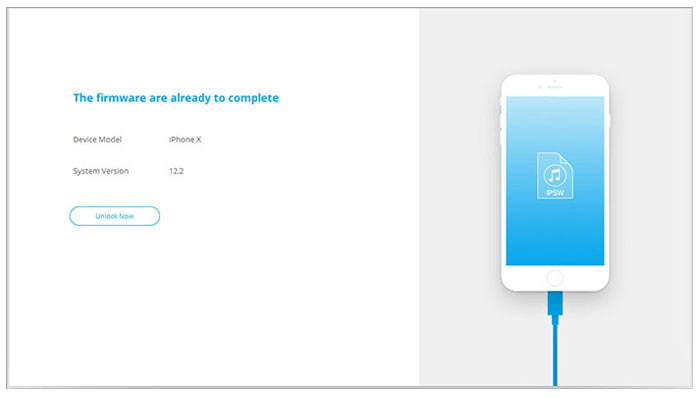 Read More:
6 Proven Fixes for "Your Passcode is Required to Enable Face ID"
How to Reset Restrictions Passcode on iPhone? [The Effective Ways]
Method 2. How to Remove Passcode from iPhone by Find My?
You can also remove the passcode from your iPhone by erasing it remotely using the Find My Feature. But this feature should be enabled on your device before you can use it. Here is how to get rid of the passcode on iPhone via the Find My function:
Step 1. Head to iCloud website on any browser of your computer. After opening the iCloud website, log into your account using the correct Apple ID and passcode.
Step 2. Choose "Find My iPhone" from the options listed and then select "All Devices".
Step 3. Finally, click on the "Erase iPhone".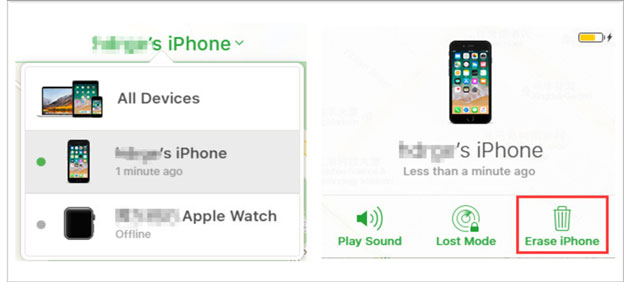 Can't Miss:
Passcode Expired on Your iPhone and Unlock Passcode Has Expired [5 Ways]
How to Unlock iPhone Passcode without Computer (Fixed)
Bottom Line
That is all about how to take off the passwords on iPhones. You have several ways to remove the passcode from your iPhone, even if you forgot the passcode. If you can access your device's Settings, you can remove the passcode from there. However, if you don't remember your password, use iOS Unlock, or the Find My feature. We strongly recommend using iOS Unlock- a powerful and most efficient third party app to unlock iOS devices.
Related Articles:
6 Powerful Android Lock Screen Removal Software for PC & Mac
5 Ways to Unlock Android Phone if You Forgot the Password
How to Hack Screen Time on iPhone?
iPad Locked to Owner? 4 Methods to Bypass Activate Lock without Previous Owner
How to Unlock Apple ID without Phone Number or Password in 5 Proven Ways?