Zoom-in on videos is a video effect that is mostly used when you want to magnify a video clip to bring various visual effects or want to highlight a certain part of the video. So, Zoom in on videos is a universal shooting skill to create visual effects on a larger screen. However, this skill needs costly shooting equipment. Unfortunately, most video makers don't have sufficient funds to cater for the shooting equipment skills. But there is still video software that can zoom in on the video at various places.
This article will show you how to zoom in on a video and save it. This way, you can get those jaw-dropping scenes on your own. Sounds too good to be true? Just read through this post to get a better hang of it.
Method 1. How to Zoom into a Video with Video Converter Ultimate
One way to zoom in on videos is by using professional and reliable software like Video Converter Ultimate. This is your go-to option for zooming in on a video on a Windows PC or Mac computer like a pro. It offers professional zooming services so that you can zoom on several video clips perfectly according to your needs and expectations.
The zooming-in functionalities provided by this tool can help you enhance video quality and also add other special effects to produce greater results. The software is easy to use, perfect for those clueless about video technology. The whole process will be a cakewalk if you use this proficient zoom-in video editor.
Key Features:
Support zooming in on videos.
Advanced video effects and translations.
Easily reset basic effects such as contrast, brightness, saturation, and hue.
Compress and convert features.
Support both Windows and Mac.
Here is how to add a zoom effect to video using Video Converter Ultimate:
01Head to Video Converter Ultimate's official website and download it on your computer. Then install, and launch it to start zooming on videos.
02After you've launched the program on the computer, press the Add Files button to import your videos. Alternatively, you may paste a URL containing your videos from online onto the app.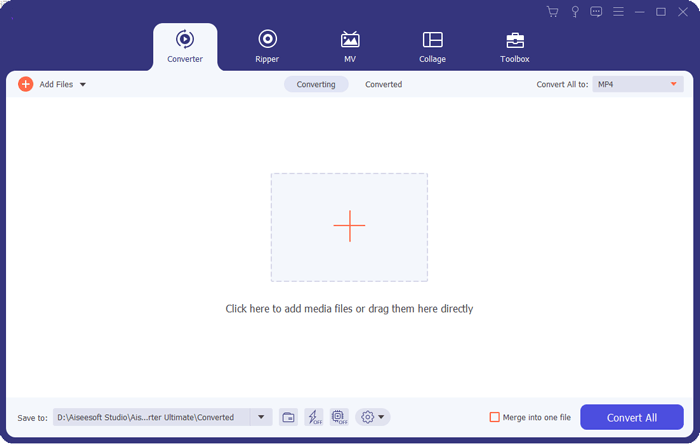 03Click the Clip option at the top of the screen and hit the Set Start icon at the start of the video clip you wish to zoom in. Do the same in the video clip ends by choosing Set End. When done, tap Save.
04Tap on video clips you just zoomed in, then press the Edit button at the upper part of the interface. Select Crop in the Edit screen and hit the Zoom Mode button to select the type.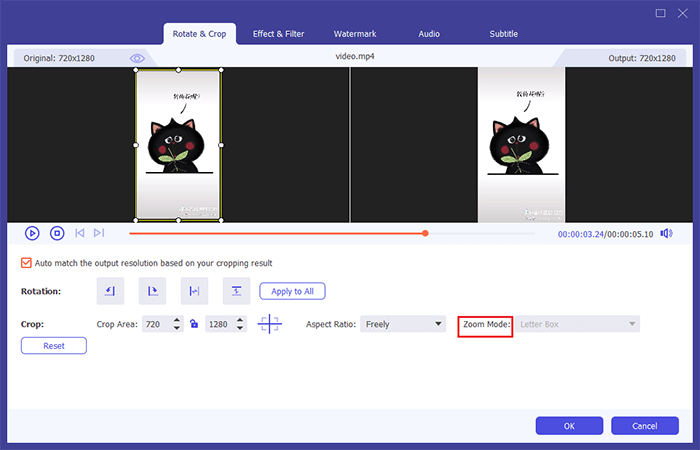 05Now hit the Apply button and close this screen. When done, you should choose the Properties option by right-clicking on this video to bring that option. A screen will pop up, choose the Export option, and you'll find your saved video zoomed in perfectly.
Pros:
* Very easy to zoom in on videos.
* Enhance the quality of videos
* Add special effects to a video.
* Zoom many clips at once.
Cons:
* It's not free.
Further Reading:
11 Best MP4 Splitter Options to Split MP4 Easily and Quickly
Comparative Study of Video Speed Controller for Seamless Playback
Method 2. How to Zoom in on a Video with Windows Movie Maker
This is a default tool for Windows computers to help zoom in on videos. It's a practical and excellent video editor tool that supports video production, sharing/editing, and zooming in on videos.
While using the Zoom feature, you can include some special effects, narration, and music, depending on your needs, then share them through email, the web, etc. Windows Movie Maker has two versions, the old and the newest. It is best to use the newest version to get the zoom-in features. The good thing is that it's free to upgrade. Here are the steps on how to zoom in on video:
Step 1. Launch the Windows Movie Maker app on the computer, then tap the Add Videos and Photos icon to import your videos. This button is found at the top of the interface.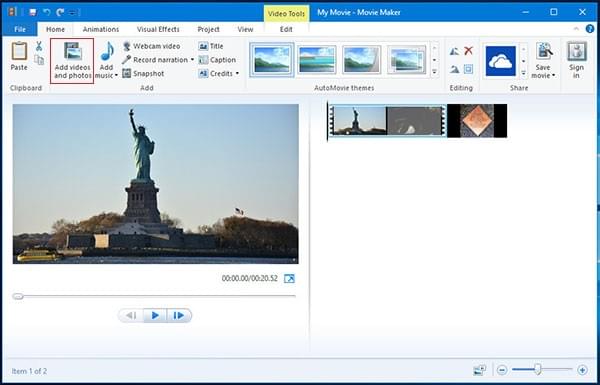 Step 2. Head to the screen's top and press the Animations icon. When done, select the clip you want to zoom in. Right-click on the straight black line to show where to begin zooming in on your video. Then choose the Split button. Repeat the action and how where to end zooming.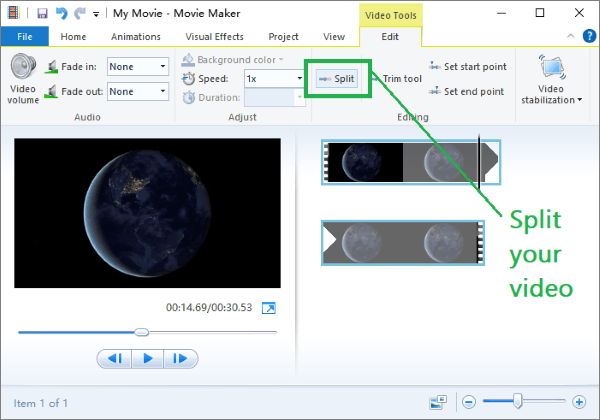 Step 3. After splitting the video clip, select the vertical line at the start and tap on the inverted triangle in the Pan & Zoom box at the top of the screen. Now choose the type to zoom in on the video below Zoom in.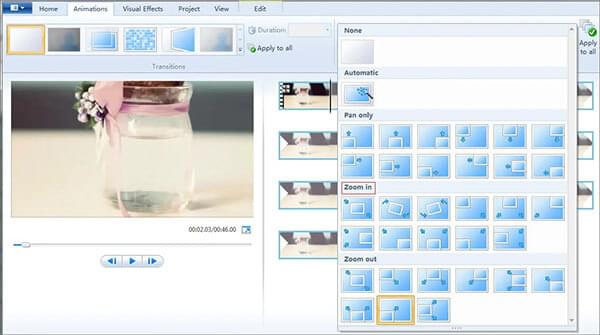 Step 4. Lastly, tap on the Home option to return to the Home page. From there, click Save movie to save your video at the top.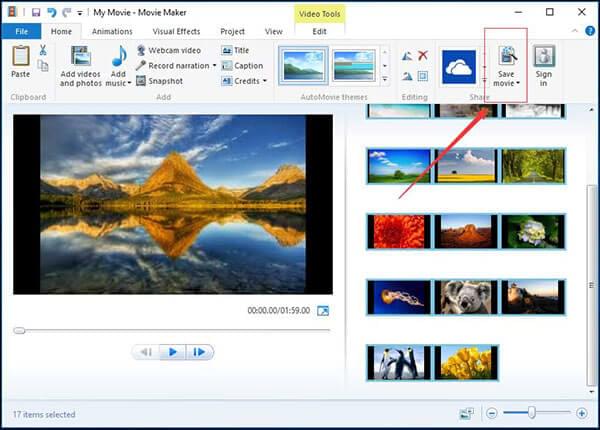 Pros:
* User-friendly interface.
* Offer essential features like cutting, trimming, splitting, and merging video clips.
* Support various video, audio, and image file formats, making it easier for users to import their media from different sources without worrying about compatibility issues.
Cons:
* Lag issues.
Method 3. How to Zoom Video with iMovie
This is a zoom-in video editor introduced by Apple for iOS and macOS. This tool is made mainly for those using Mac. So, if you are using Apple devices, then a free zoom-in video editor is here for you.
This tool offers video editing features like removing background from the video, adding project filters, changing speed to adding transitions in videos, and not to forget adding zoom in/out on the videos.
Here is how to zoom in on videos with iMovie:
Step 1. Run iMovie, import your video, and drop the clip on the timeline.
Step 2. Tap on the Cropping icon then you'll see styles to crop the videos. Tap Ken Burns to apply the zoom-in/out effect.
Step 3. You'll see the two frames with Start and End labels in the clip viewer. Set to crop at the start and at the end of the clip.
Step 4. Tap the Apply tab and save the video.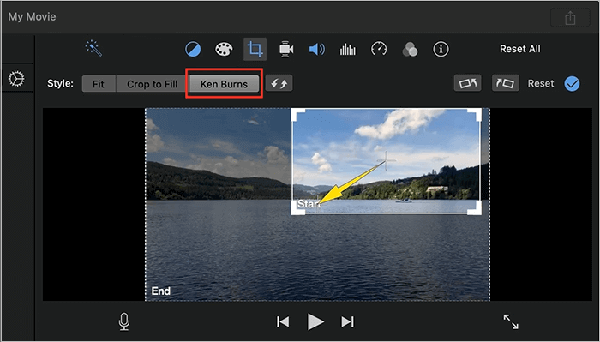 Pros:
* Support more than 300 effects and at least 50 video formats.
* Support zooming in and out on videos.
* Compatible with cropping and Ken burns for pictures.
Cons:
* Take a lot of space.
* Very basic.
* It can be sluggish when working on large files.
You May Like:
How to Add Your Own Sound to TikTok [Can't Miss in 2023]
Effortless Editing: How to Crop a Video on TikTok in Just a Few Steps
Method 4. How to Zoom in on Video Editor with Veed.io
Veed.io is a simple yet superb online video editor you can count on to make videos. Apart from zooming in on videos, it offers various editing features to help enhance your content.
Additionally, it comes with an auto-subtitle function to insert the subtitles to your videos in a few clicks. Additionally, this online video zoomer enables you to import media from Dropbox directly. Follow these steps to use Veed.io to add a zoom effect to video:
Step 1. Open the web browser, then head to Veed.io's official site. Proceed to tap on Get Started to upload your video.
Step 2. Once done uploading your video, drag the border to zoom in and out the video.
Step 3. Tap Export to render, then save it on your PC.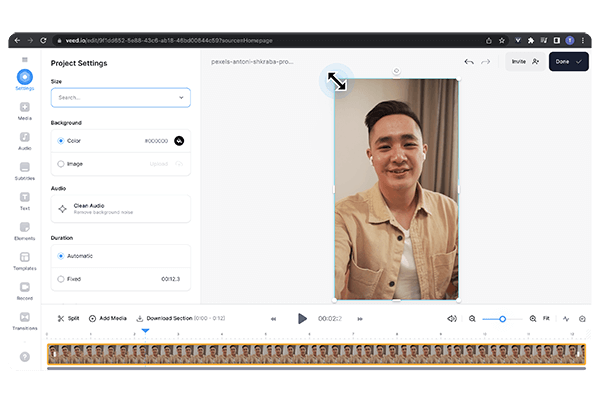 Pros:
* Simple video editing interface and user-friendly.
* Burn captions onto a video.
* Library of templates.
Cons:
* Little graphic elements.
* Auto-generated captions aren't accurate.
Method 5. How to Zoom in on a Video Using VideoStudio
Another free video editor that can zoom in on videos is VideoStudio. It's easy to use and supports many video editing functions, like zooming in/out of videos. Here are the steps on how to zoom into a video:
Step 1. Upload your video and tap Pan & Zoom from the Timeline toolbar. Select On the Fly in the Edit mode menu.
Step 2. Adjust starting position and size from the Original panel on the top left section.
Step 3. Tap the Play button and reposition or resize the marquee. Tap OK when down to save the video edit.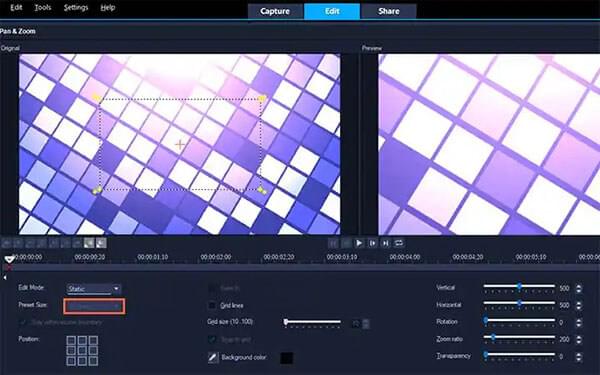 Pros:
* Intuitive interface.
* Support 360-degree video editing.
* Three video editing modes.
Cons:
* It can sometimes be tricky to cut the exact location.
* Hang or crash occasionally with other software open.
Learn More:
Unleash Creative Potential with the Ultimate Snapchat Video Editor App
How to Crop TikTok Videos Like a Pro: Essential Techniques and Tips
Method 6. How to Zoom into a Video with FlexClip
FlexClip is a web-based tool that offers basic video editing features to make different visual content. This tool allows you to zoom up to 200% of the original video size. Its clean interface makes it easier to zoom in on a video by dragging the slider. Follow these steps to proceed:
Step 1. Tap on Import and choose the Zoom tab to select Zoom in scaling.
Step 2. Save your video. Then export your video.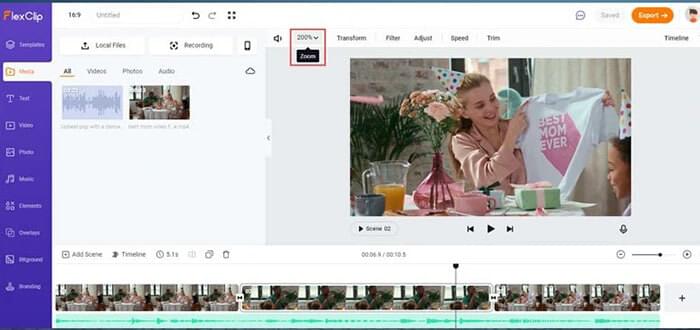 Pros:
* Have more than 150 visual effects.
* Allow text animation.
* Produce HD-quality video.
Cons:
* Have no filters or transition effects.
Method 7. How to Zoom in on a Video with Video Zoomer
Video Zoomer is a perfect tool if you want a mobile application to zoom in on videos. It's a free tool for Android devices that allows you to play or enlarge all videos in a few clicks. It also allows you to capture screenshots while playing your zoomed video. Here are the steps:
Step 1. Head to the Play Store and install Video Zoomer. Once done, launch it, and on the main page, click the Select Video icon.
Step 2. Pinch on video zoom-in clips. Click the Save Video to download, then save.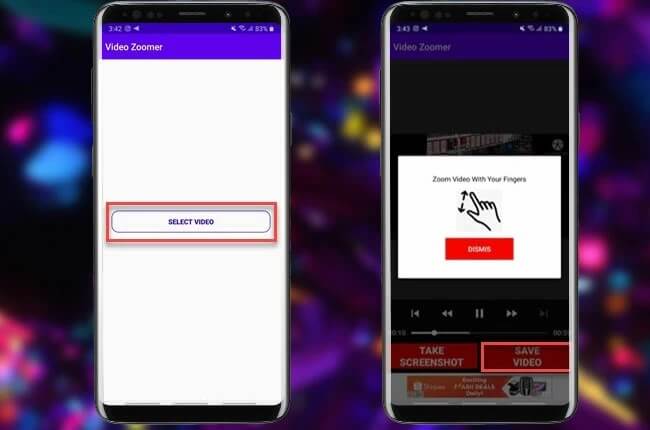 Pros:
* Enlarge all videos with ease.
* Easier to use.
* Crop only important parts of a video.
Cons:
* It can be sluggish with large videos.
Also Read:
Top 14 Best AVI Video Editors | Easily Eidt Your AVI Files
Select the Best GoPro Editing Software - 10 Excellent Options
Conclusion
As said, these are the most reliable and best video zoomers you can use across various browsers or devices. But, if you want suitable video editing software that offers attractive templates, check Video Converter Ultimate. Download and install Video Converter Ultimate to add an zoom effect to video from now on.
Related Articles:
10 Best MOV Editor Options - Edit MOV Files Easily [Updated Guide]
[Vlog Software] 11 Best Vlog Editing Software for Vlog Lovers
12 Best Games Video Editors - Edit Videos without Effort [Updated]
Practical Video Lighting Editor List: Make Video Brighter in Easy Steps
Useful Picture in Picture Video Editor: Create PIP Videos Easily
Kapwing Video Editor: A Complete Review and Powerful Alternative